The most demanding task for a manager is to manage projects. There is a lot to handle whether you have years of experience or are embarking on your first project. Following the Covid-19 outbreak, the struggle has become even more difficult. More and more companies, entrepreneurs, and project managers prefer to work from home and are looking for effective ways to manage their remote teams. Project management with a remote team, on the other hand, is a difficult task that necessitates the use of specialized tools.
You can use project management tools to manage projects and see how they fit into the bigger picture. You'll see how they serve the larger image and how they affect others currently being worked on tasks.
How To Manage Projects At Work?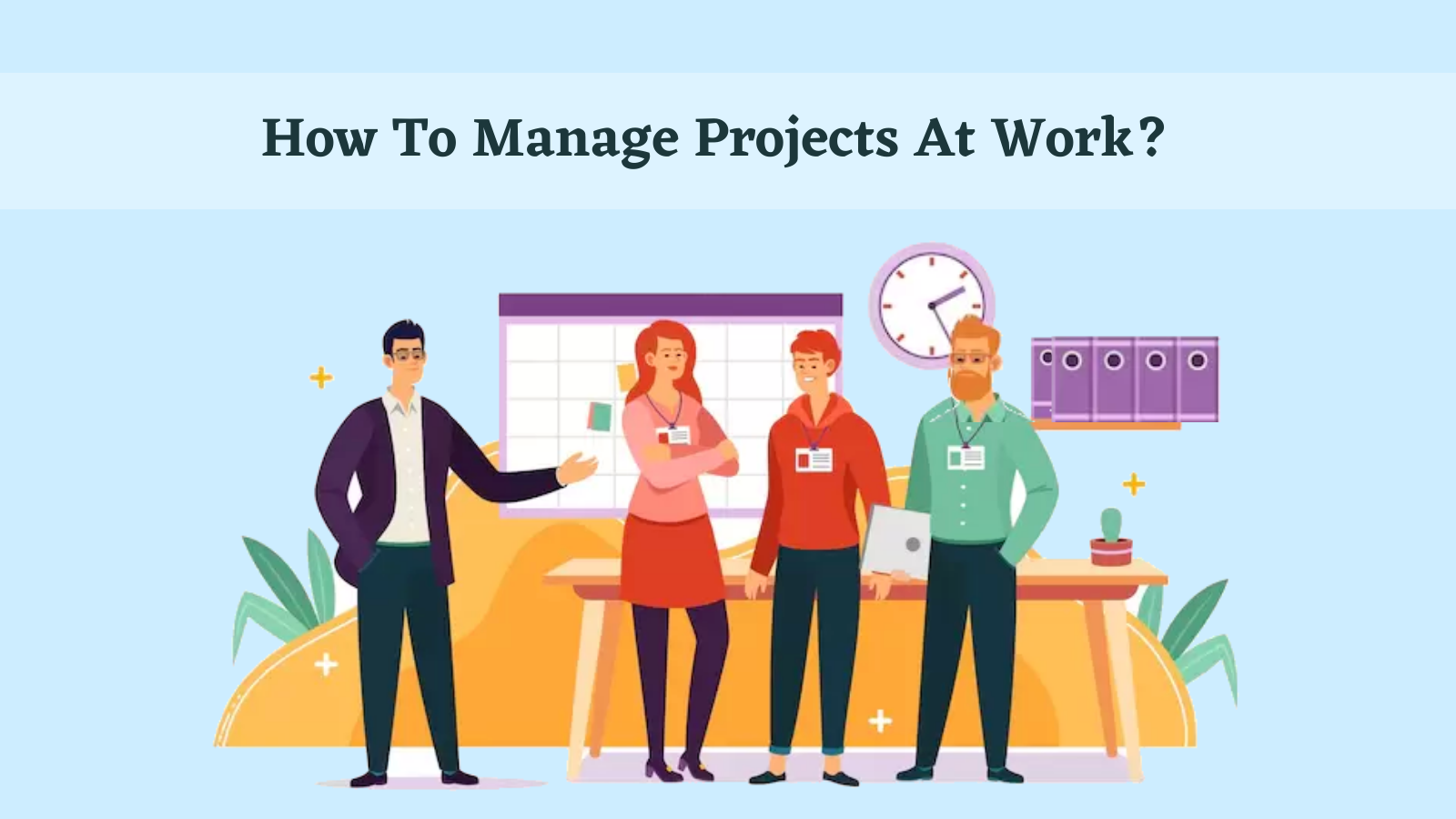 Project management can be challenging in practice, but all projects go through the same project management process. On the other hand, a slew of procedures could be in place. It may vary depending on the project or industry. 
The steps to successfully managing projects are as follows.
Conceptualization And Launch Of The Project
The first step in manage projects is to sit down and brainstorm project concepts, beginning with the project idea. This "conceptualization" phase could start with a blank sheet of paper and a pen to help you sketch out your project concept and tasks. It is preferable to conduct preliminary project research, jot down key points, and obtain stakeholder approval.
It is the stage at which you develop your project plan. The project plan defines the project's overall scope, objectives, and team management.
Project Planning And Definition
In the project processing step, you must define your project plan and list all of the work for the project. You must answer the following project-related questions: Who, What, Where, When, and How. 
The success of your project is inextricably linked to project planning. The better the plan, the better the outcome of your project. Professional project managers will assess the success of your project based on your project planning. They are particularly meticulous in this regard.
You must also decide on the project budget, schedule, and resource management. These items may change as your project progresses, but it is best to plan everything ahead of time.
Execution And Delivery Of Projects
It is the first step in your project's development. You'll begin your project by gathering all of the necessary materials and focusing on completing the tasks assigned to you. You will need to manage the project team, communication, quality, and project deliverability at this stage.
It is preferable to hold a project kick-off meeting to assist you in setting the project delivery pace. During the meeting, you and your team will discuss the tasks, project timeline responsibilities, and other differences.
Monitoring Project Performance
After that, double-check that everything is working correctly for you and that the project plan is being followed. It happens throughout the project's timeline, from beginning to end. It allows you to monitor project progress and compare results to your goals. Apps to monitor employees and manage projects, such as EmpMonitor, can assist you in accomplishing this.
Project Completion and Evaluation
You must now complete the project's objectives and bring it to a close. You must move on to the next project once your current project has been completed to your complete satisfaction. If this is not the case, you must work to improve the results and meet the project's goals. You will evaluate project delivery using KPI indexes at the end of the project to determine whether the targets were met or not. The project's quality, speed, accuracy, and deliverability will be evaluated. After that, it is considered good practice to learn about the competency of your project team. You can also choose how you want to work to achieve better results.
Most Effective Tips To Manage Projects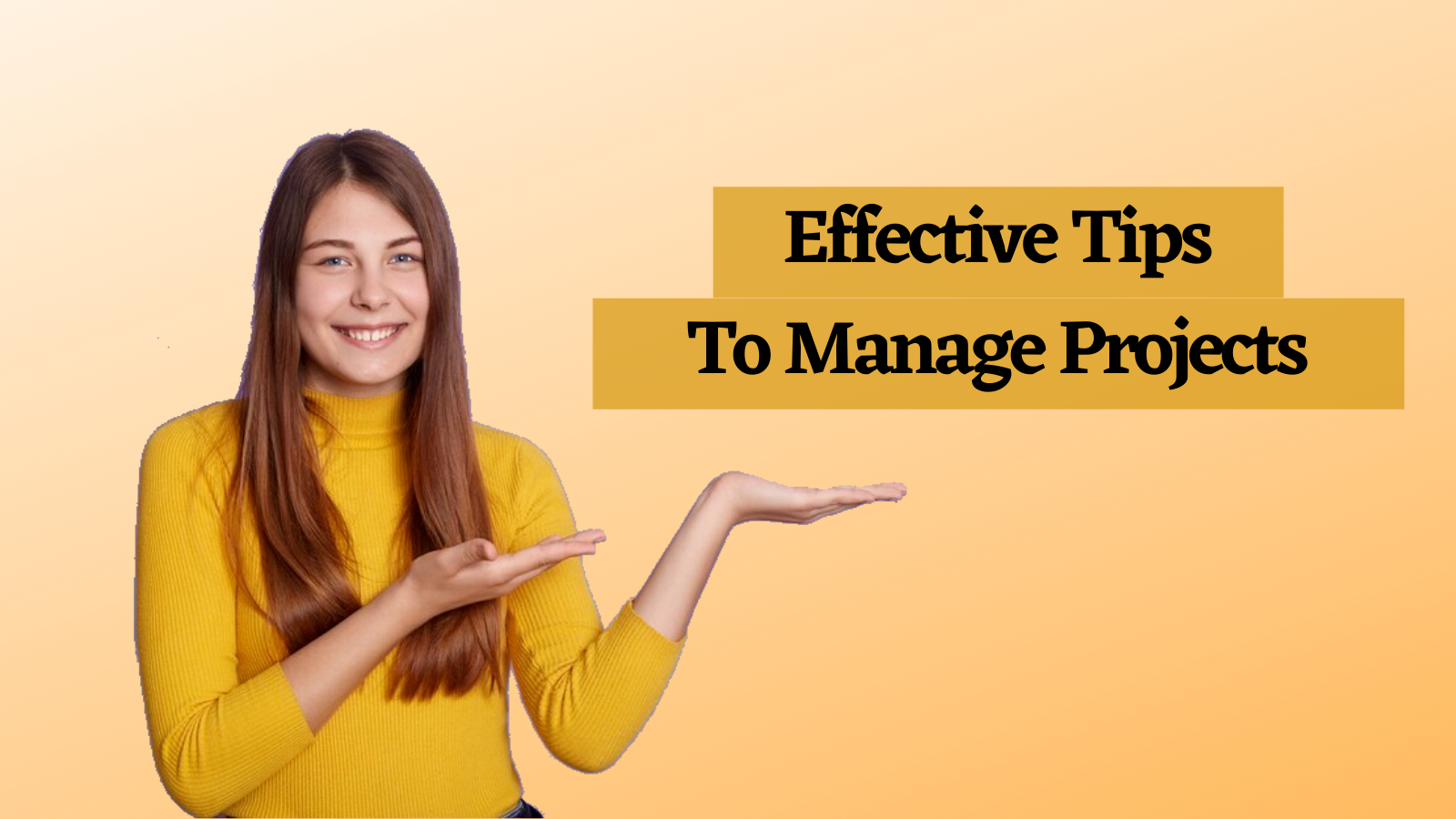 Understand The Project Thoroughly
The first and most necessary step in ensuring a project's success is to lay a solid foundation. To proceed, identify the clients and stakeholders plus their project goals and expectations. The following step is to create a detailed project plan that includes clearly defined roles and responsibilities. Always set goals and objectives to improve clarity and understanding.
Know Your Timeline
It is critical to determine how long your project will take. When are you going to finish your project? How much of your time will you devote to each project? You must now respond to the questions below. While developing your project plan, you can estimate the time required for each task and your project, but the project deadline is fixed and rarely changes.
Understand The Project Requirements
Determining project requirements is critical because project resources are critical to the success of a project. Following the plan creation, the next step should be to put together a team capable of carrying it out effectively. Start with defining roles and responsibilities for each individual based on their personalities, abilities, and expertise. After all, project management resources are critical to the success of the project. 
Communicate With Other Team Members
To avoid surprise attacks, clients must maintain consistent and effective communication, and any changes must be made known to team members. The best thing you can do is keep communication channels open between you and the rest of the team so that anyone can approach you without fear of being judged. Ineffective communication is a common cause of project failure. As a result, ensure that everyone has access to the information they require to make decisions and move the project forward.
Delegate Responsibilities Properly
Team members' abilities are crucial to a project's success. You don't have to do everything as a team leader, project manager, or business owner. As a habit, delegate work to your team so that you can spend more time monitoring and controlling. Using the strength of the team members will undoubtedly result in more efficient task completion and time management.
Use A Tool To Manage Projects
Use project and task management software if you are still unsure how to manage software projects. The software is a massive data storage facility, storing all project-related data. Manage projects software serves as a centralized platform for everything and everyone on the team, from files to documents, file sharing to feedback, effective communication to seamless collaboration.
With so many tools on the market today, you can select the one that best meets the needs of your business. One such software to manage projects is EmpMonitor. EmpMonitor is a project management software that lets you assign individual or collaborative projects, send investor notifications, and keep track of team-wide tasks. You can also manage multiple projects at once using EmpMonitor.
EmpMonitor- The Best Tool To Manage Projects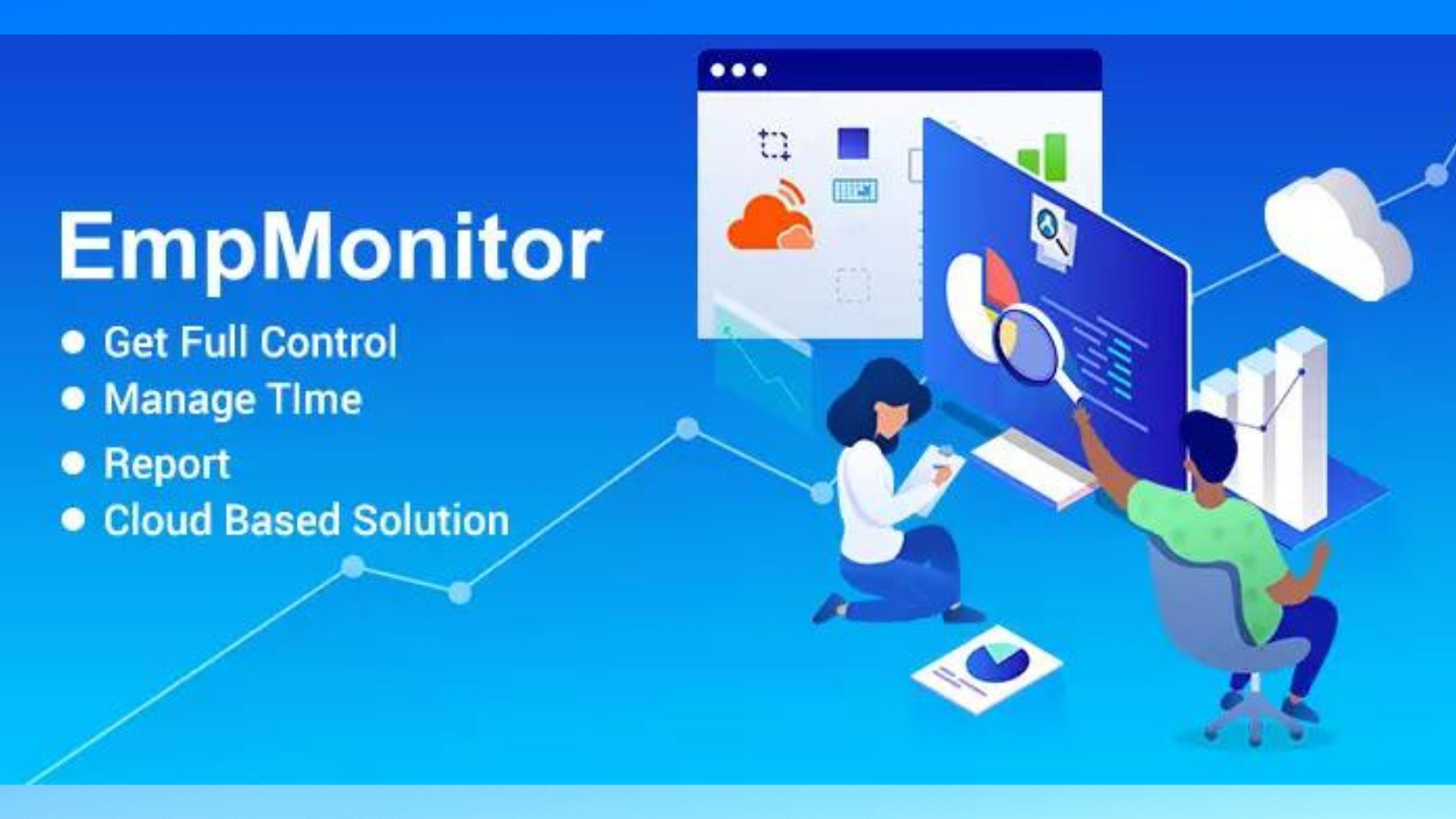 One of the best project management apps for keeping track of team members is EmpMonitor. It is the most feature-rich tool available. One-on-one conversations, task management, file editing, and document storage are all possible with EmpMonitor. You can add login information, debate panels, task programs, and other work-related resources to each task's private screen.
Following are some of the most important features provided by EmpMonitor. 
Employee Monitoring
EmpMonitor tracks and records the productivity of all remote team members.
Security
EmpMonitor is a safe and secure tool that protects against insider threats. This tool facilitates the systematic review, recording, and analysis of threats.
Increased Productivity
By eliminating downtime and idle activities, EmpMonitor increases your productivity.
Powerful Reports
EmpMonitor creates precise, detailed reports and graphs that show the performance and productivity of your employees.
Payments
EmpMonitor automates all payroll and client payment processes. It also aids in the automation of the billing process. As a result, it's a one-stop-shop for everything related to remote team management.
Alerts
EmpMonitor sends you alerts regularly to help you manage your time and increase productivity at your remote workspace.
Attendance Logs
EmpMonitor records the exact login and logout times of the remote team members.
Break Tracking
EmpMonitor tracks breaks plus the total time spent away from work. As a result, this tool is immensely beneficial for keeping track of breaks during working hours.
All of the features offered by EmpMnitor are depicted in the image below.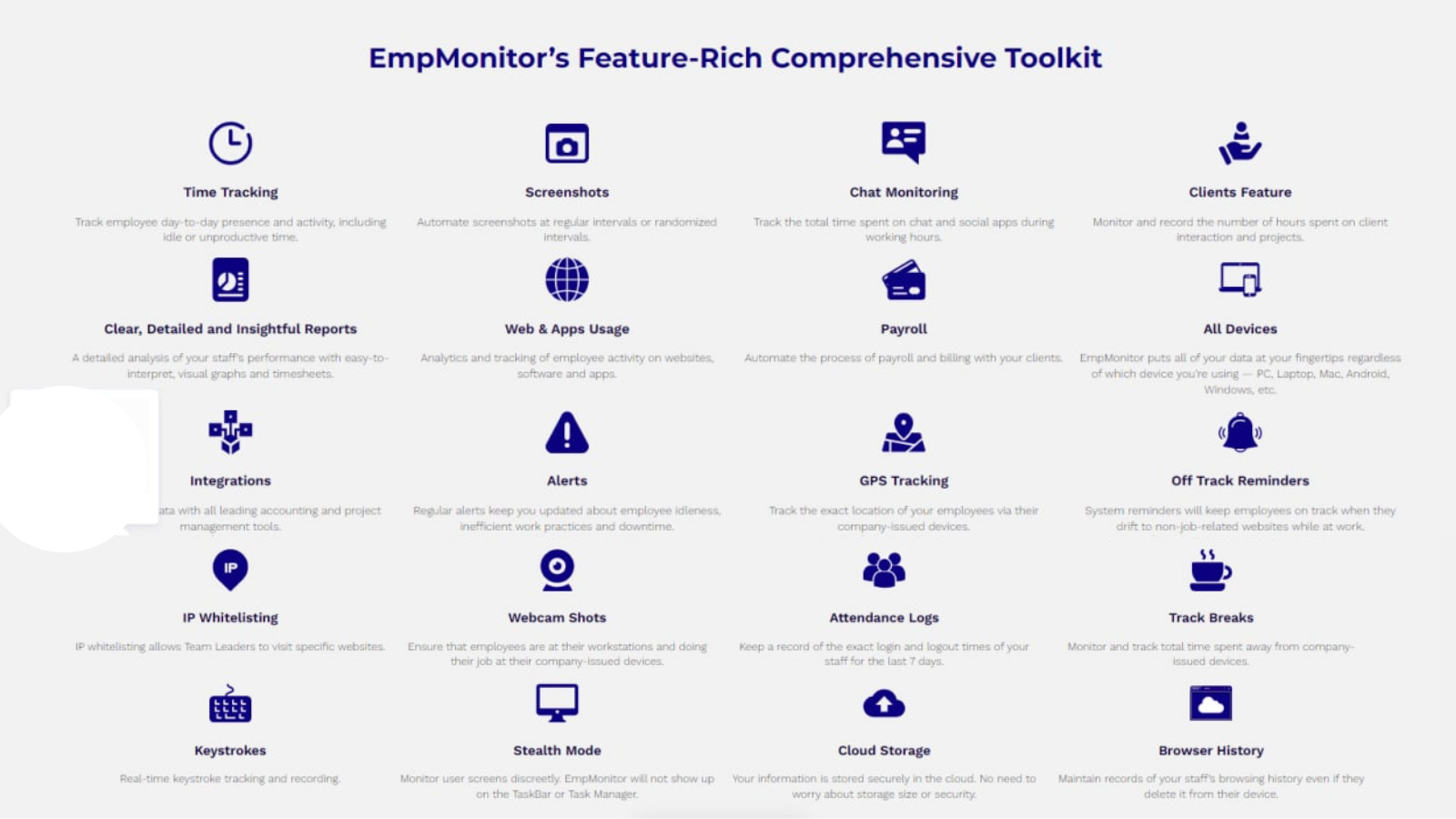 Read More
TOXIC PRODUCTIVITY: HOW TO DEAL WITH IT?

WORKFORCE MANAGEMENT SOLUTIONS: EVERYTHING YOU NEED TO KNOW
HOW DOES AN EMPLOYEE TIME CALCULATOR WORK?
Conclusion
Employees and employers alike may find it a stressful task to manage projects. However, the powerful tips discussed above can assist you in acing your future projects. And, if you want to take it a step further, you can use a project management tool or software. Remember to choose a project management tool that meets your needs before deciding on one. The primary means for carrying out the business plan, implementing business processes, and achieving the entrepreneur's strategic goals are project management apps. If you commit to using a project management app, you will get a reward of a more efficient and stress-free workflow.