Employee Recognition is a constructive response/ judgment built around a person's contribution, not only for his work performance but also for the dedication and engagement regularly expressed formally or informally, collectively, privately or publicly, and monetarily or non-monetarily.
This judgment is crucial to building trust between the employers & the employees at every stage of the employment to grow together in a healthy and respectful environment. When employees get recognition for their efforts and contributions, they develop a sense of association and ownership for the project and go that extra mile to achieve a better outcome.
A simple act of acknowledging your sincere efforts from your seniors at the workplace can surely uplift your morale and do wonders for your performance.
What is Employee Recognition & Why is it Important?
Employee recognition refers to an organization's acknowledgment of its workforce's dedicated efforts towards achieving company goals. This is to reinforce trust, good behavior, performance, or practices that result in better outcomes for the company.
There are majorly two types to approach recognitions – Public and Private.
Most companies apply both approaches in a balanced way to recognize their employee's contributions as per the degree of goals achieved. Public recognitions include award ceremonies including other groups of employees, parties, an employee of the month rewards, or luncheon. On the other hand, private recognition focuses on an individual's benefits like- additional days off with pay, more bonuses, or access to the company's peak amenities like clubs and holiday resorts.
Why Is Employee Recognition Important?
Employee recognition has to be a vital part of any company's culture to boost the overall performance of an employee and enhance the retention rate. Simply put, the companies that fail to recognize the contributions of their employees fail to accomplish greater heights. Organizations practicing recognition are more likely to improve stock prices, performances, and NPS scores.
As a business, it's vital to encourage a positive, innovative and productive work culture. Even the most talented and hard-working employees cannot deliver if not motivated enough by the top leadership at the workplace.
But one simple and most underrated thing that organizations fail to recognize in this cut-throat competitive world is that businesses grow on human connection and empathy towards employees.
Generally, organizations relate rewards with bonuses and extravagant award ceremonies. The biggest motivator sometimes is a genuine compliment saying 'thankyou' in person, a friendly greeting at work, or a simple handwritten note/ email conveying you value their contributions.
According to a survey by Society for Human Resource Management(SHRM), employee turnover is the biggest challenge for the workforce management team– From writing & posting a job to paying referrals and signing bonuses (the cost of finding a good employee keeps on increasing). And we all know, secondary costs of turnover include lower morale, decreased productivity, and zero institutional knowledge.
Employee recognition, in turn, increases employee engagement which results in enhanced productivity for the business. A high morale employee contributes greater creativity, productivity, and better results, whereas a low morale employee may hamper every aspect of a business.
Recognition is something that every employee desires, enjoys, and appreciates from their seniors for their hard work. Let us check a few of the most crucial reasons why employee recognition matters?-
Benefits-
No doubt recognition is the fastest way to an engaged workforce! Organizations with highly-rated cultures of recognition are more likely to see an increase in employee engagement. And frequent recognition creates more impact on employees, and they feel attached to the organization.
When employees know they get appreciated at their workplace, it automatically reflects in their work. Organizations that practice regular employee recognition programs see an increase in performance and productivity as it motivates the employees to do better.
Happy employees mean happy customers! When your employees are satisfied with recognition at the workplace, it will boost their morale to work at their optimum level and earn more appreciation from the employers. Employees who receive appreciation are more satisfied and concentrate better on the company's profits.
If looking to develop a company culture built on trust, positivity, and support, recognition initiatives are a surefire way to achieve this environment. Peer-to-Peer recognition is the best way to establish cultural expectations, so recognize your employees through recognition programs and focus on generating innovative recognition ideas to bring a surprise element every year or at least keep revising your programs.
Employees who feel attached and appreciated at their workplace are more likely to stay in bad times to support their employers. Recognition is the most cost-effective way of employee retention that many companies overlook. 
Organizations that rate recognition culture very highly is going up the success ladder effortlessly and seeing an increased employee retention rate. In a survey, 91% of employees agreed that they work and stay more happily with organizations that recognize their contributions.
Employee recognition programs help companies express their trust in employees, and they become more engaged and unlikely to leave.
How to Track Employee Productivity for Employee Recognition?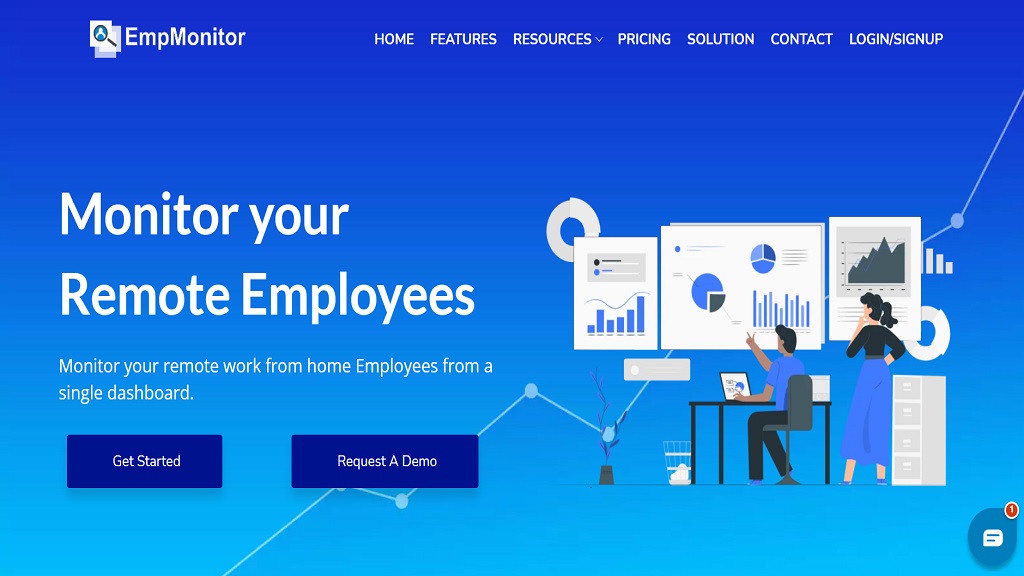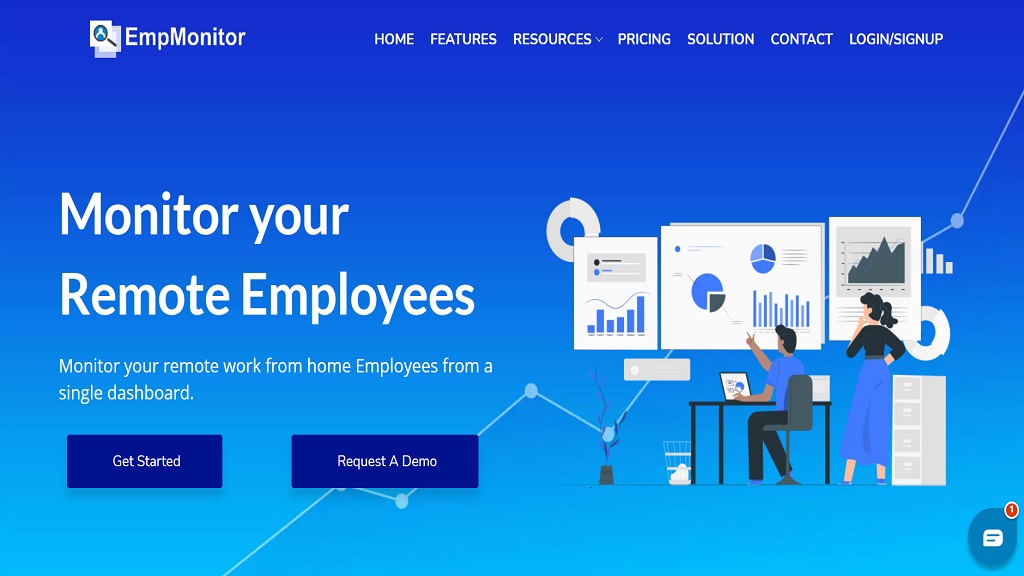 To conduct employee recognition programs, organizations need to discover the deserving employees whose contribution to the company is appreciable. And what better than employee productivity tracking software to find sincere and hard-working employees.
There are various employee monitoring tools available in the market,  but choose the one that best fits your specific project requirement. 
These productivity monitoring tools help you recognize the performance of the employees on certainly designed criteria which may help you craft a suitable recognition program for your employees.
One such remote team monitoring tool is EmpMonitor that manages all the computers in your organization from a centralized location. With its advanced real-time computer monitoring software, you can access your account from any internet-enabled device from anywhere at any time.
It provides the liberty to view and manage the activities instantly for quick solutions in real-time.
Some of the Key Features of EmpMonitor are-
Time Management

–  This feature tracks the employee's presence and their activities, spot and eliminate wasted time and optimize your team.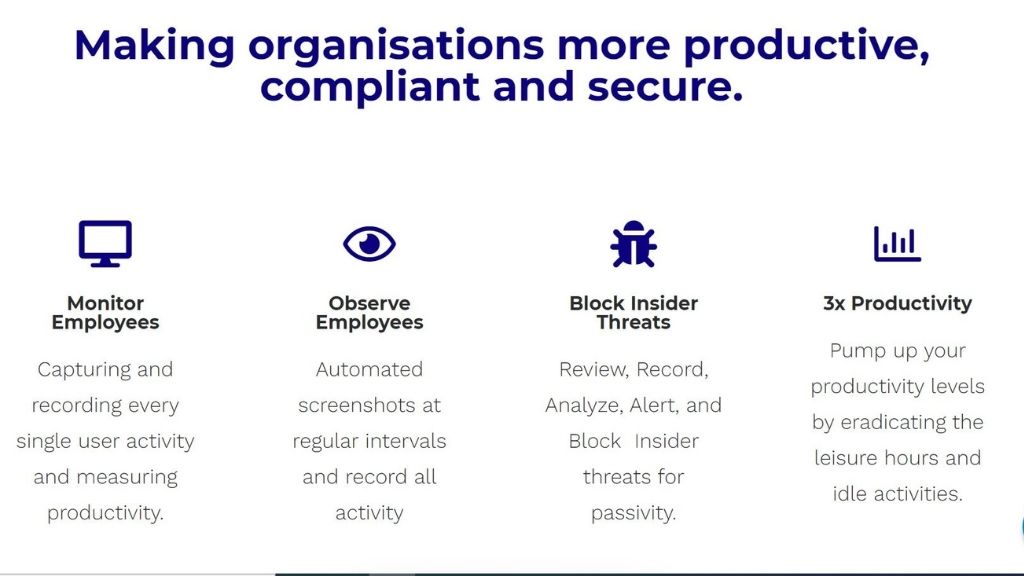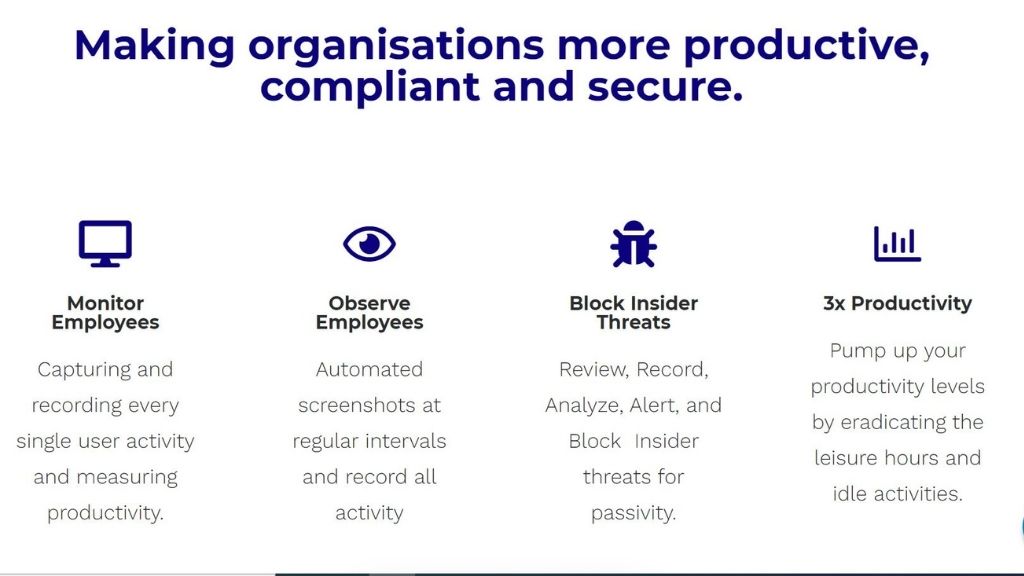 After logging into your id– you can see the following screen- the screen displays the dashboard, employee details( you can add a name and check their daily reports), Timesheets, Timeclaim, Projects, Behavior, Reports, and settings where you can make desired changes.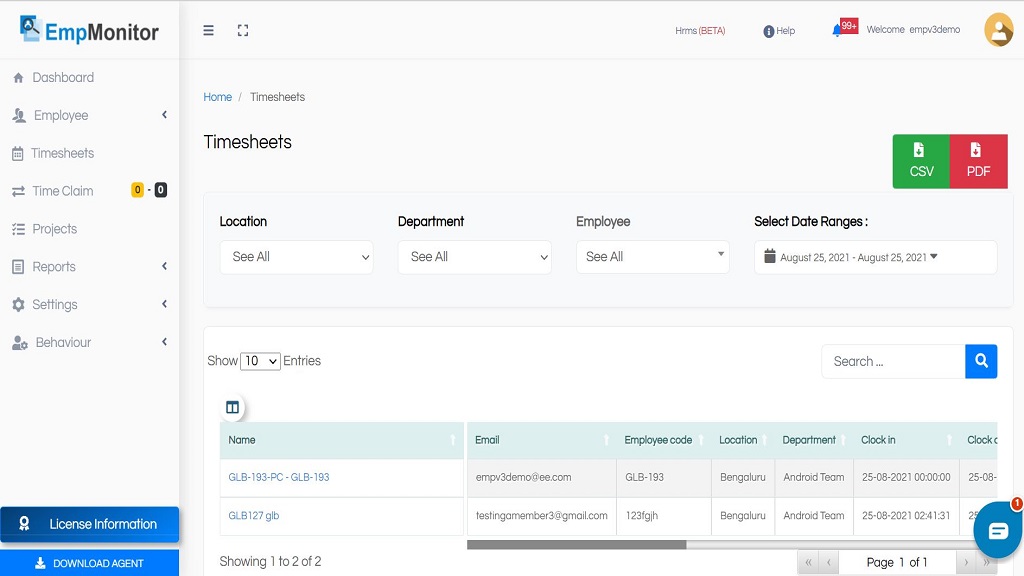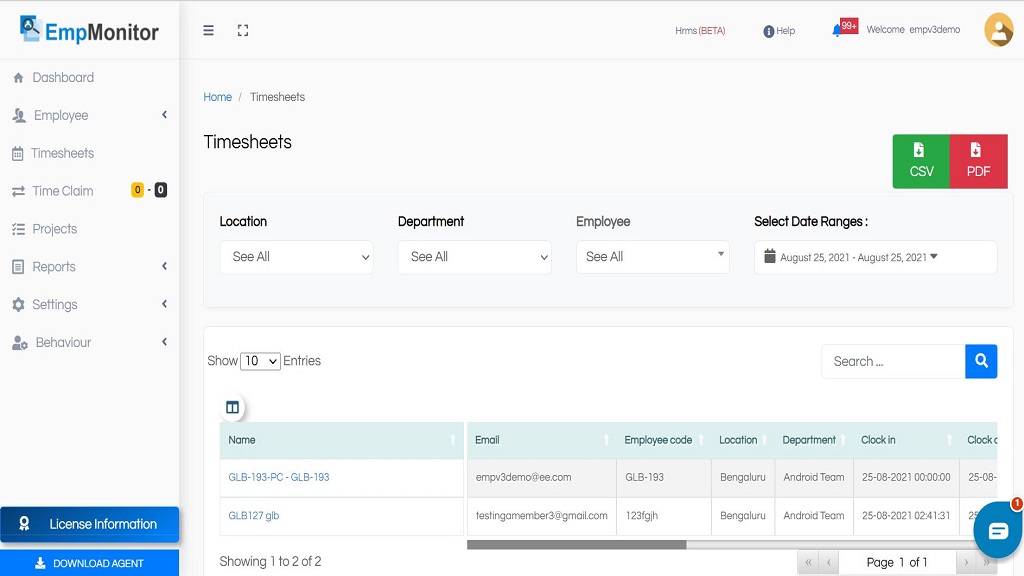 2. User Management– Effectively manage multiple systems and users through centralized network monitoring. Also, deputize your peers.
As you can see in the following image below– it displays total enrollments, absents, currently active employees, and offline employees all connected under one centralized location. Also, it provides activity snapshots along with activity breakdowns.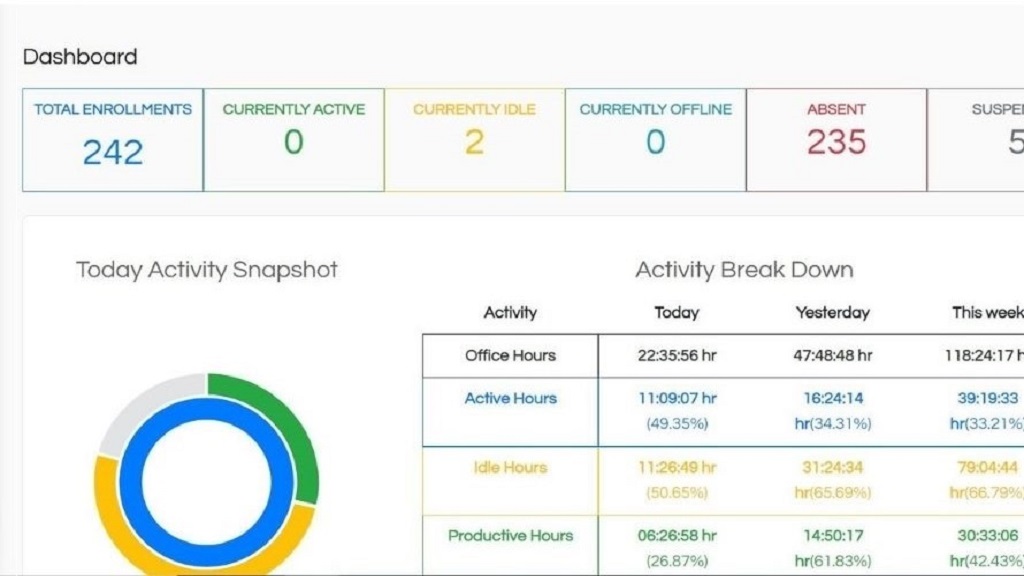 Want to learn about Employee Internet Usage? Read more to know about it– How To Monitor Employee Internet Usage? – Empmonitor Blog
3. Get real-time insights – You can easily check what your employees are doing in real-time, live refresh mode, and provide department-level management.
Here you'll be shown activities done by an employee- You can see the screen captures, top apps used, top websites visited, and much more. Using this, you can track down the aspects where they are lacking and help improve their productivity.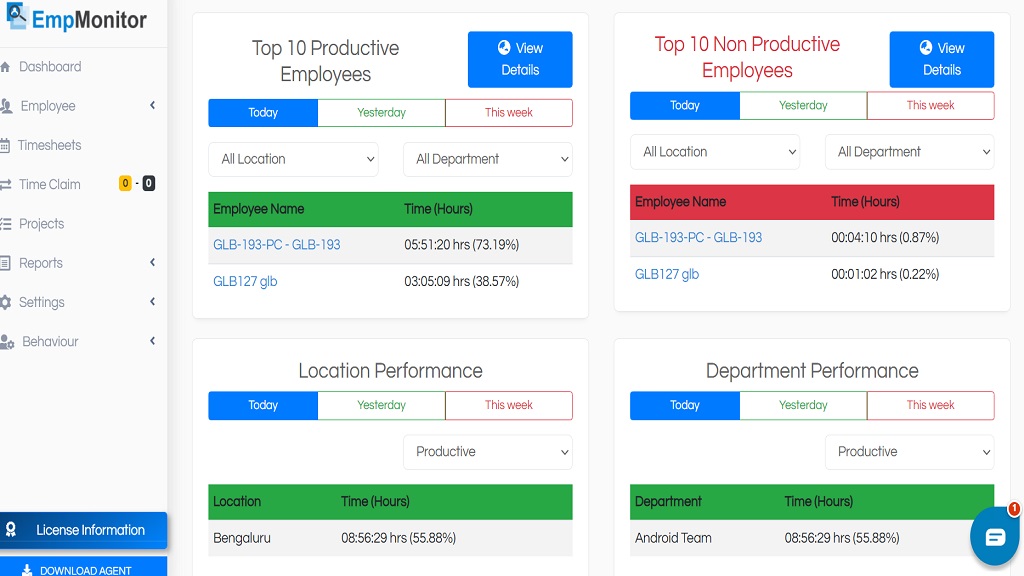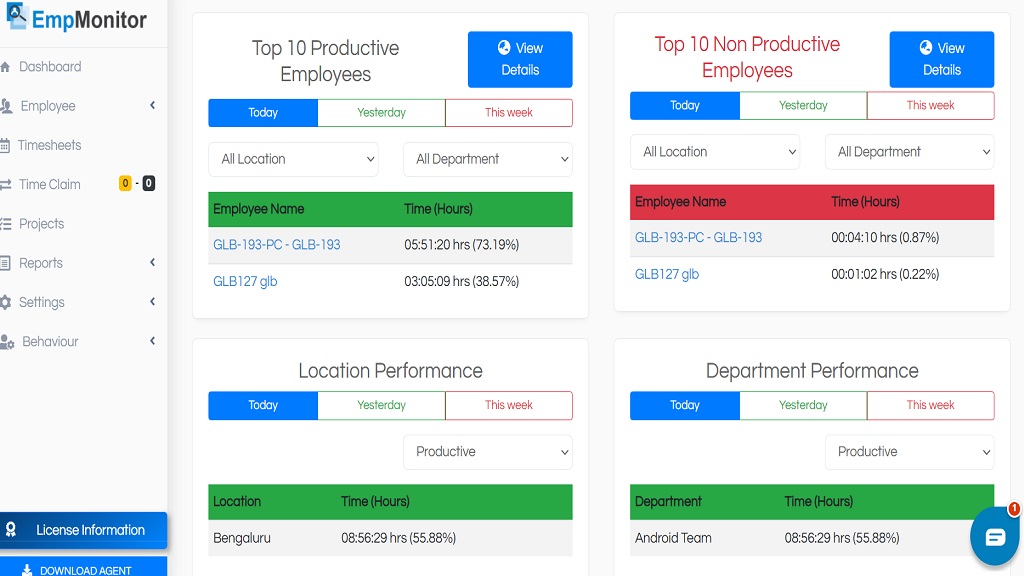 4. Manage attendance- EmpMonitor provides a flexible user-based setting(log hours from anywhere) that gives accurate work hours and department-wise attendances. In addition, you can extract ready-made reports for up to 30 days with an auto screenshots facility as well.
Additionally, it provides regular productivity hours with graphs to better understand the working patterns of your employees for employee recognition. (See image below)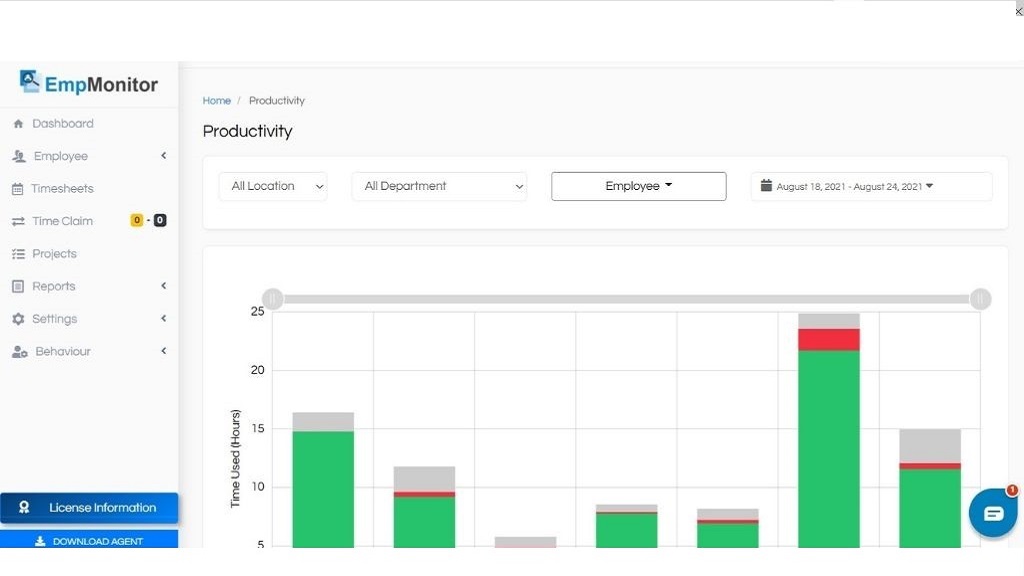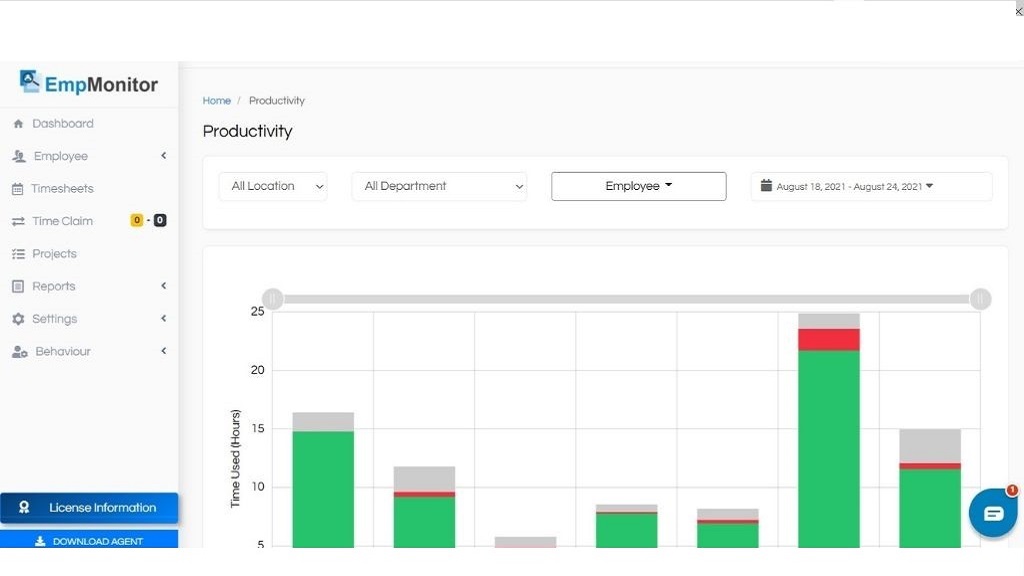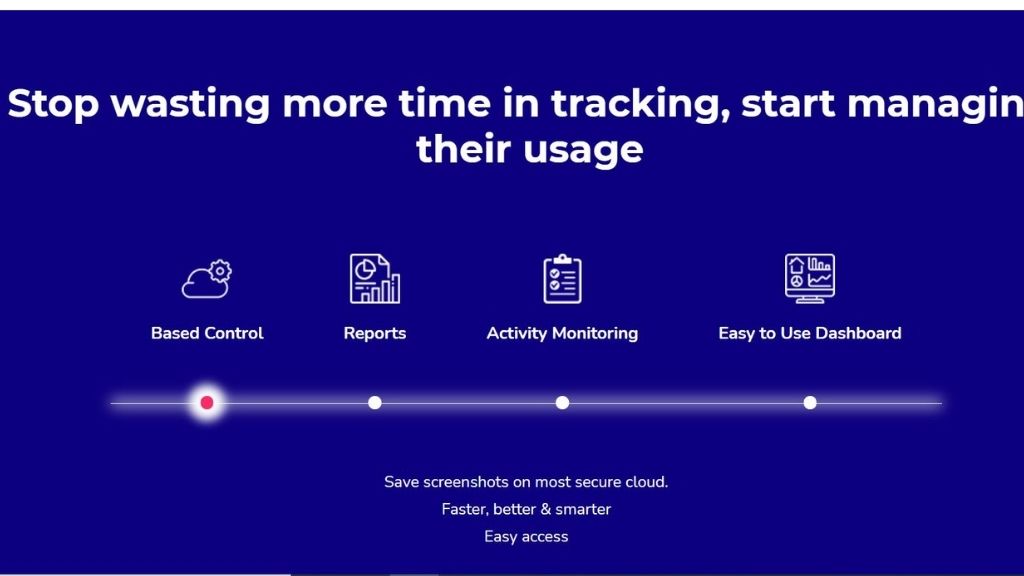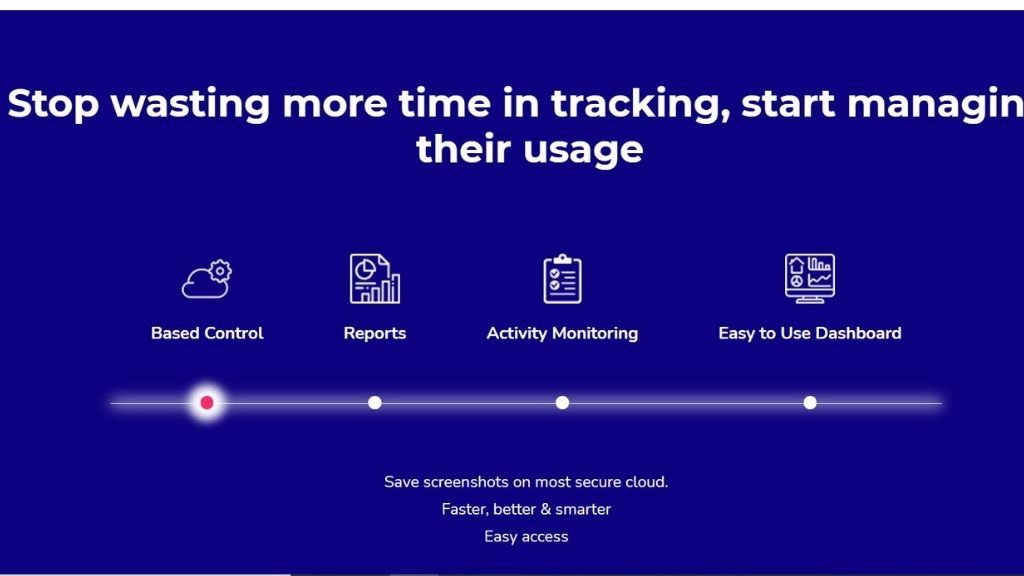 5. Auto screenshots- This feature takes screenshots at regular intervals and customizes the monitoring parameters, generates random screenshots, and makes sure that the employees always stay on track.
Why is an EmpMonitor Best for Your Business?
With its state-of-the-art functionalities, EmpMonitor is the answer to all your employee management-related queries. It helps improve productivity, business profit, and overall operations. 
Following are the reasons to choose EmpMonitor-
Increased productivity

Save time and money

Graphical Reports

Data Security

Stealth operations

24/7 Support
Role Of Employee Recognition In Business Success?
For an employee, recognition means closer ties with the organization and a more positive work culture. It certifies that the company values its employees and their contributions and appreciates efforts and dedication to the workplace.
This small token of appreciation plays a significant role in business success, leading to greater employee retention rates, active employee engagement, better employee morale, more employee referrals for recruitment, improved employee experience, and word-of-mouth promotion of the brand.
It reflects a positive impact on the overall success of other business models like- controlling expenses, sustaining outputs, and increasing profits.
Read More:
What Is Remote Work? Why Is It Important For Business?
Here Is Why You Should Opt Macro-Managing Over Micromanaging?
Tips for Building an Employee Recognition Program
While designing recognition programs for your company, start with a strategy of how it will affect your company goals in the future, challenges, and opportunities.
Recognition programs are vital but not always easy to craft,  sharing below some important points to be kept in mind before creating recognition programs for your organization.
Be specific

Define the recognition criteria

Leverage recognition tools like

EmpMonitor

Start as soon as possible

Be all-inclusive

Be timely

Consider a mix and match for both types of recognition

Fulfill your promises

Keep revising and revisiting employee recognition programs

Get employee feedback and treat them as family
Key Takeaways of Employee Recognition
Recognition programs improve employee retention rates. 

Different kinds of recognition programs help recognize employees based on several criteria levels like- generation, culture, responsibility, and experience. 

Such programs convey talent strategies, organizational values to get the best results. 

Asking for frequent feedback and reaching out to help the employees will not only recognize them for achievements but help them with their career growth and business success. 
Final Words
Employee recognition will encourage an innovative, dynamic, productive, positive, and happy organizational culture. People who feel appreciated at the workplace develop a sense of belonging, appreciation, and ownership towards the company's targets. Their contribution increases manifolds when they get recognition from their employers.
Organizations should keep an open, all-inclusive recognition program rather than closely guarded programs, keep revising the recognition criteria for better productivity and happy employees.
And lastly, develop trust between you and your employees by regularly taking their feedback on projects and company targets.
Hope you enjoy this post and incorporate the powerful tips shared above to build a healthy workforce for your organization!
EmpMonitor serving employee recognition by tracking every user activity and providing quick solutions in real-time. Try EmpMonitor and see the difference in your workforce!