Project management is a multifaceted process that encompasses multiple phases – planning, executing, and monitoring.
Challenges in project management may arise at any point in the process, and finding the best solutions to such problems is one of the primary roles of the project manager.
Managing projects is not a cakewalk. As a project manager, it's your responsibility to manage and balance different Project management elements like time, scope, money, and people. There are many challenges faced by project managers to achieve the goals.
But it's crucial to address the project management challenges for success. Let's explore some challenges with practical solutions together!
LISTEN TO THE PODCAST NOW!!
7 Project Management Challenges and Its Solution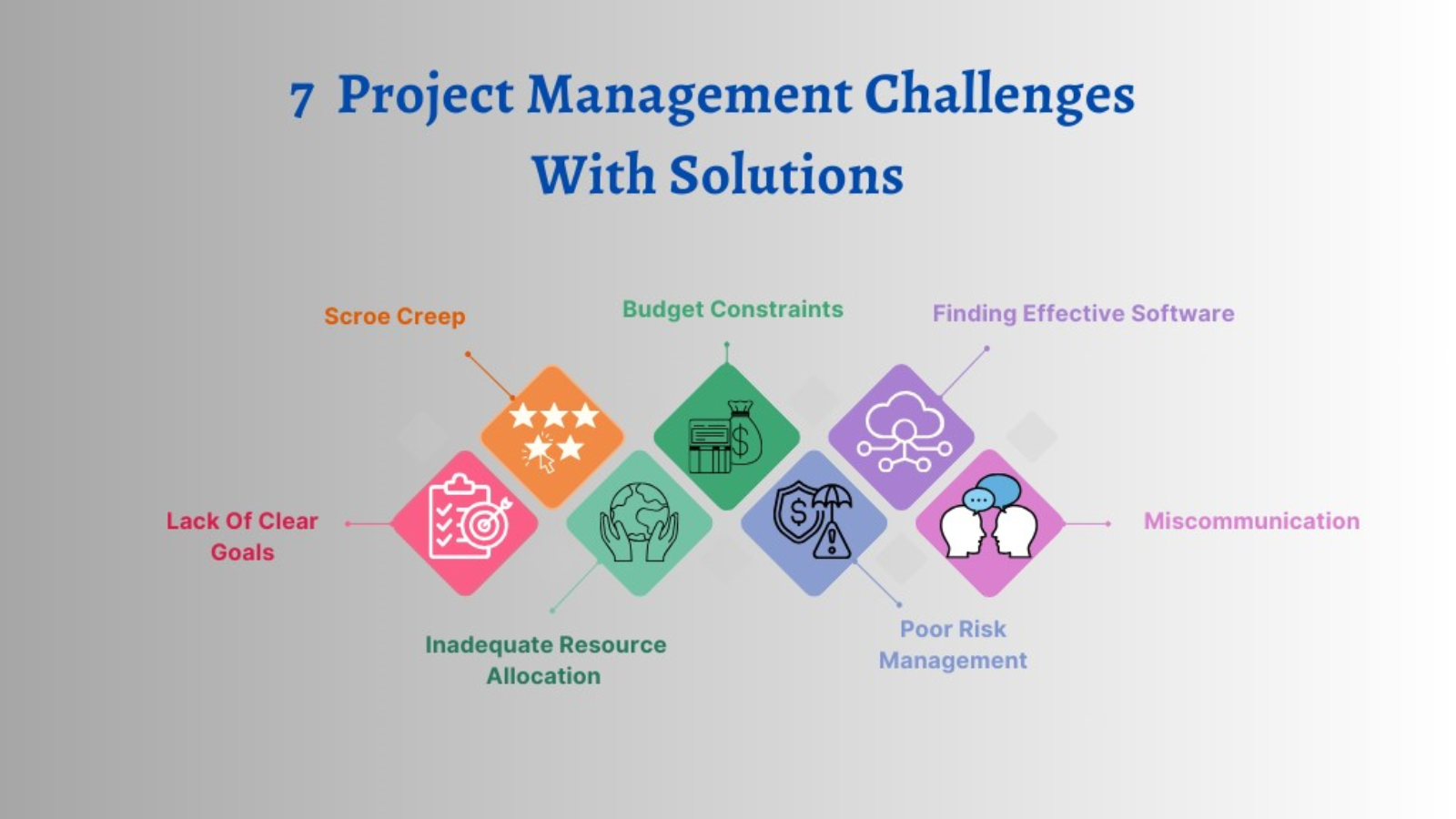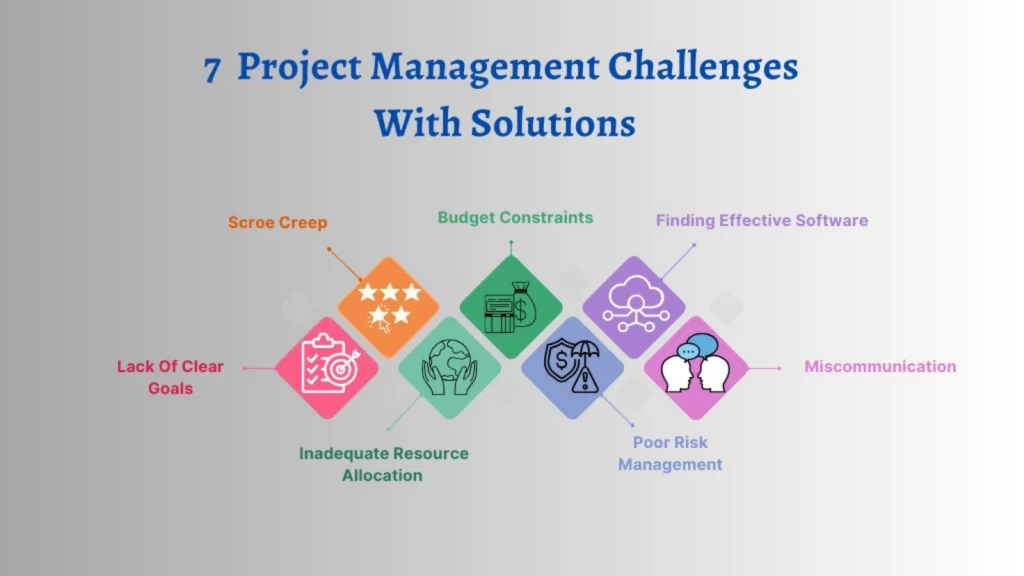 #Challenge 1. Lack Of Clear Project Goal And Objective
A recent study found that 30% of projects fail due to inadequate vision or goals for their projects. Poorly defined goals, especially the lack of clear objectives, can cause problems for any project, and this can lead to poor performance by the team members as they are unaware of aligning their objective with the company's.
Here's How To Address It:
So, how can you define a goal clearly?
Here are 2 popular approaches to goal setting: CLEAR and SMART. These approaches help project managers to set goals that are crystal clear to the project team.
SMART stands for Specific, Measurable, Achievable, Relevant, Time-bound. Creating SMART goals ensures that everyone understands what needs to be accomplished, and you'll be set up for success.
CLEAR stands for collaborative, limited, emotional, appreciable, and refinable. A CLEAR goal can be used as a basis for building a business vision and mission statement.
Either of these approach 1 or a merge of approach 2 — can help project managers set goals for teams and individuals toward project completion.
#Challenge 2. Score Creep
Scope creep is a very common and classic challenges in project management that happens in almost all kinds of projects. Scope creep arises when a project gently adds new needs or alters course, especially when clients desire additional features without changing the project budget.
Scope creep can occur due to many reasons such as unclear or unrefined scope definition where the client or business users are not providing detailed or accurate requirements, and dynamic market conditions that require changes to the product or service being developed by the project team.
Here's How To Address It:
Define the project's scope in detail, and make a clear schedule to outline every step of the project.
Regularly communicate with clients about any changes or additions to the project's goal, by this, you'll get clarity of your project.
Make realistic assumptions about resource availability and deadlines to achieve the best results, but keep in mind that some scope creep is unpreventable.
Take proactive steps to minimize scope creep by effective risk management strategies.
#Challenge 3. Budget Constraints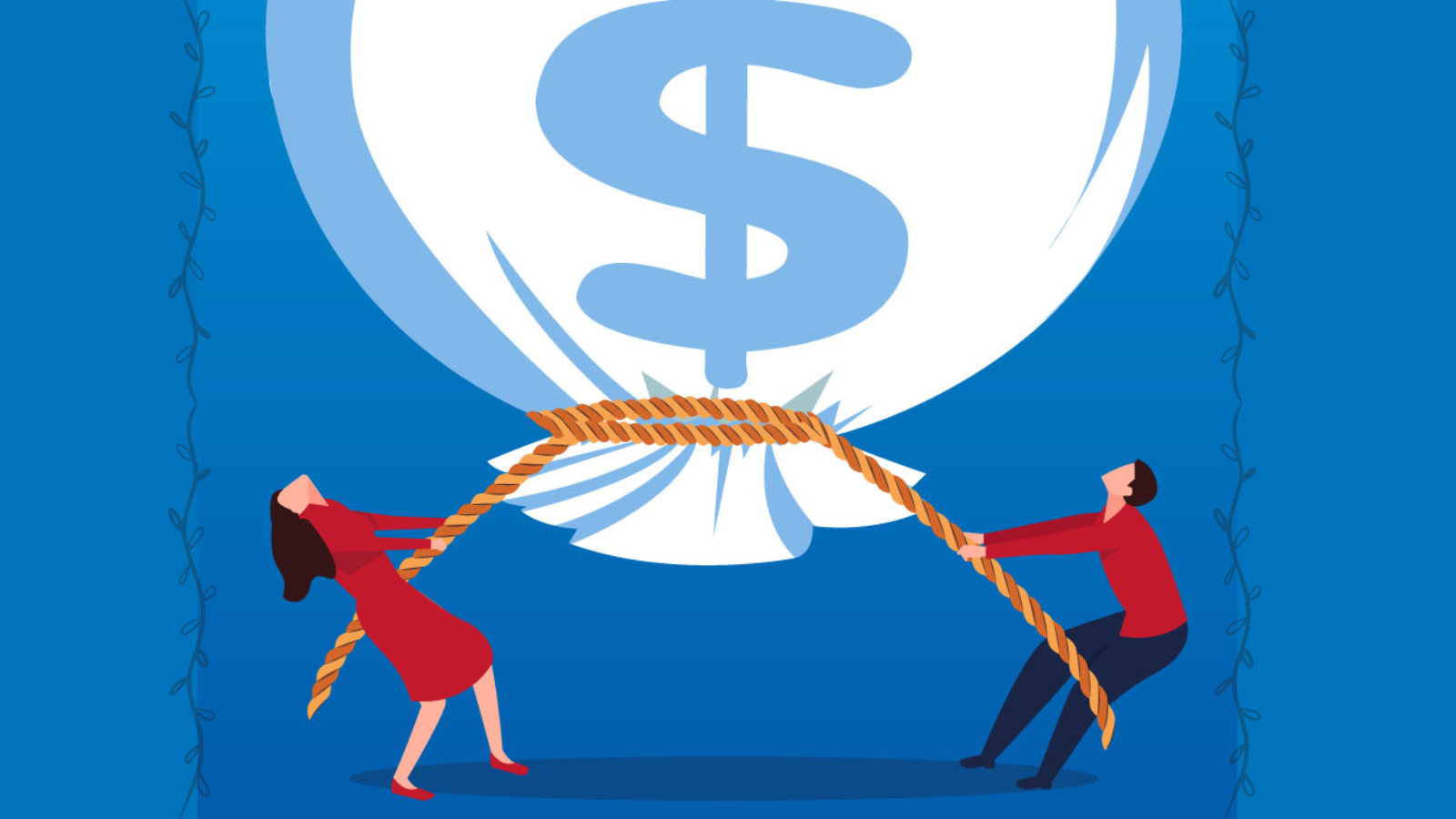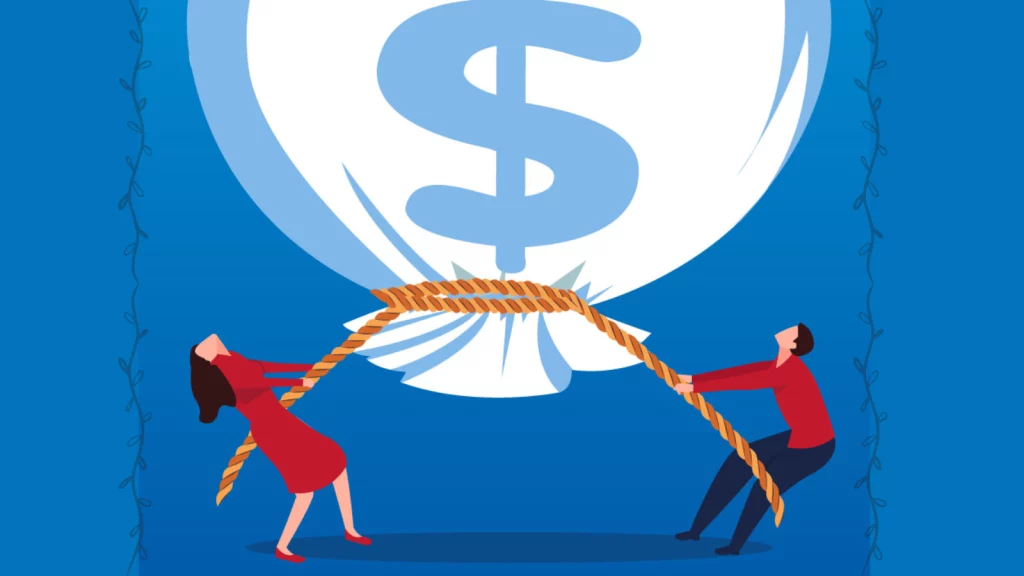 Today's businesses are often confronted with having to do more with less. When scope starts to creep while managing projects, the same happens with budget. Budget constraints are a truth of modern business. Budget management can create big challenges in project management.
Ultimately, each organization must figure out the best way to provide accurate budgets for their projects to have a reasonable chance of being successfully executed in order to meet business objectives. They should adopt cost management strategies to prevent straying from the approved budget.
Here's How To Address It:
Budget constraints mean the project manager will have to make decisions related to specific trade-offs, such as limiting the use of funds and implementing a strict cost management structure to prevent bigger costs, and project managers can avoid the cost strom that a project may face and strive for better and quicker results.
#Challenge 4. Finding Effective Project Management Software
There are a number of Project management software available today. It can be difficult to identify the right technology for your project management team that is within your budget, to manage your projects.
Although that doesn't necessarily mean that every tool will solve all of a project manager's challenges, project management varies between organizations. Factors such as organization, industry, project type, client, and even team culture all impact the level and depth of project management.
However, the important question arises here, which software will be the best fit for your project management? It can be difficult to find such a tool, especially those that help you to meet your needs.
Here's How To Address It:
Many project managers rely on project management tools well-designed project management software will ensure that projects are progressing as planned and allows you to get clarity into all your projects.
Well! One such tool is EmpMonitor, a solution that perfectly fits to overcome the challenges in project management.
The biggest advantage of this software is that it can be accessed remotely, and project managers can track progress in real-time and manage project management issues.
Let's explore the details to discover how it can benefit your organization to tackle Project challenges.
EmpMonitor – Employee Monitoring Software
EmpMonitor is one of the most powerful employee monitoring software. It marks a fine line between the privacy and productivity of the employees. EmpMonter believes in progress with an application of intelligence and technology to improve business, productivity monitoring, and project management.
Efficiency is the key to success. EmpMonitor is the best way of approaching a challenge, and a quicker, smarter way of working. It has the best project management software features to improve your organizational efficiency.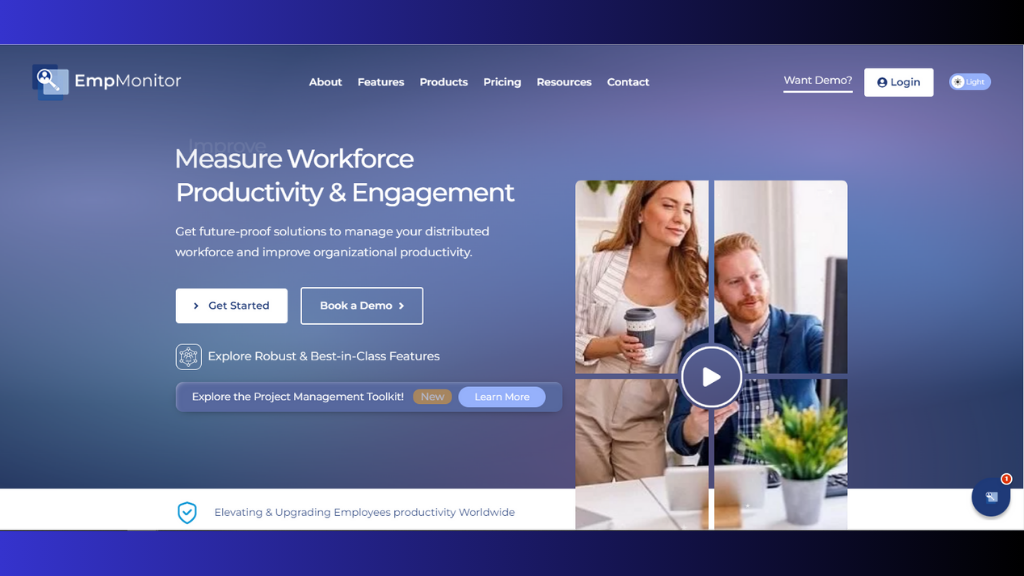 EmpMonitor offers a range of valuable features for efficient project management:-
Time-Tracking
Avoid the hassle of manual work with this time-tracking software. It automatically starts tracking time as soon as employees turn on their system and gets exact and reliable employee activity insights.
EmpMonitor helps prevent any unproductive or malicious activities during work hours, and boost employee productivity and also facilitates effective time management within your organization.
Workforce Productivity & Engagement
Employee productivity and engagement is a vital factor in determining organizational productivity.
It empowers you to get utmost employee engagement with administrative convenience. With an employee productive report feature, get your hands on comprehensive reports to keep track of employee engagement, productivity, and employee efficiency.
Project Management
With this feature, you can streamline your project management planning, assign tasks effortlessly, and foster real-time collaboration among your employees
The software provides thorough clarity of the projects, which is useful for managers to:
Measure their work progress
Observe the project deadlines
Manage multiple projects at a time
Project Management takes full control with your Project Module – create, edit, search, filter, and generate downloadable reports effortlessly. It helps you to track detailed progress and time reporting that provide invaluable insights into project efficiency and ensure a smoother path to success.
Attendance Monitoring
EmpMonitor tool, which guarantees the accurate recording of employee attendance and leaves.
Employees may analyze their leave balance as it provides employees the freedom to examine from anywhere.
With the help of a cloud-based analytics software, you can see employee attendance with :
Employee Shift scheduling
Their check-in and check-out times
Easy to obtain dashboard
Automated timesheets
EmpMoniter allows you to customizable Work that empowers managers to build their project management. It's easy to operate and keeps all data in one central place.
#Challenge 5. Conflicts Arising Due To Miscommunication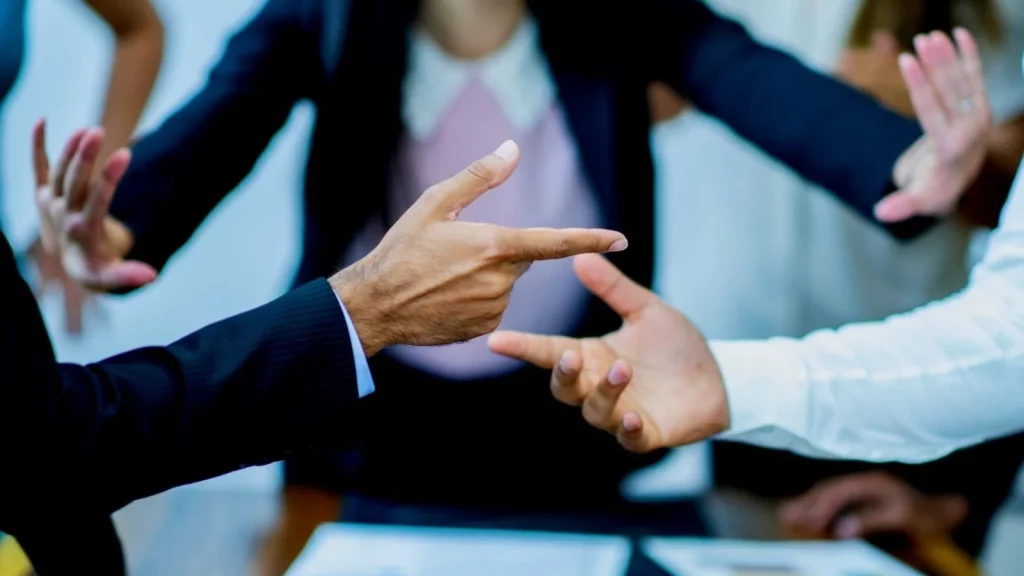 As a project manager, how many times have you had to address project-related issues affected by "misunderstandings", "misconceptions", or "miscommunications?"
Poor or ineffective communication is highly critical for successful projects. Communication challenges affect teamwork and productivity. At times, team members may not even be sure of what tasks they have to perform or how to perform them, causing unnecessary delays.
This happens most commonly in organizations due to a lack of a culture of open communication and transparency.
Here's How To Address It:
Undoubtedly, communication skills are the project manager's greatest strength.
To avoid any conflicts or delays arising due to miscommunication, the project manager must establish a clear communication line. They can rely on a collaborative platform such as email, meetings, phone calls, memos, and so on to ensure that all the information is communicated to everyone involved without any confusion.
#Challenge 6. Poor Risk Management
Projects rarely go as planned. The risks can be hidden flaws in the project planning stage or vary according to market demands. However, these unknown factors can impact your project management.
Poor risk management is one of the most common challenges in project management that managers have to deal with. Even with the most detailed project plan, there are bound to be some unforeseen events that will risk the project.
Here's How To Address It:
A risk management process in project management is a chain of actions that involves pre-decision-making, prompt execution of actions, and control in order to keep project completion within defined boundaries such as – time, cost, and quality.
A project manager must be careful in developing a risk management plan, which includes:
Identifying all potential risks
Short these risks into groups.
Think out how likely each risk is to happen.
Make a plan for what to do if any of these risks actually happen.
#Challenge 7. Inadequate Resource Allocation
Another challenges in project management is the lack of resources. It could be in the form of money, resources, or even time. The management must offer adequate resources to run the project effectively.
Due to a lack of resource allocation, project managers have to use whatever they have. Regrettably, this means assigning tasks to project team members, contractors or agencies who may not necessarily have the right skills to perform or carry out a particular task, and this can cause problems with the quality of the work.
Here's How To Address It:
The project manager needs to adopt a proper planning strategy. Every task should be aligned with a professional's role or skill set and avoid making unrealistic assumptions to avoid cost overrun and lack of resources and aim for better results.
Make sure that all necessary resources are available when needed.
READ MORE:
7 Tips For Better Project Tracking & Deliver Projects On Time
How To Pick Monitoring Software With 7 Best Project Management Features
Simplify Project Management With Time Tracking Software
Time Tracking Software For Employees : The Next Big Thing In Productivity Tools
Wrapping Up
Now, you are ready to overcome your challenges in project management! Get started now and follow the solutions that are listed above.
Project management can be complex, but there are ways to make it work. As not all challenges are rooted in the same underlying issues, facing them requires constant analysis and adaptability.
Challenges will always show up, like problems with planning, teamwork, communication, and resources. But every talk and work together, most of these issues can be avoided. And to help there is a tool like, EmpMonitor to keep everything on track.