If you have visited this blog to find some of the best time tracking apps for small businesses, then you are at the right place. There are so many work time tracking applications available in the marketplace. Still, when selecting the best one,  you would probably be more confused with more than 100's of apps available.
To make this easier for you, we did research to hand-pick some of the best time tracking applications for small businesses. Based on the industry requirement, we have looked for all those features that could really help you to enhance your modern workplaces.
Also, we know that nowadays, companies are allowing remote and hybrid work. And considering that, we also show you some work time management tips that might help you and your employees.
Have This Post Read To You-
So without further ado, here we go.
Best Time Tracking Apps For Small Businesses
Here, we focussed primarily on the online time-tracking feature, which could help the most with the current business scenario. We know that nowadays, many more companies are allowing remote and hybrid working opportunities to their employees. That is why companies are looking for work-time tracking solutions that can help them check the working hours of their employees.
If you are looking for the best free time tracking app for small businesses, you can go with EmpMonitor 15 days free trial, which enables employers to check- working hours, productivity, break time, idle hours, etc.
EmpMonitor-

In most small and mid-range enterprises, there is a need for a work time tracking solution. As we already know, it takes quite a time for managers to monitor every task and update from the employees' end. That is why they want to invest in tools that can help them to monitor their productivity. One such excellent tool is EmpMonitor.
When we compared EmpMonitor with other time-tracking applications, it has exquisite remote employee monitoring features that claim the number one spot on our list.
EmpMonitor allows you to:
With such functionalities, EmpMonitor makes it feasible for employers to manage their workforce more efficiently and encourages them to boost overall productivity in their businesses. Along with that, it has HRMs and Payroll functionalities, which makes it one of the best time tracking apps for small businesses.
To start with EmpMonitor in your enterprise, first, you have to open its dashboard. There you have the option to download the application. Then you need to install the application on your employees' devices. You can either do it one by one manually or directly make the installation at the server end that connects to all networking in your organization. And now, you are ready to monitor the real-time work records from your employees' computers.
EmpMonitor includes attendance tracking and HRMs feature that allows employers to manage payroll and employees' leave requests without much hassle. This app is available to download on Windows, Linux, and MAC OS and is suited well to manage both in-office workers and remote working employees.
Harvest-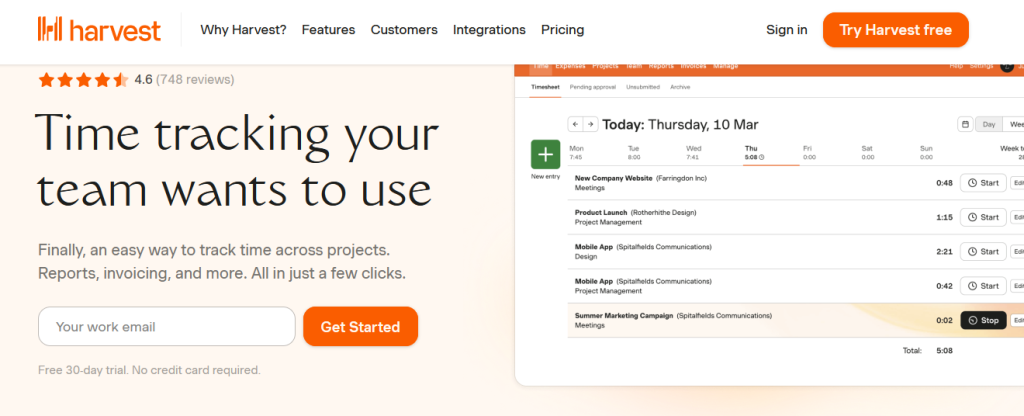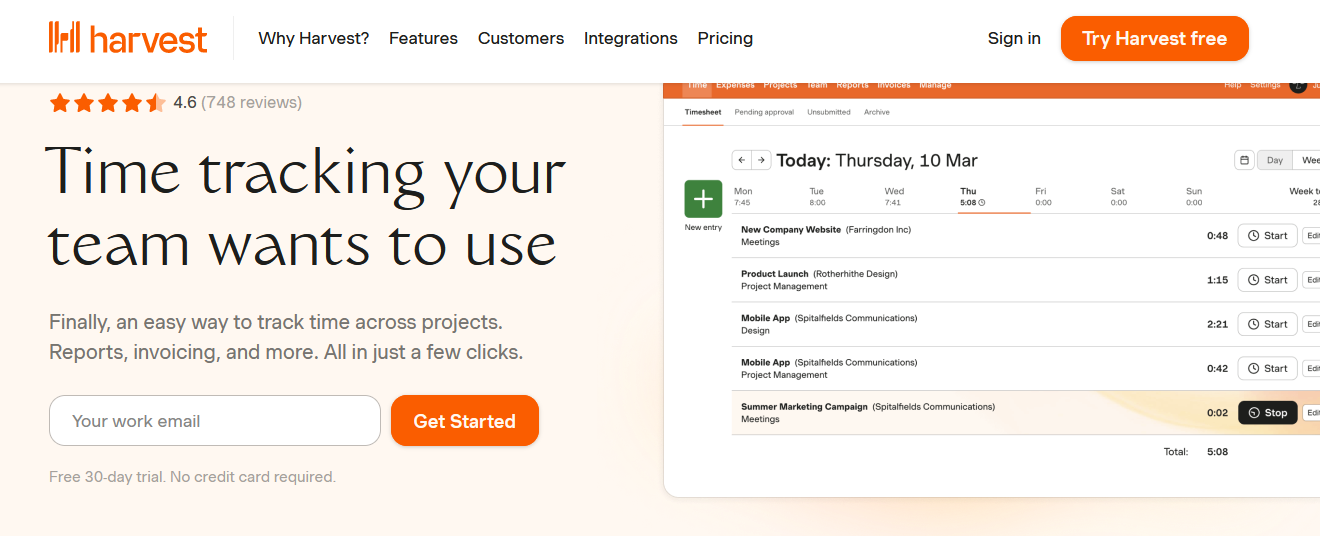 Whether you have a small business or managing a large business firm, Harvest is the time tracking application you must check once. Most freelancers prefer this tool for managing their work time and billing invoices since it has a simplistic time-tracking feature that records expenses and creates invoices accordingly.
After completion of a task, the user can directly send the message with the invoice from the app without needing any external accounting system. Even if you are managing a company, Harvest can really be helpful for you to manage employees and check the detailed report of their timesheets using the admin account.
As an admin, you can monitor the ongoing projects/tasks and accordingly keep tabs on the work schedule to avoid overwork causing burnout. However, it has certain limitations, which makes it not a feasible time-tracking solution for enterprises. With the growing team in a company, it would be harder for a company to scale and cover all of the ongoing projects.
This application is available for the Web, Mac, iOS, and Android. In contrast, you can also use it as a plugin in Chrome and Safari browsers.
Hours-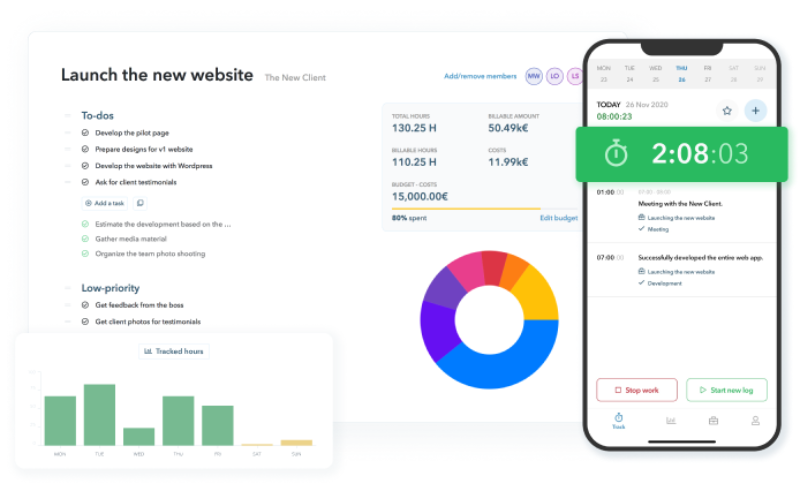 If you are looking for a simple yet one of the best time tracking apps for small businesses, Hours is an app that can really help you. It is an application with simplistic time-tracking features. This application is well-suited for organizations that aren't looking for more advanced features other than time management.
With its color-coding theme, you can allocate tasks and responsibilities to team members, making it easier for you to differentiate between them. The limitation of this tool is that you can only install it on android devices (Not available for Windows and Mac). However, you can directly access the application on the web.
TimeCamp-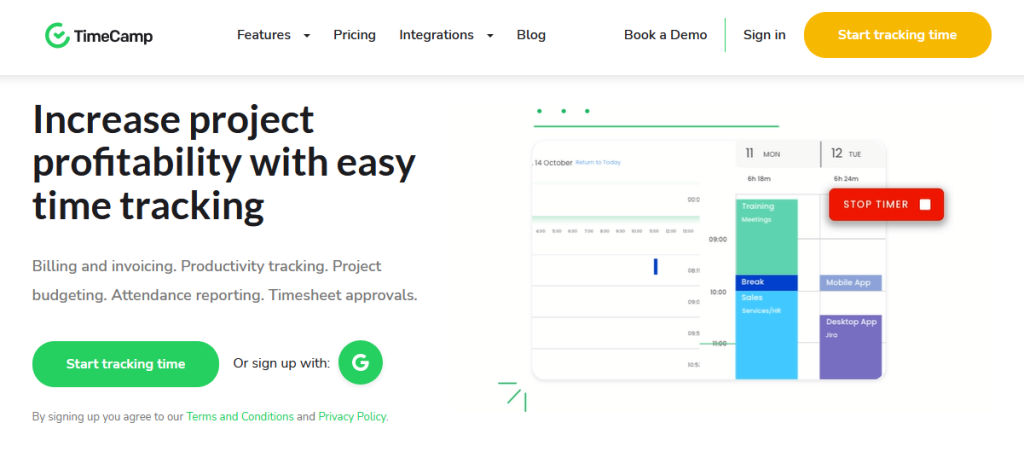 If you are a freelancer looking for a time management solution, you can also check out TimeCamp. It helps you to keep track of billable working hours, so you can enhance your professionalism as a freelancer by tracking projects and managing timesheets.
Also, it allows other third-party tool integration to manage projects and work time accordingly. However, sometimes it may cause problems while integrating software that may cause an error or a loss of data.
TimeDoctor-
When a small organization grows, its requirements to manage the workforce won't be limited to attendance and timesheet management only. Using this application, the manager can watch over the work time and their real-time work activities as well.
Although it gets all the features you might want in your workforce management feature, it still lacks a few things in terms of UI design and ease of usage when we compare it with the best time tracking apps for small businesses like EmpMonitor. You can avail TimeDoctor time management application on Web, Mac, Linux, iOS, and Android platforms.
Hubstaff-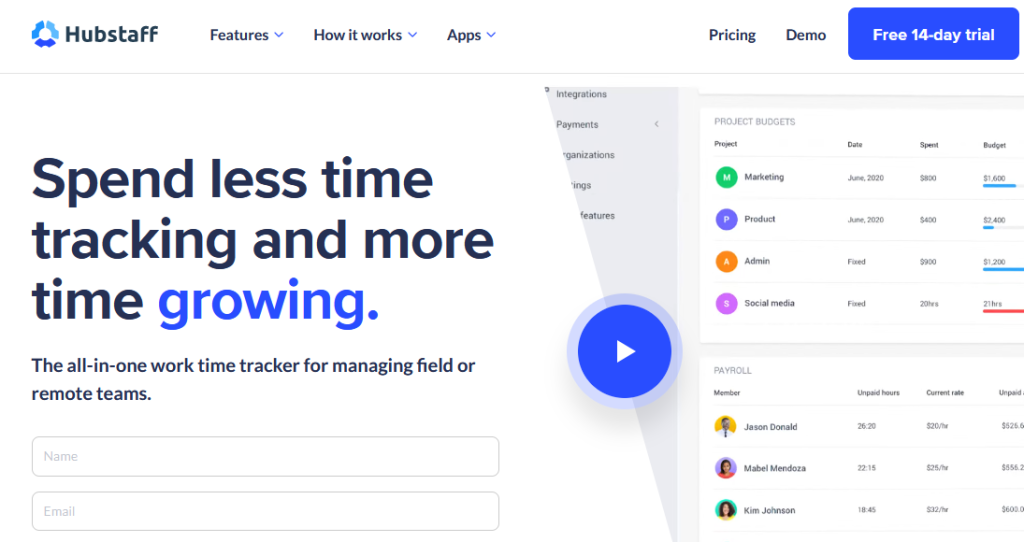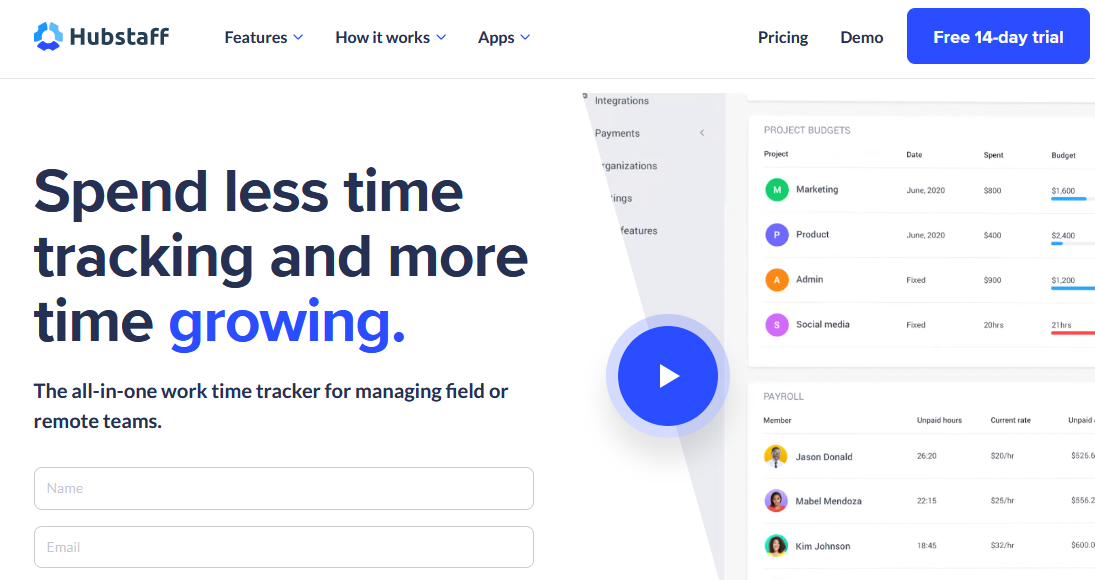 Now, if you are looking for a complete tool for workforce management, Hubstaff is also an option that provides multiple workforce management features. Also, it has GPS functionality which keeps the manager aware of the location of their employees.
Especially if you are managing a sales team, you can use this application with your employees to know about their location and check the work progress. It also has screenshots and payroll management features.
However, Hubstaff doesn't have the functionality to bring you in detail and individual reports of each and every employee that you can get with EmpMonitor.
RescueTime-
Want to know how much time your employees spend on specific applications, URLs, or software? If yes, then RescueTime is another option you have other than EmpMonitor. Just like EmpMonitor, it has a feature that allows you to track the website and applications used by employees.
For example–
If an employee uses social media during working hours, it can be considered a work distraction. While for someone who is working specifically working on social media, you have the option to decide whether to take a website as productive or non-productive manually.
However, in a scenario where you have to find each and every website that is productive for your business or not, that would be quite troublesome.
Instead, you may look for EmpMonitor- the best time tracking app for small businesses. It not only lets you check on the website used by employees but also brings you detail in report form. Using that report, you may check the websites that could be productive or non-productive for every individual employee.
Clockify-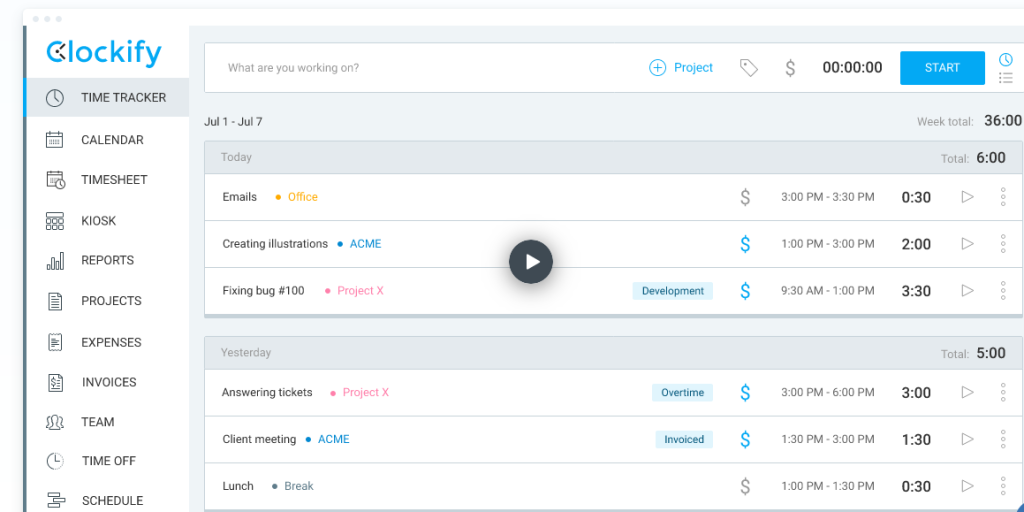 If you and your team are working on several projects at a time and want to track the time required to complete each, then Clockify can really help you. It is a work time management software that works as a stopwatch for the projects you and your team are working on. Also, it has an auto reminder in case an employee forgets to start the time before starting to work on any project.
The good thing about this software is that it gives you visually pleasing reports, which makes it easier for the user to understand. And by going through that, users can gauge the work progress on any ongoing tasks or projects. So as a small business owner, if you are looking for the best time tracking mobile app for small businesses, Clockify should be the one on your list.
Conclusion
There are so many work time management tools and software in the market. But based on your business requirement, you should opt for the one that provides max value to your business within your budget. Here we have shown you a list of some of the best time tracking apps for small business employees (like EmpMonitor, Harvest, Hubstaff, Timedoctor, TimeCamp, etc) using which you can enhance work time productivity in your organization.
These all software have a work time reporting feature. But along with such a simplistic feature EmpMonitor allows you to track productivity, monitor screen activities, and keep a tab on productive websites and applications. And that's why it is one of the best time tracking apps for small businesses.