When Covid-19 struck in 2020, it had an unexpected and dramatic impact on all aspects of our lives and the global economy. Businesses lost money, employees lost their jobs, and the general public was full of fear and apprehension. 
Keeping in mind that, despite the pandemic causing massive and historic losses, it has also been the most significant factor in the digitization and automation of businesses worldwide. 
During the global pandemic, many businesses were forced to switch to online and remote working, and many consumers turned to online services to stay competitive.
While it will be fascinating to watch how these businesses and industries recover now that the world is slowly but steadily returning to normalcy, effective and efficient task management is one of the most important things they need to do. 
What Is Task Management? 
Task management is the process of keeping track of your project's tasks from start to finish, and it entails making operational decisions for your tasks to support real-time changes, with the end goal of completing your studies. It is the process of overseeing a single charge from beginning to end.
Every task has a life cycle that begins with task allocation and ends with task completion and verification. Task management is a complicated discipline that requires meticulous attention to detail, adaptability, and the use of appropriate task management software.
Continue reading to learn everything there is to know about task management, task management software, and how it can help rebuild and take your business to the next level. 
What Is A Task Management Software? 
A task management software or task management app is an online platform that assists individuals and teams with task management. Individuals and groups in the workplace can benefit from Task Management Software. Teams can collaborate digitally by scheduling, prioritizing, and delegating tasks to one another using task management tools.
With that being said, Let's look at some of the most helpful task management software features.
Task Management
Task management and scheduling allow you to set deadlines ahead of time.
Task Delegation
Assigning tasks to internal coworkers, external partners, or both.
Timekeeping
Time tracking is used to track how much time is spent on each task.
Customization And Editing Of Tasks
Customization and editing of tasks for specific situations. 
Updates
Notifications and alerts are used to remind users of upcoming tasks and responsibilities.
Reporting On Progress
Progress reporting is used to track where you are in relation to the overall goal.
Organization Of Tasks
Tags, labels, and channels are used to group tasks by a joint team or project.
To-Do-Lists
To-do lists facilitate better visualization of tasks. 
Benefits Of Using Task Management Tool

Budget Management
Keeping track of costs is one of the most critical responsibilities of any manager. 
A versatile and multipurpose software system allows managers to automate tracking costs and ensure they do not spiral out of control. 
Budget managers can track costs in real-time and identify areas where too much money gets spent, thanks to actual quantitative evidence of who did what or for how long.
Productivity Improvements
Project management software has the benefit of simplifying decision-making and increasing workplace productivity. 
You can always make informed decisions in the shortest amount of time because all details are in one place.
Project Planning And Execution
The use of tools and other task management systems has greatly simplified project planning. By using a streamlined, systematic approach to project planning, you can achieve your project's goals.
Timeline Inspection
There are deadlines for projects. With the help of management software, project managers can tell if a project is progressing at the right pace or if more acceleration is required to meet deadlines.
Resource Allocation
Although resource allocation is a challenging aspect of project management, technological assistance makes it more accessible. If you used a project management tool, you'd know where to direct your resources better and faster.
What Is The Best Task Management Software On The Market Today?
While there are many capable and excellent task management apps and software on the market, we believe the following are some of the best task management software on the market right now.
Trello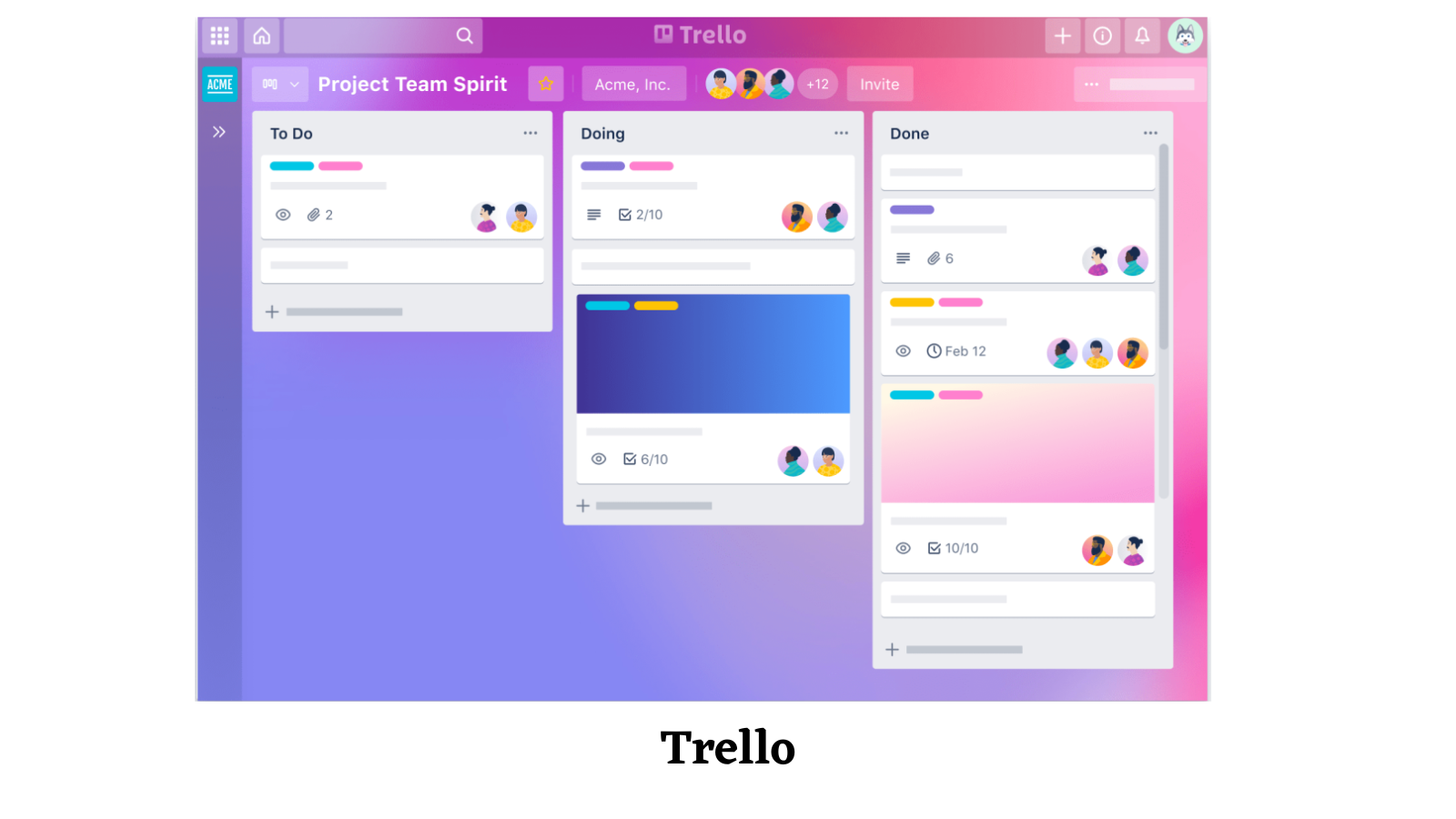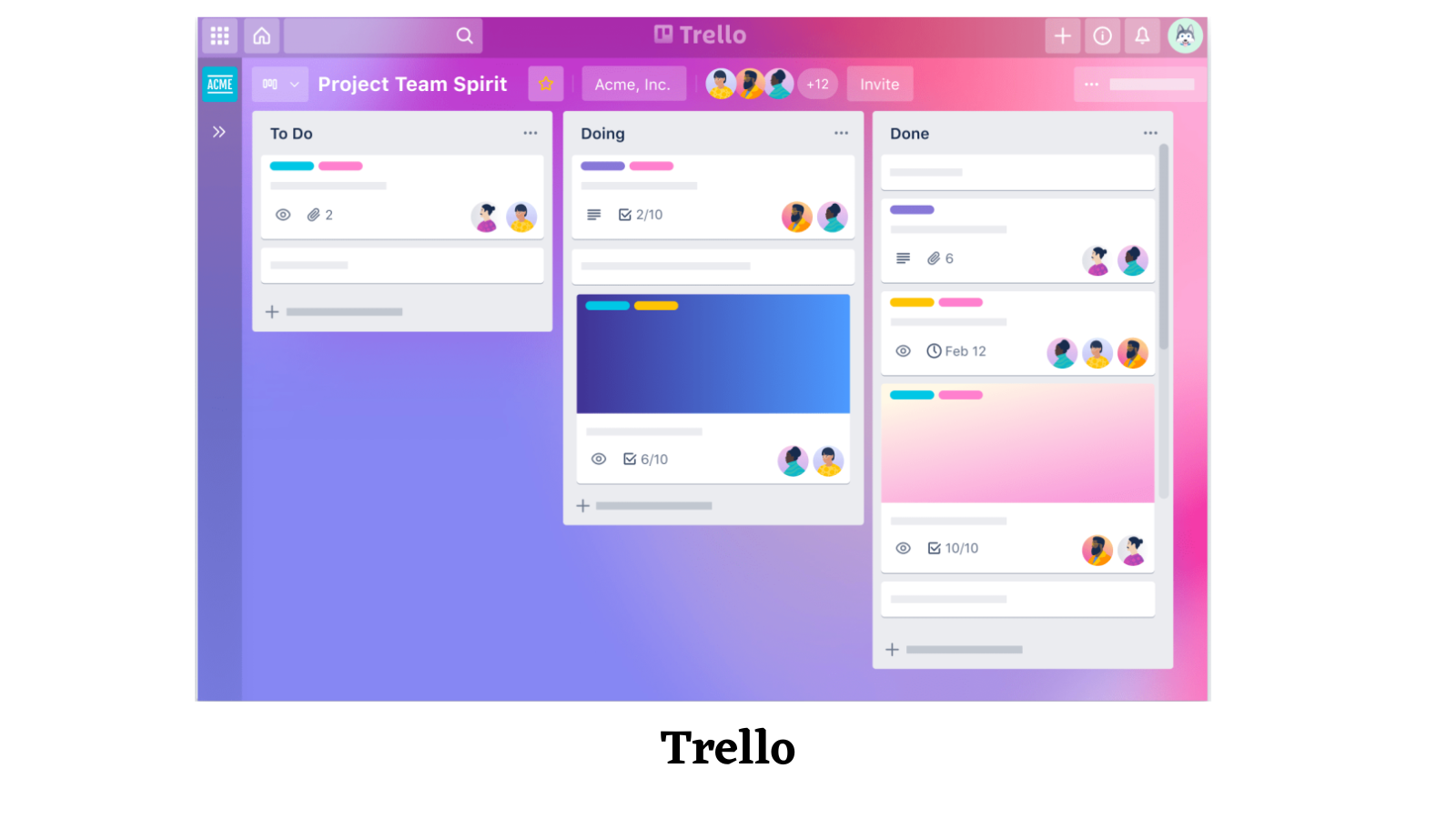 Trello is a visual task management software. It's an Agile task management tool that lets you organize a project on a project board. It comes with a generous freemium plan that is adequate for most solopreneurs and small to medium-sized businesses.
Trello is easy to use and enjoyable, but it lacks powerful automation features and a more substantial upgrade offer. It is also one of the best small business task management software in the market. 
Key Features:
Pre-programmed commands

Calendar View & Kanban Boards

Collections of Boards

Triggers for Tasks

Uploading a File

Custom Backgrounds for Boards

Templates

Playbooks for Teams (pre-made toolkits per industry)

Administration of Private/Shared Access

Integrations with third-parties

Exporting Data in Bulk

App for mobile devices
Pricing
Trello's annual "Business Class" subscription begins at $9.99 per user. Otherwise, up to ten boards are free.
SmartTask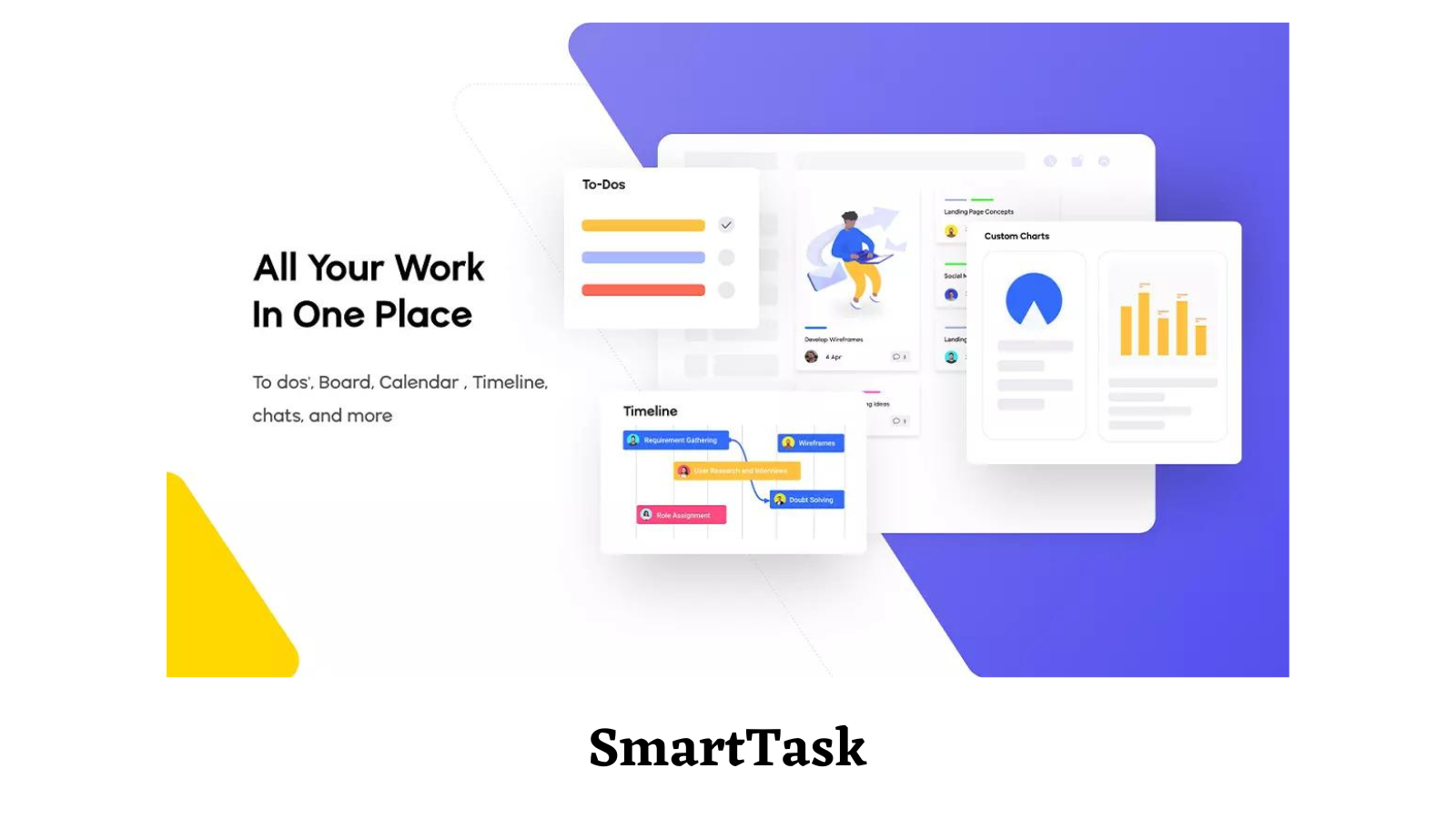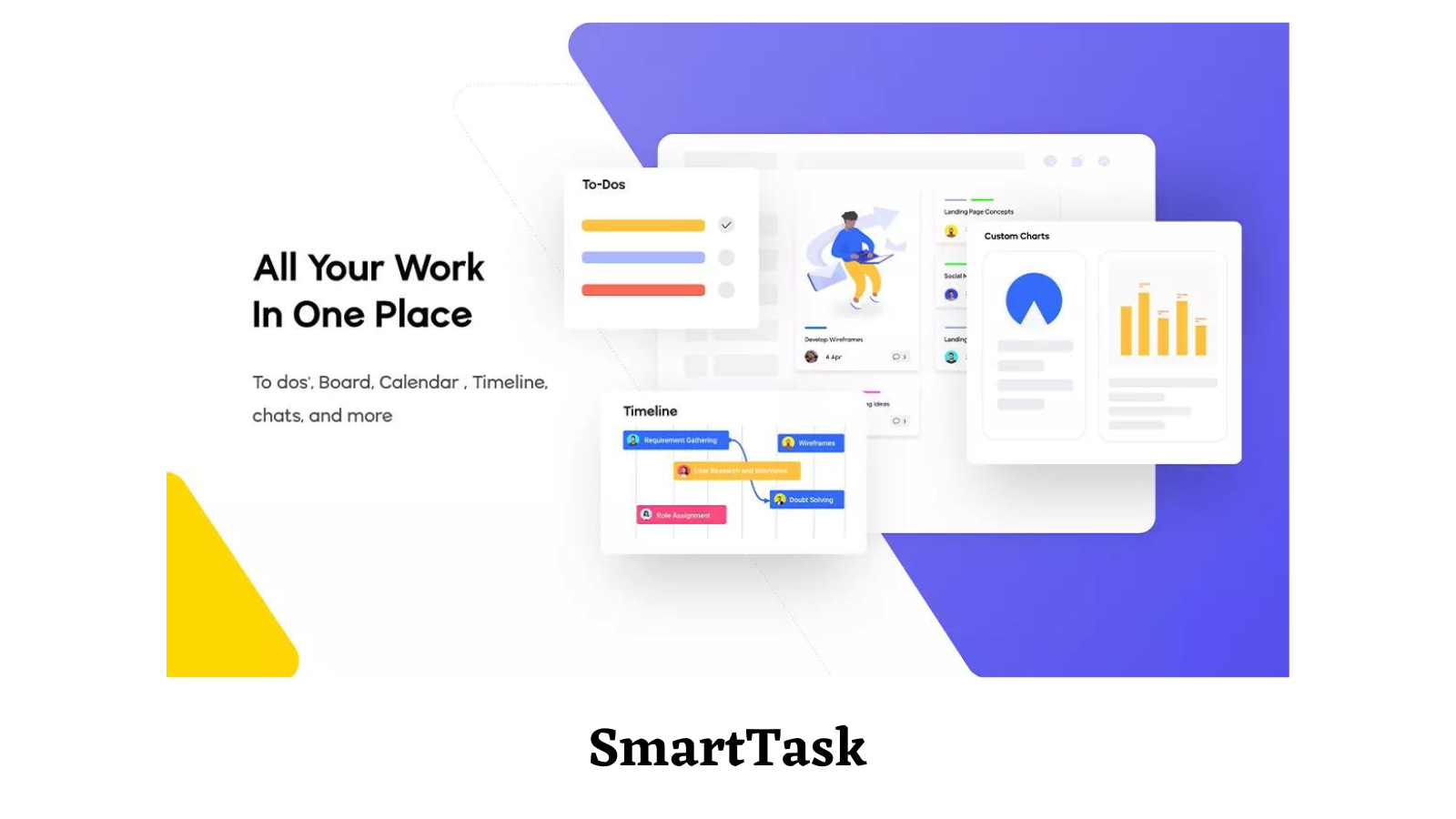 SmartTask is a cloud-based work management system with many features for teams of all sizes. It is well-known for its user-friendly interface that does not require any training. 
Key Features:
List, Board, Calendar, and Timeline Views help you keep track of your tasks.

Task Dependencies, reminders, and recurring Tasks

Customizable fields

Auto-Scheduling of Tasks

Milestones in the Project

Portfolio View allows you to keep track of multiple projects.

View of the Workload

Sales Pipeline Tracking & CRM Analytics

Keeping track of time and money

Video Conferencing and Instant Messaging

Check-Ins That Are Automated

Charts that are made to order

Productivity Scoring & Advanced Search

Templates that are ready to use and integrated with over 1000 applications
Pricing
SmartTask has a free version that allows unlimited users, tasks, projects, and contacts, while the paid plan starts at $5 per user per month when paid yearly.
Teamwork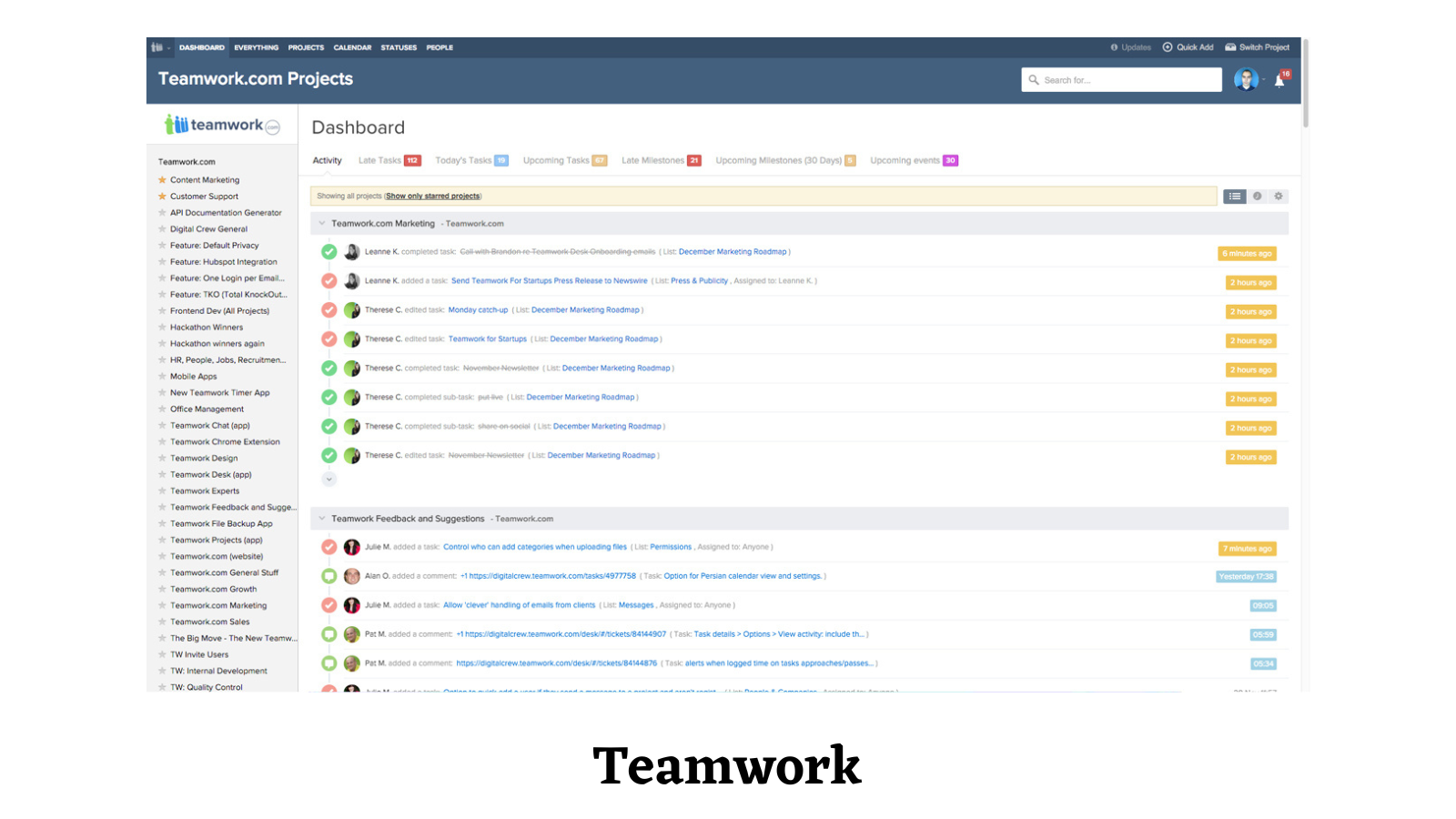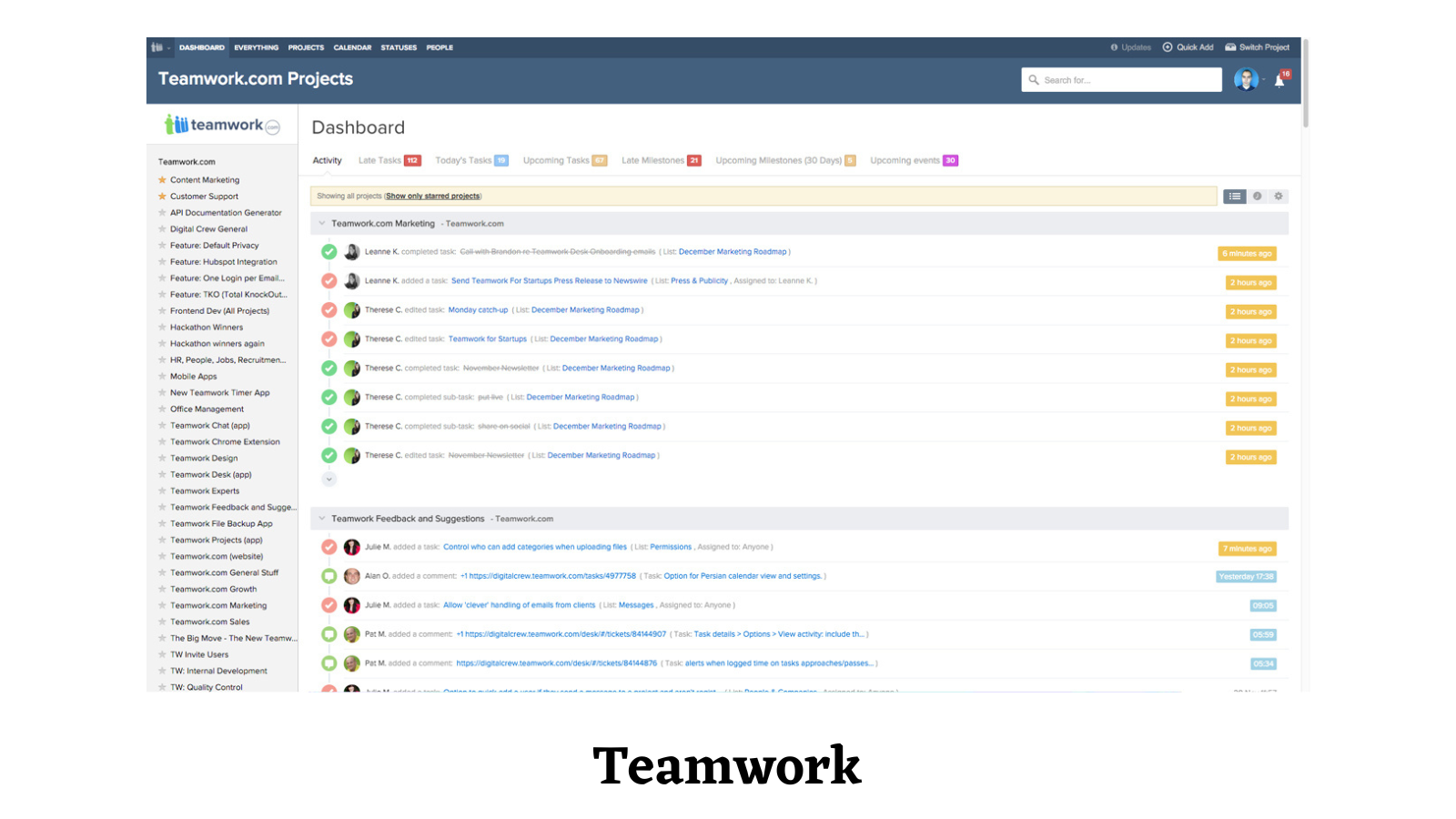 Over 20,000 businesses and 6,000 organizations use Teamwork project management software to help them manage their tasks. 
It's simple to use while still letting you handle various complex tasks. 
It's not only powerful and straightforward to use, but it's also highly adaptable, allowing you to tailor your workflow to your specific needs.
One of Teamwork's main advantages is that it is an excellent solution for a growing company, allowing you to access the platform's more powerful features while still benefiting from its user-friendly interface.
Key Features:
Project Administration

Collaboration within a Team

Individual workload administration

Timekeeping

Management of Client Permissions

Third-Party Inclusion

Team communication

Gantt Diagrams

Templates
Pricing
Teamwork has a tiered pricing system that ranges from free to Enterprise-level customized quotes.
Free
Pro: £10 per user per month (billed annually). 
Premium: £18 per user per month (billed annually). 
Enterprise: Contact them for a tailored quote.
ClickUp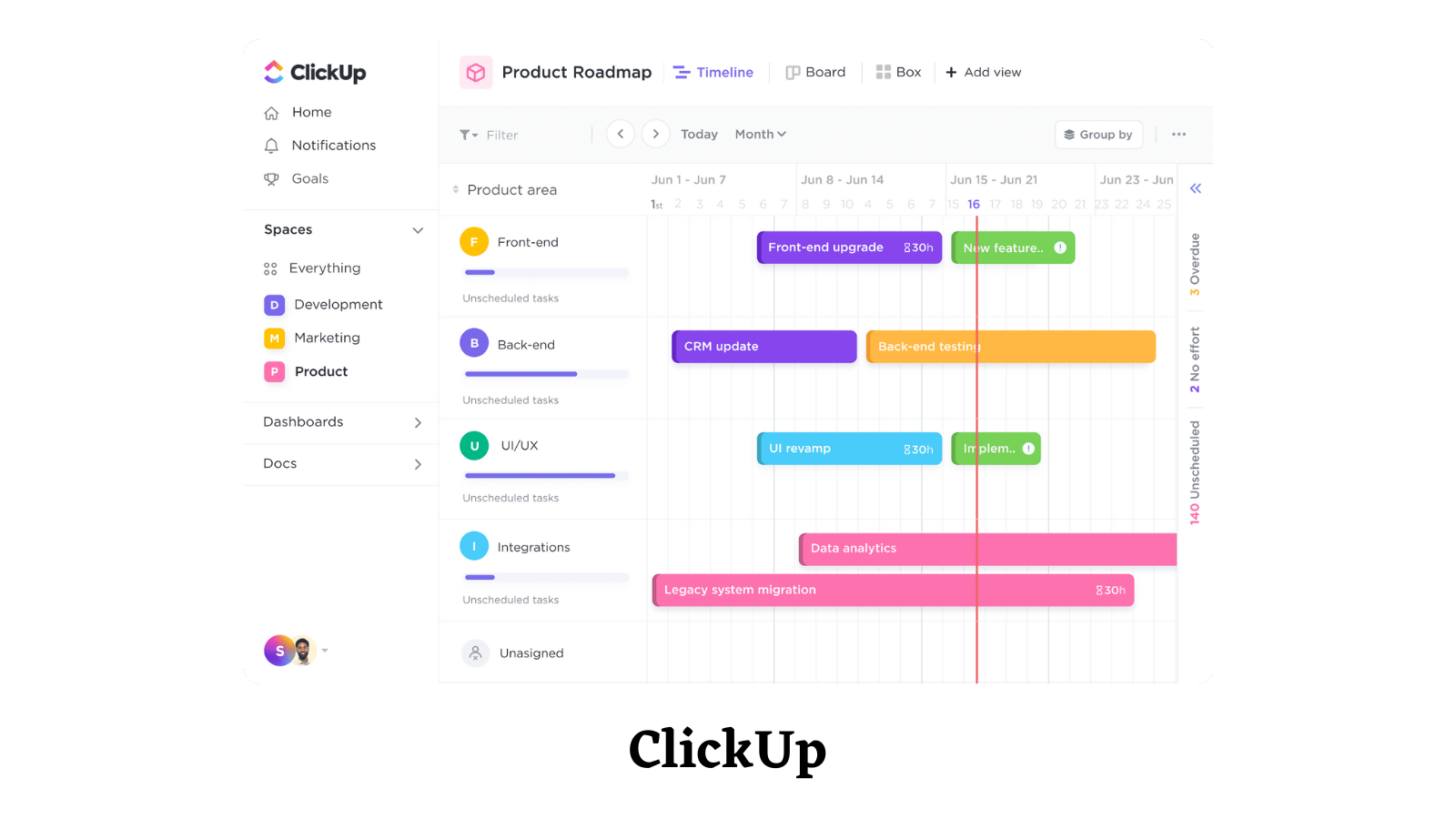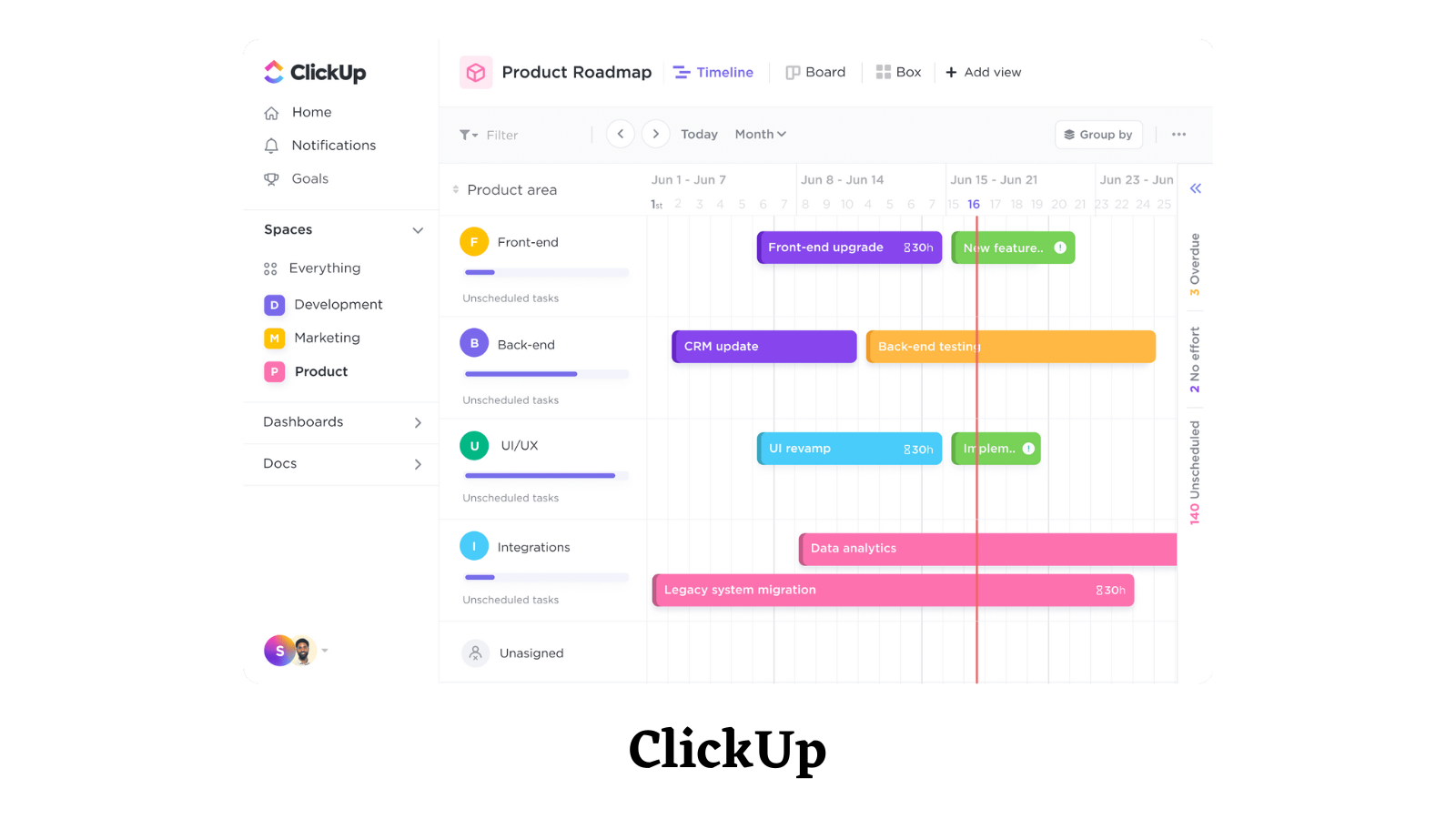 ClickUp is a task management software that makes the bold claim of being the "all-in-one" organizational app. It's often called the "best free project management software," which sounds impressive, but keep in mind that the "free" part only refers to a limited set of features.
Key Features:
Task Administration

Timekeeping

Templates

Users are limitless.

Custom Task Statuses and Custom Fields

Unique views

Goals

Portfolios

Dashboard

Numerous Integrations

Reminders, Tags, and Inbox

ClickUp Apps Integration

App for mobile devices
Pricing
The pricing structure of ClickUp sends an ambiguous message. 
They advertise themselves as "free forever," but this is only true for unlimited tasks and users with up to 100MB of storage.
Many customizable features make ClickUp unique, starting at $5 per user per month (paid annually).
EmpMonitor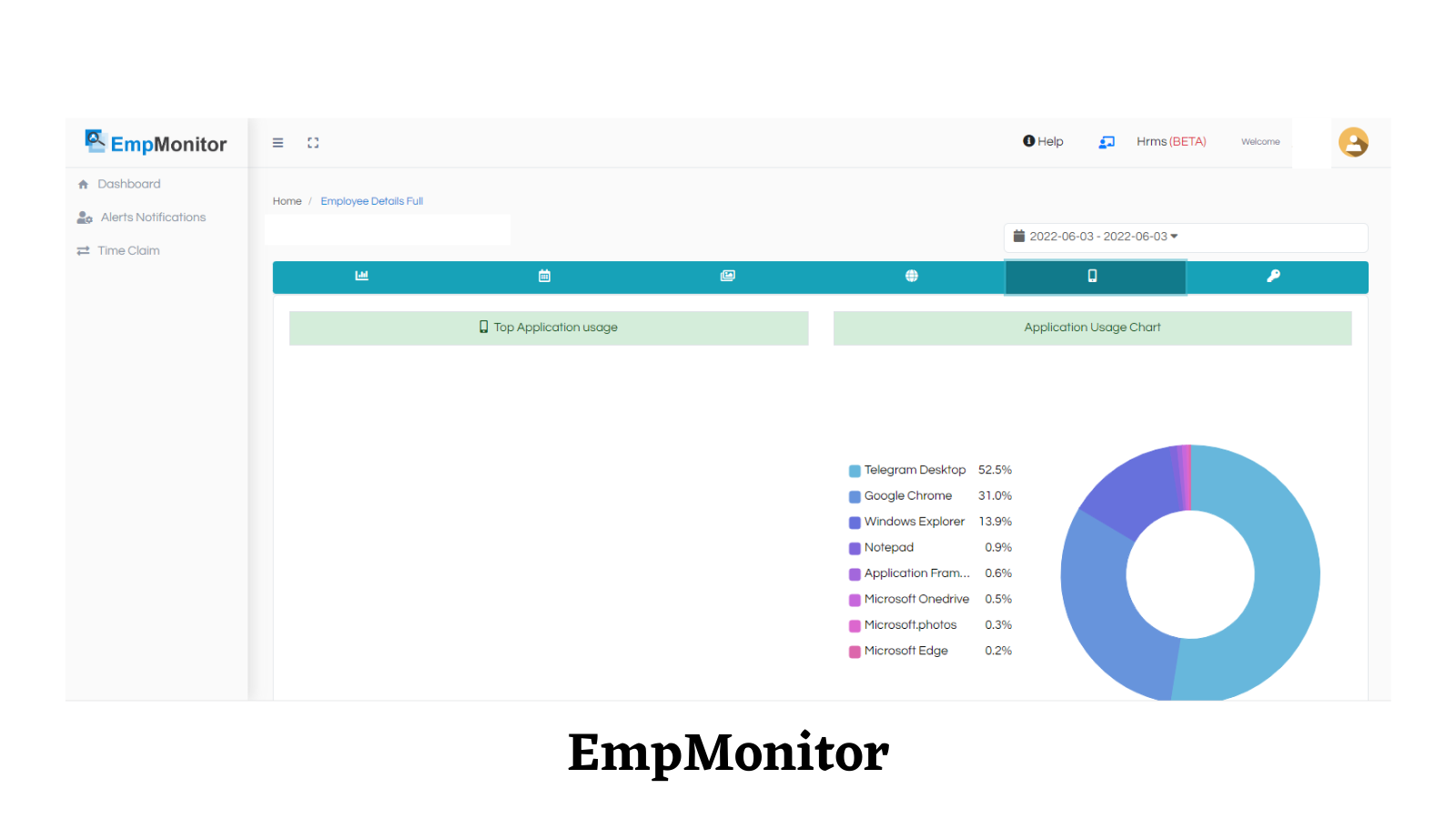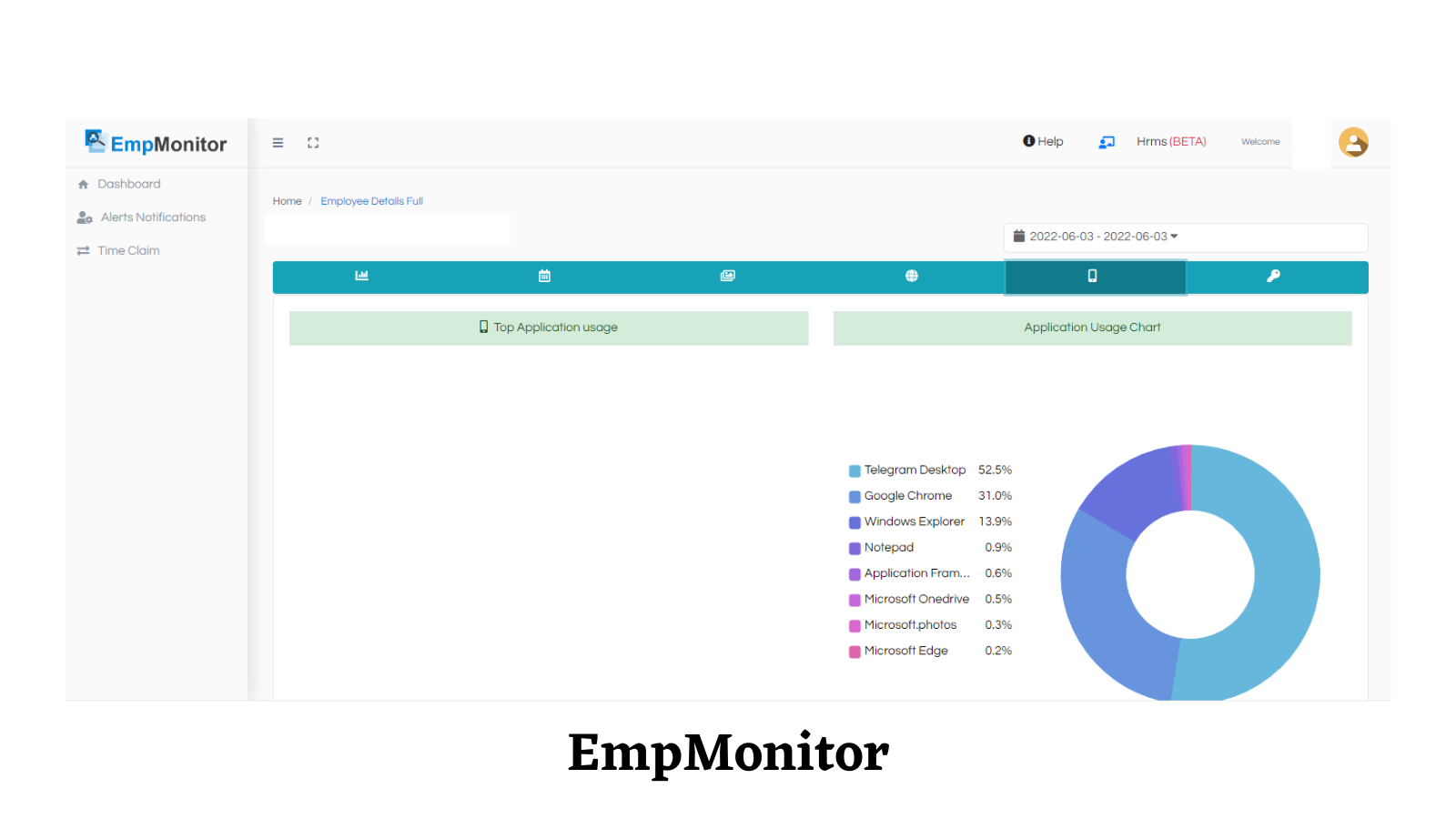 EmpMonitor is ranked highly on our list because it is the best task management app and team member tracking tool available. It has more features than any other tool currently on the market. We will go over some features that distinguish EmpMonitor as project management and team member tracking tool.
Key Features
Employee Monitoring
EmpMonitor captures and documents the productivity of every member of the team who works remotely.
Secure
EmpMonitor is a reliable and comfortable tool that protects against all types of insider threats. This tool periodically reviews records and analyses threats.
Productivity
This tool increases your productivity by eliminating downtime and idle activities.
Time Management
EmpMonitor tracks the remote team's exact working and non-working hours, making it the best option for employers looking for remote team management tools.
Chat Monitoring
Using EmpMonitor, the admin can keep track of how much time employees spend on chat applications during work hours, which helps determine individual productivity.
Powerful Reports
It generates clear, detailed reports and graphs that show the performance and productivity of your employees. 
Payments
EmpMonitor automates all payroll processes as well as client payments. The billing process is also automated. As a result, it's a one-stop-shop for all aspects of remote team management.
Multi-Device
It is a cross-platform tool that works with all devices and operating systems, including Windows laptops, Macs, and Android devices.
Integrations
EmpMonitor can be easily integrated with other popular accounting and management tools to enhance tool functionality. This tool's integration is very smooth, making it a better choice than other productivity measuring tools.
Alerts
This software automatically sends you an alert at regular intervals to help you save time and increase productivity at the remote workspace.
GPS Tracking
It also tracks your remote team members' exact location via their device and notifies you of where they are working.
Off Track Reminders
You can use EmpMonitor to avoid visiting non-work websites during working hours to maximize productivity.
IP Safelisting
This software also safelists IP addresses and allows team leaders to visit specific websites using white-labelled IPs.
Attendance Logs
It also records your remote team members' exact login and logout times over the last seven days.
Pricing
EmpMonitor also has very flexible and low-cost pricing plans. And it also offers a free program for up to five users. So, once you're satisfied, you can move on to paid plans.
Conclusion
Task management isn't easy, but it can be made a lot easier with the right tools. Of course, each tool has its advantages and disadvantages, but we recommend EmpMonitor because it has many features that other tools lack. It also works well with other tools, making it more competitive in the market than others.
So, if you want to Improve Team Efficiency in a Post-Pandemic Environment, jump on the EmpMonitor bandwagon today. 
Also Read Our Most Recent Blogs
HOW TO PICK THE RIGHT ATTENDANCE MANAGEMENT SOFTWARE FOR YOUR ORGANIZATION?
IMPORTANCE OF DESKTOP MONITORING IN 2022
6 EASIEST AND MOST EFFECTIVE WAYS TO MANAGE PROJECTS