An employee attendance management software is indispensable in today's contemporary, ever-changing and fast-paced workplace. Although it may not appear to have a direct impact on the company, it is critical in increasing an organization's long-term profitability and productivity.
If you've ever had to manage attendance manually in an organization, you understand how difficult it can be. By switching to an attendance management software, you will be able to take advantage of all benefits it offers over manual attendance management.
However, when faced with the task of selecting an attendance management system from a plethora of solutions on the market, you may become disoriented. Each vendor promises that their software is superior, making it even more difficult to choose the program that best meets your needs.
To combat this problem, we have compiled a list of features to look for in an attendance management software to pick the ideal one for you.
Consider These Factors While Choosing Attendance Management Software
There are a baffling number of attendance management systems for employees on the market today, and these tips will assist you in sorting through them and selecting the best one for your firm.
Affordability And Scalability
Any attendance tracker system you pick should be affordable, reliable, and scalable for several years.
Flexible And Accurate Time Tracking 
The attendance management system must be adaptable and comprehensive. Employees should be able to clock in and out according to their preferences. It should also be able to track your employees' hours while also tracking this across several locations.
Ease Of Use 
Whatever solution you choose must be user-friendly, transparent, and simple to use for all staff.
Seamless Integration
A new software solution should not necessitate changes to other current systems. The software you select should integrate smoothly and effortlessly with your payroll system and HR systems. 
Cloud-Based 
A cloud-based solution can enable continuous access to data while also protecting against data wipeouts and tampering.
Compliance
Labor law restrictions, data protection rules, or any other regulatory compliances that your organization or nation may have must all be met by the program.
Reports And Graphs 
The system should provide a variety of information, such as accumulated overtime, late arrivals, and absences. This enables the firm to keep track of its employees, identify labor shortages, and improve planning and scheduling for future projects.
Also Read
IMPORTANCE OF DESKTOP MONITORING IN 2022
TOP 5 PRODUCTIVITY TOOLS ON THE MARKET RIGHT NOW
6 EASIEST AND MOST EFFECTIVE WAYS TO MANAGE PROJECTS
Benefits Of Using An Attendance Management Software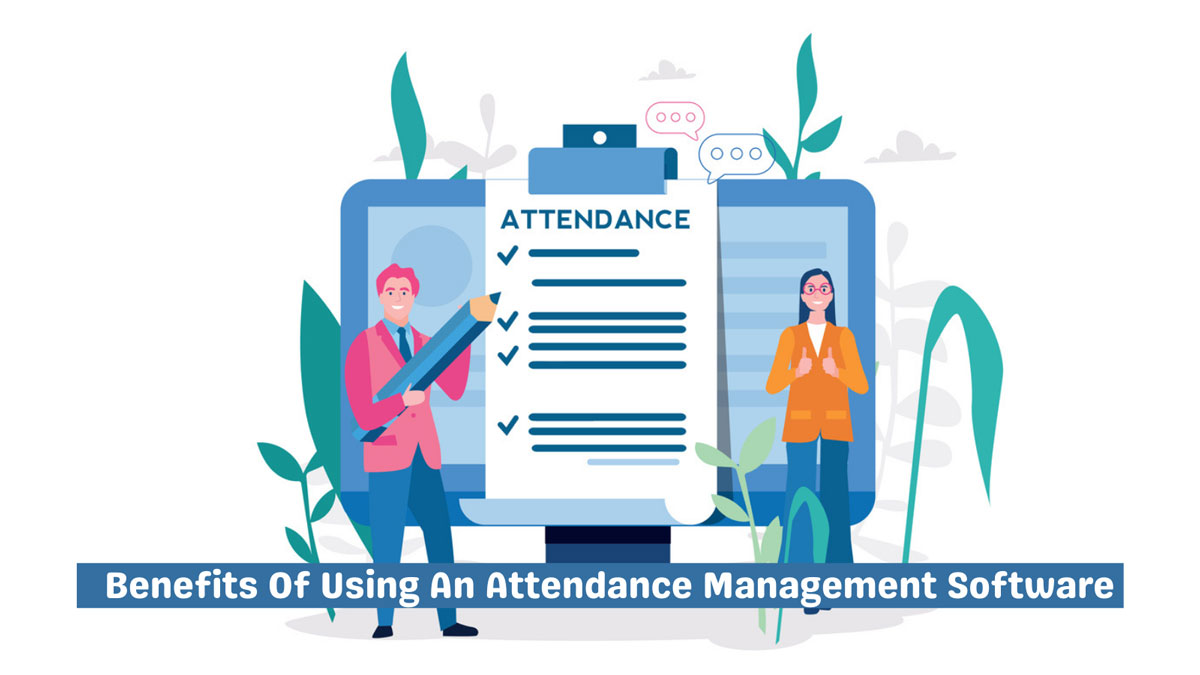 Now that you know how to choose the right time and attendance software for your company, let's look at the advantages it can bring to your organization.
Employee Performance Monitoring
A competent employee attendance management software will notify you of any late arrivals, unauthorized leaves taken, early departures, and so on made by your staff. It allows you to analyze and track your employees' performance. 
Saves Time 
Using contemporary technologies in attendance management systems can help you manage time and change the mood at work. It has the advantage of eliminating paperwork, which saves time when it comes to gathering correct staff attendance records.
Accuracy
Errors in manual data input are inevitable and expensive. As a result, implementing an automated attendance management system software delivers precise time logs as well as accurate statistics on the performance of the software.
Safe And Dependable
An attendance management system provides a high level of security and dependability. Personal access credentials are used to provide security, ensuring that no employee tampers with the saved data.
Payrolls Made Simple
When entering data into the payroll system, an automated time and attendance software can help save time. Now that the data is automatically updated, the administrative staff will find it much easier to create salary statements.
Effective Attendance And Employee Management With EmpMonitor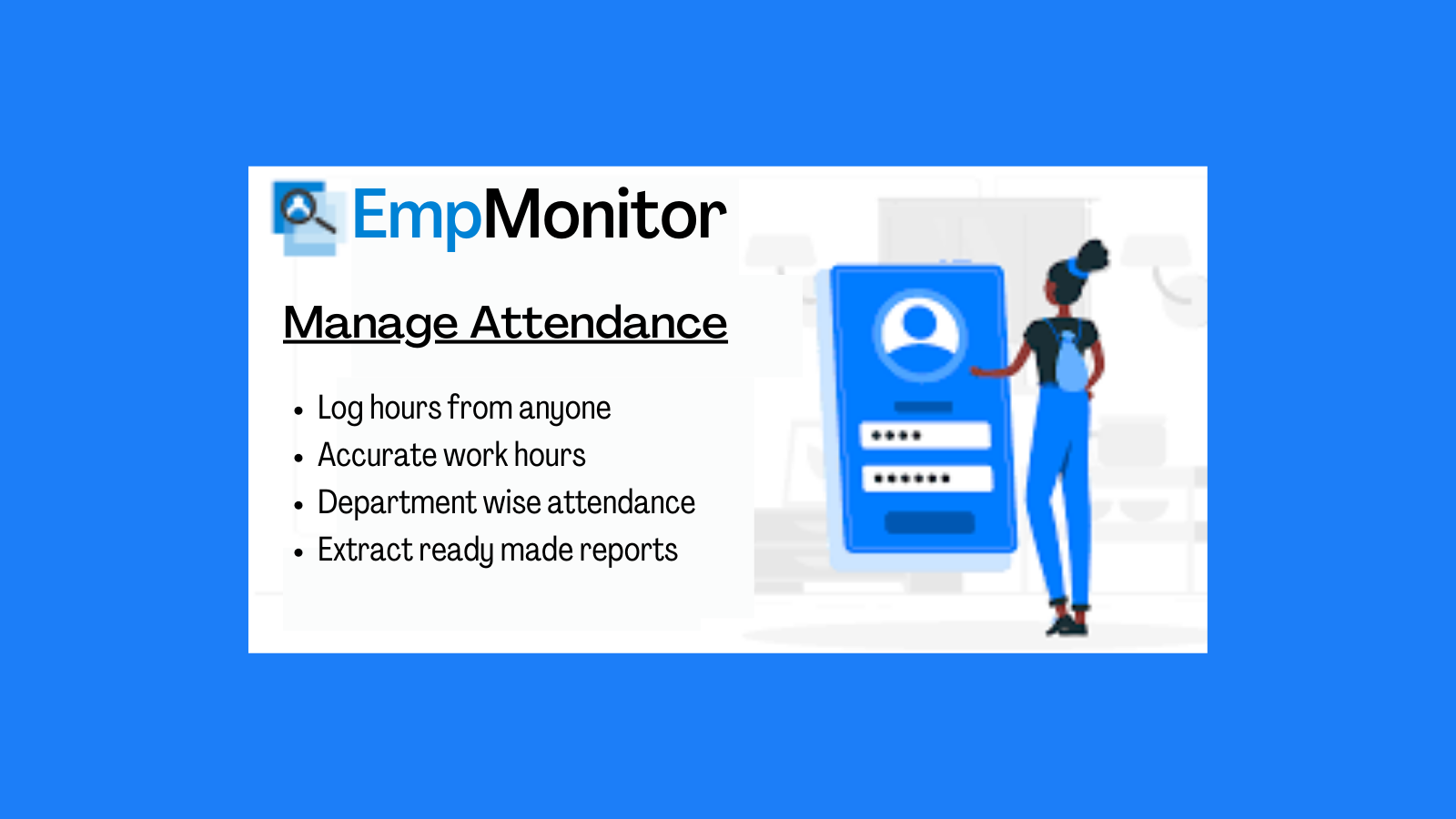 EmpMonitor is a cloud-based employee monitoring tool that is one of the most effective on the market. It is the all-in-one people management solution for clocking in/out, timesheets, productivity, and performance evaluation that you require.
EmpMonitor is the most feature-rich tool on the market. Apart from attendance management, it can also handle one-on-one chats, task management, file editing, and document storage. 
Let us have a look at some of its primary features- 
Attendance Logs:
EmpMonitor keeps track of your team members' exact login and logout timings in attendance logs.
Employee Monitoring:
EmpMonitor tracks and records the productivity of remote team members.
Security:
EmpMonitor is a safe and secure technology that guards against insider threats of all kinds. This tool aids in the frequent evaluation, recording, and analysis of threats.
Increased Productivity:
EmpMonitor boosts your productivity by reducing downtime and idle activities.
Client Features:
EmpMonitor also keeps track of how much time is spent on each client and their project.
Powerful Reports:
EmpMonitor creates simple, precise reports and graphs that highlight the performance and productivity of your staff.
Integrations:
EmpMonitor can be effortlessly integrated with other common management and accounting programs to improve the usefulness of the tool. The integration of this tool is really easy, making it a better choice than other productivity monitoring tools.
Payments:
EmpMonitor automates all payroll and client payment operations. It also aids in the automation of the invoicing process. As a result, it's a one-stop-shop for everything related to team management.
Alerts:
EmpMonitor delivers you alerts at regular intervals to help you manage your time and enhance productivity at your workstation.
Break Tracking:
Breaks and the overall amount of time spent away from working devices are both logged. As a result, this application is particularly beneficial for tracking work-related breaks.
Web And App Usage Tracking:
EmpMonitor records the most commonly accessed internet URLs and applications. As a result, you can simply track your workers' use of social media or gaming during work hours.
Conclusion
Attendance management has been a cause of annoyance for many businesses and organizations, but it doesn't have to be that difficult now that so many various types of attendance monitoring software are available.
Attendance management is a difficult task. However, employing the correct tools can help. And, now that you know what characteristics to look for before investing in one, what's holding you back?
Choose a modern cloud-based employee and attendance management software like EmpMonitor for all of your employee management and monitoring needs. This software will help your business save time, money, and serenity. 
Try EmpMonitor today to boost your employees' productivity!