Businesses have become acquainted with their staff working from home policy over the past few months. But are their employees satisfied with their work-from-home instrumentations? Making a well-designed workplace is the primary work of planning an effective home office setup.
But there's no multipurpose solution for all sorts of your problems. That indicates your plan doesn't need to be perfect from all sides or completely functional. You have to create enough space for the employees who come to the office regularly, be personalized to your inclinations, and improve your relationship with them to continue a positive work environment.
Read the blog to know more about the Company's business equipment and home office setup ideas.
Click on the play button to listen podcast:
What is needed to set up a home office?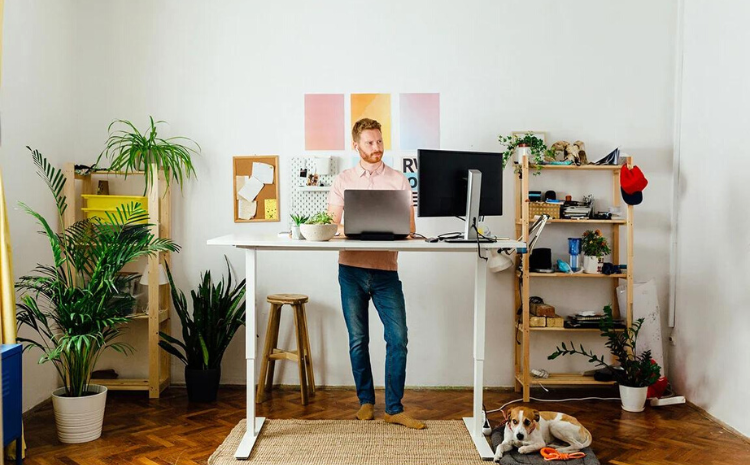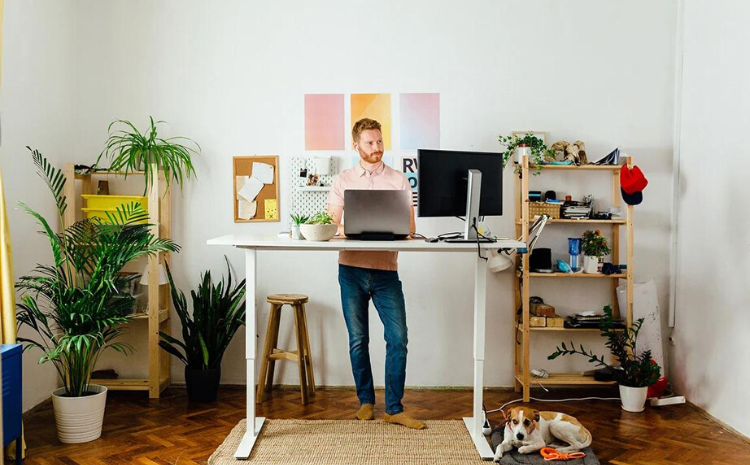 1. Home Office desk
There are several desks to select from based on your allowance and preferences. Do you want a large office space? Think of using a large desk.
Home office desk plan Deliberations:
Furniture categories:

 Standing desk design, meeting desk design, integrated, tiny counter, a shelf with wall-boards at the right dimension, etc.

Business & space requirements:

 Document lockers, book tables, shelves, etc.

Electronic equipment requirements:

 PCs, printers, landlines, lights, etc.

Video meeting:

customized lights for video conferences, ambiance behind you, equipment like painting or a bookshelf.
2. Home office sitting desk chair
Making yourself more comfortable when sitting on a chair to spend your workday in, you have to get a chair that suits your requirements and goes well under your desk.
3. Lights
A brightened workplace can lighten the workplace and have an optimistic effect on your mind. Choose a table lamp to pass some light on your desk.
4. PC or Laptops
Now work from home staff has personal laptops or computers. It permits them to work effortlessly from any place. If you're planning a home office setup for your usage, you can connect a desktop to your best home office setup.
5. Desktop Monitor
Working hours on your laptop can be an actual pain in the neckline. Think of spending money on a desktop monitor and fixing it, so that the upper part of the display is in your eye-comfort zone. It will keep your sitting posture straight.
6. Video meeting camera
Find the most out of your video conferences by spending time with a high-class video meeting camera. The well-designed 360 ° camera, audio section, and speaker help to increase the video quality and make conferences more effective.
7. Keyboard and Mouse
Now is the time to complete your system setup with an external keyboard and mouse. Always choose wireless to clear your table of pointless files and mess.
8. Workplace Resources
When we live in a digital era, a notepad and pen can support us to write down points, arrange our views, and make us ready for our 9 to 6 job. Confirm your resources are sored, so you're all set to get into your work.
 9.High-Speed Internet
The Internet is now necessary for everyone. When you're in video meetings with your coworkers, you'll require high-speed internet connectivity to stay away from any audio or video glitches.
10. Space
Desk counters or document shelves can be the best space possibilities. If you want space, get a solution that makes things systemized and mess-free.
How to setup home office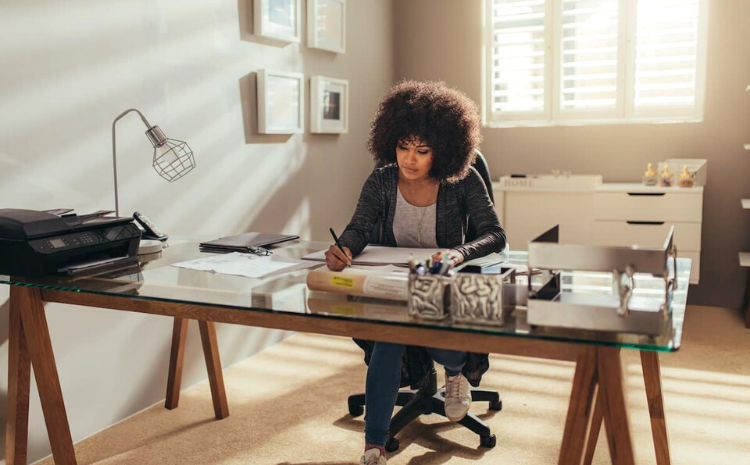 1. Make an enthusiastic office space.
Whether you have a large residence or a small flat, it's significant to establish an enthusiastic workplace that is truely different from 'home lifestyle'. If you've found a large area like you can use a flat for making it a workplace is a brilliant idea, but remember one thing a desk or even a particular area of the kitchen shelves, which you line up with office-functionalities is a crucial part of your work.
It will make you feel as if you are planning to visit the office regularly, even if you're only a few steps away from your sleeping bed! When you're working instead of only sitting inside your house, you'll see a development in your work and efficiency.
2. Make a multi-tasking home office.
Usually, it is impossible to make a workplace area that differs from the main living room. In this scenario, your empty places and equipment turn into multi-tasking purposes.
Choose a part of your kitchen shelves to work as your desk throughout the weekday. You can even put a tiny desk behind a sofa or in a large hall to expand your office.
You can make a home office anywhere and anything you select. It can be your cozy corner or expand the surface of your basement; the options are valid only when you choose the right place and strategy.
3. Use a convertible desk.
Set an enfold desk in a spare part or use detached shelves that won't cover the bottom space. Based on the number of chambers you have to combine with, there are some convertible desk designs available in the market you can select from.
4. Expand your perpendicular space.
Put shelving elements on the barricades for extra space. Detached desks look trendy and operational, and they can be utilized to showcase files or potted plants. Expanding your barricade storage provides you more bottom storage to combine with, so you can organize your equipment in an outline that goes well with the chamber.
5. Create an allowance and arrange it
Though it may not build any fresh apartment, consider your home workplace development just like you would make any house reconstruction: as a plan with an affordable allowance. As a result of doing so will offer you the software you have to check every value and each possibility.
Tables and moving chairs may direct first-class items, but those products individually do not set up an efficiency-oriented working atmosphere. You'll have to make an allowance for creative or advanced lighting, shelving, space, tableau curtains, carpets, and materials. You'll even need to check frequently, or else hidden expenses will cost you more.
Lastly, continuing with an allowance when it is all about your home office setup ideas will leave money on the desk for the extra expenditures, which connects with work from home office setup.
6. Stay hygienic and systematized
It is believed that unorganized storage induces a confused mind, and for maximum users this has proven true. Add just keeping the mess in your office can start by being confusing for some people, on the other hand, it is hectic for others. So make sure your workplace is well organized and hygienic to maintain a healthy atmosphere for your workers.
7. Make sure you have the right equipment.
One of the crucial blocking agents to dynamic home office storage is not having the advanced equipment you need to complete the work. If possible, set your best home office to set up technology accurately as it would be if you were in a private company. It will change according to the needs of your work but might mean organizing products such as a telephone, multiple CCTVs, or a home office scanner.
It's even significant to confirm you keep the computer applications you need to have in your work. If you're on a limited allowance and don't have permission to all the applications you'd preferably follow, you'll have many free options or low-priced online substitutes. For example, Canva is far better than Adobe Photoshop. So make sure to invest some time choosing the correct possibilities.
EmpMonitor
Utilizing all sorts of work management networks like EmpMonitor supports you get your team members closer and team up from any place, and it is much more than just a tool for catching people who are snoozing on the job.
EmpMonitor allows you to monitor the performance and activity of your remote team and work-from-home employees with a complete suite of tools and detailed analytics that you can access from any device.
Conclusion
Successfully these home office setup ideas have supported you to find informative data about wfh, whether it's a temporary change or a new beginning.
The best home office setup comes under a creative zone, so try to keep things systematically.
You can read our blogs:
Key Benefits Of Using Team Tracking Software For Remote Work
Team Tracking- How to Introduce to Your Teams