In the past couple of years, workforce management has undergone a significant change. The task of managing multiple employees simultaneously without affecting the work process was also challenging. 
Well! Remote work monitoring is nothing new, but it has drastically changed over time. There has been an exponential change in workforce management in the past few years.
Even if you own a small or large-scale company, the primary thing that you must stick to is managing your employee's performance efficiently. Be it monitoring employees' remote work.
But how to ensure that you are accurately monitoring employees' performance while working remotely?
Employee management ensures your team is operating well and identifies ways to improve their performance. While it's a broad term that can be applied to almost any company, several types of performance management software help businesses manage their workforce more effectively. 
As the days of working in an office become a distant memory, remote work has become increasingly popular. With the rise of remote teams, however, comes the challenge of making sure your employees are actually working – and not just getting distracted by their home environment. Fortunately, advanced remote work monitoring software can help you stay on top of your team's productivity. This article will explain why it is so important to have a reliable monitoring solution in place for your business.
You can also tap on the Play button and listen to the podcast on remote work monitoring systems!
So brew a cup of coffee and continue reading!
Is Employee Monitoring Software a Good Idea?
Should a company invest in employee monitoring software? It is, no doubt, one of the crucial questions that every organization should ask themselves. 
The long-term effects of poor work ethics can be detrimental to company objectives. Many would instead put their trust in their workers than monitor every aspect of their work. However, some would assist employers in keeping track of and carrying out tasks necessary for the efficient operation of the company.
Employee monitoring software is widely used in several industries, including healthcare, retail, insurance, and education. The app tracks employee activities, including time management, attendance, and communication. However, it's worth noting that employee monitoring needs to be more widely understood. 
Organizations use employee remote work monitoring software in a few different ways. Still, it's majorly about gathering data to help organizations better understand how to improve their employees' workflows and the ROI.
With that said, workforce management doesn't mean keeping track of check-ins and checkouts of employees. To engrave accurate activity monitoring, you must know what an AI employee monitoring system is.
Companies that use artificial intelligence (AI) in their operations see a tremendous ROI. It is because AI improves productivity, reduces turnover, and increases the quality of products and services.
The only catch is that you need to monitor your AI employee system to ensure everything is working. And here, you might lose your competitive advantage if you don't keep tabs on your AI implementation. 
Reasons For Opting for Artificial Intelligence
Whether you're just getting started with AI or expanding its use in your business, here are the five critical reasons why you need an AI employee performance monitoring system:
AI Is the Future of Employee Monitoring

AI Helps You Find Out More About Employees

AI Helps Detect Cyber-Crime

AI Can Secure Employee Data

AI Can Protect Your Company's IP
Returning to the effective employee supervision system, here is a breakdown of the four main types of employee remote work monitoring software to find the one that works best for you.
Remote Performance Monitoring Software
It seems strange to monitor your staff even when they are working while seated in their cabins. You should be aware of how much time they devote to the task. Through sophisticated automatic snapshot tools and employee remote work monitoring software, you can keep an eye on the general activities of employees in real time.
It can include everything from analytics on employee productivity to checking attendance accordingly. It can also help managers identify areas for improvement and provide feedback on how employees can improve their overall performance. 
Employees' performance feedback through performance monitoring software helps them recognize areas where they can improve and see what they're doing right. It can also help managers track their progress and see how the team performs. 
Performance and remote work monitoring software can include various analytics types, including goal management and team collaboration tools. 
One such tool is EmpMonitor, which best suits any sized company to handle the workforce effectively without disrupting employees' productivity. 
The software produces comprehensive reports of specific employee activities such as charts and graphs that are simple to grasp are used to present the data. Additionally, the reports are available for a specific period. It can look it up through employees, departments, or computers.
The screen recordings can be saved as PDF or CSV files for export. In addition, each report screen contains a setting that can be changed and customized.
It can also track timesheets, dedicated projects and other employee management metrics. Most performance monitoring software also includes some element of 360-degree feedback. So let us have a brief discussion on that too.
Remote 360-Degree Feedback Software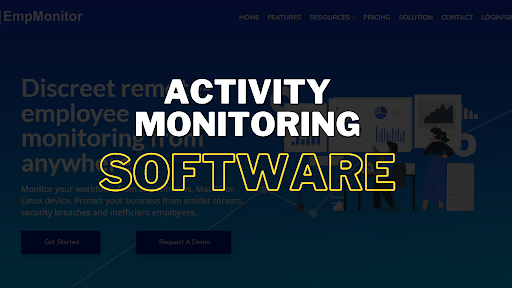 360-degree feedback software is a type of employee monitoring software that collects employee feedback from various sources, including managers, colleagues, and anonymous surveys. 
Some companies also include customers in their 360-degree feedback process. The idea behind the 360-degree feedback process is to get a complete picture of how employees are performing compared to the expectations set for their positions. 
360-degree feedback software is often included in performance monitoring software. This software can help identify areas for improvement, track progress, and provide valuable feedback on how employees work with their teams. Many employee remote work monitoring software solutions also allow managers to conduct one-on-one reviews with employees. 
Such systems allow managers to track their employees' progress over time and identify areas where they can improve. Managers can also use one-on-one reviews to provide employees with feedback and give them tips and suggestions for improving their performance.
Behaviour Analytics Software for Remote Employees
Have you ever heard of any such remote work monitoring software?
Maybe not. It is still growing in the industry but is ready to advance the monitoring management system.
Behaviour analytics software can help companies identify productivity trends and potential issues.
Behaviour analytics software can track employee habits, including how often employees use the internet, their email communication patterns, and what websites they visit on their computers. 
The analytics software can be helpful for remote work monitoring workflows, especially in industries where employees are expected to work off-site or remotely. It can also help managers identify potential issues, such as employees spending too much time on social media websites. Therefore, behaviour analytics software is often used alongside other employee monitoring software.
In-depth Remote Workforce Monitoring System
Businesses are constantly looking for novel approaches to boost productivity without compromising the calibre of the job. Talking about EmpMonitor, the tool has so far taken the company's requirements into concern and includes crucial aspects to meet the needs of organizations.
One can check an automated list of the top 10 productive and unproductive employees. Also, the dashboard enlists the most visited sites by the employees, which helps the employers make clear decisions accordingly. Let's quickly look at its dashboard to make it easy to understand. First, let us look at how to check a few primary details of the employees.
STEP 1: Log in to the dashboard
Step 2: Go to the left side panel and click Employee Details.
Step 3: After landing on the Employee Details page, you can add new employee details.
Step 4: You can mention the specific person's roles and departments.
Step 5: Now, check the user box and select available options.
Step 6: This will drive you to the Employee Full Details options.
STEP 7: Here, you can go to View Screenshots and check their activities 
Step 8: You can check for the specific period you want to investigate.
Step 9: Also, it allows you to download and save it for later purposes.
The tool also covers multiple functionalities to keep tabs on every action from the users' end.
We have mentioned a helpful remote work monitoring tool, EmpMonitor, that saves time and makes your association more productive. Anyone looking for a simple management tool will find EmpMonitor an easy solution. It is affordable and readily available. It enables the upkeep of timesheets and screenshots, the confirmation of active hours, and group collaboration via project management. 
Moreover, the tool is well known for its remote work productivity monitoring that records check-ins, checkouts, breaks, office hours, active hours, productive and unproductive hours, and much more.
Also, Read

How To Get Ahead In Business with Remote Work Monitoring Software

Remote Employee Monitoring Software | List Of 21 Best Tools

6 Ways To Ensure That Your Remote Workers Are Productive
Key Takeaway
As you can see, employee monitoring software is a broad term used to describe various types of software. But, most of the time, it tracks employee productivity and performance. 
One of the benefits of using employee remote work monitoring software is that it allows managers to track their employees' progress over time and recognize areas where they can improve their performance.