If you want to improve the efficiency and scalability of your project flows, project time tracking software should be standard practice for your team. It entails tracking how much time your team members spend on each project.
Time tracking has numerous benefits, ranging from increasing productivity to allowing you to increase revenue. And thankfully, there are multiple time tracking software solutions available today that make project management time tracking a breeze.
These tools empower you with in-depth details into what tasks your team is working on, how long it takes them to complete, and how to make them more efficient. In addition, it will make your project management and task assigning process easier.
But, what exactly are project management and time tracking software?
How do they work? 
Does your company need this tool? 
If yes, how should you choose the perfect project management time tracking software for your business? 
Let's find out!
What Is Project Management Time Tracking Software?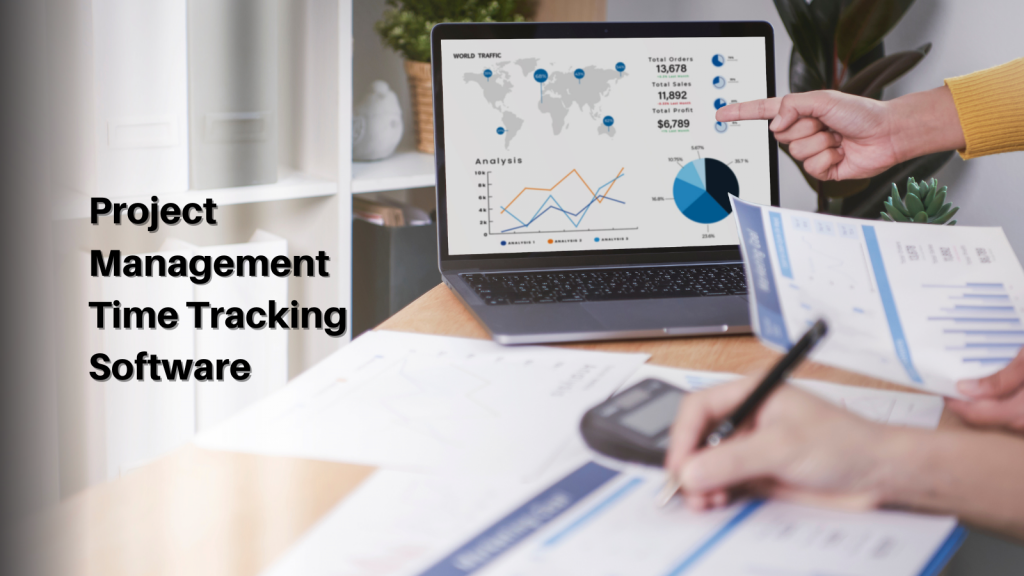 Before going into the software, let's start with what is project management time tracking?
Time tracking is one of the best and the most efficient ways to keep track of ongoing projects. It helps the managers track how much an employee is spending on a task and how much time it will take to complete it, making it easier to evaluate performance and boost productivity where lacking. 
Time tracking makes every process in a company seamless, but the process of Time tracking itself is very challenging if done manually. But, thankfully there are various project time tracking software available to perform these time-tracking tasks automatically, and these are called project management time tracking software.
Managers can use these tools to review their own estimates for a project, such as its timeline, and make adjustments based on data. Employees can also use time tracking tools to assess their own productivity and ensure they're meeting their objectives for the project.
How Does It Work? 
With the software, employees must clock in when they start work and clock out when they stop. Usually, tracking software provides manual options with a start/stop button, but you can also use an automatic time tracker, which will start tracking as soon as an employee logs in to their system. 
Employers can easily assign tasks and keep track of the log-in/log-out activities of their employees to understand how their projects progress and how long each activity takes. Especially in the cases of remote workers, it helps with greater efficiency in projects and improves employee time management skills. 
Now, you have got the basic idea of project time tracking software. Let's see if investing in project management and time tracking software will be worthwhile for your business.
The Reasons Why Your Organization Needs Project Time Tracking Software: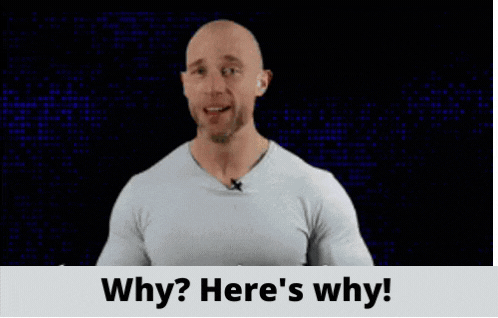 The significant benefits of project management and time tracking software help you make the most out of your every resource. It enables you to save time and money by giving tailored, user-friendly solutions for your business and personal life.
Several time management software like EmpMonitor are available, ranging from simple designs to comprehensive monitoring systems. The latter is significant because of their expanded capabilities and integrations with technologies for streamlining employee workflows.
Improved Employee Productivity:
One advantage of time management software is that it provides you with all of the information you need to analyze the performance of your team or coworkers personally. For example, you can see which of the allotted tasks takes the most time, and you may take action to manage their workloads more effectively so that they remain productive while executing the assigned chores.
Furthermore, when employees work on projects or tasks that are not part of their job description, they typically do not recognize how long the study takes. Time tracking allows you to optimize time usage across multiple activity categories and improve productivity.
Create A Sense Of Accountability:
The obligation of knowing that they will report time spent on a task makes employees more focused on their work. At this stage, everyone makes better use of their time, enhancing productivity. In addition, employees know they are liable for their actions, as this software will provide oversight over the working hours.
When employees take ownership of their workload by recording their time, they better understand how long it takes to accomplish each task and see how they're performing. Managers may digitally track how long an employee spends on each job and how many breaks they take.
Effectively Monitor Employee Activities:
Lots of firms have started employing time tracking and project time tracking software to monitor their staff. With time-tracking, managers and stakeholders may access every facet of their employees' daily workflow.
They can access crucial data about Which task takes the most time.

Total time employees invest in each project phase.

When they're the most productive.
Employees can track and assess their own time management skills across numerous projects. They can also use various time management tactics to boost their project development.
Better Resource Management:
Improper resource allocation can create employee fatigue. With time tracking, you can stay updated about the specific working schedules of your staff. Managers can re-assign jobs and develop future project plans based on the employee's workflow and work speed.
One of the advantages of time tracking is that it enables you to produce reports on project time and budgets. This can be utilized for project cost optimization goals or simply for studying your team activities and allocating more effectively to deliver value.
Increased Profitability:
Project time tracking software helps track your work hours for invoicing purposes, which is vital for a business's profitability. In addition, managers obtain insights into which procedures are consuming the most time and bring about essential improvements.
Tracking Project Progress For Businesses:
Project management and time tracking software have become vital for measuring employees' performance and evaluating project progress in real-time. For example, when staff works on multiple projects, it is necessary to know how much time is spent on each activity to estimate the cost and anticipate the business consequences.
Work Prioritization:
For everyone who has been held accountable for their time, the benefits of project time tracking software in this arena are evident. Knowing how you prioritize your time daily is vital in a work context. This information can help you enhance your efficiency, build better workflows and guarantee that nothing falls through the gaps.
Efficient Billing & Budget Management:
Keeping track of your billable hours might be necessary when billing clients for your services. And if you pay staff hourly, you may utilize time tracking systems to streamline the process. It also makes project budget tracking easier because you have a complete summary of every chargeable expense.
Streamlinen Payroll & Hourly Rate Estimates:
By adopting project time tracking software, a firm can lower the cost of the payroll process since the best employee monitoring software like EmpMonitor can automatically track clock-in/clock-out, breaks, leaves, and unpaid leaves of the employees. In addition, it's more accurate and reliable because it does not contain errors compared to the manual tracking system, where there are chances of making mistakes.                                               
Many tools also offer detailed time allocation statistics required to compute actual costs because, in different circumstances, organizations may have to pay different rates. Time monitoring allows firms to analyze their employees' hourly rates with precision. It is significant since it helps avoid manufacturing delays and saves money in the long run.
Calculation Of Employee Compensation:
With proper analysis of Time tracking data, HR can make plans, calculate employees' compensations, and perform business operations in compliance with legal norms. 
And also determine which department is underutilized or overworked and increases productivity using suggestions in implementing digital monitoring tools during the work process.
Better Team Management:
Utilizing time measurements aids in increasing team communication and generating vital insights into the work and team management. Time tracking also helps you avoid distractions by making them easier to notice and eliminating them if possible. 
With the help of project time tracking software, business owners will see precisely where team time is going and be able to organize project-related activities accordingly so every team member can get the most out of their day.
Equal Task Distribution and Employee Burnout Prevention:
Project management time tracking tools allow the employer to delegate the tasks equally to the team and prevent any kind of work burnout. It empowers with means for schedule flexibility and managing remote and hybrid work more smoothly. 
Additionally, with the option for easy-to-make requests in the leaves module of an employee monitoring software, employees feel empowered against burnout and overwork.
7 Essential Features to Look for in a Project Management & Time Tracking Tool: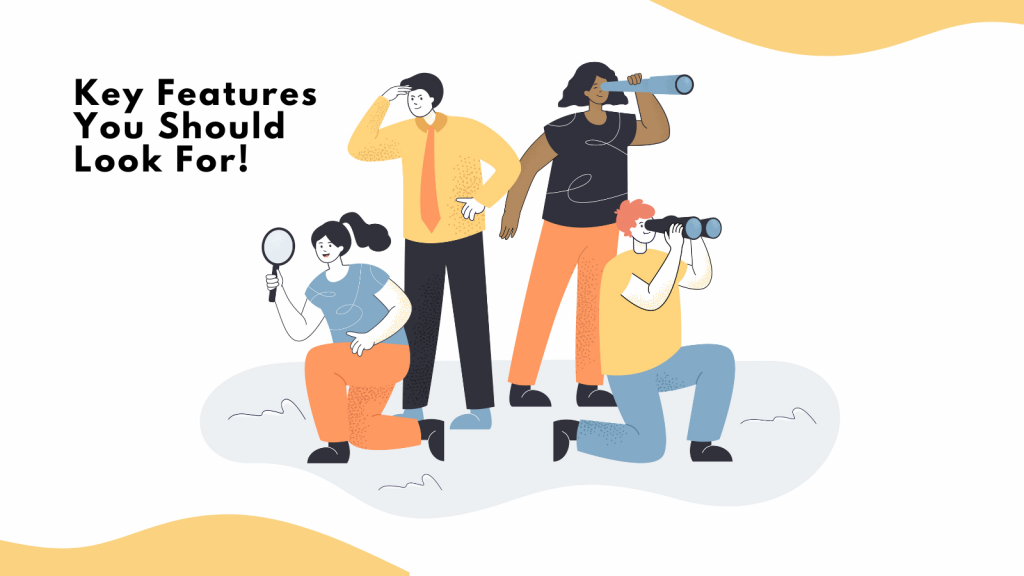 Here are the Time tracking features you should look out for while purchasing software.
Time Tracker:
A reliable time tracking tool is the most essential feature to look out for in a project time tracking software. In short, the time tracking tool provides a complete report of the time spent on all your job operations.
A great time-tracking software solution should categorize this data into multiple vital categories. Managers should be able to access different users' data and compare them to highlight individual contributions and examine team collaboration.
Attendance Tracking:
Maintaining track of each employee's attendance and reporting hours in traditional and remote work situations can be challenging. But with attendance monitoring capabilities, you can create work shifts for your staff and get real-time data on whether employees are following them.
For example, if an employee works the 9-to-5 shift but clocks in at 10, their dashboard will show them as 'late'.
Timesheets:
A timesheet is a record of the whole data of billable Time tracked by the employees. Most timesheets also manage employee attendance, time-offs, leaves, breaks, and holidays. These reports can be forwarded to your email address or exported in CSV, DOC, or PDF formats.
Automated timesheets also eliminate the need to manually input your work hours each day or get them authorized by your managers. In addition, since a time tracking tool automatically creates your timesheet, there's no room for manual errors.
Billing and Payroll:
Traditional payroll methods entail manually approving the timesheets, calculating the total expenses per employee, and making the needed payments. But with time tracking software, most manual work is automated for convenience.
With native payroll and billing functionality, you can appropriately compensate your staff and charge your clients. Employees can manually modify their time, fill in their timesheets, or handle overtime compensation. In addition, managers can view all of this data on staff dashboards for faster and more effective billing.
Seamless Integrations:
Integrations are increasingly popular with modern time tracking and project management applications. Third-party integrations are a must-have for firms employing more than one software for their work processes. The Time and project tracking software should readily interface with other apps and sync your data.
Analytics and Reports:
Modern time tracking and project management software include robust analytics and reporting features. Managers can receive a complete analysis of each employee's project progress and how much time they took for numerous projects. 
Employees and management can also receive daily reports of work done on any particular project/task. These reports include statistics about the overall task progress and project-specific insights.
Help And Support:
While it is critical to choose the perfect time monitoring software that is simple to use for all employees in the organization, it is also critical to select one that has dependable customer service support. 
Customer service should be able to provide phone, email, and live chat support so that users can quickly resolve issues affecting the application during the integration period and squash any long-term problems.
If you are looking for a one-stop solution, EmpMonitor is the way to go!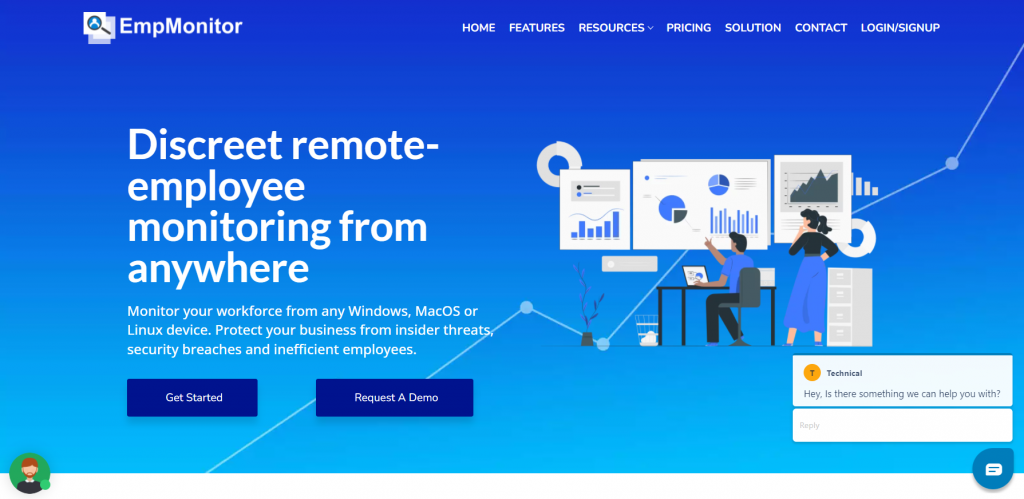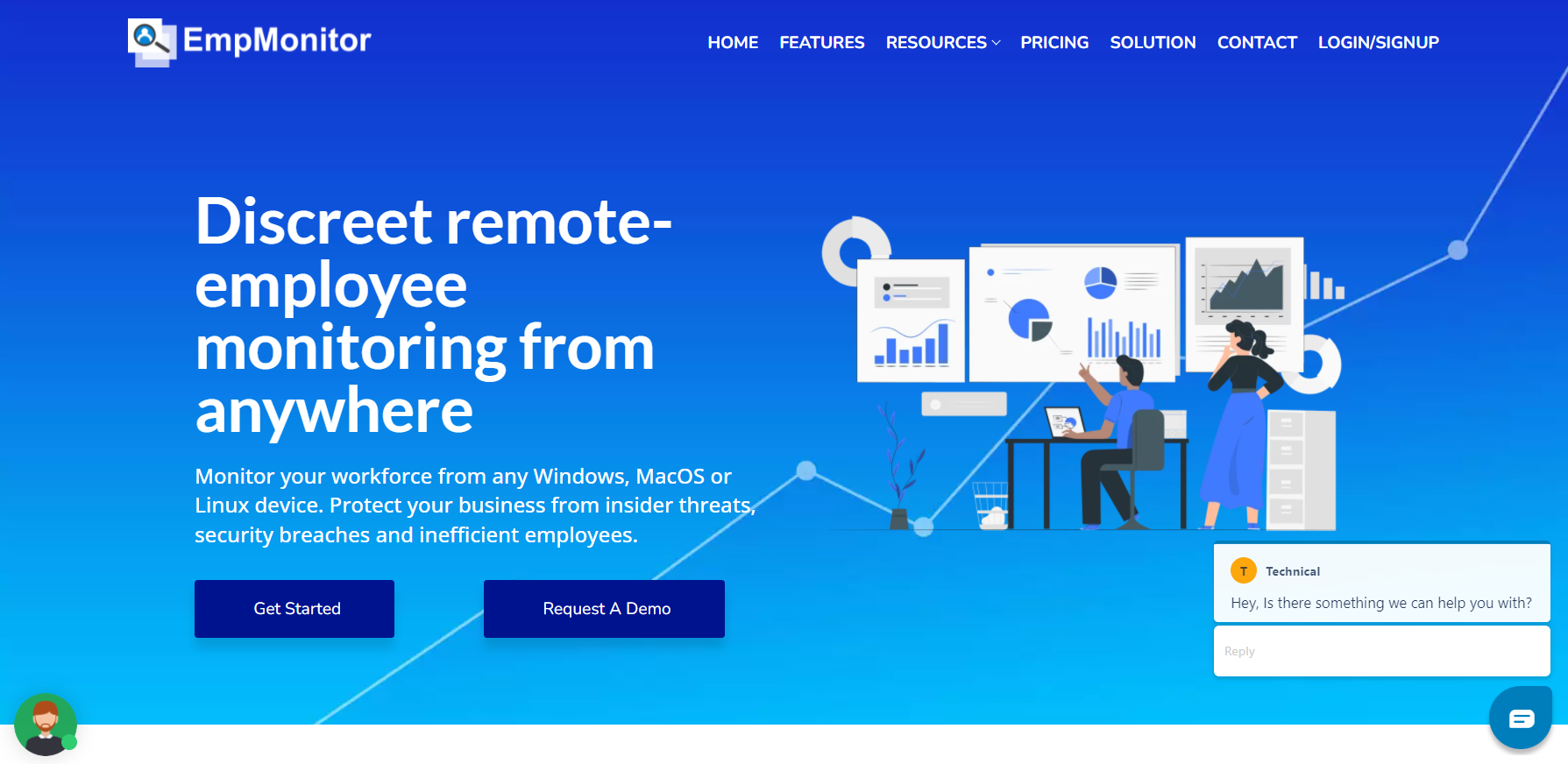 EmpMonitor is one of the most effective cloud-based employee monitoring systems on the market. It is the all-in-one employee management system you require for clocking in/out, time tracking, productivity, and performance measurement.
It checks every one of the boxes for a perfect employee monitoring system and offers numerous features that allow you to analyze whether your employees are productive or not, how efficient they are, and measure their overall performance. All of these details are available through a single dashboard.

Check Out Our Latest Posts:

The Ultimate Guide To Statement Of Work: Answers To Hows & Whys
Importance Of Task Management In Developing Post-Pandemic Team Efficiency
Benefits Of Having An Employee Attendance Tracker
Wrapping It Up:
Higher productivity is possible with the right strategies and project time tracking software. Monitoring how your project team spends their time is critical for any business. However, keep in mind that implementing a time tracking system should never be perceived as a means of control for your employees.