Productivity measurement is the ratio between the resources provided by an organization to the output yield. It shows how efficiently the employees have utilized the resources and came up with the best results possible. 
Every organization must keep a check on the productivity of each employee. As it helps in knowing the strong and weak points on which the team can work on to get the expected output.
Sometimes the employees might feel a little irritated to be tracked continuously by their higher authorities, but this will help in achieving long term goals.
Hit The Play Button To Listen This Podcast:
Let's look into some of the reasons why and how to measure productivity of the employees. So that you will get to know if it is even worth tracking the productivity of the employees in an organization.
Why To Measure Productivity?
Here is detailed information about why measuring productivity is essential in an organization.
1. It Helps In Handling Dynamic Procedures
Productivity measurement gets carried out by considering the resources provided with the output served. It is the efficiency calculation of the employee which helps you to study the growth in your business. It also assists you in determining whether the resources and efficiency are sufficient enough to meet the aspired business objectives.
2. It Helps In Precise Allocation And Time Supervision
If you wish to measure productivity, make sure you have a detailed analysis of the time required to complete a task. It is because when an employee is learning something new, it will take longer than expected. So the organization has to understand that and accordingly calculate productivity.
3. It Helps In The Analysis Of Specific Domains
What can be better than knowing the weak areas of your business?
Yes, productivity measurement can help you in identifying the sectors in which your company is lagging. It is a significant measure by which you can differentiate in which field your business is excelling and in which it is falling behind. So you can take corrective actions to overcome this.
4. It Helps To Get Appropriate Feedback And Regular Improvement
Productivity measurement gets carried out continuously at well maintained time intervals. So you can make changes whatever it requires to have increased efficiency within your employees. It will also help in achieving your targets more efficiently.
5. To Have An Extended Amount Of Products And Services
Once your organization is aware of productivity, you will be able to introduce new products and services to your customers. It becomes more convenient because the companies are aware of their marketing strategies. They know that introducing new products to their targeted customers at which time will be better so that they can stand out from the crowd.
How To Measure Productivity?
After knowing about the reasons why you should consider measuring the productivity of employees in an organization as a significant aspect, let us now check out how to measure productivity of the individual employees.
1. Establish a Base
The base is the starting point. So a starting point is a necessary aspect while measuring the productivity of the employees at a workplace. You have to consider a starting point so that you can calculate the overall productivity of the employees on an average basis. 
It gives an idea of how much work is covered and what is yet to get addressed. Then you can divide the average by the total number of employees working as a team on the project to record their productivity individually.
2. Classify The Targets
Identifying the targets in the first place is significant. It is because the targets will help you achieve more productivity. Some companies have their benchmarks set, which they always strive to achieve. It makes a considerable difference because the employees will be equally efficient to meet the objectives. 
On the other hand, the organizations that do not consider classifying their targets have to settle for less. Sometimes they have to lower their target of productivity so that the employees could achieve them.
3. Describe The Responsibility
The senior employees have to elaborate on the assignments to the fellow workers precisely. There should not be any miscommunication among the team members. Hence it will ease out the process and employees can right away start working on the tasks. 
It will also lessen the time of employers in explaining the job repetitively and will be trouble-free for the employees to work. If they understand the task at once, then they will be able to complete the assignments flawlessly within the deadline.
4. Prepare Relevant Examples
While calculating the productivity of an employee throughout the working hours, you cannot consider a specific task. It is because the employee does not work on a particular assignment throughout the day. They have to address different issues. They cannot confine themselves to a single task provided at the commencement of employee hours. They have to solve the matters that are important and need to get considered at the moment. 
So if you compare the productivity of different employees, you will be able to know how other employees are managing all the work and being productive. It sets an example for the employees having low productivity. It will help them design their schedule accordingly so that they can also be more productive.
5. Point Out The Repetitive Habits
As an employer, you have to keep a check whether your employee is wasting time doing the same task over and over again. It can be a reason for lower productivity because if the employees will repeatedly do the same job, then how will they be able to complete their tasks on time. 
So before assigning any job to the employees, you have to make sure that you provide them with enough stuff that they might require to complete the task. They should consider acquiring all of them at once so that they do not end up wasting much time doing the same thing.
6. Mark Individual Growth
Individual monitoring is a must if you are considering the productivity of the employees in an organization. You have to look out for the reasons why there is a difference in productivity level in the employees. That is you will come to know who is working and who is not.
 Accordingly, you can address the issues of the individual employee related to their tasks and solve them so that they can work properly and become a high achiever.
7. Demand Regular Updates
Regular updates are a must to measure productivity. But several employees do not want interference while working. Yet this can be a factor of lower productivity. 
Demanding daily updates from your employees will help you witness what percentage of work has been done by the employee. It is also beneficial because the employees will stay motivated to complete their job because they have to report it to the executives after which they might be answerable for the delay. 
8. Consider The Personal Factor
After all, the aspect on which it depends is the mood of the employee. It is not at all common because every individual has a diverse frame of mind while working. 
Some employees complete their tasks on time and are considered as high achievers. These employees can work with or without any motivation from behind. 
Yet on some days, the employees do not feel like working after coming to the office. Well, as an employer, you have to motivate these employees to work accurately and complete their tasks on time.
9. Practice Motivation
As an employer, you need to consider this as one of the significant aspects and never overlook this trait. You should motivate and encourage the employees in your organization. 
You can do it by making them feel that their work is essential for the growth of the organization. They should understand their job roles precisely. The employees should get appreciation in front of everyone if they accomplish their goals on time. All these will push the employee to work more dedicatedly.
10. Request Employee Response
You should reach out to your employees to get some ideas regarding the business. It's not that they get hired only to complete the tasks assigned to them. 
Requesting the employee's opinion would help because you will get so many solutions for your problem, which might help you with the issue. You never know that these employees might have some brilliant ideas that will help in the growth of your business.
11. Hold Records Of Excuse Conditions
If the employers keep on measuring the productivity of an employee in a single way, then it might not be that effective.
It is because if the employee is a high achiever but, he/she is trying to learn something new, then it will take more time. In that case, we cannot consider the employee as an underperformer. We should consider the circumstances of each employee.
EmpMonitor is an employee monitoring software that covers all the approaches that we came across while discussing how to measure the productivity of employees in an organization. It is the best tool that you require if you are willing to keep a record of the productivity of your employees during the working hours.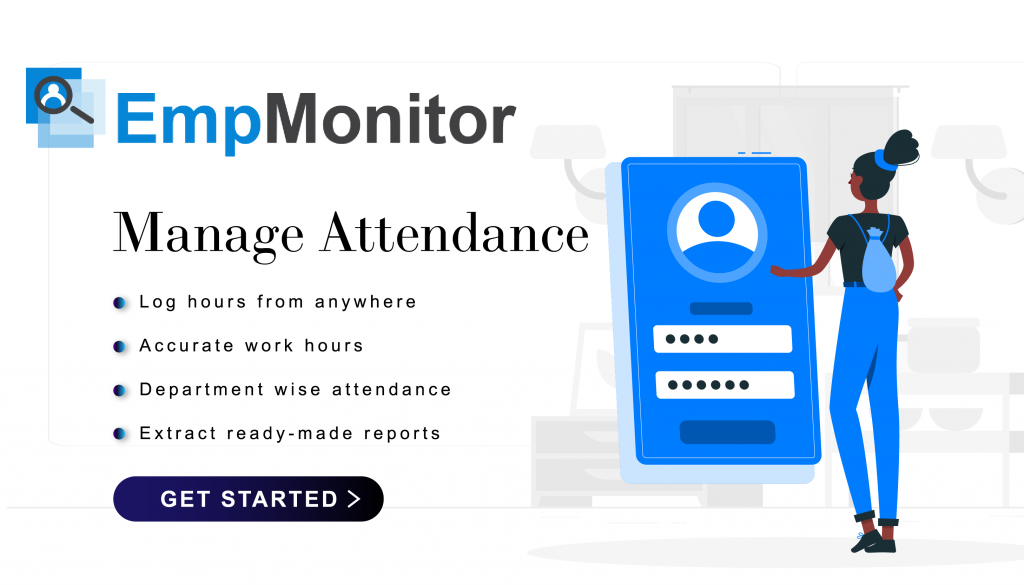 It provides detailed information about the work accomplished by each employee. It comes with cloud-based storage so you will never have to worry about the loss of data. It will keep all the data of your organization safe so that you can access them whenever required.
To Wrap It Up
Productivity measurement of the employees is necessary for an organization because it helps you in monitoring and managing the employees. It helps in figuring out the reasons why there is less efficiency and how you can achieve your business targets at ease.
It helps you find out who are your highly efficient employees and who are not working. So then you can work on the improvement of the productivity of these employees which will help in the development of your organization.
Check Out Our Related Posts:

How Workplace Flexibility Affects Employee Productivity Over Time
Remote Workforce Analytics: The Key To Remote Work Productivity
9 Smart Productivity Hacks To Get Most Of Word Done In 2020

I hope this article will guide you in knowing why and how to measure the productivity of the employees, which is beneficial for your company. Is there something that you would like to add? Please drop your thoughts in the comments below. I would love to hear from you!