If you want to track network access permissions of employees, increase productivity, and improve security, employee tracking software is the way to go.
Traditionally, employee tracker software had negative images of employee surveillance. However, it is more about making sure the relevant people have access to the right software. It resulted in some flavors of employee monitoring that can be more like project management suites.
Additionally, most of the data breaches are due to insider threats. Hence, security and access permissions are a huge modern concern. These breaches could be caused by anything, from users' irresponsibility to an employee visiting a website infected with malware, etc. 
There are various types of employee tracker software. Some are still used for employee time tracking and efficiency management and some are used more like network monitoring tools and looking for a security threat. It often requires using artificial intelligence and machine learning to detect threats.
Sometimes, monitoring employees can be seen as an organization that does not trust its employees. However, numerous benefits come with the utilization of monitoring tools in your business. Some of these advantages aren't even advantages to you, rather they are advantages to the employees themselves. 
In this article, we will discuss the importance of employee time tracking and the best time tracking software for small businesses. Let's get started!
Advantages Of Employee Tracker Software: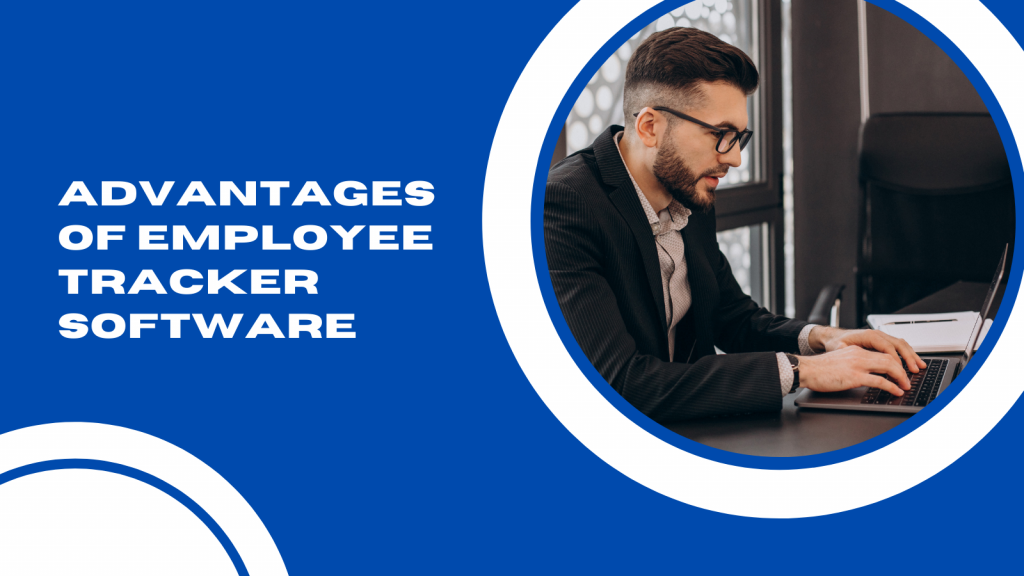 Increased Productivity:
Perhaps the most prominent advantage of employee tracker software is that it improves productivity. Ideally, employees should be self-driven and disciplined to focus on the job they were hired to do, but this is not the case. And that is what employee tracker software diminishes, it keeps track of every minute employee spends, resulting in improved productivity.
With so many businesses switching to work from home or hybrid culture, management and productivity can fall by the wayside. It is human nature, and many studies have also proved that employees work better when they know they're being watched.
According to the Massachusetts Institute of Technology study, when employees were aware of being monitored, gains improved by 7%. Efficiency improved, and workers were conscious of their actions and work. Employee time tracking is a proven and effective way of keeping your team on track. 
Expanded Savings:
Implementing an employee time tracking app or employee monitoring software saves a lot of money. Because when employees are productive during the working hours, you are paying them for. 
According to research, employees waste 4.5 work hours a week, which sucks out 20% of every dollar companies make. Each year, companies lose $1,685 per employee due to unproductive workers, according to the Centers for Disease Control and Prevention. A company can save this amount by implementing employee tracking software.
Cost-Effective:
Employee time tracking app doesn't have to be an expensive buy. Typically, it costs $20 to $150 per user, per year. Like most software, the price you pay depends on the features you want and the number of licenses you need for your team. Most systems do not charge an additional fee, but there may be possible installation and IP renewal charges. Upgrades like geolocation tracking and mobile licensing may also cost extra.
Increased Security:
Employee tracker software allows you to view saved documents, installed applications, websites visited, and messages sent on company property, like computers and mobile devices. It monitors business files, accounts information, and client data. This can protect your company from insider threats, security breaches, and suspicious behavior.
Improved Team Performance:
With all the data from an employee monitoring software, Reviewing employee activity helps you identify workers who aren't meeting company expectations. For example, you will know if an employee is spending time browsing cat videos on Reels or looking up sports scores online.
Time-tracking tools monitor the number of hours each employee works and how often log in late. Access to this data allows you to examine your employees' productiveness efficiently.
You Get to See Mistakes:
An employee tracking software tracks the time an employee spends to complete a given task. This way, the employer or supervisor to pick out areas that the employee is stumbling with and thereby offer assistance thus saving time. There are employees who would rather die trying rather than ask for help. An employee time tracking tool thus comes in handy in such cases.
Improving Employee-Employer Relationships:
If you want to improve the relationship, you have an amazing opportunity. Not down any mistakes or issues that employees are struggling with and visit them at a later and better time and solve their queries.
The habit of pouncing on an erroneous employee may uplift fear and clumsiness, as that employee becomes self-conscious and anxious about committing mistakes. That can lower his productivity and may even create a sense of resentment in the employees towards their supervisors.
The Best Time Tracking App For Small Businesses:
EmpMonitor: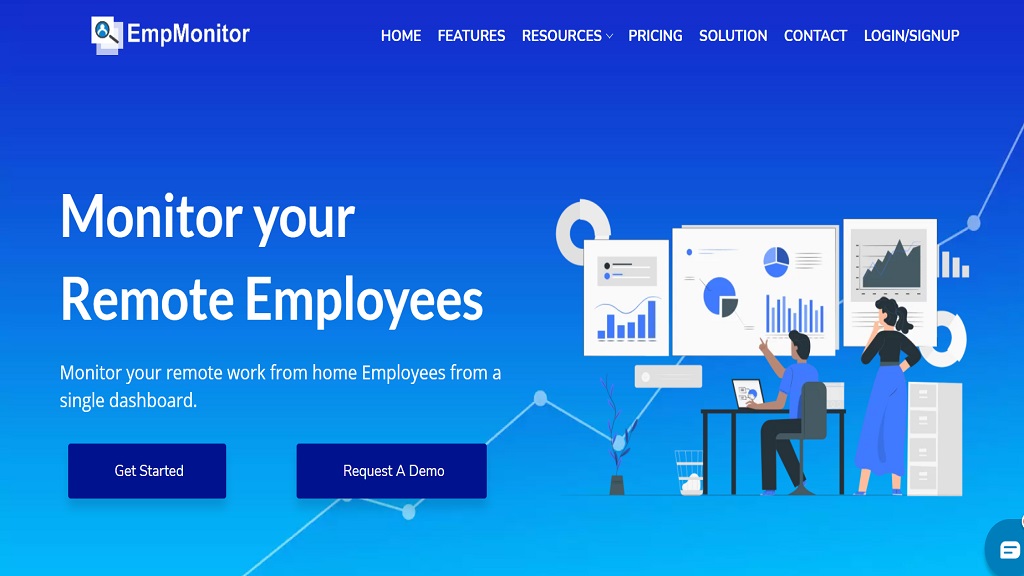 Starting with the best in the list– EmpMonitor.
EmpMonitor is a cloud-based employee tracking system, and you can monitor every activity of your employees from a single dashboard. With the help of the EmpMonitor, you can monitor every activity of your employees during office hours. With the help of EmpMonitor, you can identify the productivity killers and provide a clear understanding of every process from end to end. You can track and measure the productivity of your employees. It will help you to measure and ensure that they meet the productivity parameters.
Special features:
Daily Timesheet
Time Tracking
Productivity Tracking
Stealth Mode
Regular Screenshots
Keystroke Logging
Toggl: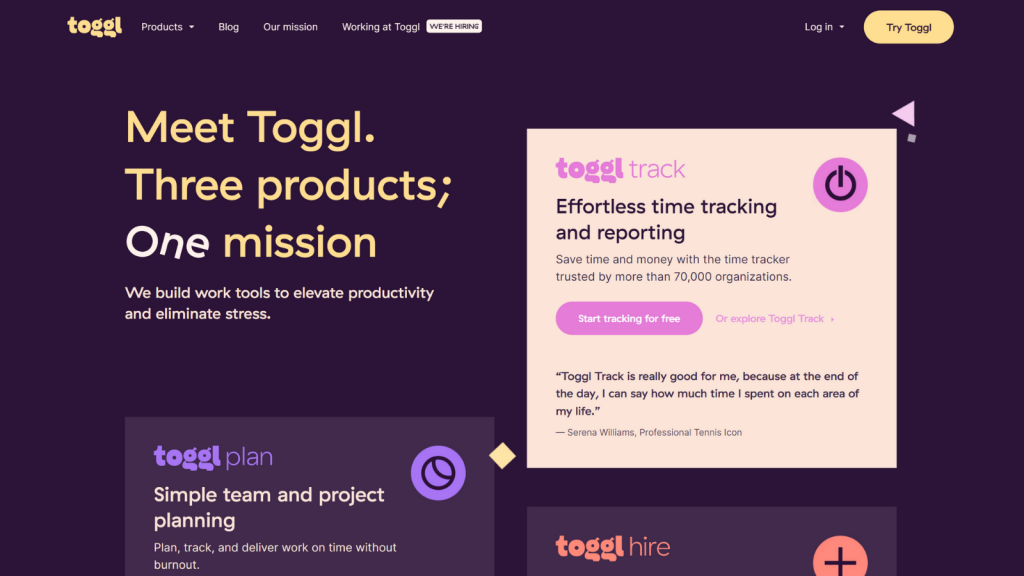 Toggl has a very easy interface as you can just a click to clock in or pick up where you left off, if you forgot to start the timer, the Toggl sends you a reminder via button or the desktop app. If tracking in real-time isn't relevant, you also have options to enter hours manually or integrate the calendar. If you're a bit forgetful, the Toggl Track allows you to trigger time entry suggestions that are based on the software you're using. In addition, you can also choose between time tracking, project planning, and candidate screening and hiring.
Special features:
Set estimated project timelines and budgets.
Convenient browser extensions (Google Chrome, Mozilla Firefox).
A separate Toggl Android app.
Time Doctor: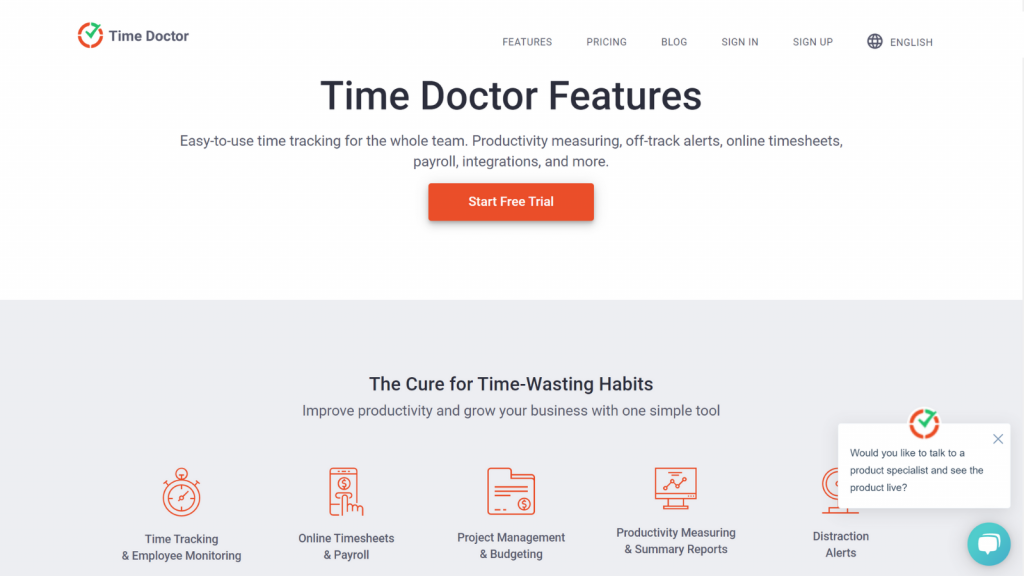 If you want a mix between time tracking, employee tracker software, and project management, Time Doctor is perfect for you. It's a powerful employee tracking tool, as it provides very detailed information about employees.
The Time Doctor time tracking system records every web pages and apps each employee uses. It also takes screenshots which managers can see what their employees are working on at the exact moment and minimize the chances of slacking off.
In addition to time tracking, Time Doctor allows you to pay your employees directly from the software via PayPal, Payoneer, TransferWise, or any other method that you choose. The payment is automatically calculated from the hours each employee has worked.
Special features:
Create payrolls and pay your employees through the software.
Auto screenshots.
Give clients access to your Time Doctor account.
Chat monitoring.
Hubstaff: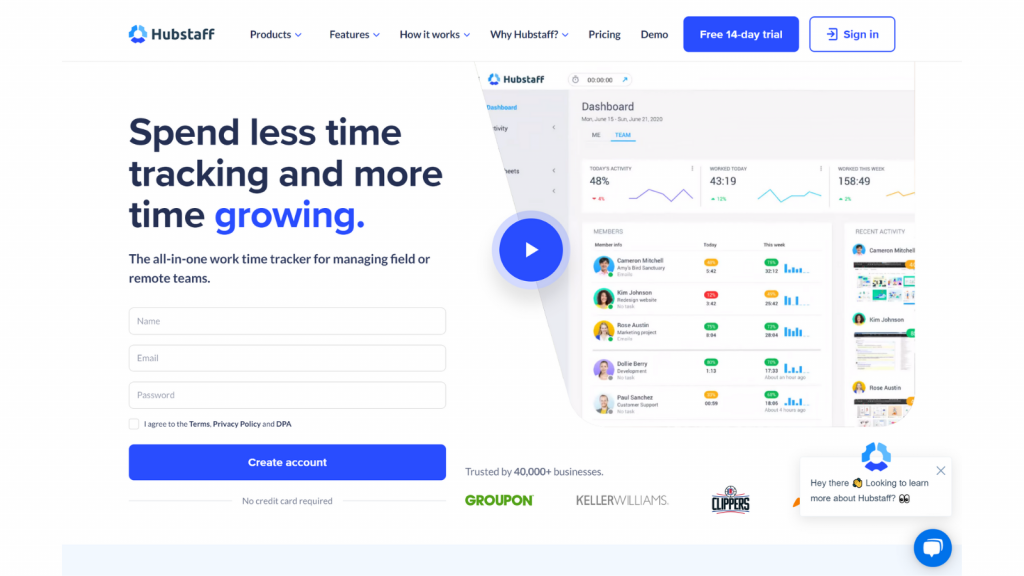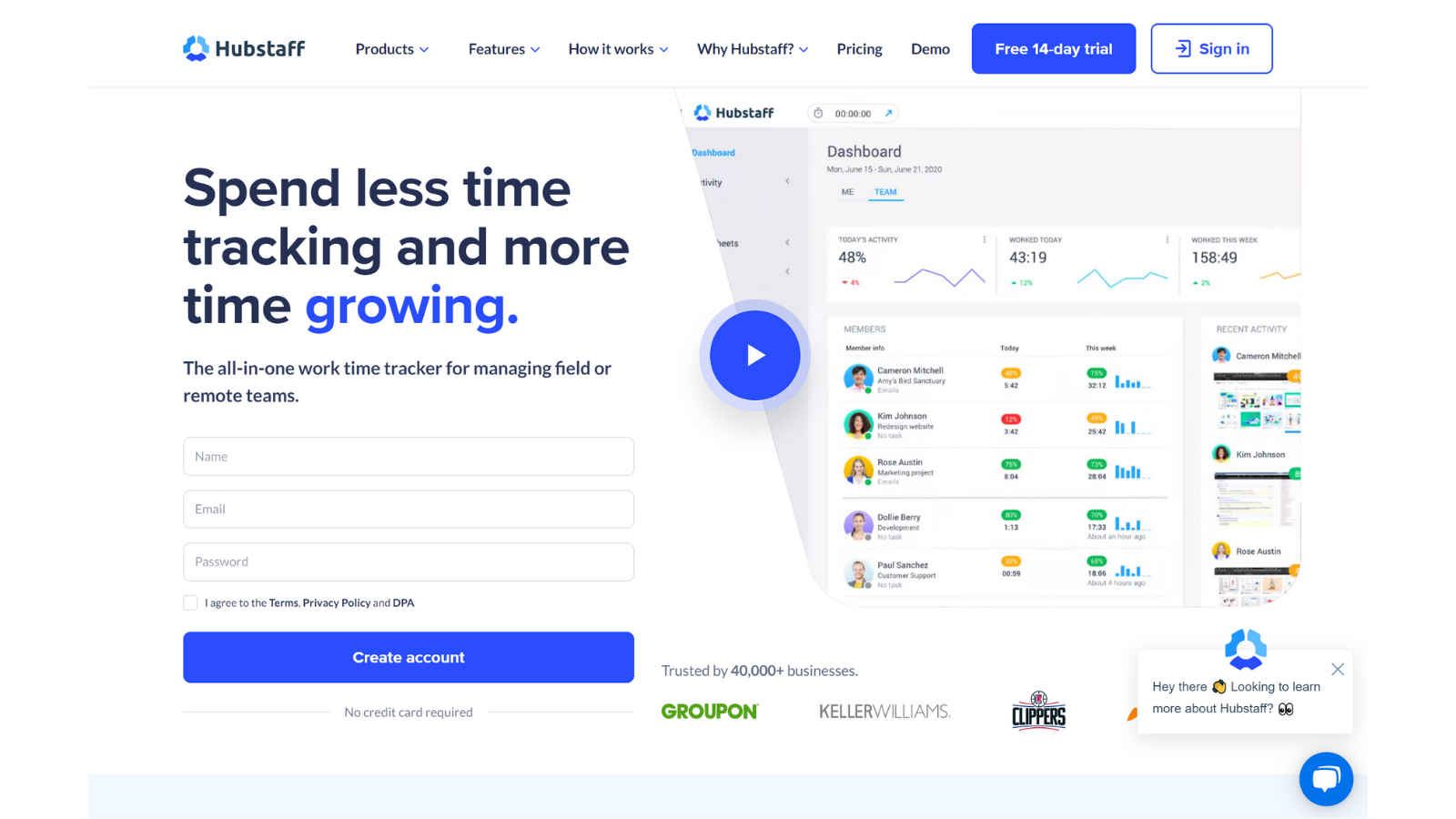 Hubstaff, like Time Doctor, offers similar time tracking capabilities, employee monitoring, and project management features. The main difference, however, is that Hubstaff lets you track time and your employees anywhere. It's a time tracking app for Windows, Mac, and Linux, as well as for mobile devices, so you can keep tracking your employees even when they're on the road or out of the office.
Not only does Hubstaff track time, but it also tracks location with a GPS tracker. The GPS tracking feature is most commonly used by companies whose employees are frequent travelers – i.e. sales and delivery people. With an on-the-go productivity tracker, managers see where their employees are at that exact moment, how much time they spend on the road and how much they spend working on the job site.
Special features:
Employee GPS tracking.
Auto screenshots.
Create payrolls and pay your employees through the software.
Timesheet templates.
Timecamp: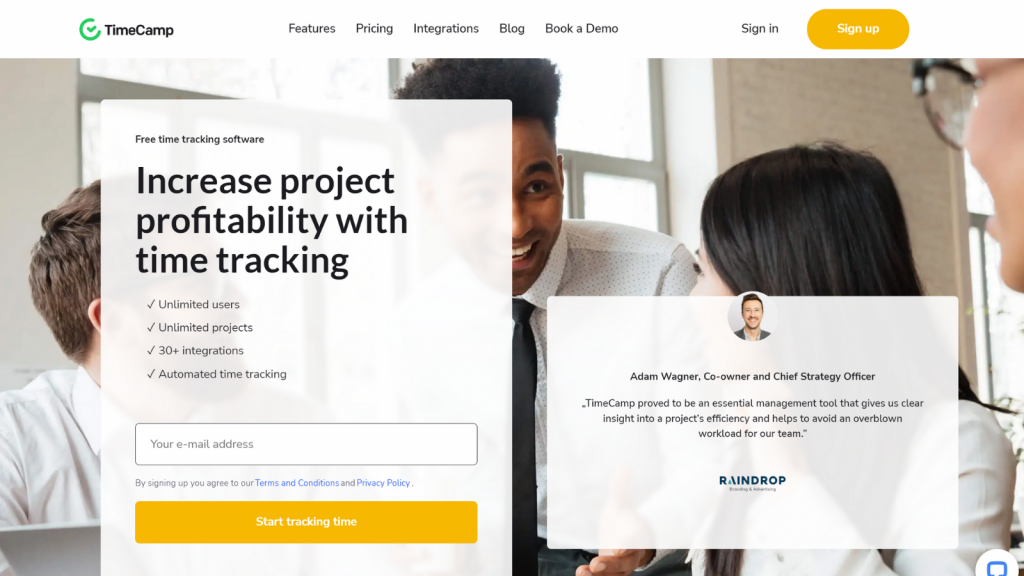 Timecamp is a cloud-based time tracking solution where work time can be easily tracked manually by timers and automatically via the desktop app.
The app enables project managers to collaborate, track billable work hours and monitor project status. It also allows the creation of automatic employee payroll and sends invoices to customers. In addition, it's an employee productivity monitoring software where you can see if your employees are as productive as you need them to be during the workday.
What makes Timecamp stand out among other employee tracker software is its variety of integrations with other apps – it offers more than 50 integrations with project management software and helps desk apps. That way, you can easily sync and import your already-created tasks and tickets to Timecamp, and start tracking time immediately.
Special features:
Get your daily productivity analysis.
Create and store invoices for clients.
Get notifications when a client views an invoice.
Attendance tracker.
Check Our Latest Posts:

"7 Benefits Of Having Employee Computer Monitoring Software"
Remote Employee Management: All The Challenges And 05 Best Ways To Face Them
What Is Performance Management Software? 5 Tips To Enhance Performance Management Systems
Wrapping Words:
From tracking your employees' activities to simple record keeping to intensive and sensitive tasks like data compartmentalization, there is just so much you can do with an employee tracking tool. The value addition of such software means that it is very cost-effective. You simply cannot put a price to the peace of mind that comes with a tracking tool. What are your thoughts on this? Let me know in the comments below!