The very much-awaited festive occasion is here! Are you ready to celebrate Diwali with your workforce team? This time around- #OfficeDiwaliCelebration is going to be more fun with some spectacular team engagement ideas.
For more than a year, people have been working remotely from home. So the team engagement activities seem to be not easy for industries. Regardless of how it was in the past, now the management should be looking for more opportunities to improve the work environment and engagement of employees. And what's better than the Diwali festival to start this.
Hit The
Play

Button To Listen To The Podcast:
So, along with the traditional Diwali celebration, also get ready to enjoy some office-Diwali rituals with your workforce. Here are some sparkling team engagement ideas:
🪔 Team Virtual Celebration
As we all know the past two years have been hard for everyone, given the pandemic situation. But the good news is we have entered the endemic and finally, things are becoming normal again. However, many companies are still managing remote employees, feeling comfortable with a hybrid working system. During this situation meeting with the team and creating a bond is difficult.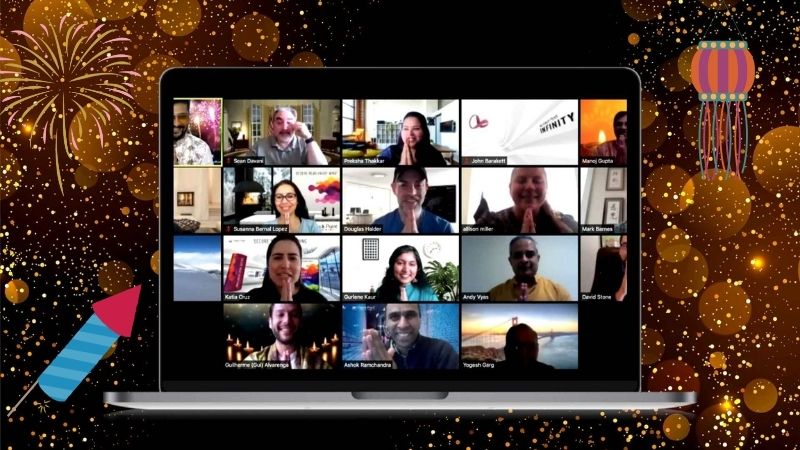 In such a case, we believe that Diwali is the best festival for growing work engagement, but how can you do that given the situation of everyone working from a remote location? How can you celebrate this auspicious and fun festival with your team? The answer to that question is A Virtual Diwali Celebration. The virtual celebration is among one of the best team engagement ideas for this Diwali.
Just like virtual meetings, you can celebrate Diwali with your team through platforms like Zoom, Google Meet, etc. You can also plan events and fun activities to make this Diwali more fun and engaging. 
🪔 Ethnic Attire 
This Diwali, let your inner fashionista out and embrace it. Ask all your teammates to dress up in ethnic attire and give your celebration a cultural touch. Make this more interesting by making it a contest and awarding for the best-dressed person of the evening, Person with the best traditional accessories, etc.
These are just examples to start with. Be creative and come up with an idea to make this Diwali the best you ever celebrated. Also, showing off the best catwalk and taking polls for the winner, sharing those sparkly selfies with the brightest smiles, sharing boomerang, the sky's the limit. Just be creative with team engagement ideas for this Diwali.
🪔 Games & Fun
Games and activities, what can be more engaging than this? It can be the most effective among the team engagement ideas. Diwali games add that extra element of fun to your Diwali team-building party. And as we talk about Diwali games, there are plenty you can choose from, to make your party thrilling and full of fun.
Musical Chair, Freeze Dance, Trivial Pursuit, Tongue Twister Challenge, Never Have I Ever, Pictionary, and not to forget Diwali decoration, the list goes on and on. There are endless games and activities you can organize. It can be both, virtual or an actual event. 
🪔 Colorful Rangoli Carnival
Rangoli is an integral part of Indian culture, and the Diwali celebration is incomplete without rangoli. Diwali provides the perfect opportunity to showcase your creative side. By adding it to your team engagement ideas, let your team put their creative foot forward. To make this more interesting, make this a challenge like the Don't Rush Challenge or Timeless Rangoli challenge.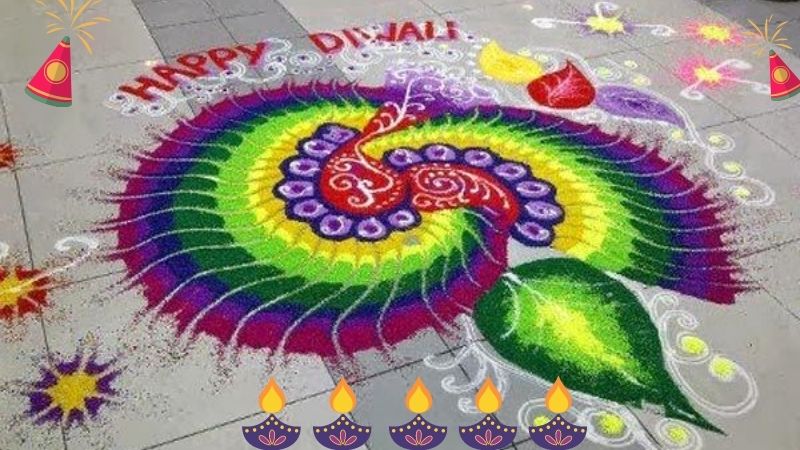 For celebrating Diwali virtually with your team, making rangoli traditionally might not be possible. You can hold a virtual doodle competition instead. Let them unleash their creative side and showcase their artistic touch. Sharing pictures of the rangolis created at their home is also a good idea. One from the management or a team leader can judge all the rangoli designs and choose a winner for the competition.
🪔 Tambola & Desi Contest
Any Indian party or festive celebration seems incomplete without playing the Tambola game. We all have played this game immensely in one form or another. It has many names, Tambola, Bingo, or Housie. Tambola is a very famous and engaging game that you can put in the list of team engagement ideas to play with your team.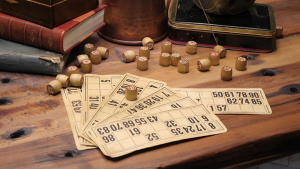 The best thing is that Tambola is available as an online game, and you can play the same game online with all your teammates. As the Diwali ritual, it can also be a way to earn money. You know what I mean. With all the desi contests and games like Antakshari, Housie, Rummy, the fun and happiness will multiply. 
🪔 Exchanging Gifts & Sweets
Diwali is the festival of sharing gifts and sweet gluttony, isn't it! In the team, employees can share sweets and gifts with each other and enjoy it like a group activity. The temptation of having a taste of mouth-watering sweets is something that nobody wants to miss in the Diwali festival. 
In fact, nowadays, many companies in India are introducing corporate gifting culture during Diwali (just like in western culture traditions "Christmas Gifts"). It creates a powerful emotion and bonding between the company and employees, which I believe is quite essential for every growing firm.
🪔 Awards With Glories
What's the best time to reward your employees for their hard work other than the shining festival of Diwali. By recognizing employees' efforts for their contributions with a paycheck bonus or an award is the best way to motivate them further. It will help you and your team to enhance work capabilities further. 
To check on the hard work of your employees you can also utilize employee productivity measuring software like EmpMontior to monitor their work engagement. Basically, it's a tool that inspects the work activities and productivity of employees and provides you with accurate details. It helps you to analyze your employees' productivity based on their efforts so that accordingly, you can reward them with corporate trophies for their achievements.
🪔 End Words
Diwali is an occasion to share & care! It is the festival of spreading goodness and wellness. In a busy corporate life where everything is hard to achieve because of huge competition, it's your time to decide- how can you do much better for other people around you. If you can make your teammates happy, it would definitely help you to achieve more in return. Diwali is just another way to get closer to people, and with all these ideas, you can achieve it. 
If you would like to add-on more to this blog or want to share your thoughts, we welcome your suggestions. Mention them in the comments sections.
May the Goddess of wealth- "Shree Laxmi" always bless you!