Imagine your school days! how did your teacher comfort you at your school –  by referring to it as your second home right? She said it to make you feel safe and develop a sense of acceptance towards the place. 
Like school, a workplace is a little more like your home away from home, where we tend to spend the most productive time of the day, the best hours, and the most energetic years of life.
Do you remember how your school teacher guides you on your goals and monitors your tasks? 
She does it by keeping a keen eye on you. But what about the workplace having lots of employees to keep an eye on? Here As it might become difficult to monitor, on the other hand, it is equally essential in the workplace to have someone who tracks our tasks and goals. So to resolve this problem, employee monitoring software came into the frame.
Before we dive deep into software, let's understand what is employee monitoring. Employee monitoring is an activity monitoring method that companies use for a variety of reasons. It helps you to prevent and detect costly data breaches, improve employee engagement, and streamline inefficient workflows.
Now Let us know about the software which will help us with employee monitoring.
What is Employee Monitoring Software?
Employee monitoring software supervises the activities of your employees. It lets business owners and managers get a complete insight into the activity and productivity reports of employees. Hence using legit employee monitoring in the workplace becomes very crucial. So here's a suggestion for one of the best employee monitoring software–EmpMonitor.
Just like your teachers at school, Empmonitor monitors your attendance, productivity, activity, and many more activities at your workplace.
We'll discuss deeper into why employee monitoring software like EmpMonitor matters in the workplace, as well as five ways you can build trust among your employees by monitoring them ethically and efficiently. By the time you finish reading, you'll have all the insights you need to know before implementing a monitoring system.
Let's learn how to ensure your approach to workplace monitoring is supportive of having a healthy workforce.
How to Ensure Workplace Monitoring
Well, Employees are the most crucial asset for any company. Therefore It becomes necessary to observe and monitor them in their work path. Meanwhile, in such a monitoring environment, some employees may find it a little tricky to be observed the whole time. They may feel insecure about the fact that they are being monitored.
To avoid this, kindly make sure your employees are aware of employee monitoring software. If possible, create a monitoring policy, which includes consent forms and a detailed explanation of why they are being monitored, which data you will be collecting, how you will store it, and who can access it, in short everything they need to know. Doing this will also make employees calmer about the monitoring as they'll have full knowledge of the software and what it monitors.
The purpose of Empmonitor software is to monitor employee activity and alert if necessary. While there are several ways employers can monitor their employees, large work environments make it very difficult for managers to effectively monitor each employee's activity and productivity.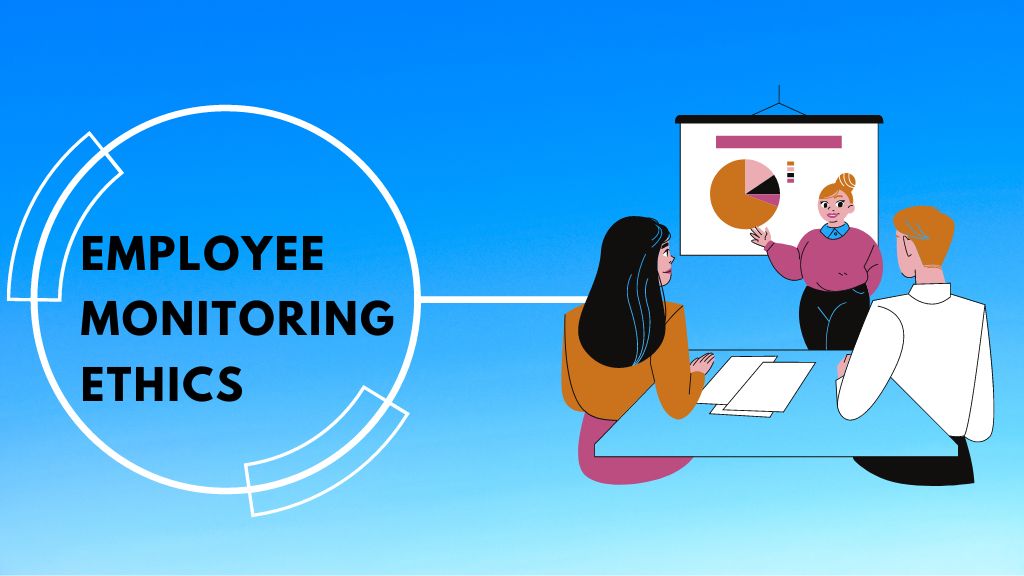 So here comes the need for employee monitoring and management system. However, while monitoring, Employers can maintain a transparent atmosphere by using correct employee monitoring software.
It's necessary to follow these best practices while using employee monitoring if you want to monitor ethically.
Tell them that they are being monitored:-when they have an idea of why they are being monitored, what is monitored and how it works they develop a sense of transparency with the company.

Keep employees' data safe and secure:-  when you have this authority to check on your employees' activity, it becomes your responsibility to save and secure their data.

Track what's necessary. One must ensure before tracking employees that their privacy does not get hindered. The managers and admins need to track what is essential for the company and employees' productivity.

Make sure that policies are clear and concise. Employees should know exactly what is expected of them and what unacceptable behaviors are.
Employees must understand that they are here to learn, earn and explore, so they must develop a sense of belongingness towards the company and their teams. As all together can lead the company to greater heights. 
5 Ways to Monitor Employees Ethically and Effectively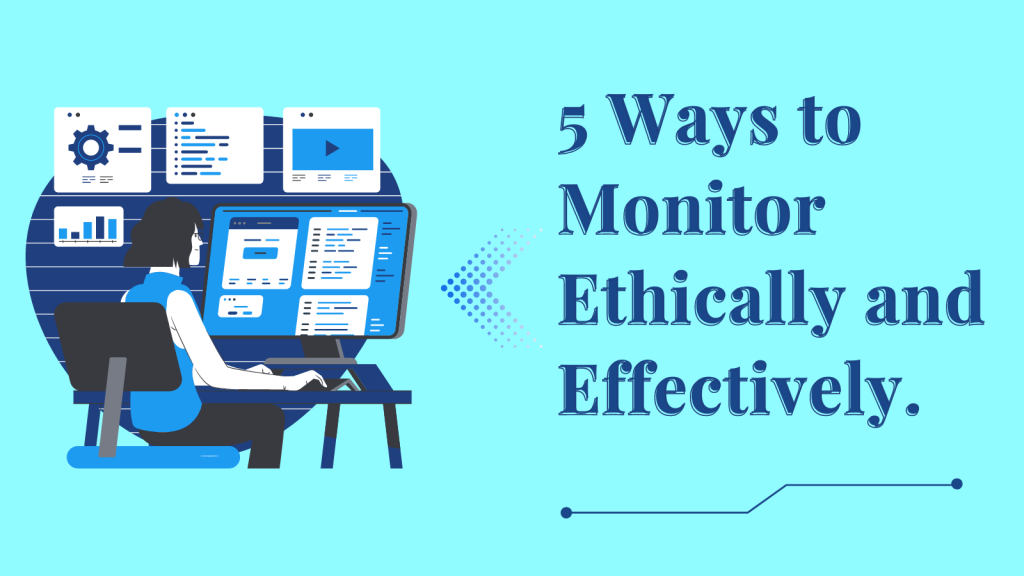 1. Foster healthy and effective work culture 
Research shows that one of the most successful companies recognizes that encouraging and fostering a positive work environment helps employees find joy in their work. Reduce stress and increase productivity. And there is no doubt that productive employees are the key to a company's success.
EmpMonitor privileges you to analyze the slightest details and changes in your employee's productivity report. It gives you many insights into their behavior and performance. Which will help you see if there is any scope for improvements.
EmpMonitor is one of the best employee monitoring systems available in the market. It offers many crucial features at a time in which one can access all the details from a single dashboard. It is the all-in-one employee monitoring software for clock-in/clock-out, time-tracking, productivity, and performance measurement. 
2. Track Physical Location Through GPS
After covid, there was a massive change in work culture. Since Work from Home came into fashion, it facilitates employees to work from any location. No doubt that WFH culture saves lots of resources and infrastructure, but when it comes to workforce productivity, it becomes difficult for the management to keep an eye on their employee by sitting far away from them.
Employee monitoring will provide you with the geolocation of your employees. Tracking their location will give insight into the availability of the employee. Indeed it becomes easy for the company to assign any geolocation-based task without any hustle of making a chart of travel dates and places.
EmpMonitor is yet to launch this feature. So you can sign up here to get notified about all the existing and upcoming features of EmpMonitor.
3. Monitor Employee's Electronic Behavior 
Monitoring what an employee does on a company-issued computer is essential. There might be a chance that an employee anonymously makes a visit to a suspicious website or corrupted file.
Therein having employee monitoring software can protect the data breach and instantly inform the admin about such suspicious activity on a particular system.
In addition to that, Understanding how employees spend their time can help you implement plans to help boost productivity.EmpMonitor can help you with its apps and website monitoring feature where you can see which apps employees use the most to determine if these apps drive productivity or act as a source of distraction to them.
4. Automate Screenshots for Constant Surveillance
The screenshot monitoring allows the user to access screenshots of employee computers. Monitoring the official system via screenshot capture is a real deal. Most companies use it to know the employee's current work status and how much they spend time on that work. Companies are allowed to monitor the screen of employee computers during work hours stating that in most countries, it's a legal deal. 
As we are talking about screenshot monitoring, EmpMonitor can capture automatic screenshots at intervals decided by the admin. One of the features of employee monitoring has screenshots monitoring which is designed in a certain way so that it automatically captures the screen of employees' computers at every fixed interval of time without any pop-up notification or even the slightest disturbance.
Though monitoring screenshots can harm the privacy of staffers, as they too have the right to preserve their privacy, so it is better to block sites like social media channels, shopping sites, and chatting apps on the official system that can reveal the personal information of employees.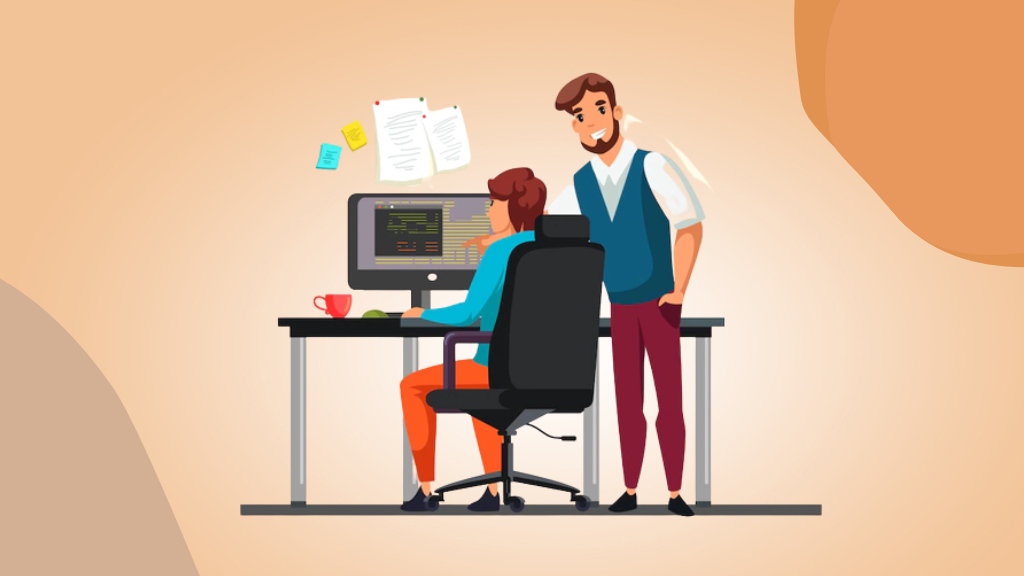 As monitoring softwares used for employee monitoring captures regular screenshots at regular intervals for security concerns, whereas if those shots do not capture any malicious activities, employers can remove such screenshots from the system for a better workflow. As a rightful employer, to peek at someone else's personal data is unethical. But as a business owner, it is necessary to protect your business data from breaching or internal threats. In such cases, you can instruct your employees to work on official systems only for official work, and not for personal errands.
5. Track Websites to Monitor Employees' Online Behavior
One of the major concerns of the organization is Insider threats. Breaching of any confidential files through and usage of unauthorized websites may lead to a high loss in the company. Therefore it becomes very crucial to look at the employee journey over the internet.
EmpMonitor's functionalities block insider threats and prevent further damage and breach. You have access to particular check-listed websites for organizational needs, and you can also restrict your employees from using web portals that are not essential.
Conclusion
Now Take a pause and think about someone you really trust. Do you always stand with them? The answer is of course, yes. When you develop a sense of trust, you start giving your time and effort to them. 
By prioritizing workplace trust, you can also build a diverse and inclusive culture where your employees feel a sense of belonging and feel more connected to their team. They can enjoy a culture of honesty, psychological safety, and mutual respect that might help employees feel secure in their jobs. 
Employees are the soul and heart of any organization. To build ethics and respect between you and your employees, let them know they are being monitored and familiarize them with surveillance software techniques. Justify that activities are recorded and it's not just a matter of tracking them, but more of a security concern of the company's data.
Lastly, we recommend you use the best employee monitoring software EmpMonitor to ensure secured employee monitoring of your company. Sign up here now to secure your employees' data and get the best out of them.
READ MORE:-

WHAT MAKES REMOTE EMPLOYEE TRACKER A GREAT DEED?

EMPLOYEE MONITORING SOFTWARE BECAME THE NEW NORMAL POST COVID-19

'TRUST BUT VERIFY'- WHY YOUR FIRM NEEDS PRODUCTIVITY TRACKING SOFTWARE?