Do you want to know if your remote employees are genuinely working or just wasting their time?
Work from home or hybrid work culture is now a contemporary working fashion since the pandemic hit the world. On the contrary, it raises the factual issue: does this can lead to defective productivity in businesses? 
Remote working marks a milestone and hits success as employees have shown impressive performance in their comfort zones. However it also induces malfunctions like time theft, declining productivity, and insider threats. 
To combat these, remote employee trackers have been introduced that can monitor employees working from distant places so that employees may work from home without jeopardizing the business's critical KPIs.
So what is remote employee trackers software, and how effective in tracking the productivity metrics for remote working employees? We will hit every series related to this term in the upcoming section. So hop along with us to know more.
What are Remote Employee Trackers?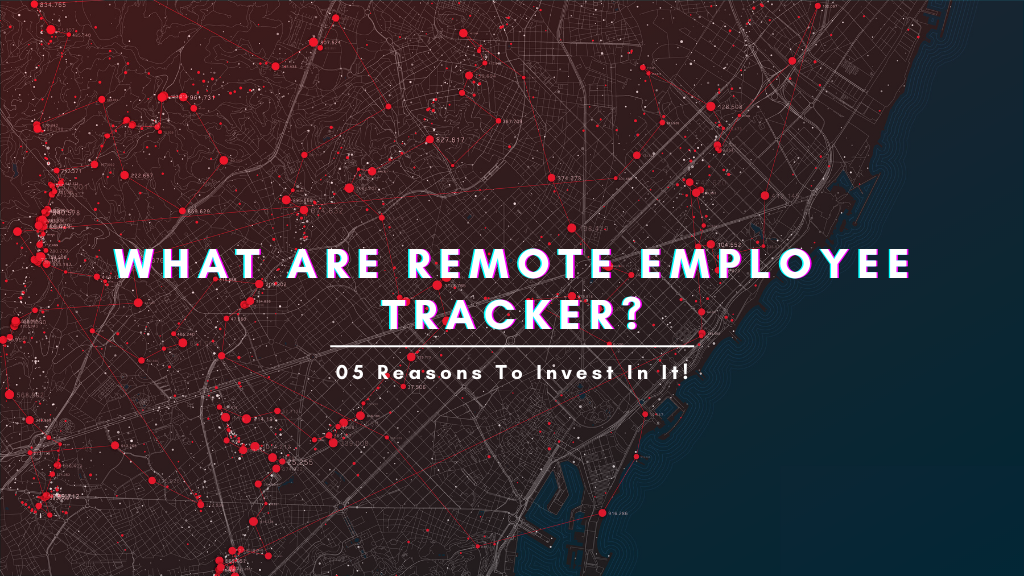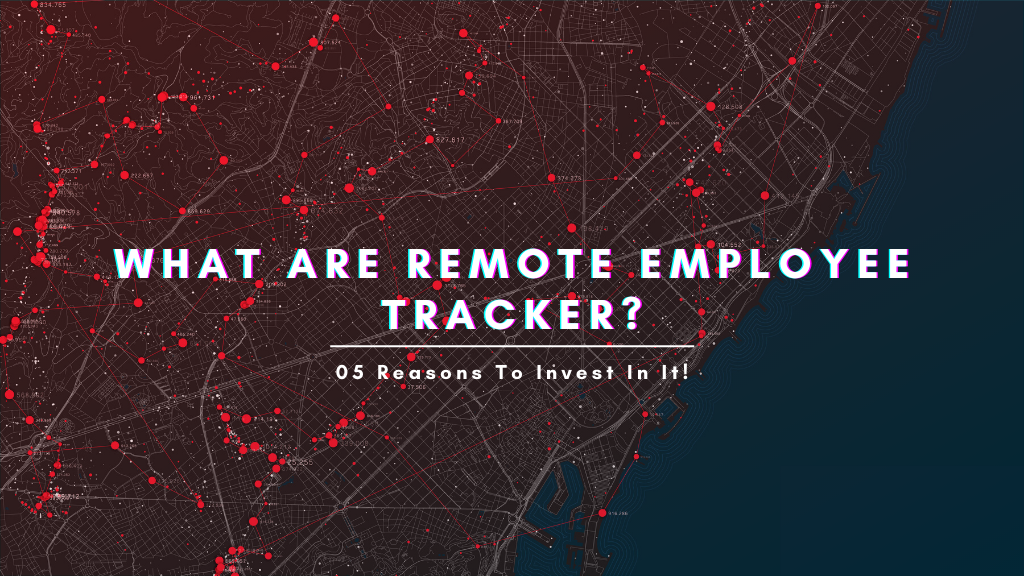 Employee trackers are applications that track and monitor employee activity. It allows employers to track and analyze productivity, website and application history, clock-in and clock-out times, and management-related duties.
Monitoring software allows you greater flexibility and decreases office expenditures while quickly attracting more talent. There are numerous reasons why purchasing a remote employee trackers may be helpful to your company. We've listed a few for your convenience. Here are five reasons why investing in staff tracking software should be high on your list of priorities for your company or organization:
Its stealth mode monitors the working environment of any organization so that you get every insider nerve of the activities happening between the employees. With the monitoring software, you can manage, monitor, track employee activities and performance, and get detailed insights for each department.

An employee from any part of the world can work remotely and securely. It also increases and improves productivity and can keep the breaches and any malicious activities at bay.

It informs and alerts you and your team about any malicious activities, and you can save them before it turns into irrevocable damage. 

Time tracking software manages and monitors attendance, clock in and out, tea breaks, and idle and productive time. It can further add up new segments to the real-time monitoring. 

Employee monitoring software automates the entire process with the correct software, allowing the team to focus on their tasks while the software tracks and records everyone's activities.
Following the evident investing features of remote employee trackers and how they benefit your business and organization, here are some fantastic listings of remote employee monitors that are both functional and worthwhile.
EmpMonitor – A Cloud-Based Monitoring Solution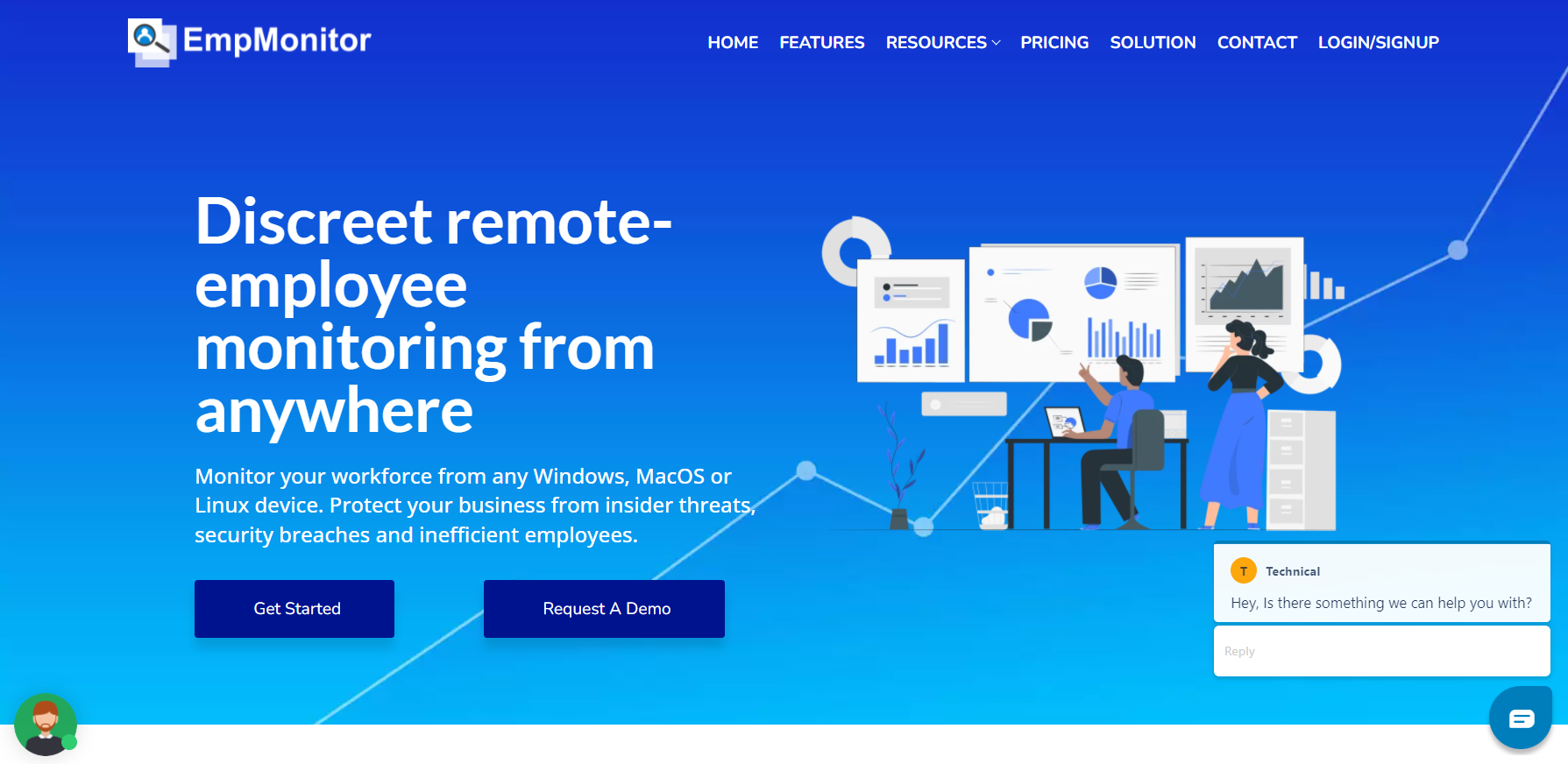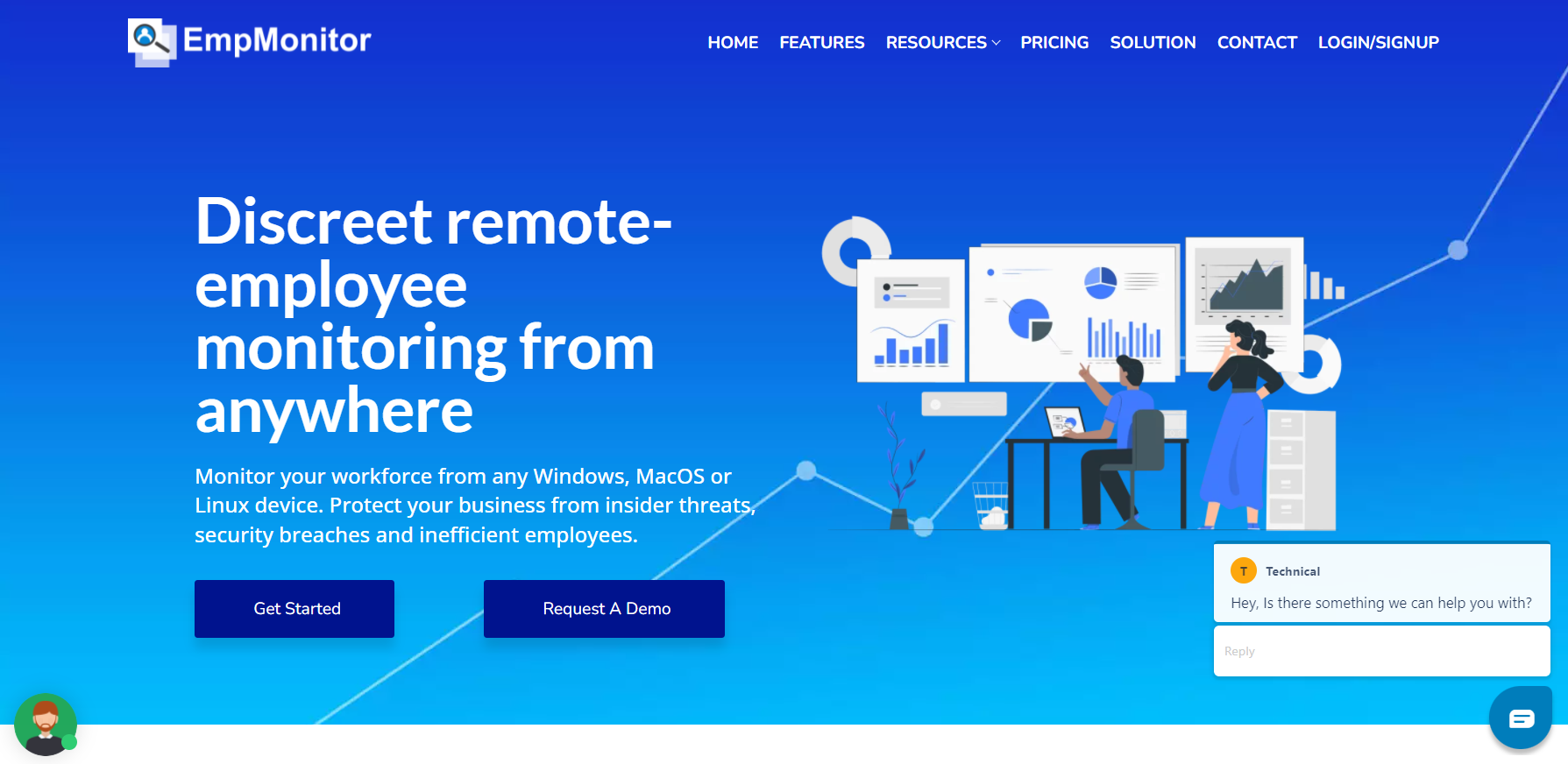 EmpMonitor is a cloud-based monitoring solution that is far more than just a tool for keeping track of employees. It takes complete control of all management activities while increasing your team's efficiency.
With EmpMonitor, you can raise efficiency, compliance, and security while offering several functional tools for both businesses and remote workers, including:
Data-driven decisions- 
Get all the extracted data and analytics to make the perfect decisions for your business with precise reports and charts. Get all the dragged data in the report format automatically stored in the cloud and your devices. 
Boost up productivity –
With EmpMonitor, you can boost your employee productivity and eliminate wasted time. The productivity management feature lets your employee work smarter with fewer efforts. 
Block Insider Threats- 
Track and monitor all of your employee's device activities, analyze any harmful or suspended activity, and when your employee accesses forbidden platforms.
Employee Inquiries- 
Record, review, and monitor all the online activities with the video replay for every action on screen and quick and simplified workplace surveillance.
With all the budget-friendly pricing plans starting from $4.59, EmpMonitor is perfect for startups and businesses. To know more about EmpMonitor, watch the YouTube tutorial shared here. 
Time Doctor- A Monitoring Software That Can Automate Time & Attendance Management Task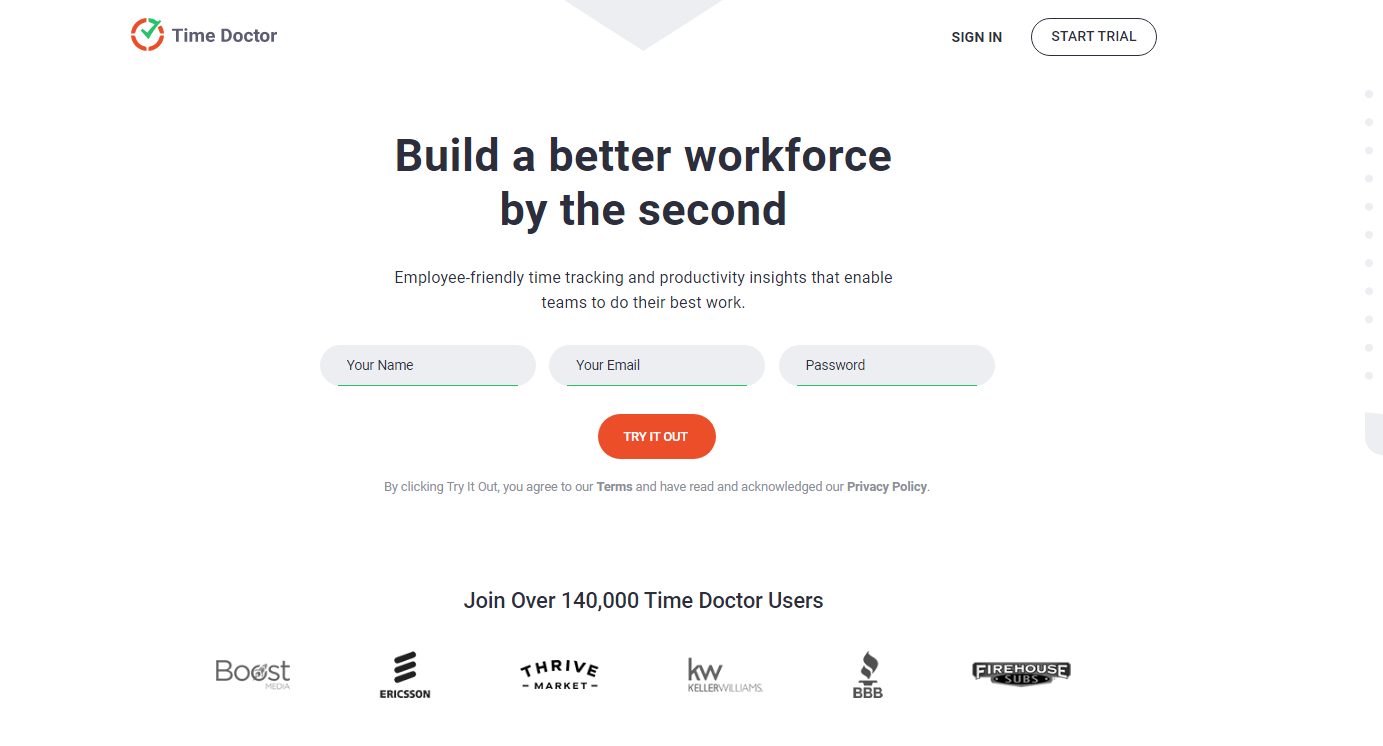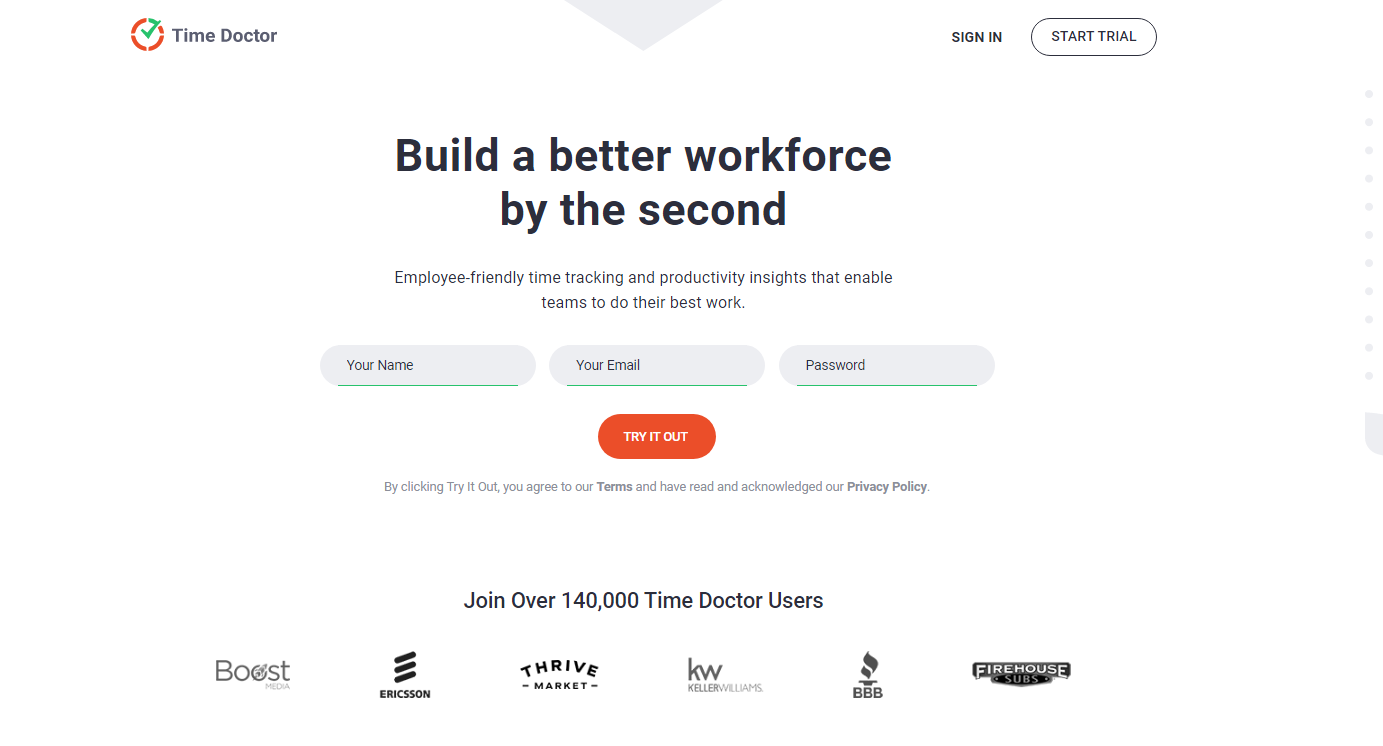 Time doctor is monitoring software that automates payroll integration and time management, sends real-time alerts, and detects the time spent on Facebook, Youtube, and other sites. Time Doctor is the best employee monitoring software with a single dashboard for analyzing employee behavior reports and setting plans to curb unprofessional behaviors. 
Some astonishing features of time doctor that make it investment worthy are; 
Time tracking and employee monitoring – With time doctor, you can simplify time tracking and project management by accurately tracking time down to seconds to bill clients and pay employees correctly.
Online Timesheets and Payroll-Quickly and accurately finalize payroll and ease time and attendance management-related tasks by customizing optional pay periods and currencies. With the time doctor, you can easily set up payrolls for salary or hourly employees. 
Project Management and the Budgeting-Time doctor is the ultimate project and time management software that assists in tracking time and viewing summaries of time spent on each client, task, and project. It lets you view web, app, and chat histories with screenshots and integrated tools to track time.
Distraction Alert-With this time doctor feature, you can now cancel out any distraction and focus on the tasks and alerts you when you get off track. Time doctor web and app usage detects the time wastage activities and alerts the user with a pop-up. 
Easy Setup and the Support-Time doctor is an employee tracking software that runs without selecting a task and has the silent monitoring option that runs when the employee interacts with the program, automatically tracking the computer activity.
To know more about Time doctor, visit the link shared here.
Teramind- Employee Monitoring Software with Insider Threats Detection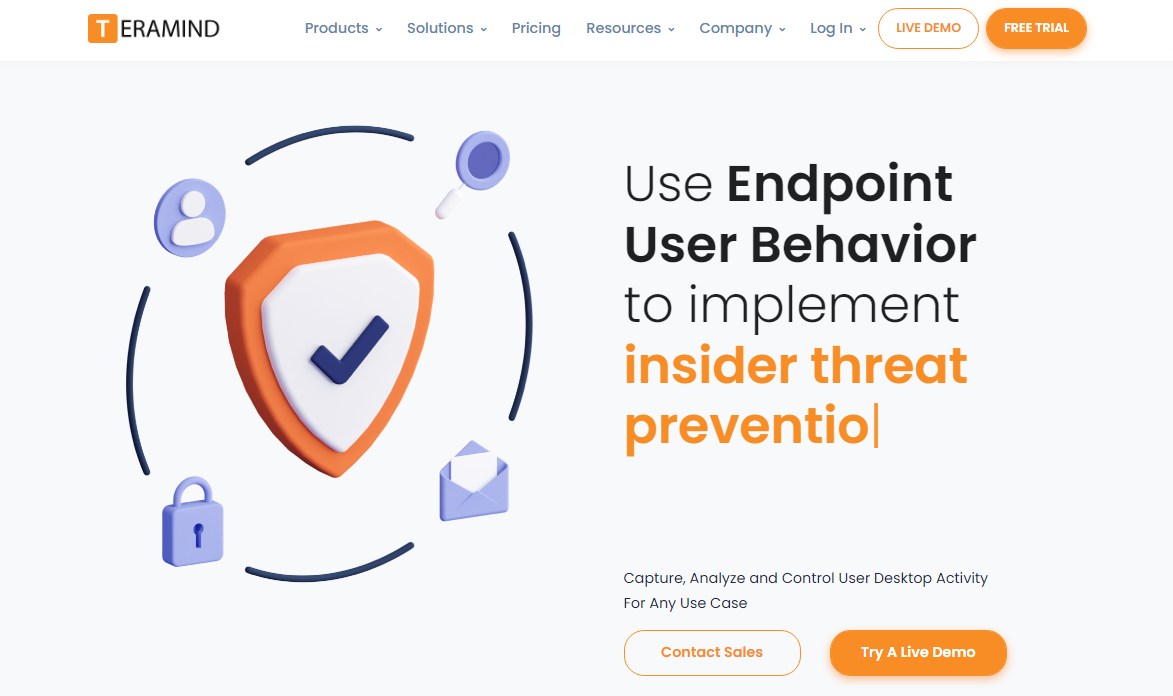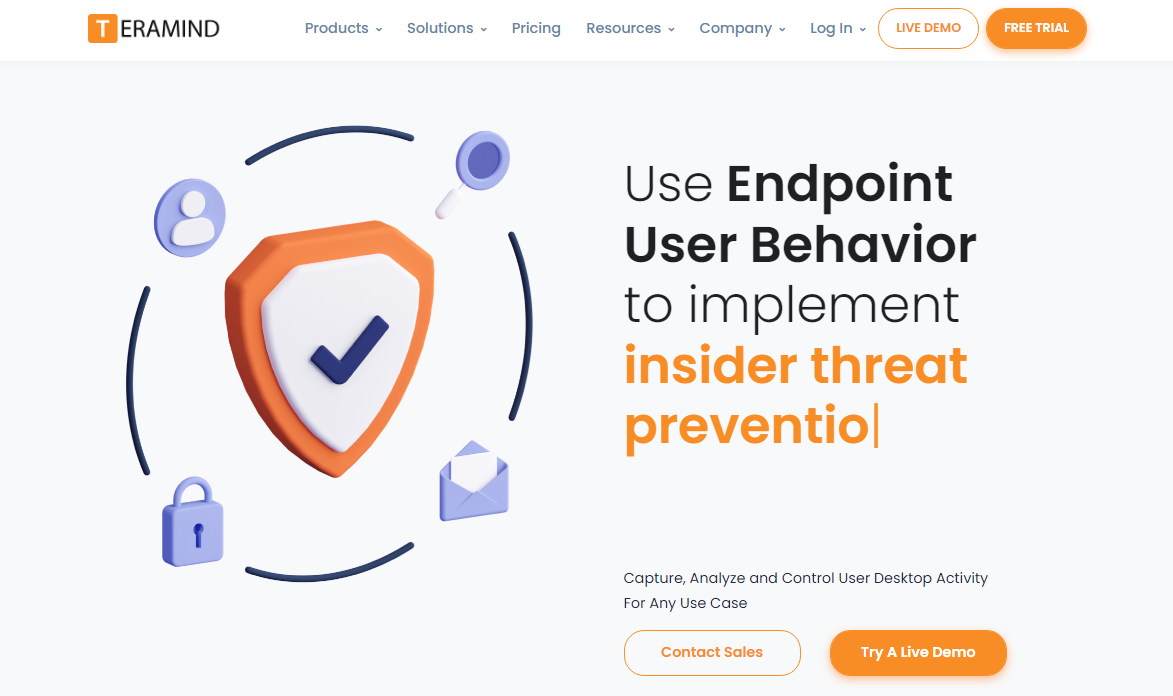 Teramind is a data protection and employee monitoring software that allows you to follow user activity on apps, applications, and websites and detect and prevent dangerous activities on the computer.
Teramind also offers data loss prevention and staff monitoring systems available as cloud-based, on-premises, or private cloud solutions.
Insider threat protection—With insider threat prevention fuelled by data-driven endpoint monitoring, safeguard critical and confidential company data from loss caused by unintentional, careless, or compromised insiders.
Forensics – A robust endpoint monitoring system that detects and inhibits unauthorized user behavior can help prevent data loss.
Employee Monitoring- Employee productivity, security, and compliance are all monitored. Increase staff productivity, data security, and compliance while retaining employee privacy using data-backed behavior analytics.
To know more about Teramind, visit the link shared here. 
Because of the rising frequency of ransom threats, data theft, and other criminal actions, remote monitoring software has become a must-have for many companies and corporations.
However, investing in the proper and worthwhile software that provides the necessary workable features while remaining under budget is essential. Appropriate features for your business are a plus, but finding them all in one package might be difficult.
Our entire article has shown the three top forms of remote tracker software on the market suitable for your company. Overall, EmpMonitor stands out as one of the best suggestions, with positive evaluations and competitive pricing options. It has all investment-worthy embedded features and a simple user interface.
If you want to learn more about the war between the EmpMonitor and Teramind and why we love EmpMonitor so much, go to the EmpMonitor VS Teramind comparison page.