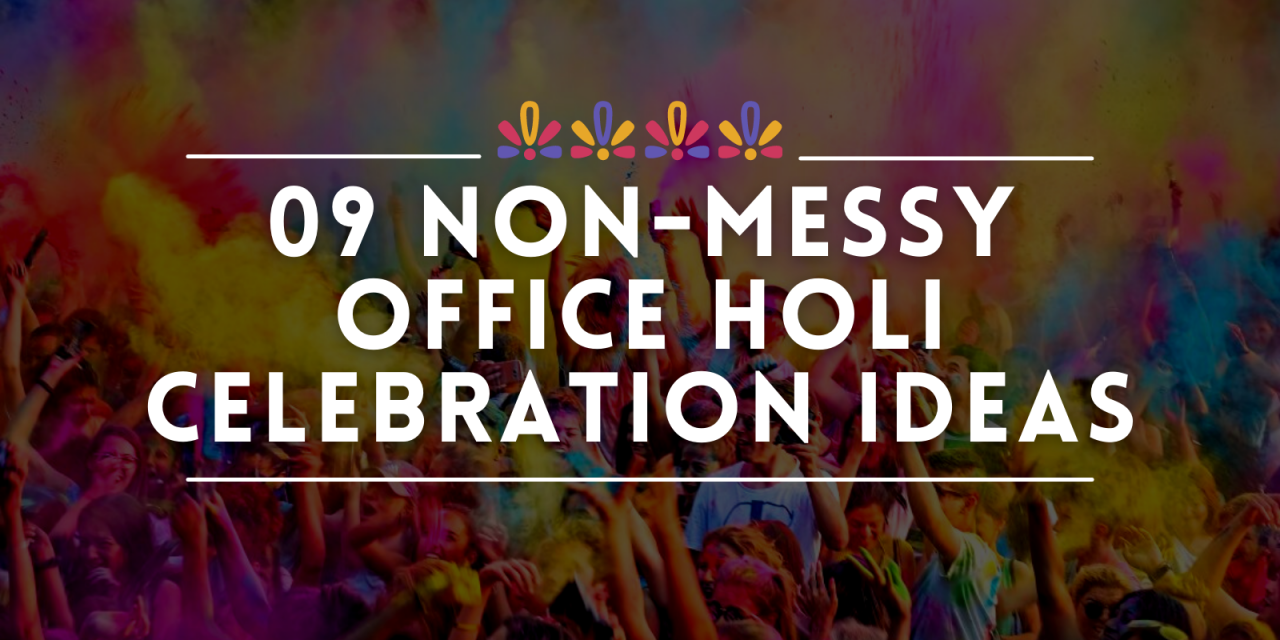 It is vital to celebrate festivals at work to increase employee engagement and passion in the office apart from the constant workload and employee monitoring. However, most managers or HRs are not on board in celebrating Holi. As a result, the celebration begins with well-wishes for the day, gujiyas, and tenderly applying gulaal to each other's faces, before progressing to water sprays, dancing, music, and having fun with other things.
On the other hand, clearly said gestures, behaviors, and statements that the other colleague(s) may not always agree with are usual for the day. But the old saying "BURA NA MAANO, HOLI HAI!" seems to serve in balancing whatever is said and done.
A workplace is not the appropriate setting for this also! Because people from various backgrounds, religions, and mindsets come together to work there, no one can judge the other's level of understanding. While a deed may be acceptable to one, it may be unpleasant to the other.
When all of these scenarios play out in HR's and employers' heads, they abandon the idea of celebrating holi at work. You can consider us your crusaders since HR software prioritizes employee experience. We cannot see any workplace retract the opportunity to increase their employees' happiness quotient. So, one by one, browse over these 09 non-mess Holi ideas for the office.
Make A Canvas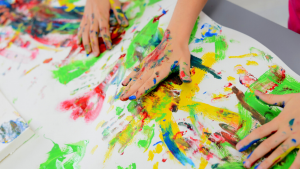 Make a large canvas and invite people to use colors to draw whatever they want on it. Because Holi is all about colors, examining a canvas with random paintings is a great idea.
You may also make a collage of handprints or have your staff spatter different colors all over the canvas to make it more colorful. It would be a great way to have fun in a non-messy way. Messing the canvas over the office floor is always the best option. 
Check Out Our Latest Blogs
Arrange A Photo Shoot
Set up a tiny photo booth in an open space to make it a memorable day. A blank wall with plenty of accessories, such as rainbow wigs, multicolored hats, oversized sunglasses, and bright boards to hold up, would create striking sights. Don't forget to bring a bunch of masks, mustaches, and pouts to add to the hilarity.
Organize A Holi Office Celebration
You can even throw a big workplace party for everyone at work before they go home to celebrate Holi with their families in their hometowns, and one of the best Holi gifts for employees is this.
It'll be a lot of fun, and it'll be a great excuse for everyone to throw a great party with their coworkers, arrange for drinks and meals for them, and allow them to celebrate Holi with zeal.
If you are stuck here and thinking about how to measure employee productivity, use employee monitors like Empmonitor to track their performance and rank the best-performing employees. Arrange prizes according to categories like the best team player, best performer, most reliable employee, most creative, etc.
Empmonitor will give you all the necessary insights into your employee's work and performance. 
EmpMonitor is one of the best employee monitoring tools available, with a treasure of features and perks that make it simple to keep track of your employees' work. EmpMonitor's centralized employee management system allows you to successfully manage various systems and users. EmpMonitor accomplishes all this while saving you a significant amount of time and money. It helps you to identify and avoid wasting time when it comes to optimizing your workforce and monitor employee productivity.
Here's how to use EmpMonitor to calculate employee productivity based on the days of the week.
Use your login credentials to access your EmpMonitor dashboard.

When the main dashboard appears on the screen, you'll see four elements that will assist you to monitor your employees' productivity.

Click on the "active days" feature. It will help you measure productivity according to the days of the week in a pop-up window.

A graph will emerge in a pop-up window, showing your productivity for each day.

If you hover over the graph, you can see the different days and the percentage of production. You can also view the number of present staff for each day.

You can also choose the duration, location, and department for the time above the graph. The graph will automatically adjust based on your preferences, whether a week or a month.
Workout Party At Rang Barse
A Holi fitness party is a fantastic concept for the office's Holi celebration. The majority of your staff have taken at least one fitness class. They haven't considered throwing a party where everyone not only dances together but also goes the extra mile for guilt-free gujiyas.
Bring a Zumba instructor or a Bollywood dance expert onto the stage to take the guests through the dance movements at this fun event. Make a Holi music playlist and play it at your event! We assure you that this party will include some of the most memorable moments from which you will be able to download the most fun montage of 2022.
Decorate Your Workspace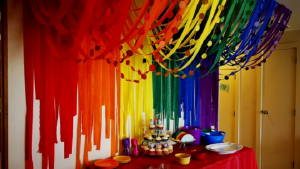 Use flowers to give a sense of tradition to your office by decorating it with flowers. Color must, without a doubt, be the main focus of your design. Colorful dupattas provide a pop of color to any outfit. Make a rangoli by the front door or in a common area.
If you would not want to paint the entire workplace, only adorn the entrance. Arrange flower garlands on the front door. If you don't mind having colors all over the office, paint some bright designs on the walls.
Treasure Seeking
Treasure Hunt is a classic, much-loved game.
Looking for small clues strewn about the office and wracking your brains to figure out how to solve them. Goofing up on the answers to those clues and having to start the procedure all over again to keep the competition alive can be a part of the colorful Holi celebrations.
Making groups and keeping employees on their toes by having them seek for clues, all throughout the workplace and doing what the hints say to win the race, whether it's enacting, eating, dancing, posing for photographs, laughing, or making funny expressions, would undoubtedly be a fun team bonding exercise. You'll also have some memorable memories in the form of photos and films to look back on later.
Masterchef Holi
Isn't it true that we all like Masterchef? It is a unique way to celebrate Holi at the office. It's time for a one-hour elimination round in which you'll discover a mystery box, and the participants will prepare a meal. Even Maggi can present in a fancy manner, but if that's not your style, how about a traditional Holi snack?
Whose Color Is It, Anyway?
It is a unique arrangement to celebrate Holi in the office. Each color has its significance, and colors signify a variety of traits. For example, blue represents a happy person, yellow represents sweetness, green represents the office queen, red stands fire and vitality, and pink represents love and friendship. Nominate coworkers who best embody each attribute and explain why!
In essence, this Holi employee engagement exercise promotes employee comprehension from others, and the bond keeps going between them. Ensure to ask the person who has given a personality color whether they agree with it.
Antakshari Rang-De
It is a classic that will never go out of style. It's time to step up your game and let the karaoke tracks play, from ring barse to Holi ke din to Jai Jai Shiv Shankar to Balam pichkari. Is there anything else you'd like us to say? 
Discover your team's secret ability with a variety of antakshari, and let the tone of the music be set by your employees' jubilation. 
Wrapping it up,
Bring things to a close, bring in the festival of colors, get into the Holi spirit, wear brightly colored clothes to work, and adorn the office with brightly colored ornaments to get a feel for this lovely celebration.
Include some or all of these actions to forgive and forget, resolve all tension of employee monitoring, and bring in the festival's cheer. Higher employee engagement, good team collaborations, and overall employee motivation with good employee monitoring software is something every manager wishes for.
Bring the Holi magic to your workplace, along with the happiness, laughing, and everything else that comes with it. There isn't much success if there isn't any laughing and joy. Allow the colors of Holi to bathe you in joy. 
Have a wonderful Holi!