Task management tools have made our lives easier, accountable, and more productive. No doubt, they are considered a Project manager's best friend for providing a hassle-free work-life balance with better efficiency and fewer worries.
Task management tools are  software pieces that aid project managers plan, organize, and execute their tasks efficiently. 
Having a good task manager by your side can simplify your workflow, help teams meet their deadlines and increase the profitability for your organization.
Modern task management apps come in a broad range with relevant software to quantify, substantiate, segregate and assign tasks proportionately.
These tools come in a broad range with relevant software, and it can be hard to identify the best task management tools available. 
Simple projects require a simple task management approach, so nothing more than a checklist will do for them. Generic programs with note-taking and organisation functions like Google Sheets, Google Docs, Microsoft Word, and Microsoft Excel are sufficient for these projects (although they require more manual input from the user).
Complex projects require sophisticated task management tools that go beyond a simple to-do list for planning, assigning tasks, setting deadlines, and tracking the time spent.
The best time and task management tools provide micro and macro points-of-view of workflow, identify delays and problem areas, help you stay organized while keeping everyone on the same page.
Benefits of Task Management Tools-
Task management software comes in many forms with the common intent of increasing efficiency and simplifying the workflow.
From spreadsheets to sophisticated web-based Kanban boards, these online project management applications help teams-
Save time

Increase efficiency

Stay organized

Ensure correct utilization of every resource of the organization.

Meet deadlines

Increased revenue

Drive collaboration

Reduce Waste

Improve quality of the end result
In this post, we will know about specifications and categories of task management tools, what to look for in an online task management software, and EmpMonitor's time and project management features.
Specifications & Categories of Task Management Tools
According to Wikipedia-
Task management is the process of managing a task through its life cycle. It involves planning, testing, tracking, and reporting. Task management can help either individuals achieve goals, or groups of individuals collaborate and share knowledge for the accomplishment of collective goals. Tasks are also differentiated by complexity, from low to high. Managing multiple individuals or team tasks may be assisted by specialized software, for example workflow  or project management software.
Basic specifications of good task management are setting priorities for tasks, visualizing the progress of tasks through each stage, and compiling analysis/ reports to instruct future tasks and workflows.
Task management tools/ project management tools address the organization, prioritization, and visualization needs of a project. Project managers get to analyze how tasks can get accomplished more effectively to meet the end goals.
Let's check each one of the specification-
Prioritization
Prioritization gives focus and direction to channelize your energies on the development of a project in a planned manner. Through goal setting based on priority, you hit the target accurately rather than haphazardly accomplishing tasks and getting unexpected delays. 
Task management tools let you easily organize each task according to the priority of their requirement during the project development cycle. A task board ensures the most important things get done first, taking the project forward in a planned manner. 
Also, these tools are easy to update so that you don't miss any new features that can be useful during the project cycle.
Visualization
Visualization helps you have clarity about the project after completing a specific stage, will provide a better understanding of the project as a whole, and accelerates quick decision-making.
Visualizing makes tasks easy to comprehend by making dependencies clear and easy to collaborate with as the project progresses.
Analysis
A task analysis is a process to explore the given task in step-by-step detail to improve the productivity of the resources.
An analysis scrutinizes each task, including a detailed description of manual and mental activities, task allocation, task complexity, durations, frequency, environmental conditions, etc.
A good task management tool provides for an analysis/ detailed reporting for enhancing the overall profitability. 
Categories of Task Management Tools
Task management software provides in-depth information relating to the project development cycle. In most instances, their common purpose is organizing the work as per the complexity level of a project with different approaches, but the organization is the end goal.
These tools represent a grid system of rows and columns referred to as task management boards. 
Task management systems further include indicators to highlight various tasks, can be anything from images to sticky notes or just data in a spreadsheet cell.
Three specific Categories-
Manual Task Management

Electronic Task Management

Online Task Management
Manual Task Management Tools
Manual task management tools are the standard forms of a task management system with no virtualization, therefore manual.
They are tangible items such as a whiteboard, cork boards, or long paper fixed to walls. 
Such kinds of tools work best for teams dealing with a small number of non-changeable or steady tasks. Organizations with standardized work requirements often use manual tools because of the ease they provide in managing them, less attention to update and manage.
Electronic Task Management Tools
Electronic task management applications provide flexibility and functionality not confined by physical space. It includes a wide array of features like- tracking and analytics. 
Unlike manual boards, they can be moved anywhere with your computer or device.
Electronic systems range from basic spreadsheets to intensive task management applications. These tools can be integrated with other task and organizational applications to build a complete enterprise task management solution.
Online Task Management Tools
Consolidating the depth of electronic task management with the expandability of internet functionalities, we have software applications called online task management tools. These systems allow teams to organize and monitor tasks from any location.
Online task management applications are useful for remote teams who take on many tasks with varying classifications including priorities, especially during Covid times. 
They allow information, metrics, reporting, analytics, or any other file sharing through Kanban boards and project boards 
Most online task management work on the cloud to allocate storage space and backup critical information without overloading their internal networks.
Online task management offers better modes of communication and collaboration in real-time, where team members can receive status updates via email or messages to discuss task details.
What to Look for in Online Task Management Tools
To help you ease out your project related queries, we are sharing top features of a good online task/ project management software-
1. Kanban board
Kanban boards are workspaces to visualize your project through each stage, implemented across multiple sectors since its inception by Tata motors for its manufacturing facilities.
These boards utilize a simple board and card system to have visibility on team activity, including task assignment.
2. Task Management
Task management is the most crucial feature of any online project management tool, online task applications must manage your tasks effectively to help you complete your end goals.
The more complex a project, the more difficult it is to manage each task, as some of them are dependent and some are independent of dependencies.
A good application must ensure a smooth workflow through every stage of the project development cycle.
3. To-do lists
The good old to-do list is the best task management feature in any task management software to help your team perform tasks swiftly. 
A good online project management software should include a to-do list with clear visibility for everyone to check- in and see the progress of the task.
4. Time Tracker/ Monitoring
If you fail to manage time, you fail to reach greater heights, so accountability for time is the most concerning factor for task management applications. It must provide details regarding how much time is spent on each task.
Task management gets complicated if your team is unable to track time on each project task and phase. A good time tracker helps with accurate billing, insightful team management, and careful planning.
How EmpMonitor Tracks Time and Project  Management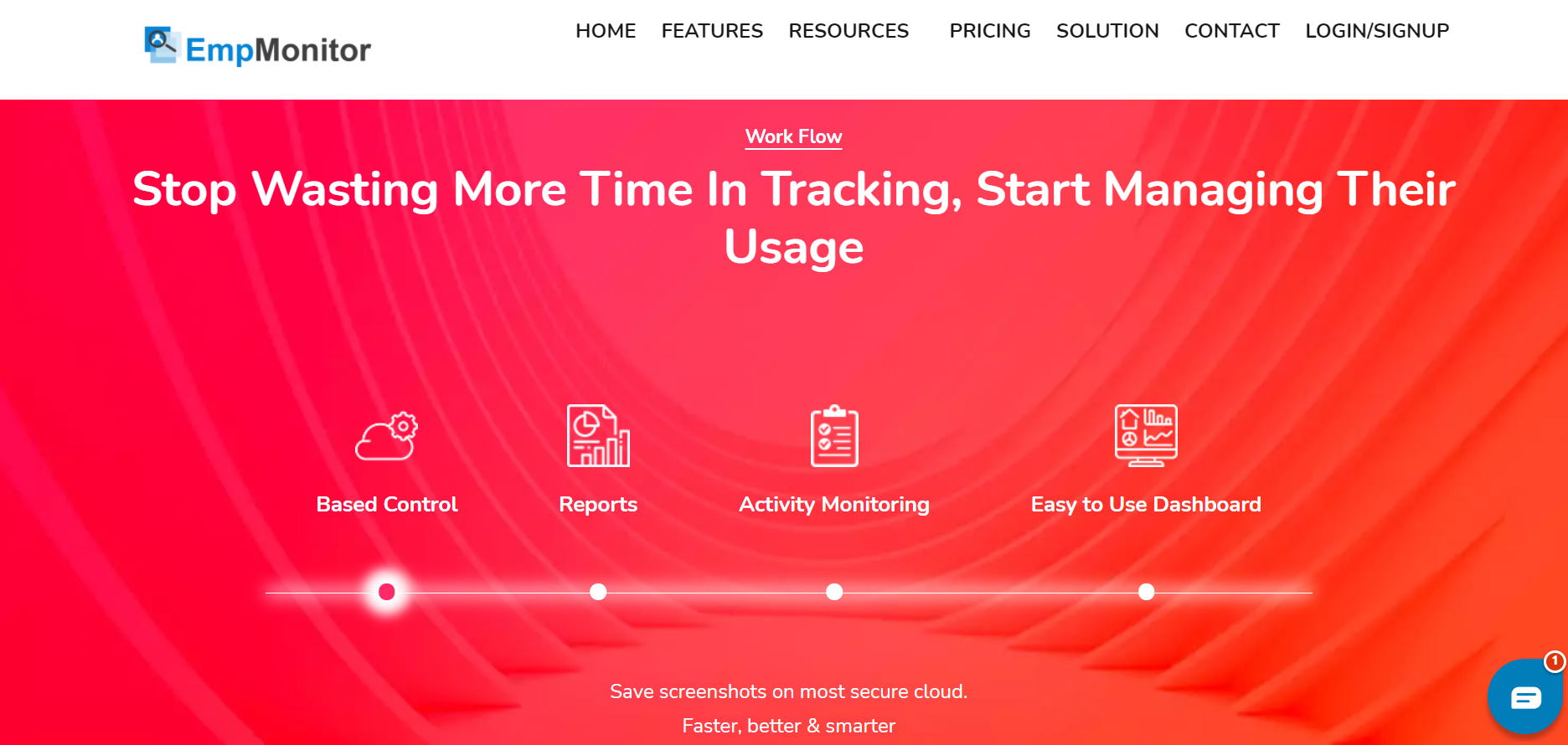 EmpMonitor is this new age software(task management tool) that easily sails you through many of your task management-related concerns through remote monitoring functionalities like- activity tracking, time tracking, project management, and user behavior analytics.
With its advanced real-time computer monitoring software, you can access your account from anywhere and monitor, record, and audit the on-screen movement of every employee's system.
EmpMonitor's Primary Benefits-
Enhanced Productivity

Graphical reports

Save time and money

Data Security

Stealth Operation

24*7 Support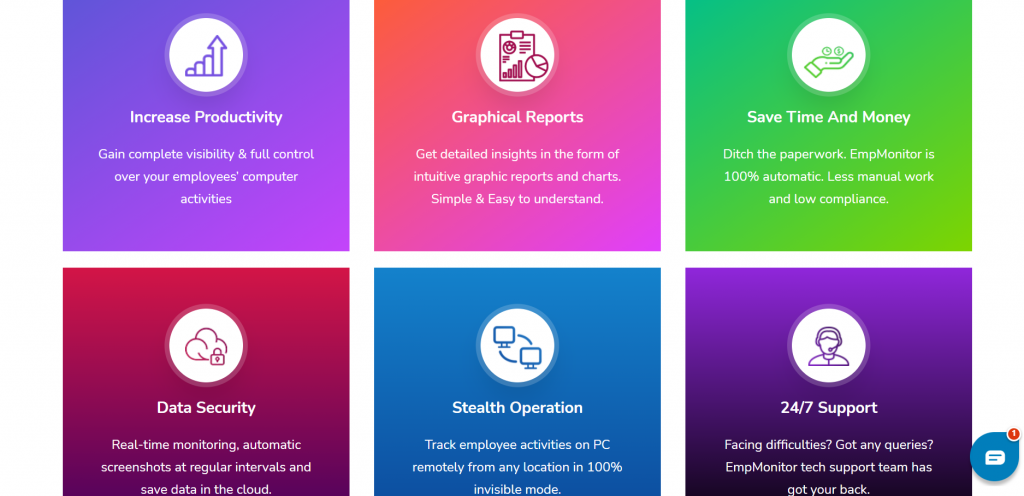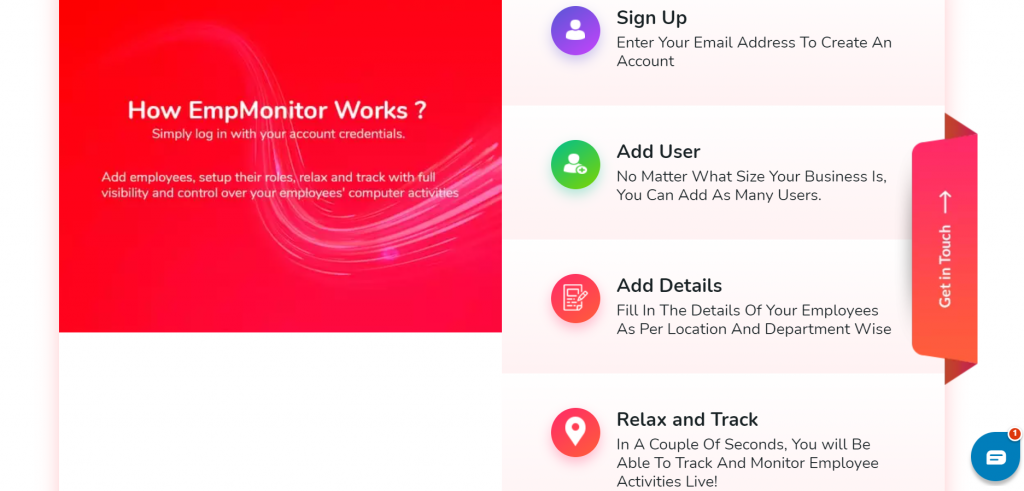 Main Features-
Time Management–  This feature tracks the employee's presence and their activities, spot and eliminate wasted time.
User Management– Effectively manage multiple systems and users through centralized network monitoring.
Get real-time insights– You can easily check what your employees are doing in real-time, live refresh mode, and provide department-level management.
Manage attendance– Empmonitor provides a flexible user-based setting(log hours from anywhere) that gives accurate work hours and department-wise attendances. In addition, you can extract ready-made reports for up to 30 days with an auto screenshots facility as well.
Project Management Functionality of EmpMonitor
EmpMonitor provides project lists with project names, modules, tasks, start and end date of the project along with total time taken to complete a project. Also it gives updates on the progress of a project with current status.(See the image below)
Furthermore, it provides regular productivity hours with graphs to better understand the working patterns of your employees.(See image for productivity graphs)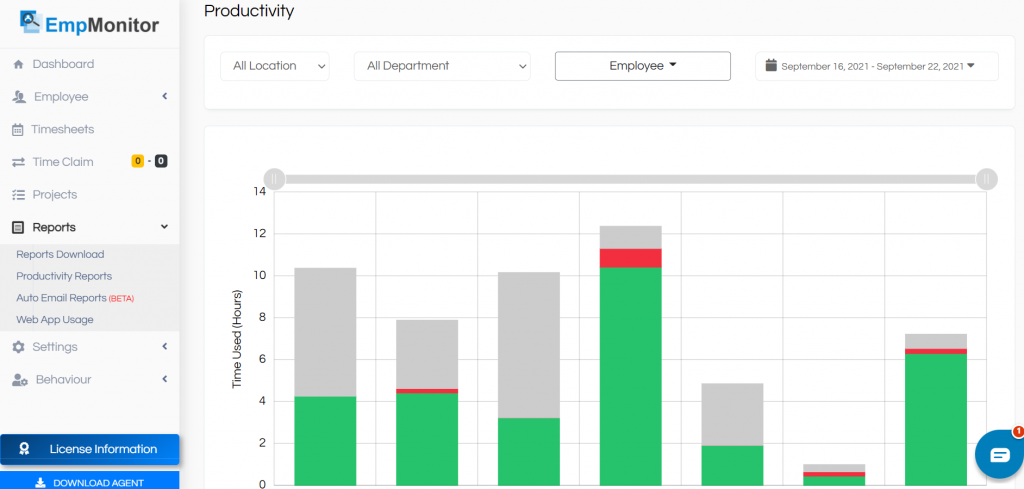 Also, web app usage reporting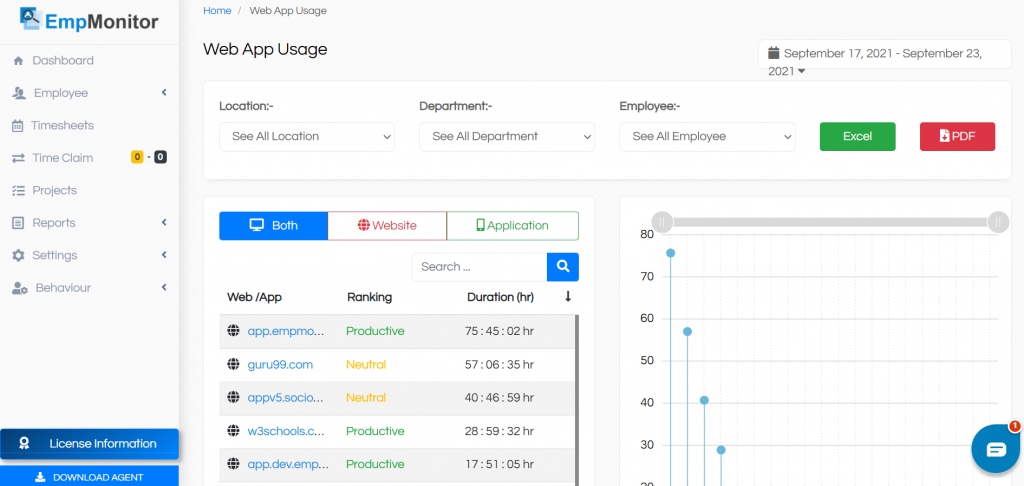 5. Collaboration
The Hallmark of collaborative functionalities is real-time updates, communication, and automatic notifications.
A good online task management tool is known for its strong collaboration features, where team members can easily communicate while working remotely and share their task-related discussions or files.
6. Integration
You need to understand the impact of one variable over the others and implement those online task management tools that get easily integrated with already used tools.
Also, analyze trade-offs and how resource allocation affects the overall schedule of your project.
7. Detailed Reporting
Reports provide a strategic overview of the whole  project to know how everything is going by the end of every week or month.
 A task management tool that gives all  the information related to schedule, cost, team performance, and resources usability in a structured document is recommended.
A good online project management tool allows you to generate project reports that give you and your team insights on project completion, budget status, inefficiencies, and more.
 Many project management software tools come with standard reporting features. It's even more helpful when those reports can be customized to your project.
Just as EmpMonitor provides productivity reports with download facilities and auto email reports(refer the image below).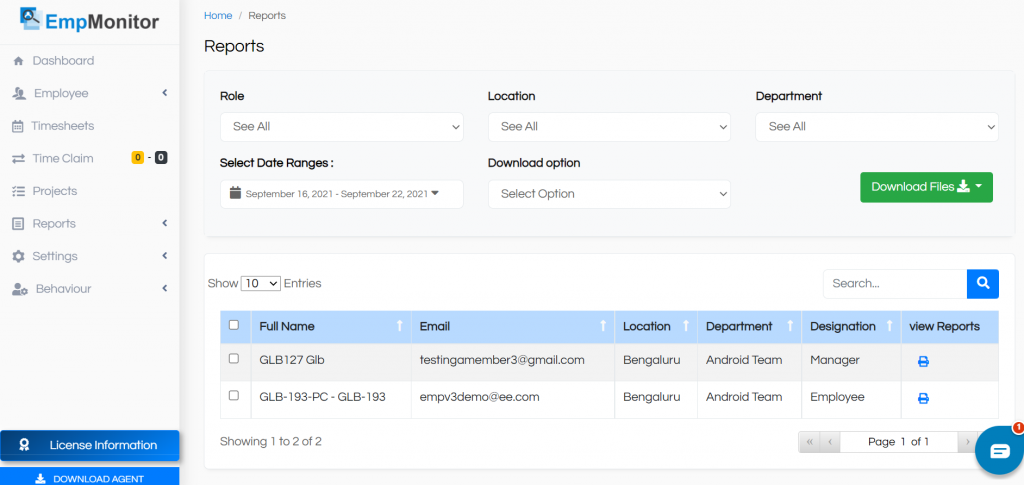 Also Read-

5 Easy Benefits Of Remote Employee Monitoring Software
Not always a complex tool or the most expensive application is the best solution for a project. 
With the right task management tools, even a complex project can be an easy-breezy experience for the management team.
Weigh down the pros and cons of the shortlisted task management tools according to your team's requirement and then balance your needs for better organization, collaboration, and enhanced productivity.
We recommend asking few questions before selecting a task management application for your team-
What are the task requirements of your team?

Is remote work a priority?

How well does it integrate with already used applications?

What is the size of your team?

Do you need regular analysis and reports?

Do you need manual task management, electronic or online task management for your team?