One thing is definite, lockdown or otherwise, work from home is here to stay forever, and it makes sense to invest in a home office setup for better productivity and peaceful existence at home.
Remote work is not new, but COVID-19 transformed it from novelty to necessity and spotlighted some untried requirements for home office setup.
The home office highlighted necessities essential for work from home, but we never bothered to invest in them because of sheer carelessness. 
Since the lines of work and personal margin have blurred, the home office organization must be the foremost priority for everyone to co-exist under one roof without bothering the other.
Furthermore, an uncluttered workspace enhances productivity by improving focus & speed. 
And having a designated area for everything brings clarity of goals and makes you feel calmer and willing to take on any project that comes your way.
Even if you are not a "cleanliness freak," getting organized can really pay off on the professional front and it is good for your mental well-being as well.
A disorganized office contributes to unnecessary anxiety and makes you look unprofessional on video calls. 
If you are having a difficult time organizing your home office, keep reading. 
And if you are planning to spruce up your work area, these tips on how to organize a home office can help you organize home office smartly.
Let's spruce up-
How to Organize Your Home Office for Better Productivity in Business
1. Select Your Home Office Space Carefully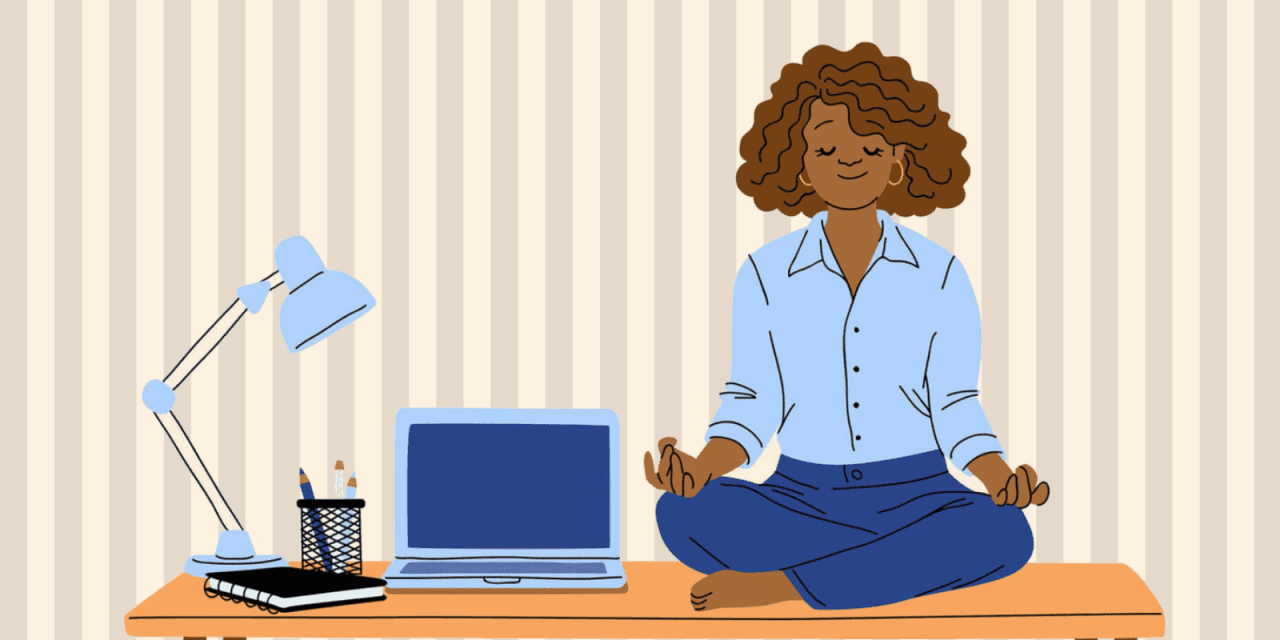 The first thing before organizing a home office is space selection, where you decide to set up your office is the most crucial aspect for focused work.
When picking a space in your home, be sure you keep in mind the everyday foot traffic in that area. 
It would be best if you have an extra room for office work or extra space somewhere on the rooftop to create a respective office area but if you have none of these, choose a quiet location in the house that is not much in use.
If your area does not permit a separate room, you can organize home office in your living room, or dining room. 
These areas tend to have more distractions but diffuse them by buying focus-inducing gear(noise-cancelling headphones during phone calls) and asking family members for coordination during peak functional hours.
Just ensure that the work area guarantees privacy, easy accessibility to electricity, and good internet connectivity.
2. Customize Your Space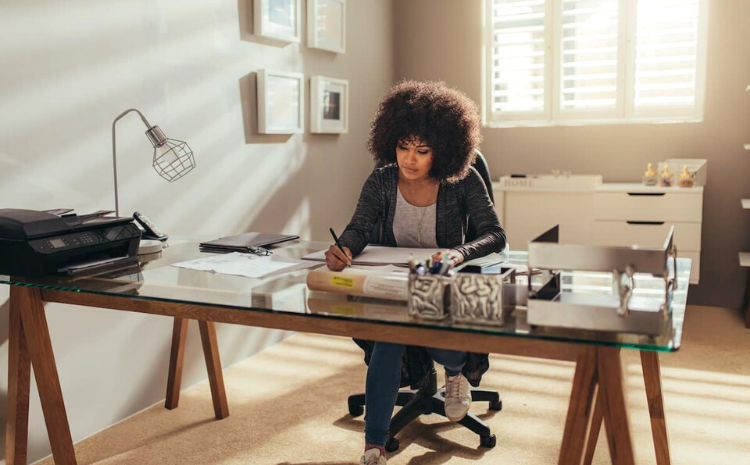 Now that you have fixed a location, customize the space for your home office.
Just as your specific job requires some talents to be productive, in the same way, a home office needs customization to suit your work needs.
It simply means how you operate as an individual and what are your work prerogatives.
There are unlimited routes you can organize home office for individual productivity- decide what's good for you. 
For instance, you can alter the colors of the wall as you enjoy or buy an external keyboard if you are not comfortable with an office issued desktop.
Depending on your work process, consider new items for purchase when arranging your home office. 
For example, paper shredders for confidential documents and a robust printing machine if your assignment doesn't lean on digital results.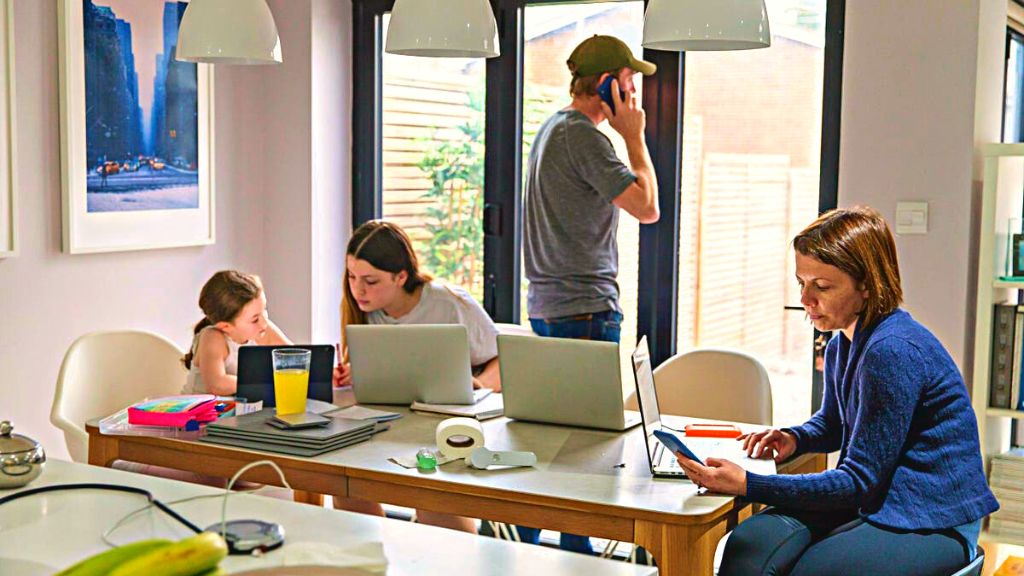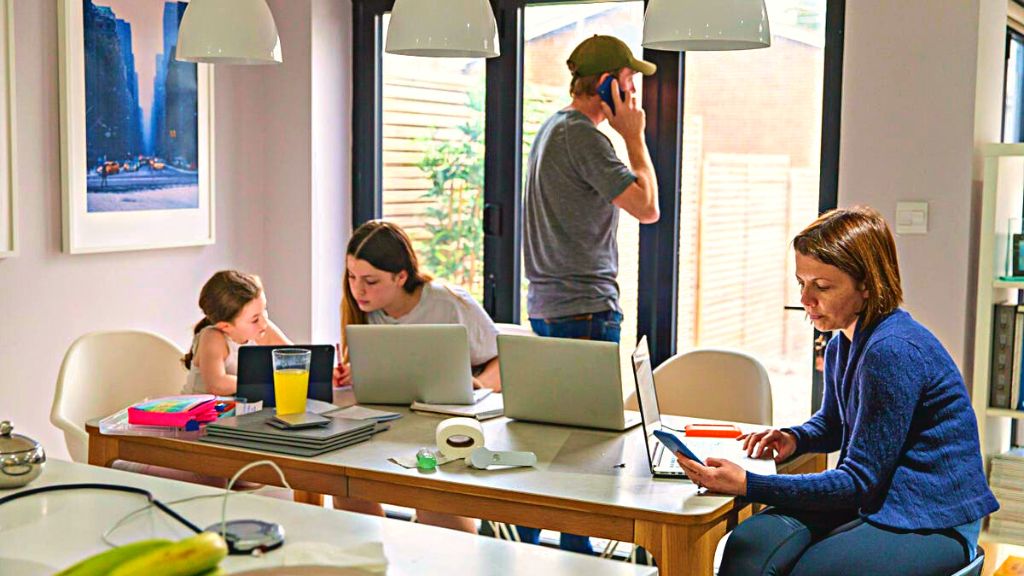 Furthermore, if you are sharing your workspace with family members or colleagues in a home office setup, make arrangements for extra seating.
Since everyone is working from home and children are also studying from home, you all can create a family home office with each other's inputs and work jointly on mutually agreed upon expectations to coordinate for better productivity.
3. Keep Your Work Desk Clean and Simple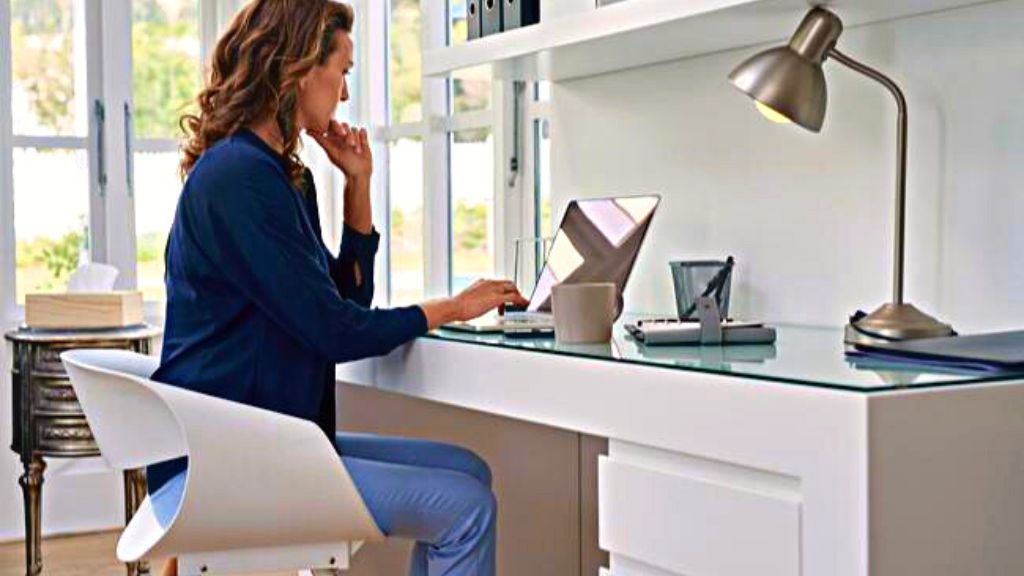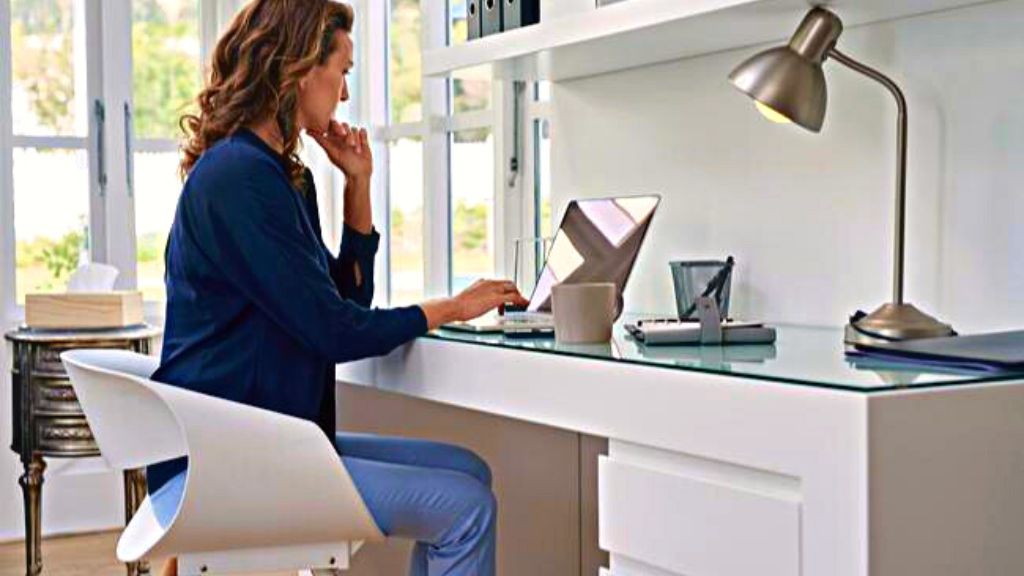 A clear space indicates a clear mind. 
Your desktop is your most noteworthy workspace. Treat it as a sacred space to get the greatest reward working on it. 
Be sure to keep your desk clean with minimal accessories to work more efficiently.
When your work desk is clean, you can efficiently prioritize and stick to your goals.(organize home office)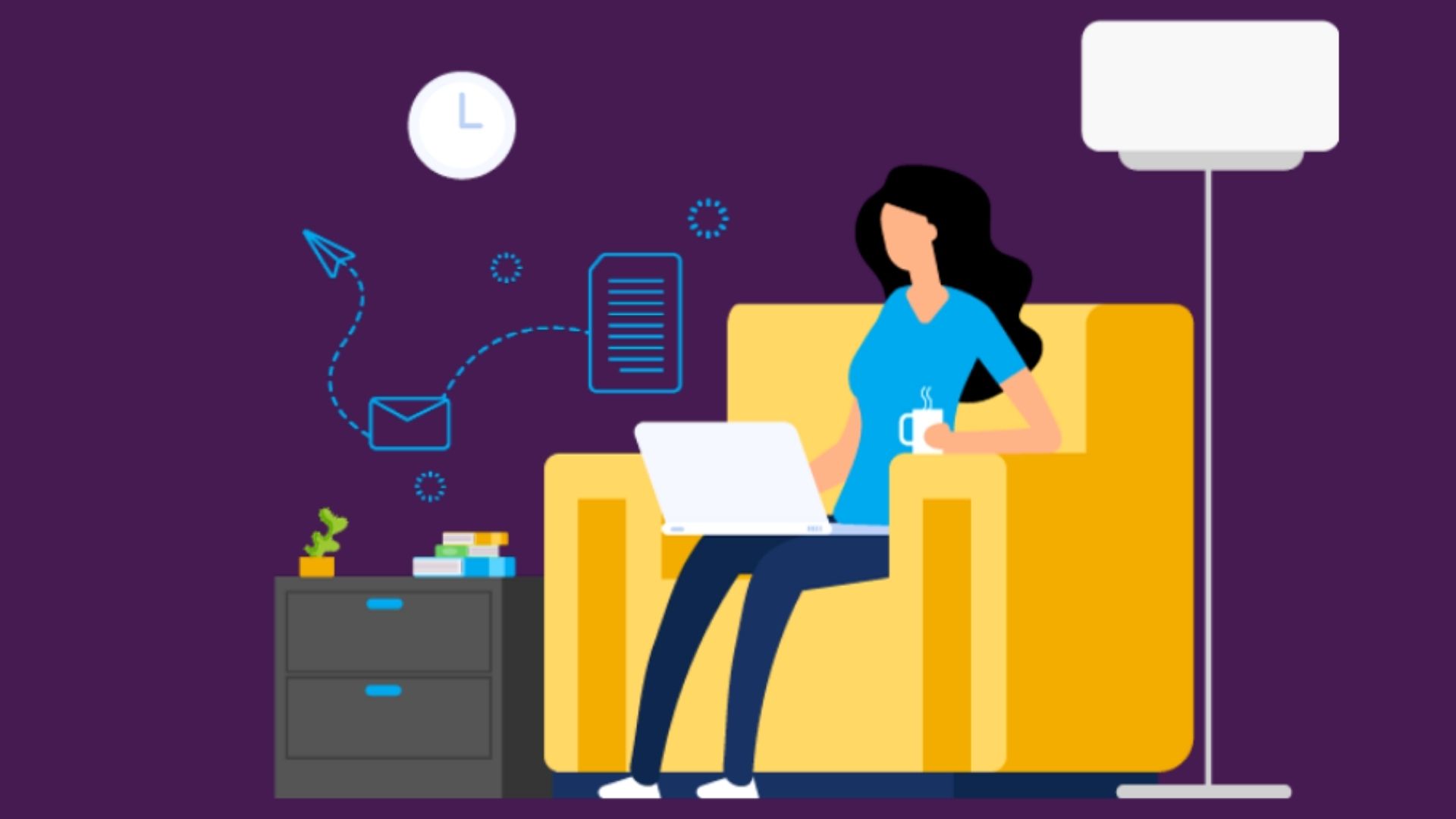 This simple modification can do wonders for your work life, and you won't feel stressed about not having enough space.
Apart from your computer and phone, you might require a notepad and pen, so other items you do not use (pencils, staplers, etc.) should go in a drawer to maintain a clean desk. (organize home office)
And do not forget cleanliness is next to godliness and key to all the treasures of life. 
If your desk is dirty and there is clutter all around, then you will feel anxious and low on motivation. So, make sure to clean your desk daily before going to sleep or starting the next day.
4. Invest in Adequate Office Furniture for Long Sitting Hours(organize home office)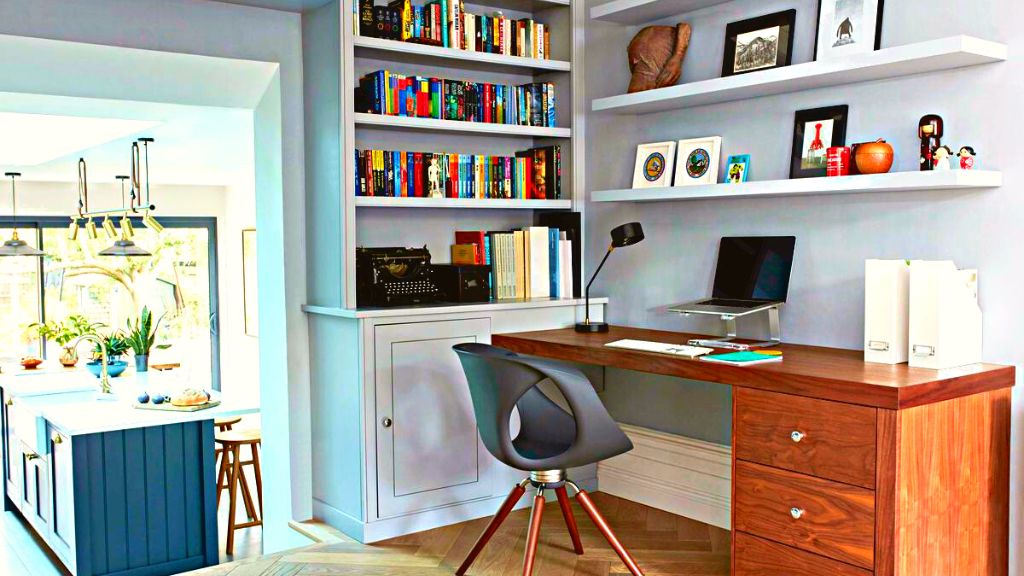 Investing in an ergonomic chair that offers adequate back support will impact your productivity levels.
A good quality chair with flexible heights can permit positioning of your legs throughout the day, and a footstool can again assist with elevation to control leg fatigue.
Also, the mouse, keyboard, and monitor should be at the correct height and in a good position that makes you feel relaxed while working. 
Adjust your chair or computer monitor to avoid neck and back issues.
Also, long sitting hours can be detrimental to your health, so consider getting a standing desk as well to sit or stand as you feel.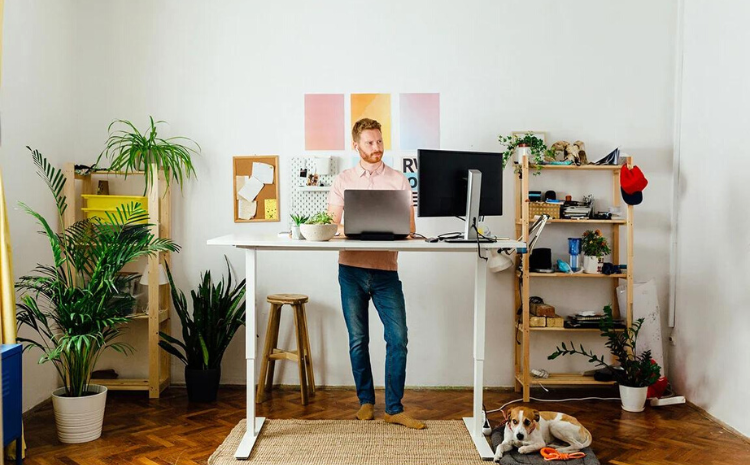 Since this is where you will be spending maximum time of the day, invest in top-quality office furniture without thinking about the costs as it can have serious health repercussions. 
Purchase a comfortable, ergonomic office chair with a reclining back and good lumbar support. 
Ensure it has armrests and a comfortable seat to keep back pain away.
And do not go with shining reviews from an online shop. If you can avoid buying an office chair online, prefer buying in a store, sit down in it and test its feel.
5. Utilize the Wall Space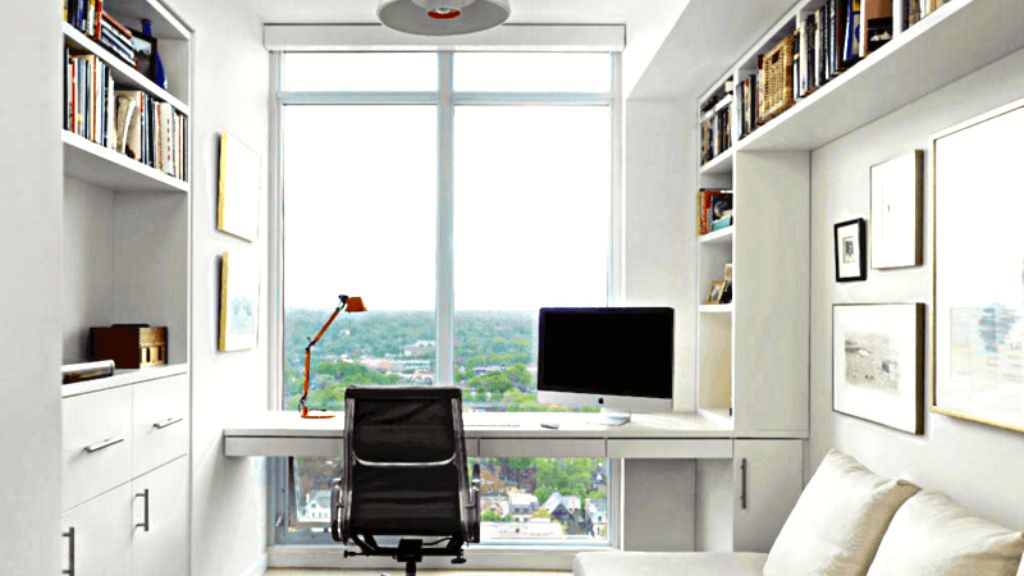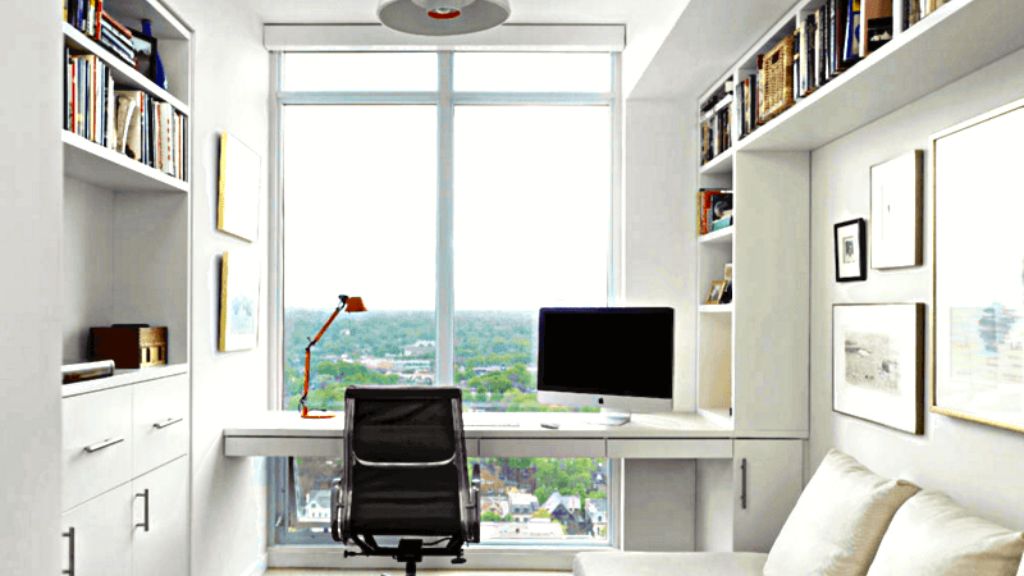 Organize home office in such a manner that you make the best use of the walls of your room. 
It will create more storage space for other work-related stuff, books, and accessories and allow extra floor space for movement in the home office, giving it a spacious look.
This is the number one hack that most people ignore while organizing their home's office. 
The created space will be a convenient working area. 
For a well-organized home office, install a lot of shelving space on the walls for easy organization of stuff like documents, accessories, or work tools in one place.
Additionally, filing systems, whiteboards, and calendars, among others, can be fitted at the wall, giving clarity of space for every item of the home office.
While working, it is the most suitable practice to have all items you need within arm's reach throughout the day.
A wall shelf near your desk is a fantastic convenience, so you can quickly reach for something you need if your desk is small in size.
6. Organize Your Files and Books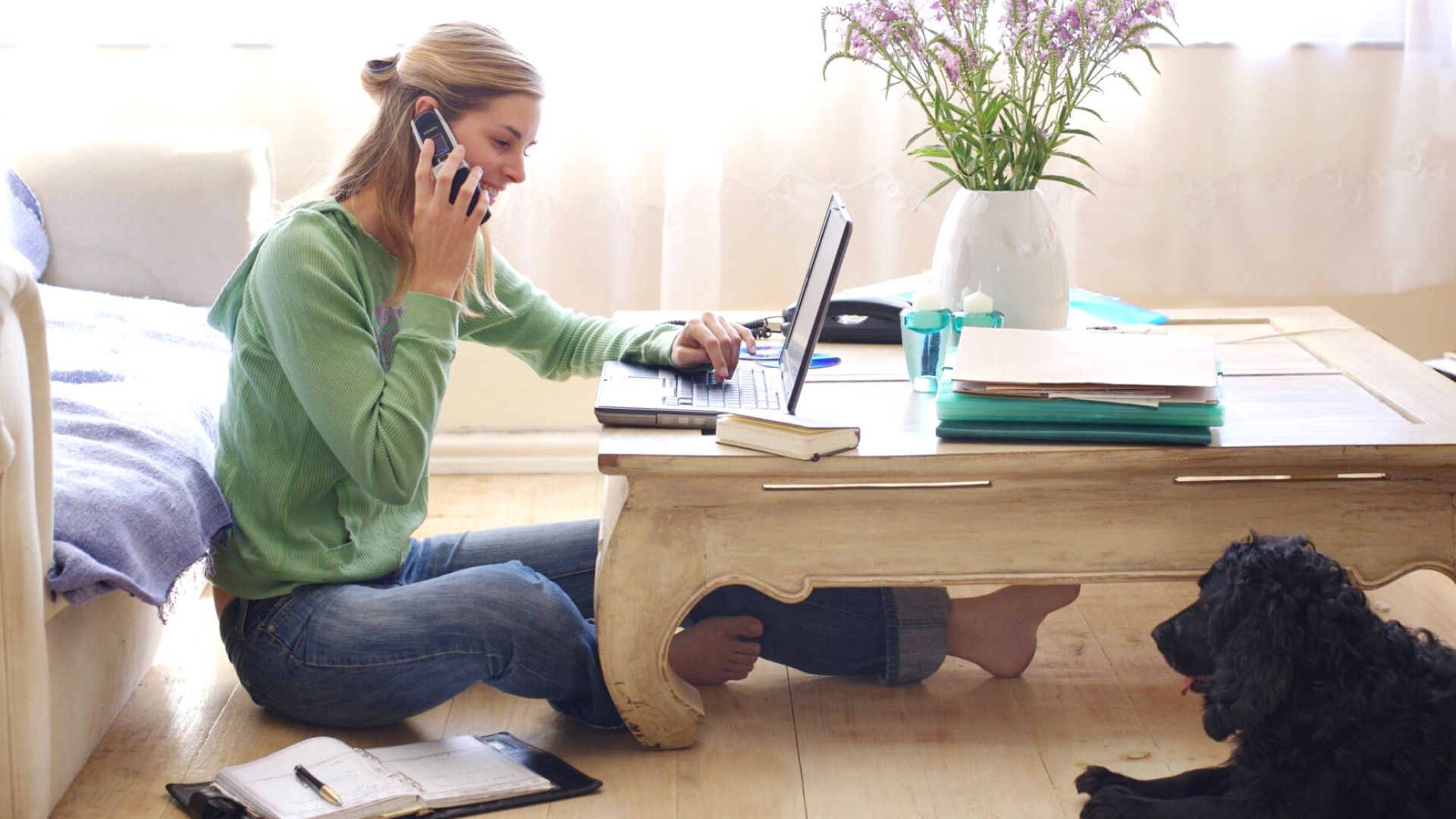 Once you assemble shelving for all your essentials on the wall, consider organizing books and other files according to daily requirements (how you feel it is most suitable for office requirements) categories, or keep them color coordinated.
The organized office look will motivate you to do excellent work.
Take control of paperwork and get into the filing habit for a clutter-free office. You can opt for a color-coded filing system for easy reference.
Also, organize digital files into the appropriate folder, not your desktop.
Regularly review and archive files that are no longer in use(organize home office).     
7. Regularly Declutter Workspace And Storage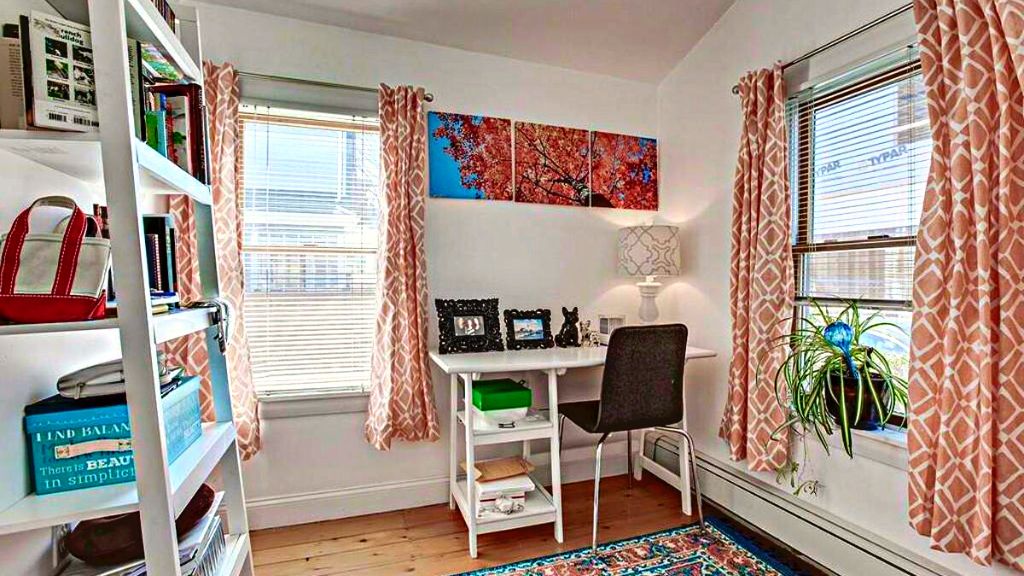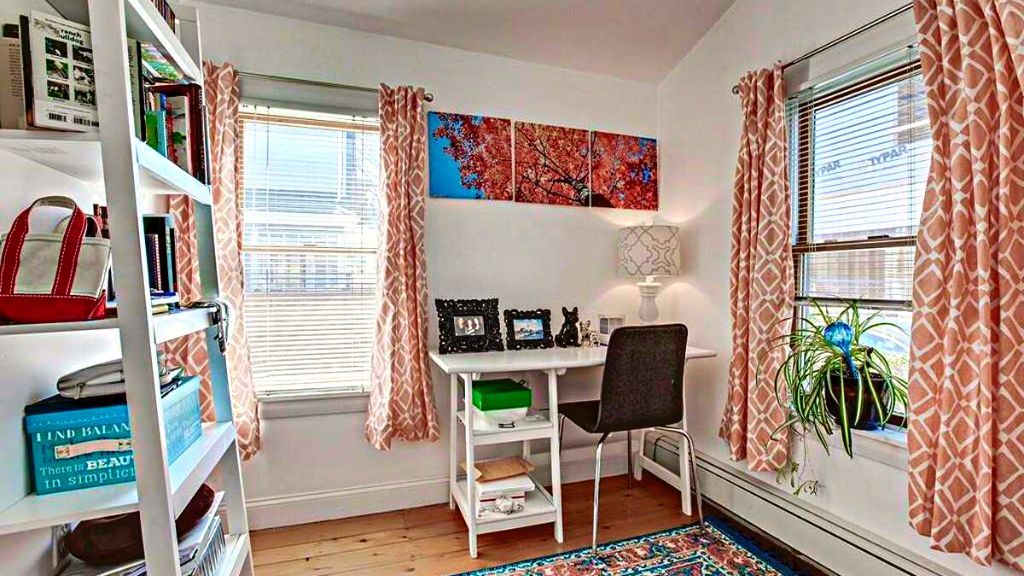 Organize home office by committing some time every week to cleanse & reorganize your workspace.
To minimize distractions, declutter your work area as much as possible by keeping every item clean, updated, and adequately placed for easy access while working.
Also, make sure to have items needed for your current task on your desk at any given time.
Set a reminder on your phone or desktop to reorganize your desk every week or once a day. This way you won't miss it.
Some more useful tips to organize home office-
Use Bins and Boxes

Organize similar items together

Take control of your mail

Organize files with color coding for easy location

Utilize wall space
8. Supply Your Office With Modern Equipment(organize home office)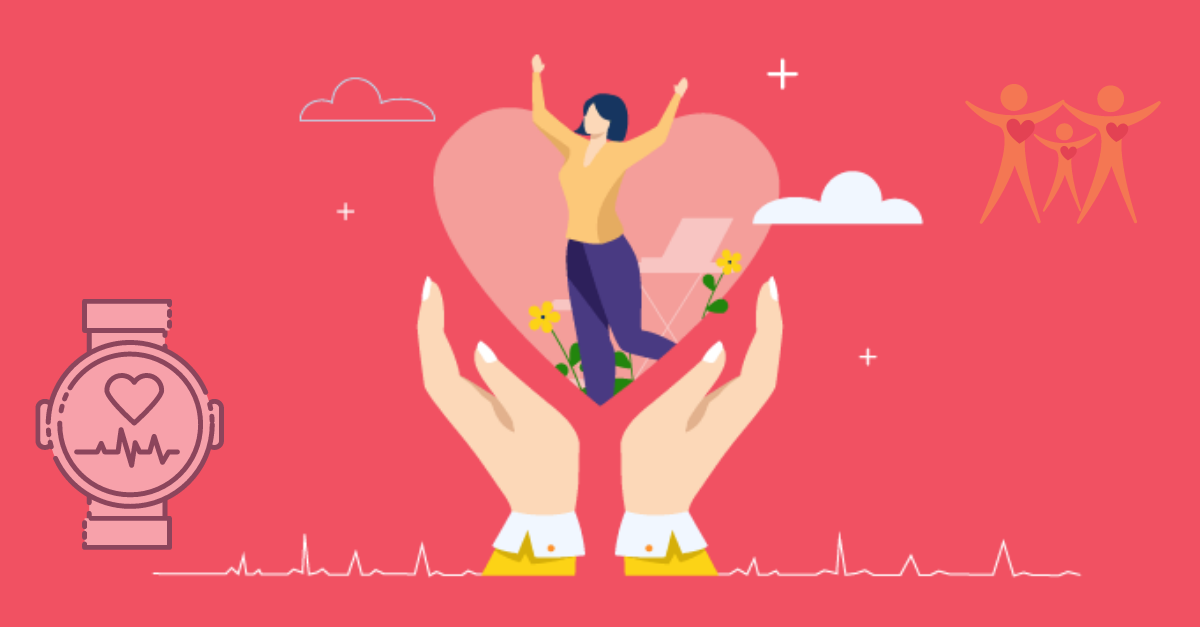 For increased performance and ease of work, invest in good quality latest devices or accessories for your home office setup.
If you are sharing your office at home with family members or a colleague, consider investing in noise-cancelling headsets to avoid competing noise. 
Designate adequate space for a printer and other supplies. 
9. Manage Distractions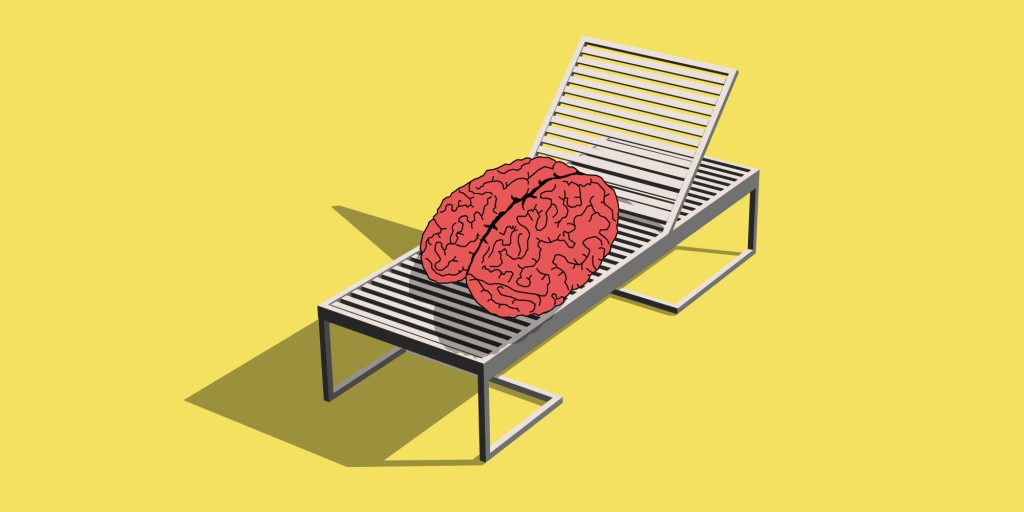 The most common problems while operating in the comforts of home are distractions during some serious project. 
It's good to bypass the activities you have not scheduled for because distractions are bound to occur at the home office, you need to determine priorities rather than going with the flow of the home routine.
You have a high chance of interruptions coming from children, a phone call, some medical emergency, or unforeseen issues like someone visiting in an unplanned routine. 
Do it if it's a pressing issue, schedule it if it's not critical, and delegate it to someone else if you have no time or correct knowledge about the work.
10. Use Natural Light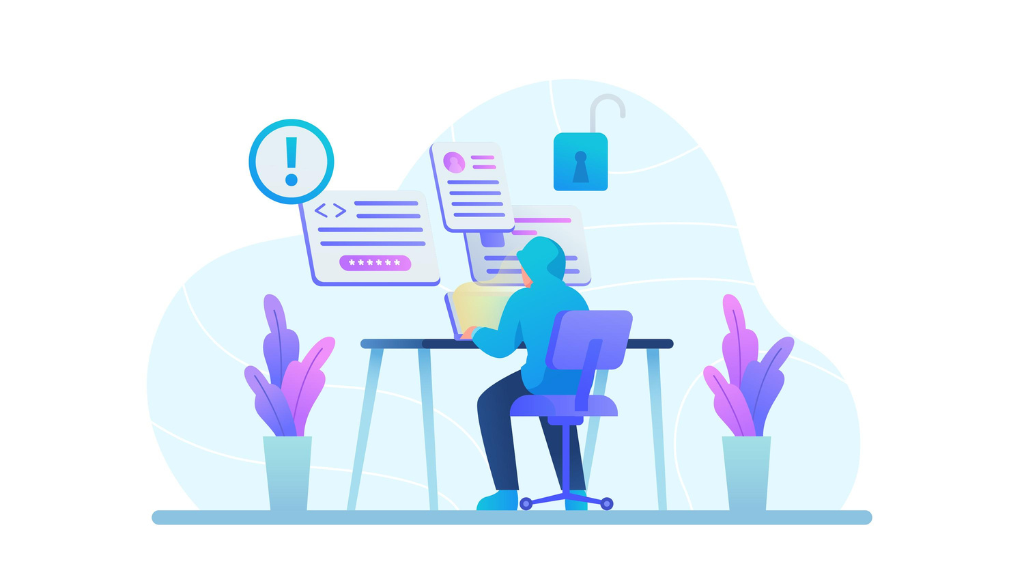 Try to set up your workspace in a room with a few windows for natural light to enter, or orient the desk to take advantage of sunlight for better eyesight and good health.
Either face the window directly or turn your desk to brighten up your workspace for more productivity.
Having access to natural light can impact your work performance, mood, and wellness.
Also, people who do not expose themselves to natural sunshine suffer from stress and depression.
You need natural light at your desk for the following reasons(organize home office)-
Boost up productivity and improve your health. 

Natural light is so much healthier and eco-friendly than artificial light!

Helping the environment by conserving energy.

To keep the workspace bright and airy throughout the day.
If you do not have a window in your office, face the door and leave it open to at least get some natural light from the hall or room next door.
Nothing can negatively impact productivity more than discomfort. 
A quality chair and well-lit workspace are crucial to organize home office for comfort and health.
11. Know Your Focus Peak Times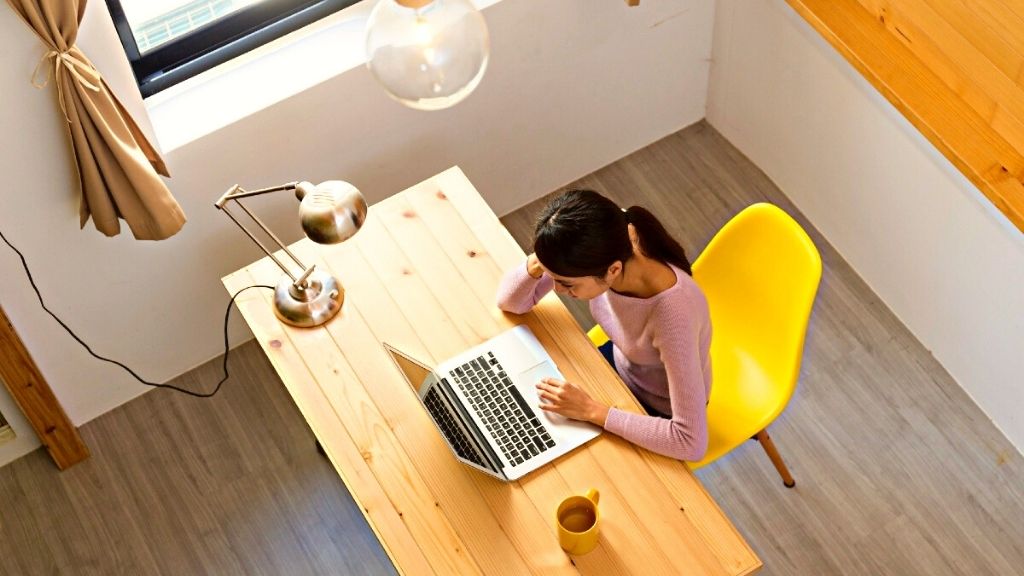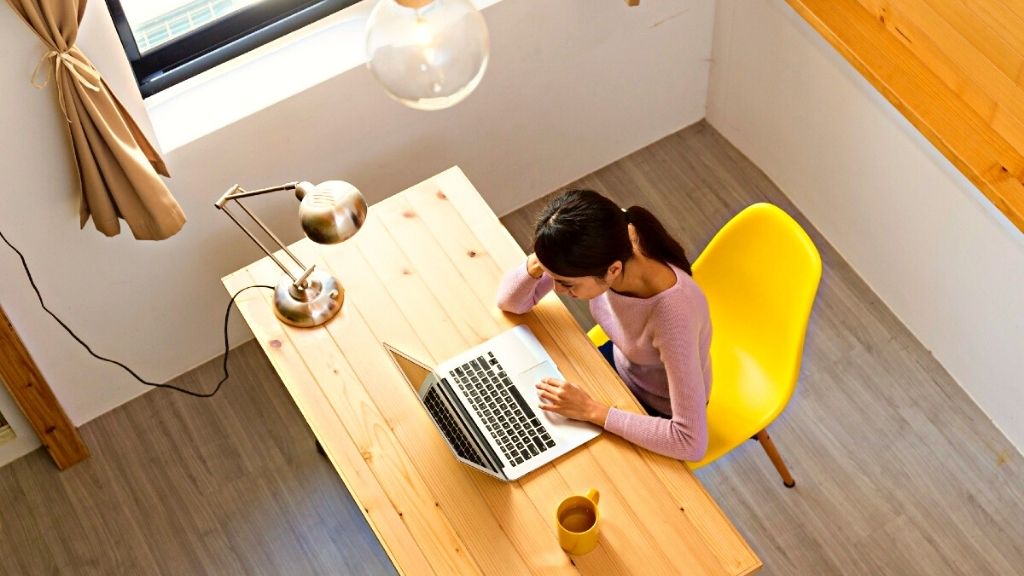 The productivity at the home office leans on an understanding of peak energy time as per your style of working and the day-to-day routine of other members at home. 
Different people have different energy peaks. Recognizing your peak time can help schedule the demanding tasks at an adequate working time for the best result. 
It helps with appropriate scheduling of energy to take on the demanding task because of clashes of priorities with other unexpected household chores or events that may affect your mood or energy level while working at the home office.
If you do not know your energy peaks, consider tracking your feelings when you start working and record the timings when you're exceptionally productive.
This will help you identify your best energy levels for accomplishing your duties in time.
12. Do Task's Prioritization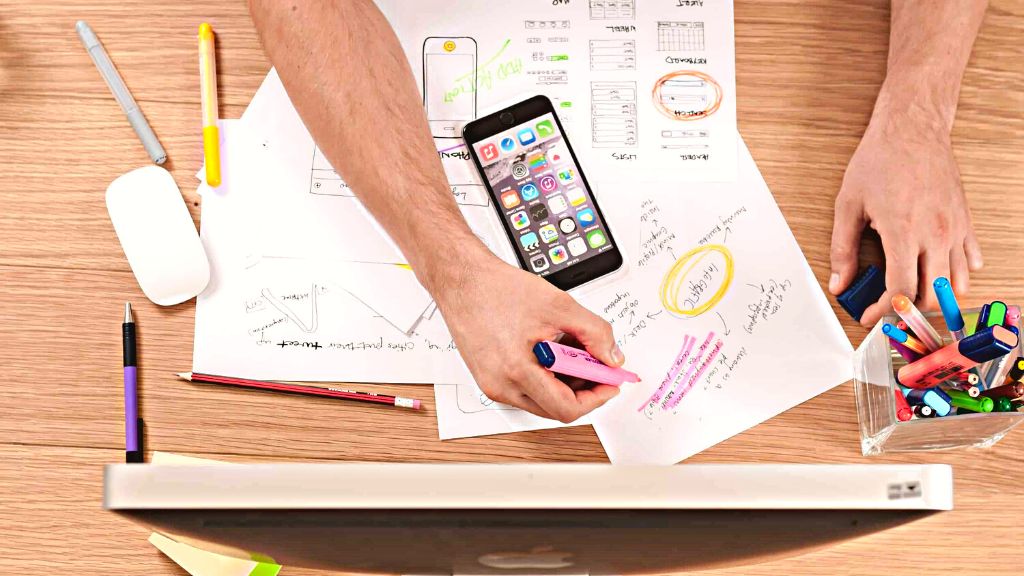 Working from home offers robust flexibility but brings along procrastination because of just being at home.
To boost your productivity at home, be mindful of the timing of your breaks and active work hours by prioritization. 
Also, prioritize focus on those tasks that will give long-term results. 
Break down your projects and regard effective options to support you organize your home office day more constructively.(organize home office)
13. Time Management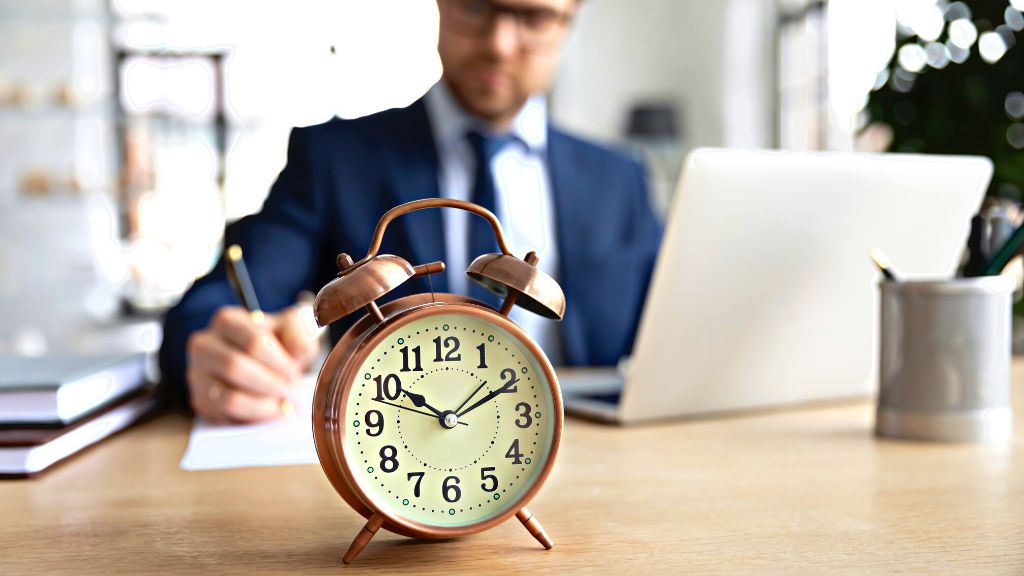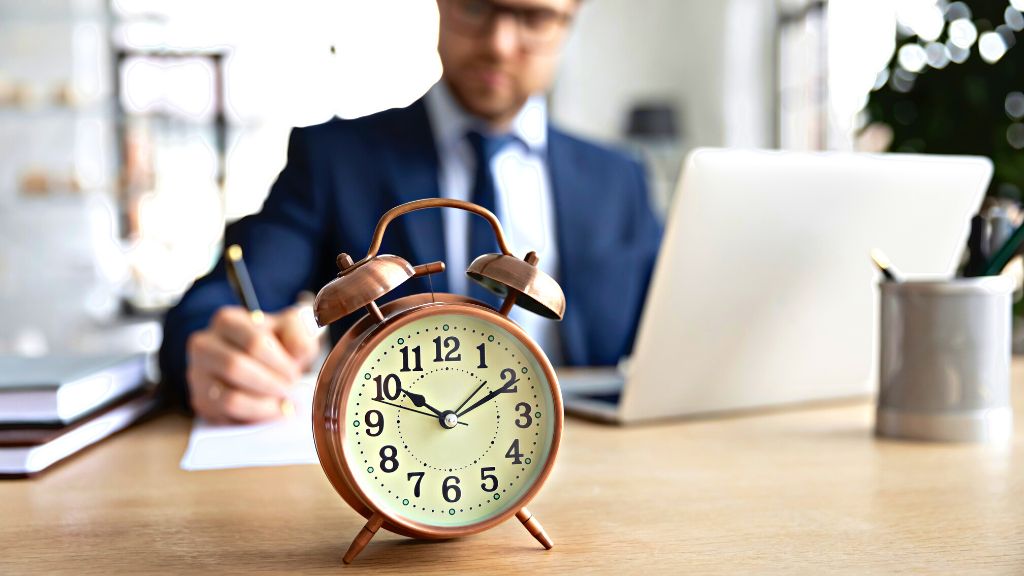 Don't forget to organize home office by allocating time for each activity as per priority and fixing the stipulated time for each activity. This way, you can manage time effectively to your advantage throughout the day working at the home office.     
Additionally, find the right time management system that works for you.
For personal time management, use a notebook or a smartphone app and for managing organizational time or a big remote team, opt for efficient time management software like EmpMonitor.
Keep a daily, weekly and monthly to-do list and schedule tasks on your calendar. Make sure your smartphone app syncs with your computer calendar.
Also read our top trending blog-
Manage Time to Work Effectively this 2022
14. Have a Routine and Schedule But be Flexible to Prioritize(organize home office)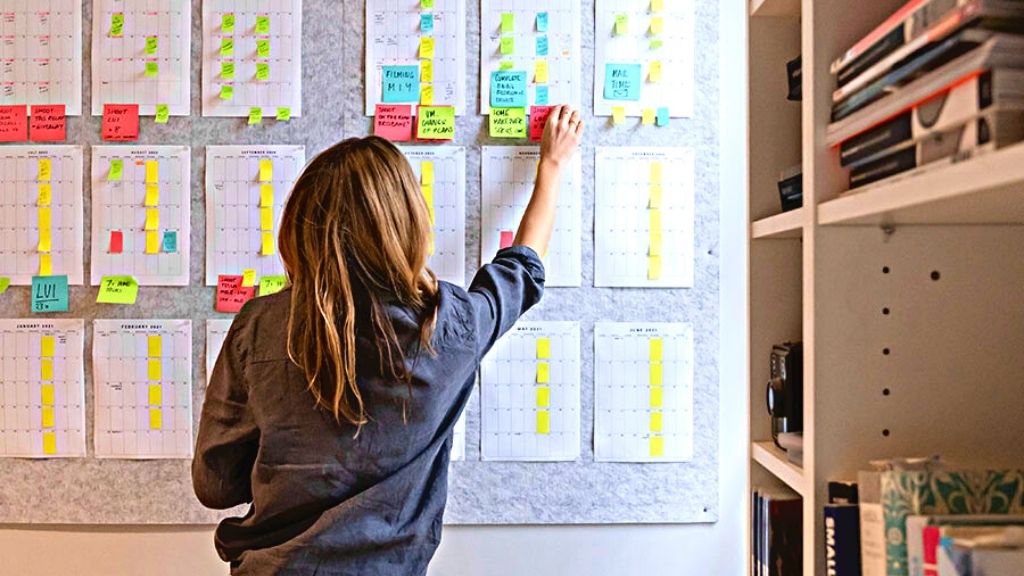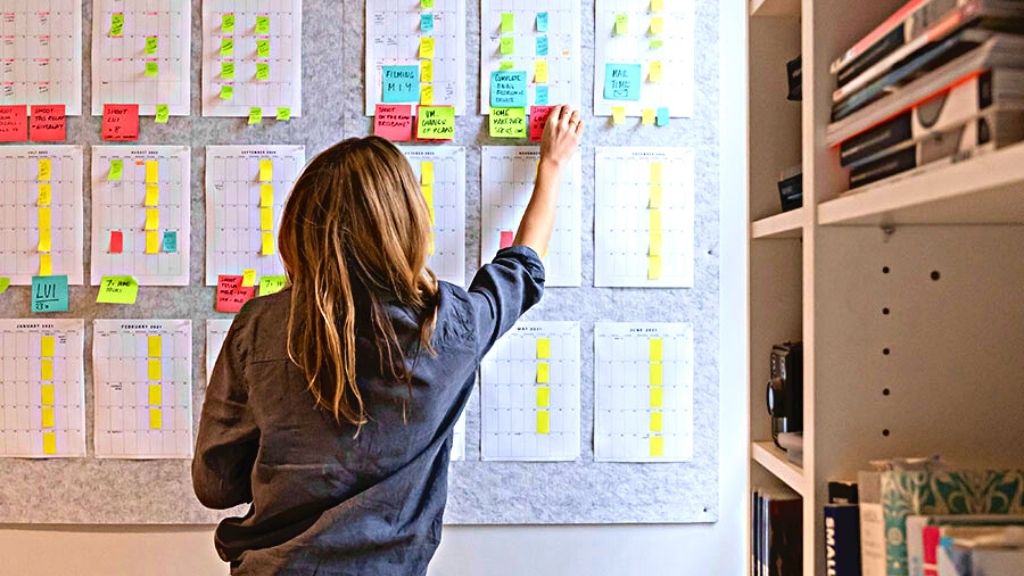 Routines become patterns to ensure you are accomplishing targets on time. And working in a home office needs innovative time management strategies to strike the goals.
These time management routines and schedules help with focus and productivity but stay wary if they become ruts and stifle creativity. 
And be ready to switch up the schedules if they begin to make you feel uninspired.
Furthermore, stay flexible to change routines as per the work priorities.
15. Surround Yourself With What Inspires You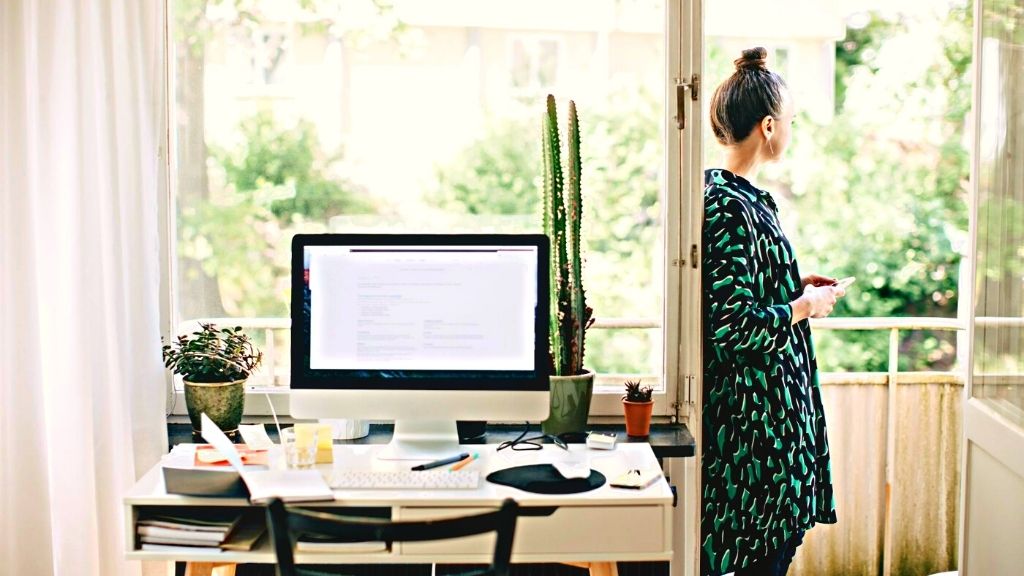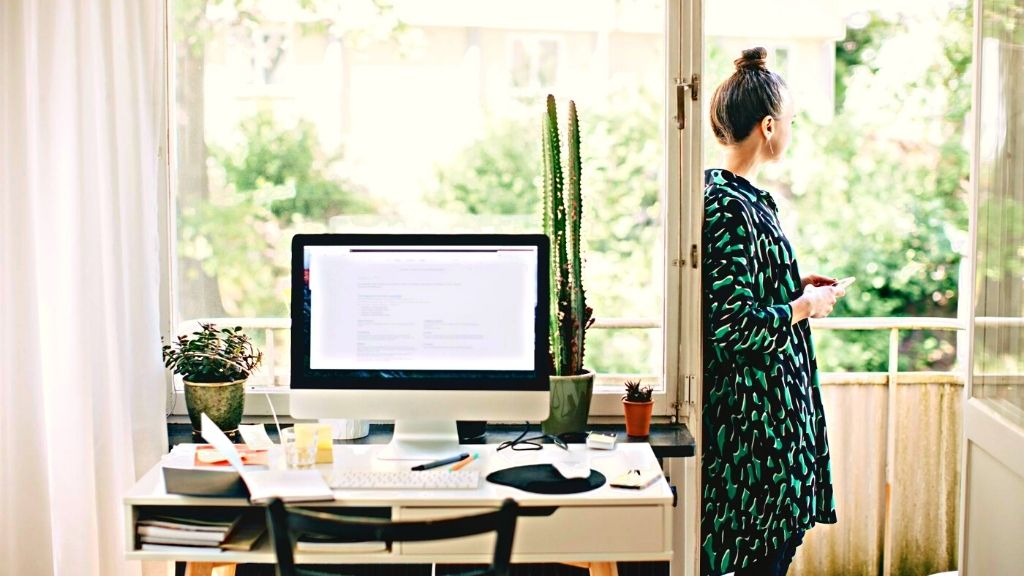 You've left a drab cubicle and are operating in the comforts of home. Utilize this chance to set up your home office the way that makes you inspired & works most suitable for you. 
Now there are no protocols and official vibes around. In fact, you can maximize your productivity by renovating it with items that bring you joy or inspiration.
Surround yourself with items that inspire you. 
Consider painting your office in a color you like. Use decorative office tools & supplies, such as colorful files. 
Productivity and motivation don't just come from sheer will. You can encourage it by creating positive vibes around your surroundings.
To maximize your home office work efficiency, purposefully organize home office in a way that helps you be your best.
16. Computer Screen Configuration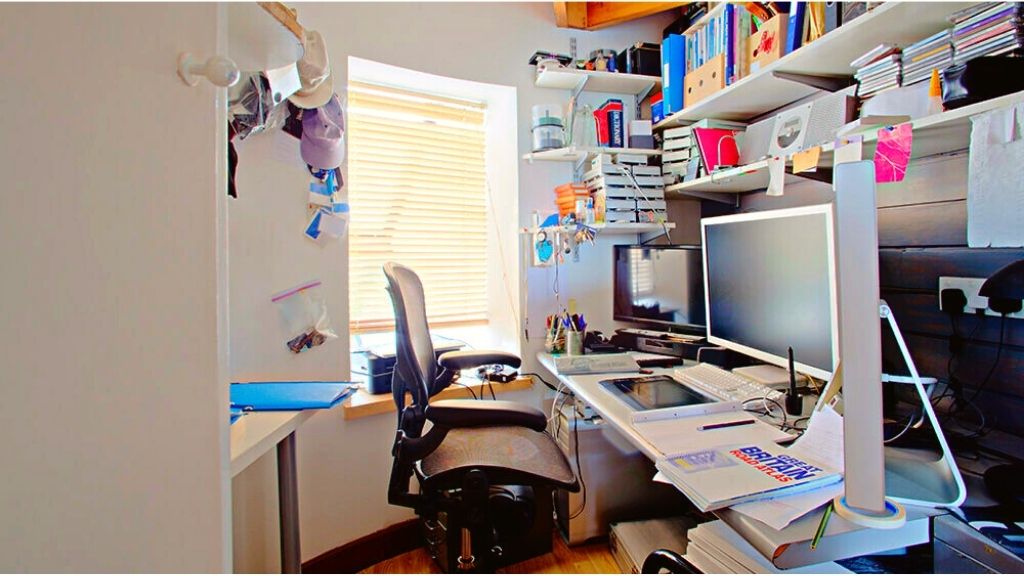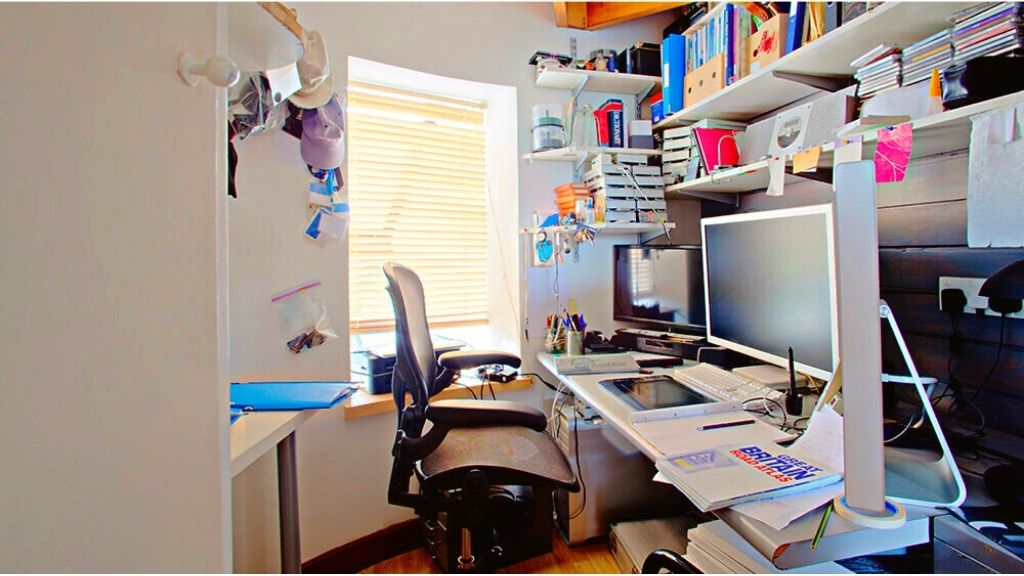 It's best to mimic your office setup at home if you're used to working on some specific monitors, monitor mounts, docking stations, etc.
Many people use multiple screens at their office for daily work. 
You can purchase monitors that are easy to configure. Bring home docking stations for a seamless office-to-home experience.
If you cannot find a computer screen that serves your requirements, you can use a small television as an additional screen and attach it using an HDMI cable.
17. Put Inspirational Quotes on Display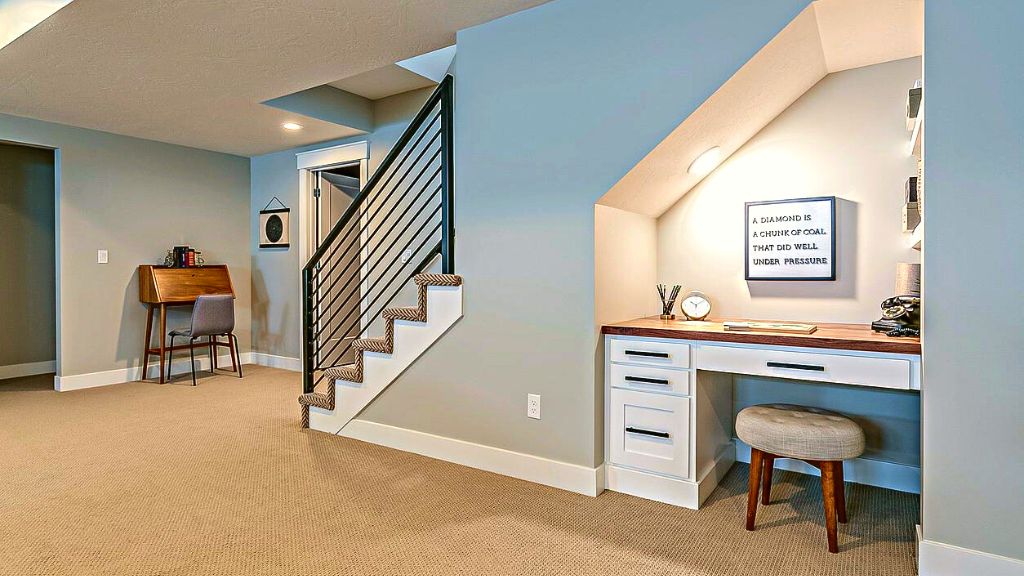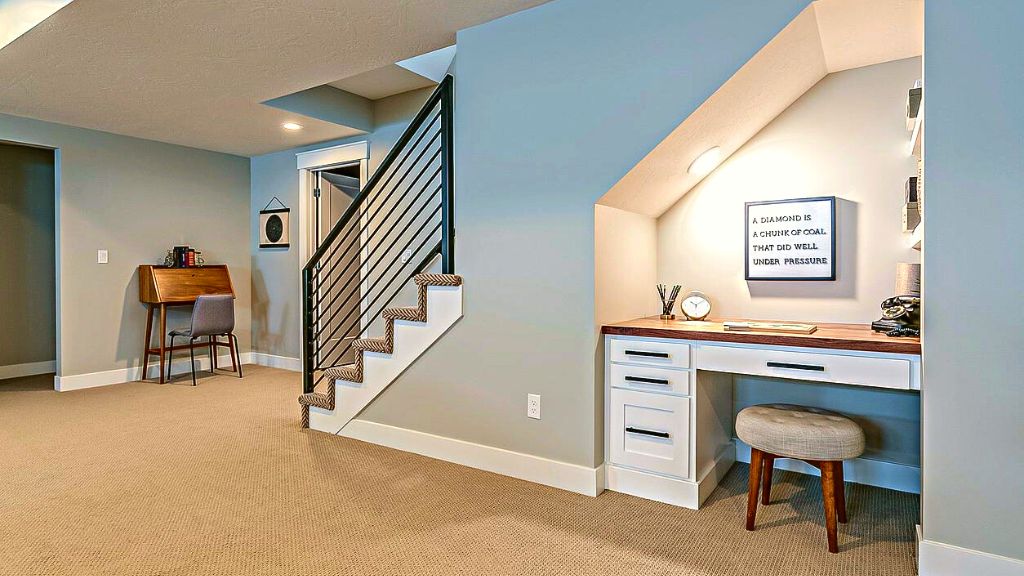 And of course, for sounder work productivity, you ought to be inspired at all times. 
Put up inspirational quotes, pictures around to keep you motivated all the time(organize home office).
18. Embrace the Change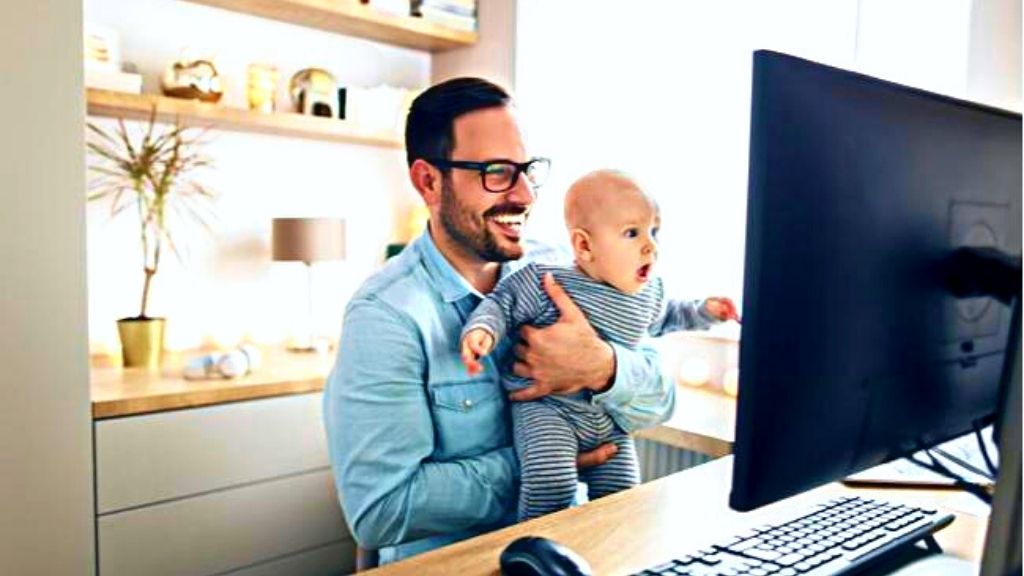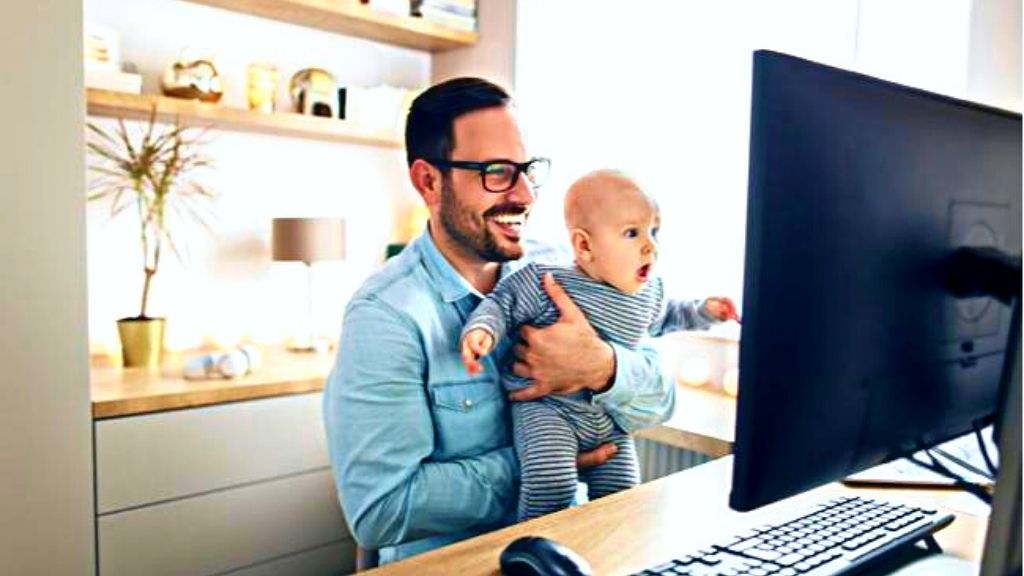 Also, embrace this change of working in the home office with positivity and enthusiasm for a better work experience and home existence.
Since it is a home office, be at ease working with family members around, and make everyone at home comfortable with your new lifestyle. 
Family members are also not used to having a home office setup. So, embrace the transformation with open arms for a satisfied co-existence.
19. Tame Those Savage Cables(Organize home office)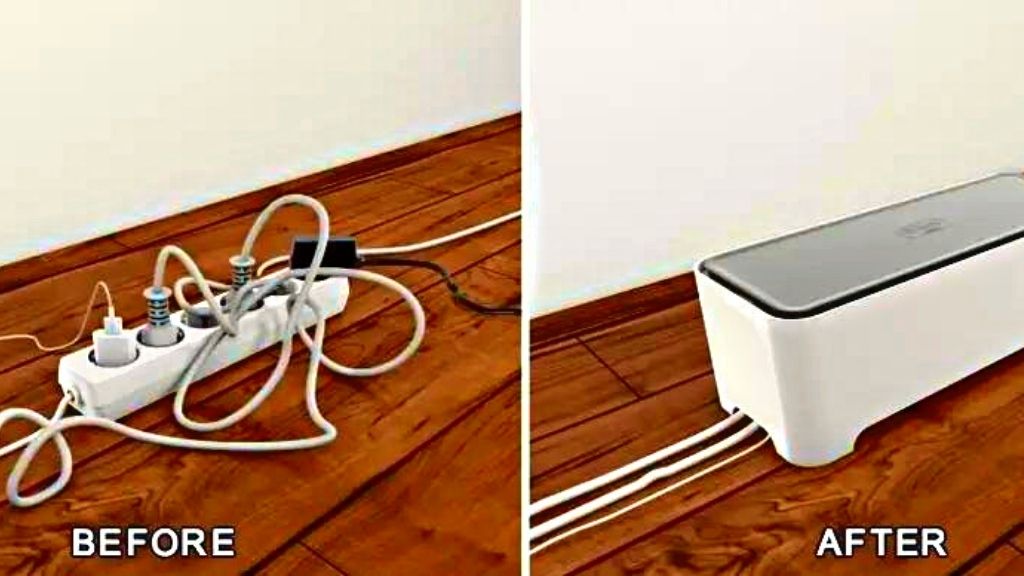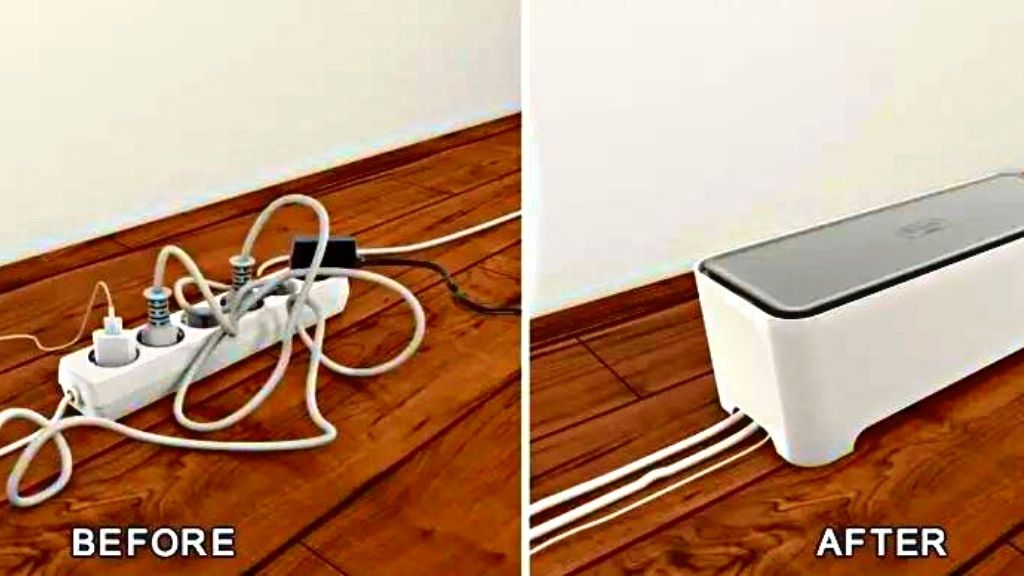 For a clean work space and sleek look of your home office setup, hide the power strip and tie all loose cables together. 
These loose cables sometimes are a big distraction and look clumsy.
Tuck your power strip  under your desk to keep it out of sight. 
If you have a mess of cables suspending out the back of your desk, bundle them jointly with zip ties or buy cable wire organizers to assemble a sleeker look for the home office.
If any of your cables are too long, replace them with shorter cables or tie them up together to make them shorter.
Also, consider using a wireless keyboard and mouse to keep your desk space neat and wire-free.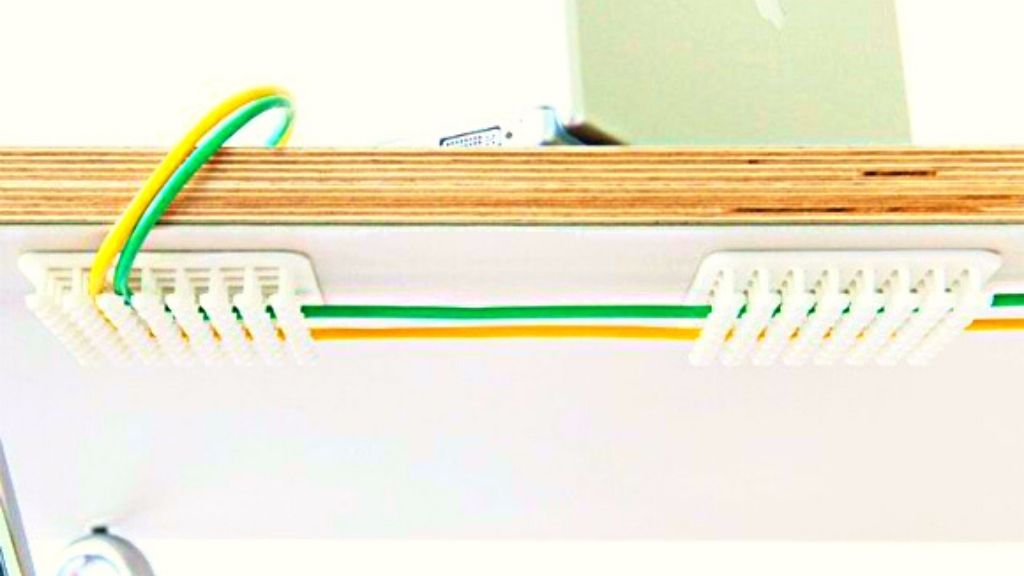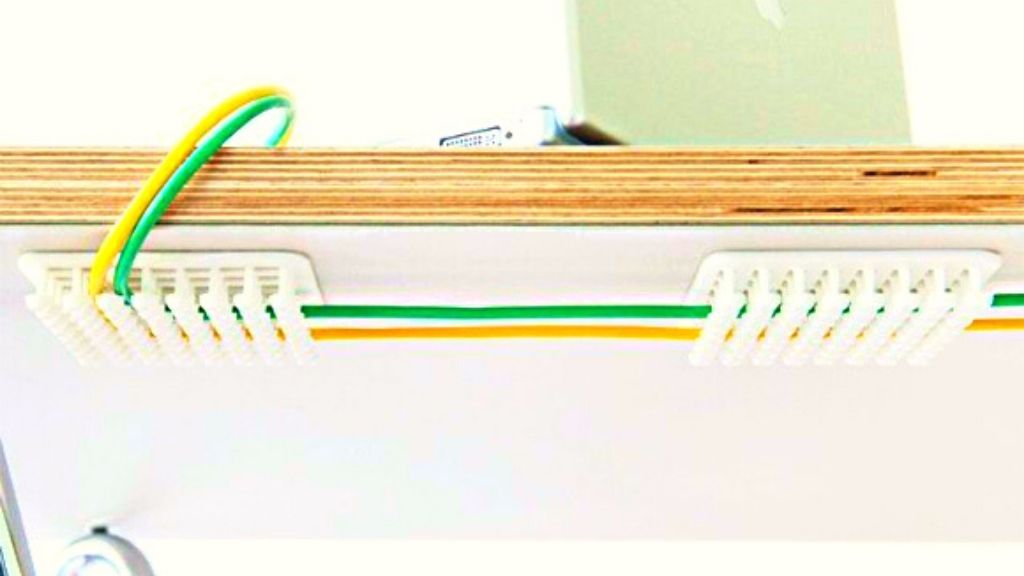 The more electronics you have, the more cables you likely have run everywhere. So, tame them before they create havoc around your home office(organize home office).
20. Remember to Take Breaks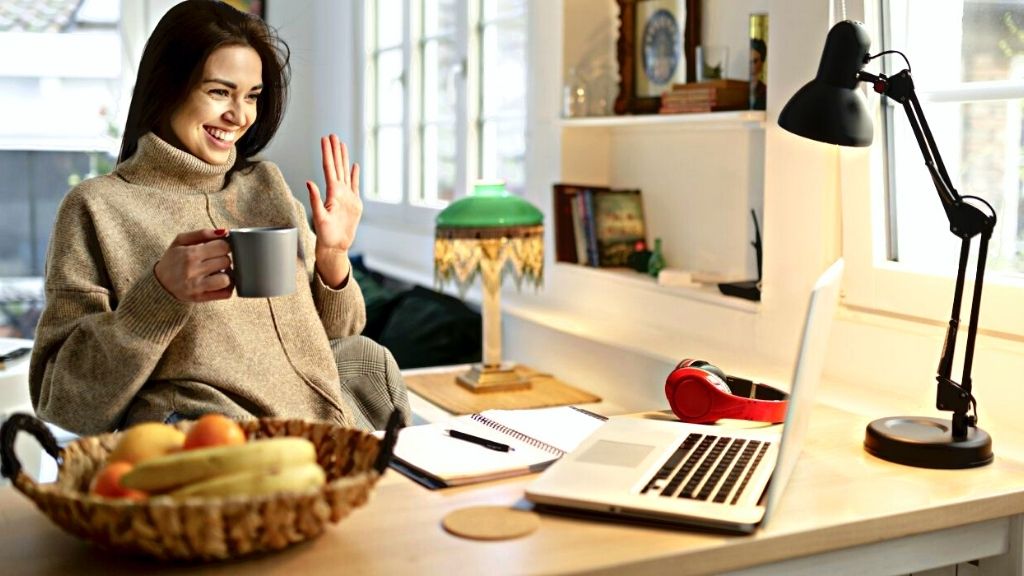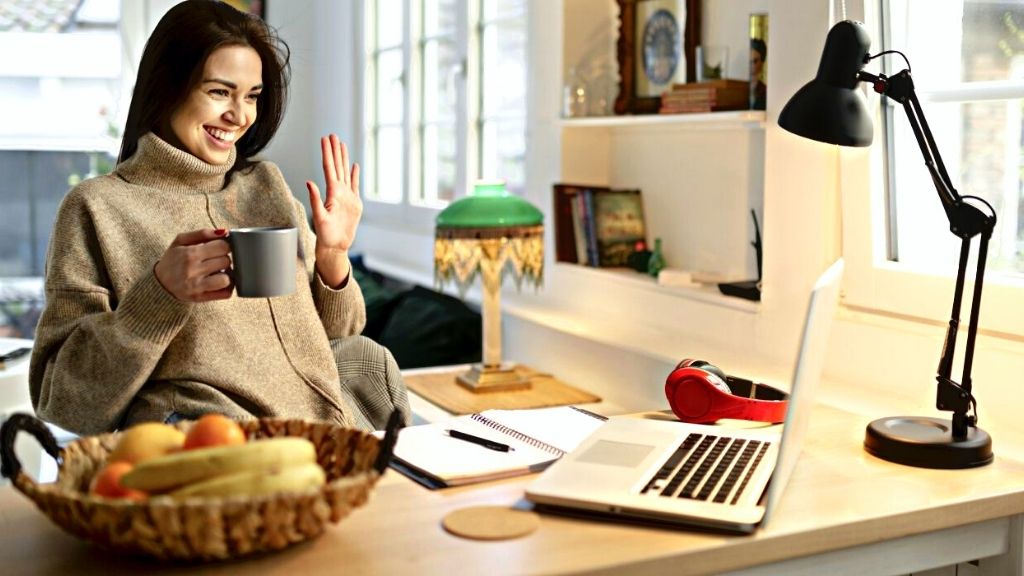 Remember to take quick breaks for refreshments or catch up on some urgent home chore and have an appropriate time for lunch. 
Since it is a home office, we forget to have boundaries around work hours, and it is more stressful working at home because of doubled-up responsibilities.
This way, you'll gain renewed vigor, and it will enable you to maintain momentum.
21. Use Employee Monitoring Software to Keep Your Remote Teams Organized and Safe(organize home office)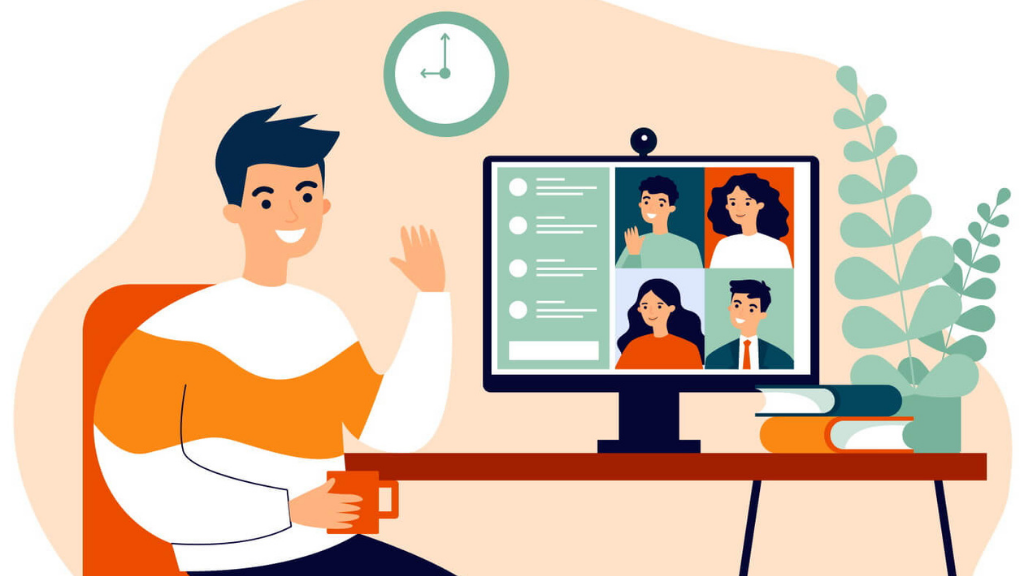 Most importantly, use EmpMonitor to monitor your remote teams in their home office set up. 
EmpMonitor is the answer to your employee monitoring woes by boosting employee productivity, protecting crucial data, and giving you an accurate record of their work.
EmpMonitor is deciphering all employee & management work-related confusions by putting everything out on the table to analyze, judge, and understand, if need be.
EmpMonitor gives a breakdown of the whole employee work duration into timesheets, recording the clock in time, clock out time, total work hours, office hours, active hours, productive hours, unproductive hours, neutral hours, idle hours, and offline hours.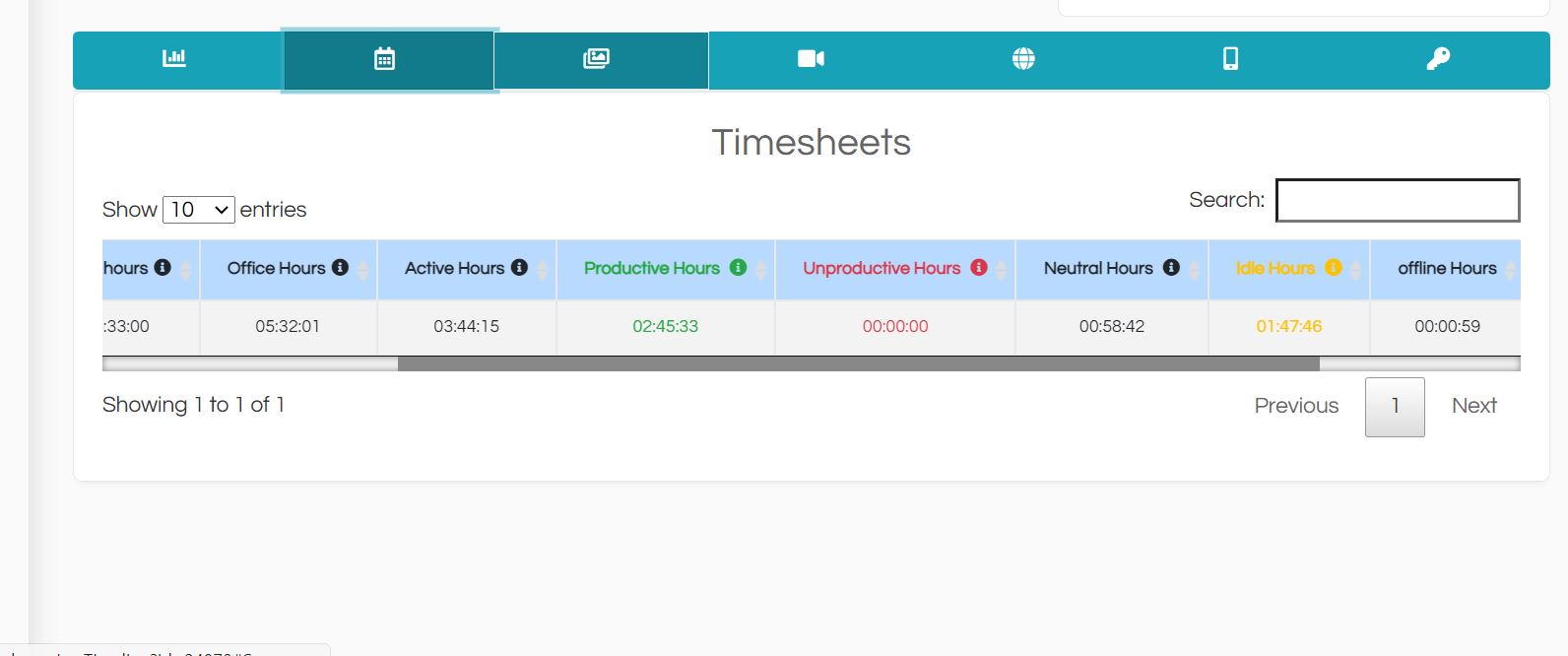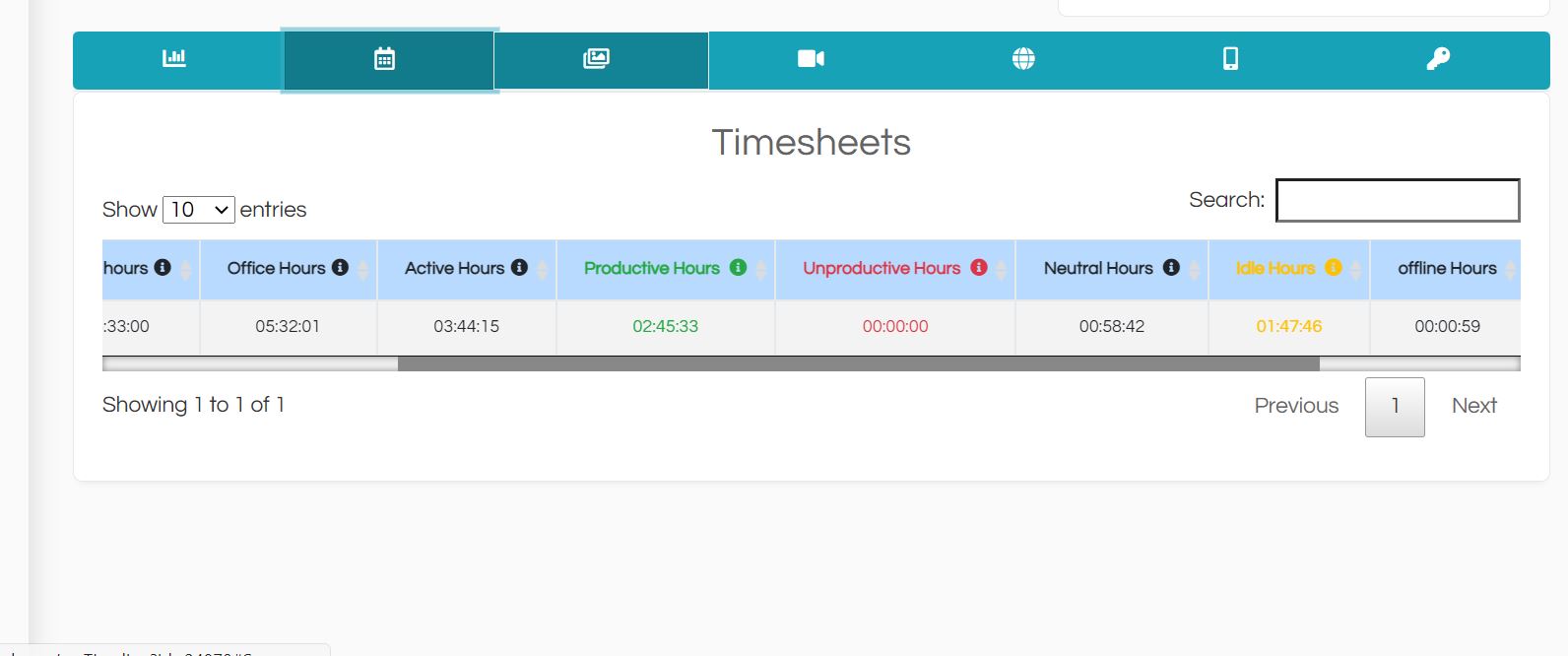 Such detailed and thorough reporting will minimize management related conflicts and will create a healthy work relationship based on accountability and transparency, with no suspicion.
Read More-
11 Effective Remote Team Management Tips 2022
Organizing the End
Whether you are a remote worker, a cleanliness freak, an organized home office is essential for your productivity. 
Making your personal, cozy office space within your home will raise your efficiency and help you adhere to your timetable.
Working in a home office is convenient and efficient as you stay focused on your work and stay connected with your family still. 
An organized home office reflects an organized mind, helping you keep low-stress levels.
There's no time like now, look around- throw away, scan, or shred?
Go organize home office now-