Companies are researching the long-term effects of the covid-19 pandemic on the corporate infrastructure and management after the economy reopened. The first thing that anyone can find is how quickly we have transitioned our work modules. Now the future of work does not seem like a long shot. 
We went from full-attendance-onsite work to remote work completely virtual in a matter of months! The global shutdown has embarked upon work-from-home culture in the fastest way possible. 
After this painfully enlightening pandemic, our corporate officials discovered some crucial truths; That is, productivity comes from flexibility. A similar realization hit the education department too! Students can learn equally with virtual sessions and alternate day half strength in class. 
The central governments of many countries saved so much money that would have been spent to conduct the formal meetings and visits. When everything went virtual, even courts started giving online judgments. 
We all adapted to the situation like an old whine, and we thrive on it! Because this is the future of work.
We understood that everything is possible with the right monitoring system.
Well, now most of the private and public sectors are getting reopened. Now the question is, what would the future of work seem like after this pandemic? 
Let us explore that in the upcoming sections!
What Is The Future Of Work From Home?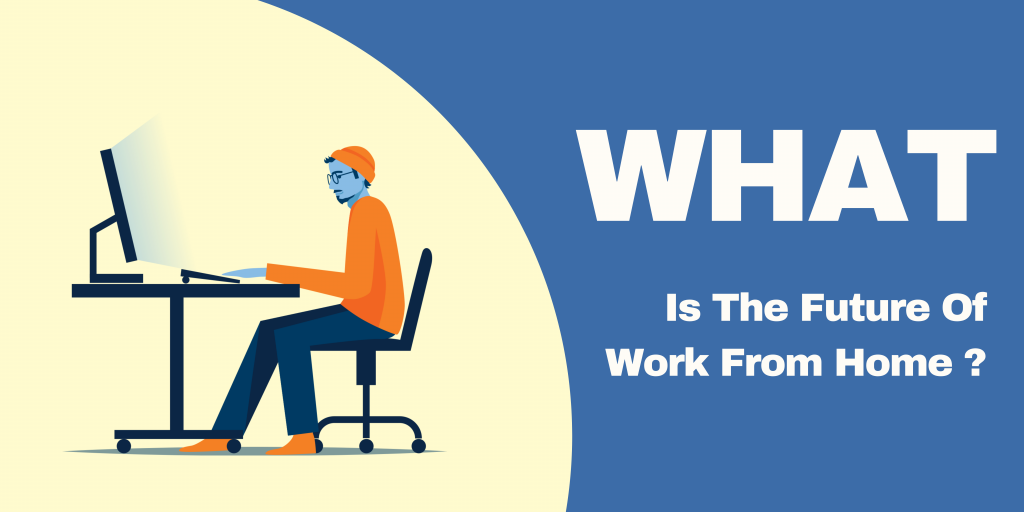 As the work from home culture emerged at its full potential, the presence of an employee got no longer owned by the company. Instead, an employee was available for the household chores and their job as well. So the parental leaves, mental health concerns, personal day-offs, and exclusive job qualities are no longer a revolution but the norm. It is something that everyone would say they wanted to have but couldn't seem to find the ground that could validate their importance. 
Following the transition, many companies initiated counseling sessions, online fun activities, openings for unusual job qualities and skills, equitable compensations, part-time options, and much more! Many organizations even updated their company policies and authenticated some new normal.
However, the future of work from home is not very long-lasting, as it bears one of the biggest hurdles of work and productivity; a non-united workforce. As the pandemic is passing away, companies are trying to bridge this gap by initiating hybrid work models or inviting full strength to the office.
Obviously, work from home is not bound to help in every job profile. Some companies are beginning to call every employee on the site, whereas some are planning to embrace full-time remote work with few employees to manage the physical office. 
Also, many employers claim to have a good time in remote work. However, to manage the issue of lack of interaction, companies are coming forth with hybrid work modes. 
Modern Work Trends (Hybrid & Remote)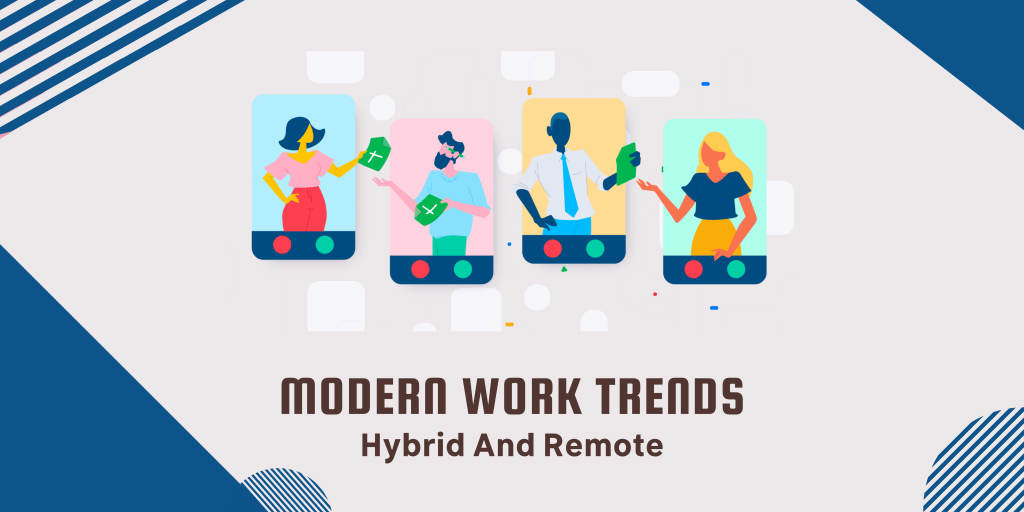 Thanks to lockdown, the future of work is open to more possibilities than ever. This pandemic had us take a pause and reflect on how we tend to view our jobs. Even the biggest CEOs of the world acknowledged this period and took some drastic measures to comprehend the mental health and job flexibility of their employees. 
Post-pandemic work seems to make more sense than the earlier work models. Now people are not obliged to feel trapped only to meet the insane policies of the organizations. 
The trend towards work from home is merry enough to amend the mindsets and laws of the workplace. Consequently, the sustainable reset in the work-life balance is taking us to a more harmonious work culture.
As we discussed earlier, companies are beginning to operate in three modes for this future of work.
Full-Time Remote Work.

Hybrid Work.

On-site Work.
Now let us explore them one by one.
Future Of Work: Remote Model
Remote work seems like a happy-go-lucky option when it comes to a hardcore corporate work module. Remote work is mainly discouraged due to lack of collaboration and the fear of data theft and indiscipline.
Well, there are ways to tackle that issue. Lack of collaboration can be dealt with by timely video calls, meetings, project management tools, and official chatting apps. And also, for monitoring, companies can introduce employee monitoring systems in their management. By the way, let me ease that up for you. 
EmpMonitor is one such leading cloud-based employee monitoring software that helps you get the convenience of full surveillance from anywhere in the world. In EmpMonitor, you get to have the amenity of keyloggers, screenshots, screen records, employee productivity reports, activity/ inactivity reports, and much more! All these at an absolutely low price.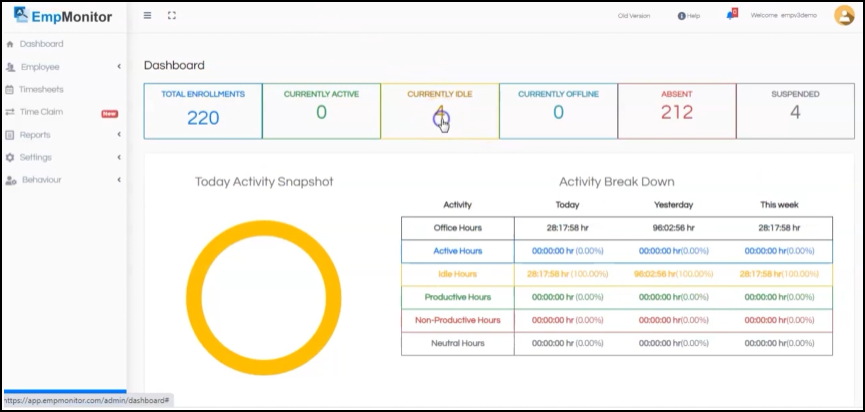 Full-time remote work has its perks in the future of work. Now the companies do not have to worry about location demographics to recruit employees. Plus, the necessity of having a physical office is also dilute because people can easily work remotely and collaborate in virtual mode. So there are endless possibilities for an easy startup with low investments.
Future Of  Work: Hybrid Model
Hybrid work refers to the combination of remote, mobile, independent contractors and in-office work in an organization. With the growing popularity of mobile work style in the corporate world, hybrid work is the most chosen business model among employers.
The concept of hybrid work is nothing but a mixed traditional and virtual work. It has a significant impact on a global business model, which consists of a seamless interaction of people, technologies, and methods to deliver goods and services to customers.
Hybrid work is the way forward for many companies as it provides them with the best of both worlds. Employees can choose when, where, and how they work best, corporations can still maintain full visibility of their performance.
Big companies are more likely to have a hybrid business model than remote work. Because now they don't have to keep all the employees in the office. They can keep the required number of employees in the office and rest in remote work. Or, they can have alternate day site jobs for all of their employees. 
This technique can save people from a lot of traveling expenses. Also, enable them to have a Full-time work-life balance with required work exposure in the physical office.
Future Of Work: On-Site Model
The on-site work method has been traditional for many years. Our parents had spent most of their time at work. They used to work for 8 hours a day and 5 – 6 days a week. They used to have a lunch break and then head back to work. 
Well, remote work is also like this if it is for defined working hours. One of the many benefits of working from the office is employers can have a good grip over their employees and staff members. Along with that, it gives people a medium to take part in projects and build social skills.
How To Prepare For The Future Of Work?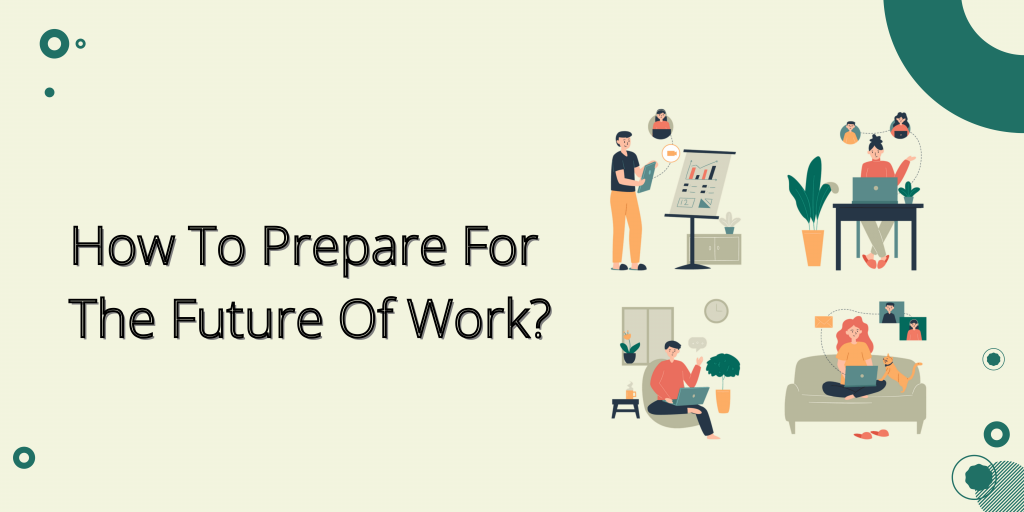 The work methods are changing, traditions are being questioned, e-commerce is developing, communication is becoming easier. Every year the number of workers who are starting to work from home or indulge in hybrid work. Companies are struggling to understand how to deal with this new kind of work. They are struggling because they need to manage remote employees, but they don't have the tools and techniques which will help them do this properly.
So here are some techniques to help you get through the phase of transition.
Right Internal Communication
Right internal communication is the key to managing every working model. Whether it is fully remote, completely on-site, or in between, every working model requires a carefully structured communication system. The future of work is dependent on it.
 A good communication structure requires creating some internal communication principles. If your business is virtual to an extent, or you are working with contractors or freelancers, these principles will work for you.
Employees struggle to keep up with reporting structures and workflows that no longer fit the needs of their teams. The reporting structures change with every organization.
The communication system is built around the work model and the context in which the employees operate.
Yesterday's business models are not capable of handling the challenges of new-age businesses. Companies are evolving their offices and workforce by implementing hybrid models to create a safe space for employees.
In such times, leaders need to rethink the distribution of space in the office. Future of work depends on redesigning a workplace that embarks on a tailored journey towards success and productivity. 
The design of work zones must be tailored in a way that fosters productivity and creativity.
Leadership And Management
Through preparing for the future of work, it is highly required to understand micromanaging. The dynamic workloads and mobile work models practically invite the concept of micromanaging within the departments. 
Discovering new talent pipelines is also a great way to navigate the cross-industry recruitment process. Because of different modes of work in the corporate industry, having employees from diverse work backgrounds can help your company cope up with the ever rapid transitions. 
It is not a secret that the workplace is changing rapidly. Today's workforce is more distributed, fluid, and remote. An environment that offers employees multiple options and freedom of choice. 
That is why companies need to install monitoring systems to provide additional safety to their data and keep an eye on their employees. These employee monitors provide you the necessary grip over the employees by tracking productivity status on your projects. Plus, keeps the data breach risks out of the corridor.
You can introduce EmpMonitor in your company to avoid such hassles of remote and work.  
It helps employers understand the behavior of employees, their user screen activity and influence all in real-time productivity. EmpMonitor captures employee insights by tracking their time and activity across user screens, applications, websites, keystrokes, and locations. 
Drawing experience from the recent pandemic, the corporate world knows that evolving from time is the need of an hour. Nowadays, technological advancements are fueling up the competition. The future of work rests on the shoulders of dynamic technologies.
You can leverage technology for customer support, employee management, internal communications, etcetera. No matter how big or small your company is, keeping up with technology will help you get ahead of the competition and give you needed insights to make informed decisions.
Conclusion
Organizations and employees should not be afraid of this change and should embrace and support it, and it's likely to be one of the greatest facilitators of growth we're going to see in the business for decades to come.
That's why EmpMonitor was created, to help businesses with the challenges of the future of work. 
EmpMonitor is a leading employee monitoring and competitive intelligence tool powered by artificial intelligence and machine learning. The tool helps employers monitor their employees, but it can be used for business intelligence as well. It has everything you need! To keep you up-to-date with your business activity, make informed decisions, and manage your employees effectively.
Read More