In a post-pandemic environment, many organizations debate whether they should revert to their former practices and force people to return to work.
While there is an increasing desire for in-person contact, cooperation, and meetings, there is also a growing desire for flexible work arrangements: Nearly a third of remote workers said they'd consider looking for another job if their company's current remote work policy was eliminated.
Based on this feedback, a hybrid workforce, which allows workers to work from home at least part of the time, may be the best solution. This post will clarify what a hybrid force is, how to create one, the benefits, and how tracking software may help you manage mixed staff better.
What Is a Hybrid Work Model, and What Does It Mean?
By combining office-based, remote, and semi-remote personnel, a hybrid work model optimizes business operations and gives all employees the autonomy they need to be productive. Employees in research and development departments, Employees in research and development departments, for example, who need to use specialized tools in the office, and those whose work requires an internet-connected device, may efficiently execute their tasks in a hybrid work environment.
BYOD (bring your device) and CYOD (choose your device) are two increasingly popular remote work trends that integrate well with a hybrid approach. Allowing employees to work from home or in the office on their own devices saves money on IT. Employees are more comfortable with their own devices than those given by the organization, and thus these policies can help increase productivity.
How Do You Create A Workplace Culture That Is Hybrid?
When there is more flexibility in the workforce, employers may be concerned about sustaining community and culture. When a company's culture and feeling of common purpose deteriorate, productivity suffers.
As a result, one of the essential parts of a hybrid remote management schedule is developing a culture built on empathy, inclusivity, and trust.
Maintaining the culture will necessitate more innovative thinking as work has spread beyond the office. Colleagues must collaborate to form bonds. Your collaboration solution must enable interactions if people are in the workplace together, whether in a physical or virtual office.
When businesses combine the physical and virtual worlds, they can have the best of both worlds. Employees have the freedom to work anywhere they want without sacrificing personal ties, and team development is beneficial to any company culture.
Hybrid Workplace Benefits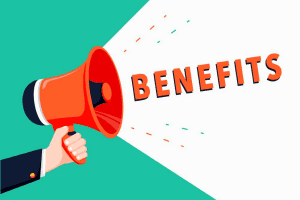 Work-Life Balance:
Employees can easily preserve their work-life balance by operating on a hybrid approach. When an employee cannot attend work, they can work from home. Because of the flexible working hours provided by mixed culture, the average number of leaves taken by an employee each month has decreased. Employees can balance their personal lives while staying on track with their work plans and deadlines.
Employees can now be present in two locations simultaneously thanks to hybrid working. Employees and employers come from all over the world to work in our offices. They will also not miss anything but their personal and professional lives. The balance between work and life is achieved through hybrid working.
Improved Trust
Trust between the employer and the employee has improved.
Trust between employers and managers and their employees is one of the most crucial (and most demanding) parts of a healthy, productive work environment. Thanks to a hybrid work paradigm, employees may earn their boss's trust by demonstrating that they're just as effective, if not more, working remotely as they are in the office.
Employee loyalty can also be improved by the flexibility of a hybrid work paradigm, which allows employees to feel empowered by management to accomplish their work on their own time. Employees will not feel as though they are continually "watched" by management or that their every non-work action is scrutinized if they can balance work with personal duties and errands that may need to be undertaken during work hours. As a result, they're more inclined to respect the company as a whole, and management saves time by not micromanaging or continuously checking in on staff to see if they're working.
Furthermore, trusted and valued employees are more likely to stay at work and with the organization for a more extended period. The reduced total turnover has several advantages, including cheaper costs for sourcing, recruiting, hiring, onboarding, training, and increased employee knowledge and skill sets, all of which contribute to your company's long-term success.
Checkout latest blogs-
Increased Opportunities for Lifelong Education
Many businesses are performance-driven, yet this frequently means that employees are too busy performing to devote time to learning. High production can disguise an exhausted staff, and an output-focused approach does not allow for your employees' long-term development.
Leaders must be modest enough to know that learning does not occur solely in classrooms. Make learning and reflection a regular part of your day. It's challenging to produce enough mental capacity to think or analyze the information when your workweek consists of back-to-back meetings. Encourage your staff to invest in their personal growth, learning, and introspection.
Absenteeism is Less of a Problem Now
Compared to their exclusively in-office colleagues, workers of a hybrid workforce have plenty more flexibility. Employees can change their work schedules to meet personal issues without taking an entire day off, reducing absenteeism.
EmpMonitor: There is a lot of tracking software, but do you think it's enough for your business and your employees?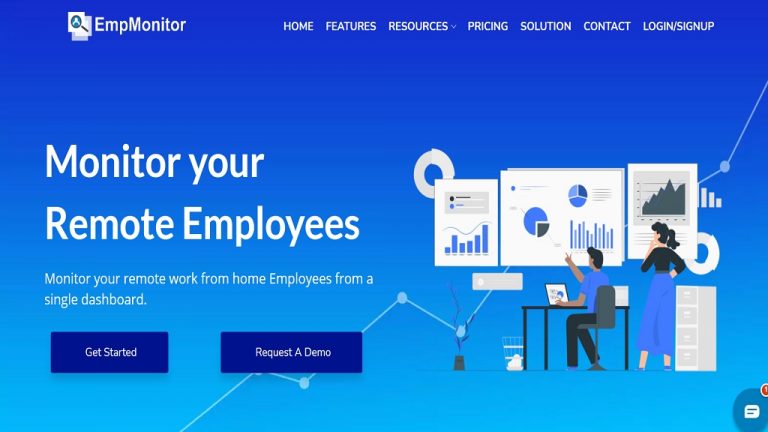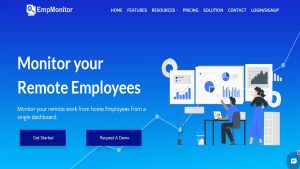 EmpMonitor allows you to keep a close eye on your employees by taking regular screenshots of their devices, providing you with a list of the most frequently used apps and websites, and graphically assessing the user's daily activity. Make sure they're productive, diligent, and committed to their organization even if they start working remotely.
It's a robust cloud-based employee tracking software that lets employees easily measure and improve productivity while keeping the workplace safe. EmpMonitor is appropriate for both on-site and remote employees. Although most monitoring software for employees have characteristics similar and, a few stand out.
Here's how to use the employee pc monitoring control capabilities of EmpMonitor for a better understanding:
To access the EmpMonitor dashboard, enter your login credentials.

Go to Settings, Monitoring Controls, and then Create Group Button to create a group. You will see a pop-up window.

Fill in all of the details for the Group name, Roles, Locations, Departments, and Employees, and then click Create Group to continue.

All of the monitoring components can now be tailored to your preferences. Press the settings icon to do so.

Employee General Settings, Tracking Features, Screenshots, Agent Automatic Update, and Employee Time Tracking are all available in this section.

To begin monitoring your staff, click the Save button after completing all of the steps.
Isn't it simple?
Productivity Increases
Many productivity gains come from hybrid working arrangements:
Job satisfaction: It's undeniable that happy workers are more productive. Improved mood and job satisfaction result from greater flexibility and work/life balance.
Context switching is a productivity killer! Interruptions can eat up to 40% of your working time. While working from home has its drawbacks, an office setting offers plenty of possibilities for unwelcome disruption.
As previously indicated, remote workers have more possibilities to catch up on sleep. Increased productivity comes from improved attitude, job satisfaction, and energy.
Takeaway,
Wow, you're learning about the difficulties while watching a group from afar. You can achieve incredible heights with staff's computer tracking software, and you can efficiently manage hybrid workplaces using EmpMonitor. It is a tracking software that will assist you in managing attendance, performance data, improvement areas, and other aspects of your business.
Employee tracking software for remote teams has the advantage of being versatile. There's a solution for you whether you're attempting to keep track of working hours, assist, or secure your employees' safety. employee computer monitoring software has a lot of hidden advantages, which is why it won't be phased out anytime soon. We believe that this list has addressed most of the primary benefits that employee monitoring software may provide.