Now is the time to Trick or Treat, with the spookiest day of the year just around the corner! But there's a catch this time. This year it's not just Halloween activities, but virtual Halloween team building activities for work are the main draw.
After a tough and tormenting year of masks, sanitizing, and social distancing, your team will most likely appreciate every possible chance to have some fun and lift their spirits. As for many organizations, bringing their team together in person is simply not an option right now. But it doesn't mean it can stop the remote teams from enjoying some Halloween fun with the team members.
After all, everyone is a big sucker for a good excuse to come together and have a wonderful time. And Halloween is a terrific one, which is why we choose to celebrate a secular version of it in the workplace to guarantee that it is inclusive and accessible to all and sparkles the positive work environment. Plus, with October nearly over, Halloween team-building activities for the workplace are another great chance to have some fun connecting with your team.
There's something for everyone here, from virtual murder mysteries and escape rooms to horror movie trivia games and pumpkin-carving workshops. 
Is It Possible To Celebrate Halloween Virtually?
Bring the Halloween season to life by bringing your company together virtually for exciting activities at the end of October. Even though the celebrations for the past two years are way more different than how it was before, don't let the limitations of remote working keep you from celebrating Halloween. Plan a virtual Halloween party and create anticipation with creepy yet socially distant activities.
You don't have to miss out on your favorite Halloween traditions. There are a myriad of simple ways to plan the team building activities for work & make the finest Halloween events accessible to those with disabilities. Some spooky new team building activities for work choices can help you make Halloween a greater part of your work – making your virtual Halloween in 2021 the greatest yet.
Why is celebrating Halloween in the workplace important?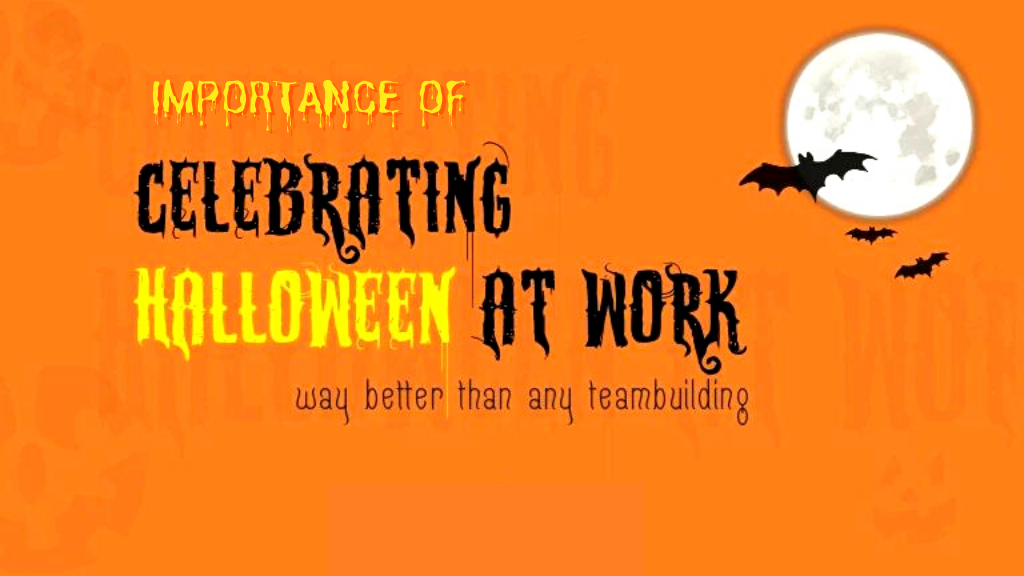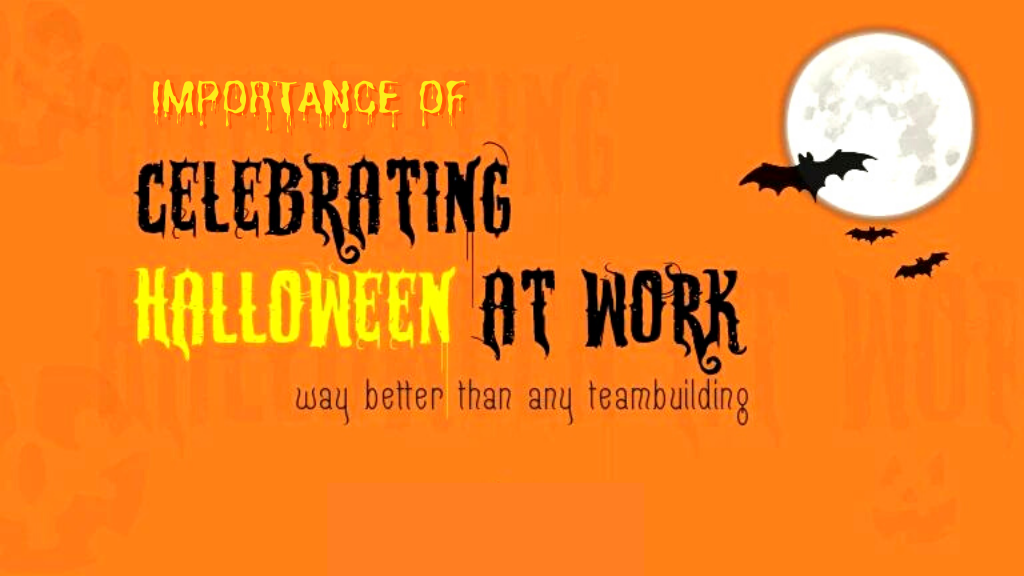 When coworkers come together to celebrate and have some fun on Halloween, or any other holiday, it may offer a feeling of togetherness to the workplace. It's just like any other festival that will benefit you in the following ways.
Teamwork
Halloween naturally fosters a sense of togetherness. Fellow employees may interact to plan themes, decorations, and team costumes, then decorate their virtual desks for Halloween. 
Fun
Team building activities for work at Halloween brings a terrific shift to the office by allowing employees to spend a chunk of the day doing something entirely different. Employees who enjoy themselves at work are more likely to stay productive & loyal to the organization, exhibit corporate values, and form bonds with their coworkers.
Creativity
Halloween for sure brings out the creativity in employees. From decorating an office space to dressing up in a costume, it might inspire you to think of new ways to create a spooky effect or outfits that will make your coworkers giggle. When you can be creative in the office on initiatives that are not work-related, it might convert to increased creativity in your daily responsibilities.
Motivation
Believe it or not, small celebrations and festivities can be a fantastic distraction for employees' fatigue and, in turn, motivate them after the complete celebration. It also gives employees the assurance that their employers care about them and that their workplace is more than merely a place to meet deadlines.
Morale
When employees are able to take time away from their jobs to celebrate a holiday during business hours, the overall mood of the office usually rises dramatically. Employees may feel more appreciative for working at a company that prioritizes celebration and fun after attending a whole week of spooky Halloween.
Now, onto the fun stuff. 
7 Virtual Halloween team building activities for work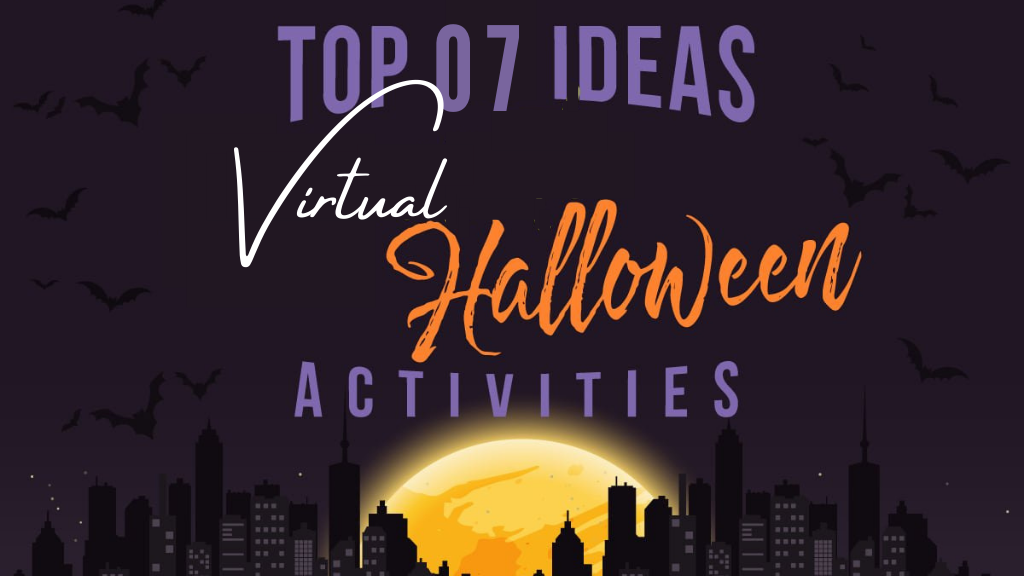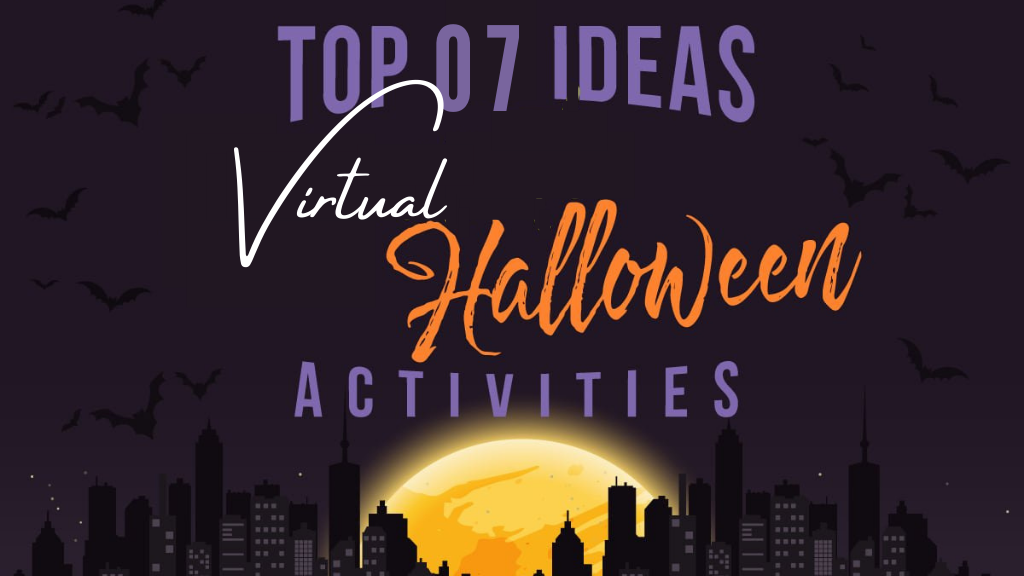 Following are the 07 Spookolish Halloween team building activities for work that you can implement right now, without any doubt.
Plan a spooky Virtual Halloween party invitation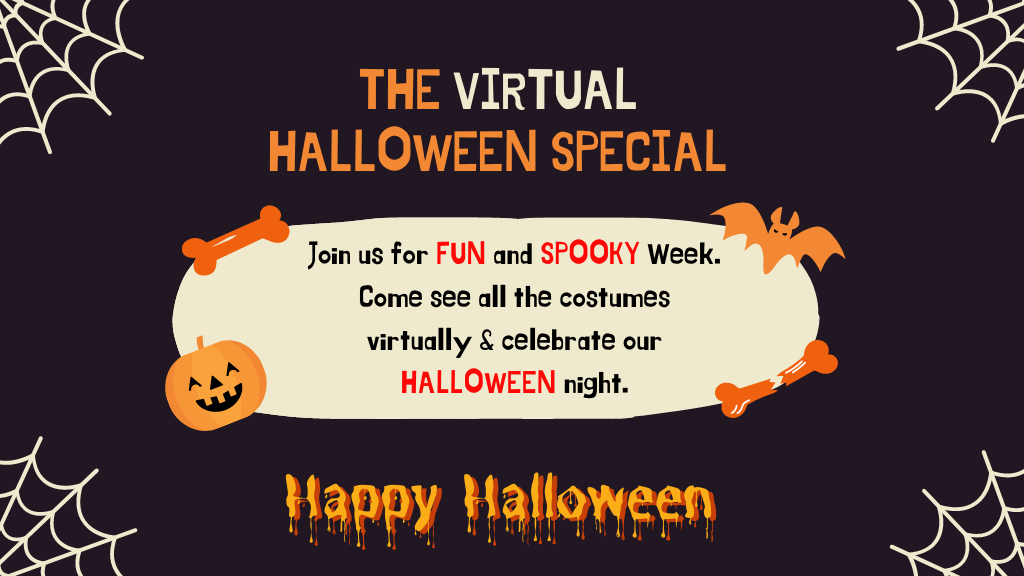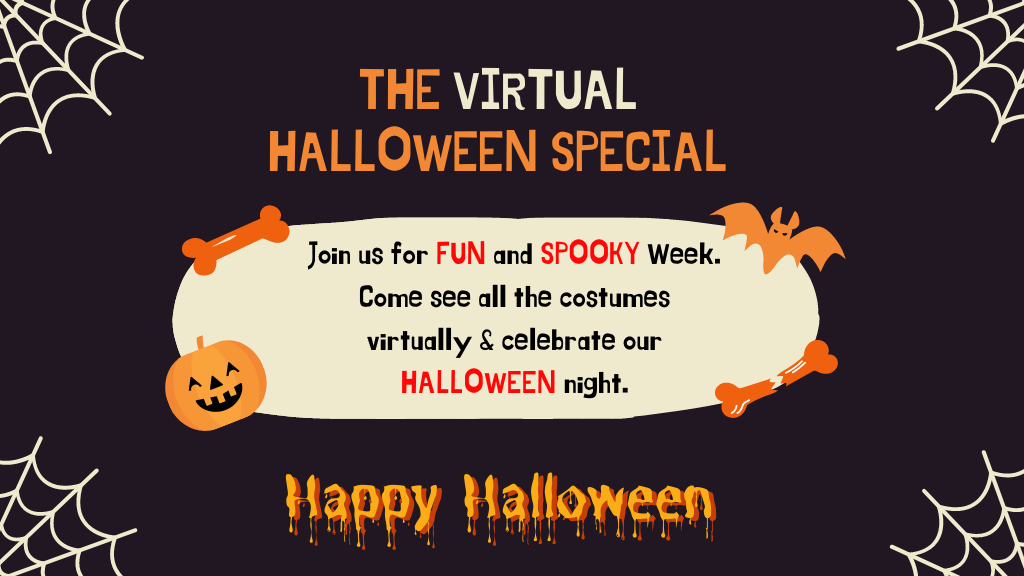 There is no better way than a fun spooky invitation card to kick off your Halloween week. After all, what good is Halloween if it does not give you a shiver down your spine?
So for team building activities for work, whatever style of Halloween party you are planning, sending out some festive Halloween cards is a tremendous way to hype your Halloween activities and spread the excitement about the big day. All you need to do is reflect the style and personality you want your company to project.
For Instance, you can go like It's Spooky Season, and you are welcome to join in for a carnival of Halloween-themed party week from the comfort of your own home. How does it sound? Isn't it intriguing and creepy at the same time? Or you can create a personalized invitation that incorporates some traditional Halloween cliches, such as haunted houses, skeletons, ghosts, spiders, or pumpkins, to hype up your virtual remote event.
Virtual Clue Murder Mystery 
Head down south for some epic virtual fun with this murder mystery event for groups of all sizes. Because there is nothing that can match the spookiness or screams "Halloween" like a murder mystery. Virtual murder mystery games are basically online social events in which players act out a murder scenario and try to figure out who the culprit is.
You can choose from a variety of alternatives online; some include a host who will guide you through the event, while others are self-hosted, requiring someone from your team to assign roles and help move the plot forward. The entire crew works together to solve the mystery, and they will have a lot of fun in the process.
These games are often part of virtual Halloween games, happy hours, or remote team building activities. The goal of these events is to have fun while also improving problem-solving skills and encouraging teamwork.
DIY Costume Contest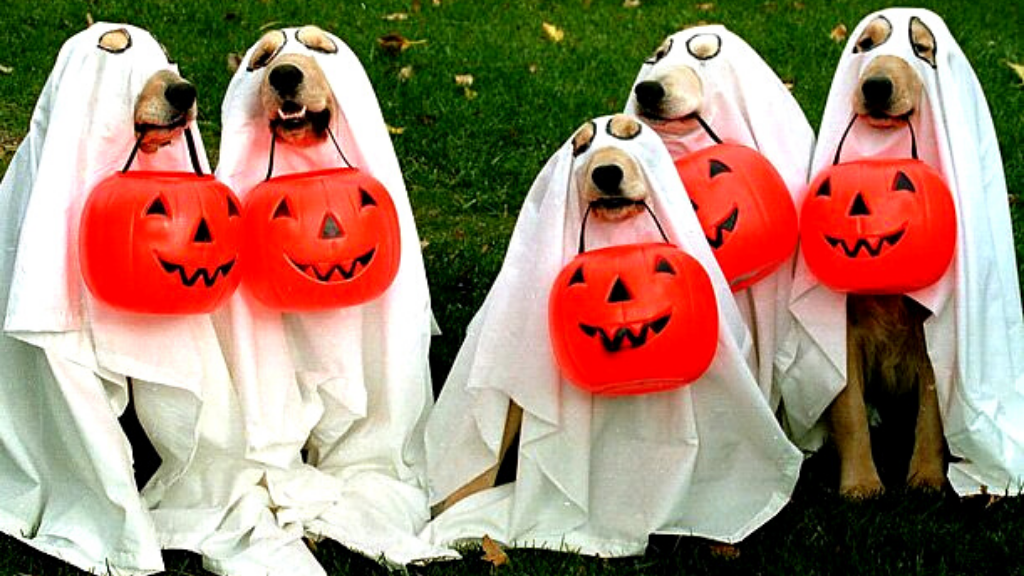 90% of Halloween revolves around who has the most spooky costume. But how about giving it a change for your team building activities for work? Of course, we appreciate & admire the excellent outfit- but we love it even more if it is DIY. And will be even more fun with team building activities for work.
Because you already know the drill, anyone can go to a store or order a perfect hassle-free costume, but it will not give you as much fun as making it yourself. You can probably choose a theme such as Superheroes, Movie/TV Characters, eras, harry potter, or even punny costumes. Take turns guessing each other's costumes and try to figure out which parts are homemade.
Complete with a prize for the most impressive outfit. You can enhance this experience by organizing an Award Show with prizes for Most Original, Best Team Costume, and even Best Overall Costume.
Halloween Horror Quiz
Start off with a creepy & ominous question. Do you dare to take our mysterious remote Halloween-themed, interactive quiz? This spooky Halloween challenge involves employees answering some deadly questions. Questions that may seem very basic, will creep the hell out of the employees while answering them. 
Enough of the suspense though: Go for questions related to your workplace, teammates & managers. Basically, let your employees spill some beans about the team members. 
For example- 
Who is the toughest boss to work with:?

What is the weirdest bit of advice a mentor has given you?

If you could remove one thing from the workspace, what would it be?‍
This humorous spin on your quiz serves best for virtual Halloween games. 
Virtual Trick or Treat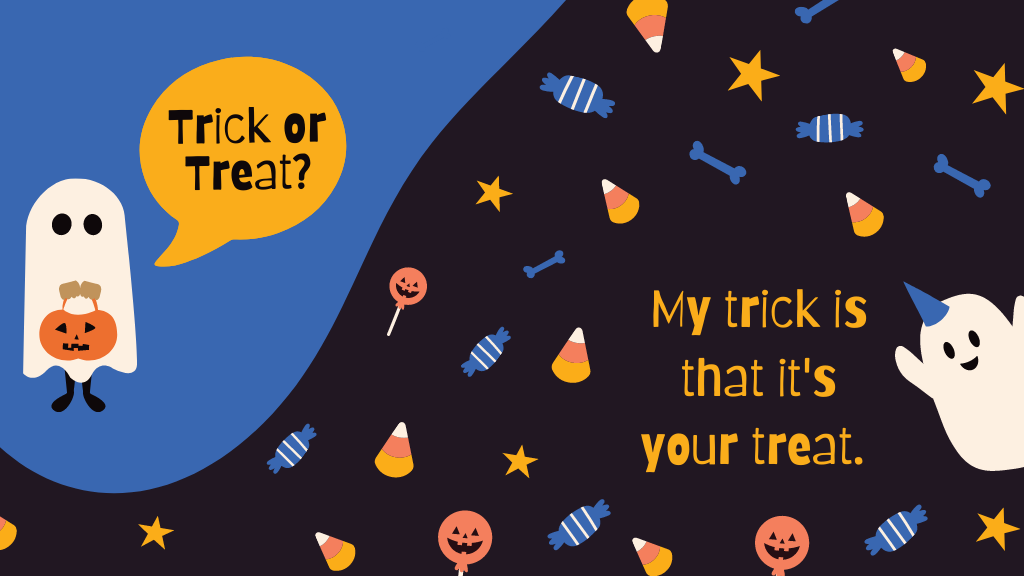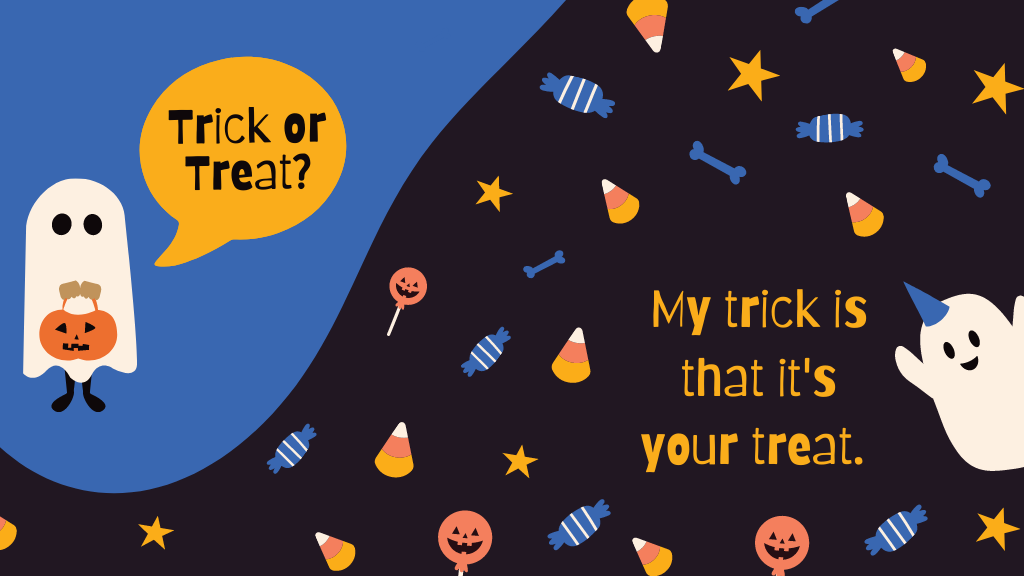 Isn't it true that we are never old enough for a Halloween trick or treat tradition? One of the most thrilling & best team building activities for work is trick or treating. Your remote employees can participate in virtual trick or treating and get the benefits of the Halloween search.
But, hold on a second, how does it work? Well! It is all up to you. You can be as creative as you can. You can make up your own Halloween virtual trick or treat. Make sure it's easy to understand and doesn't take too long. Here's an example of how you can go about doing it
But wait, how does that work?
Get creative on how you want to trick or treat virtually. Make sure that it is understandable and less time-consuming. Below is just an example of how you can do it-
To perform a successful virtual trick or treat, first hold a virtual meeting with the team.

Choose a team member at random and ask them to choose who they will be trick-or-treating with: The twist is that one team member will pose a trick question to the other.

The team member who will ask the question has the option of selecting anyone to respond.

If a team member delivers a wrong answer, the person who gave the wrong answer will reward them with a treat.

If they give a correct answer, they must treat the team member who gave the correct answer.
This activity encourages remote team members to communicate and gives a modern spin to a classic Halloween activity.
Get your team to decorate their workspace
The decoration is a terrific way to feel the festival season and feel connected when in different locations. Encourage your employees to spruce up their home offices for this Halloween season. Spider webs, fairy lights, pumpkins, candles, and skeletons are all fun to play with: The more terrifying, the better!
Individual employees can also be encouraged to decorate their desks, and you can take a quick tour of their decoration to see how everyone did it. It aids in hyping up the event and getting employees in the Halloween mood.
Another option is to organize a remote session in the afternoon with beverages and refreshments, during which the team will create werewolves, bloodstains, pumpkins, and other Halloween-themed items.
Reward The Best Performing Employees With Spooky Gifts
Employees recognition & rewarding employees do not need a special occasion. However, events like Halloween give managers and supervisors a jackpot chance to recognize employees and reward them with goodies.
However, since it's Halloween, how about some goodies with some spookiness. Present your employees with Poison Apple Cake which would definitely not be poisonous, or a blood-red velvet cupcake which would definitely not be loaded with blood. These kinds of presents will make sure your employees have a deadly good time with a scary twist.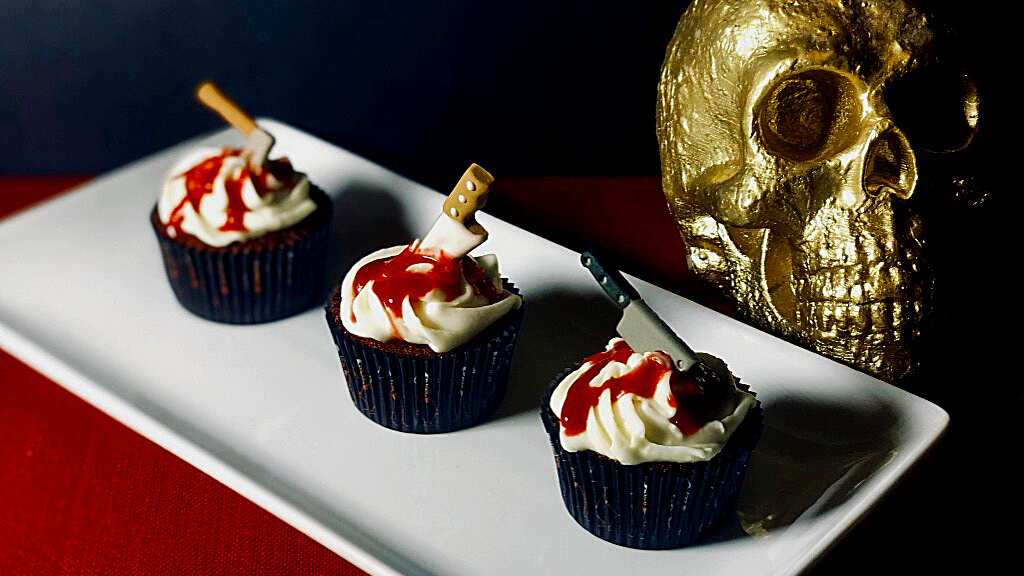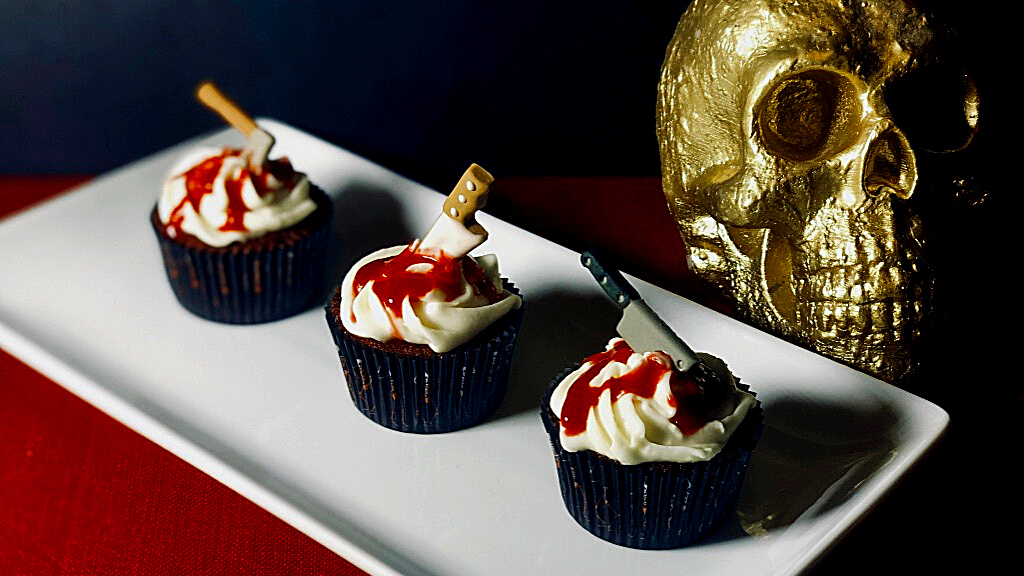 It will, however, be tough to select employees who are worthy of praise and recognition. EmpMonitor is here to provide you with the most helpful features for recognizing employees that do hard work.
Time Management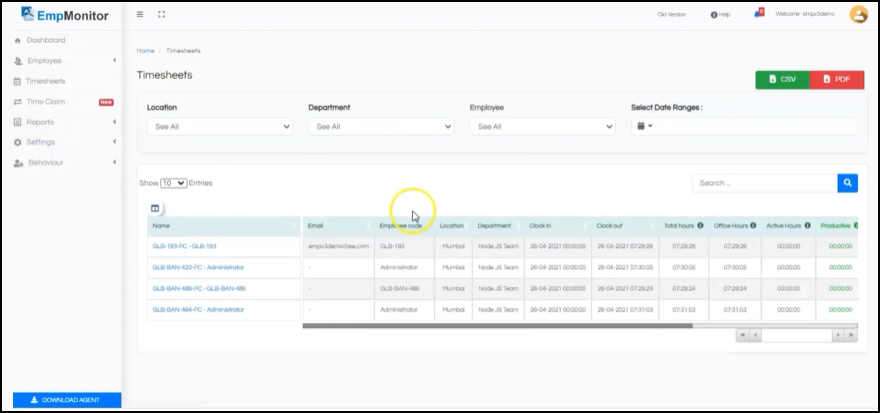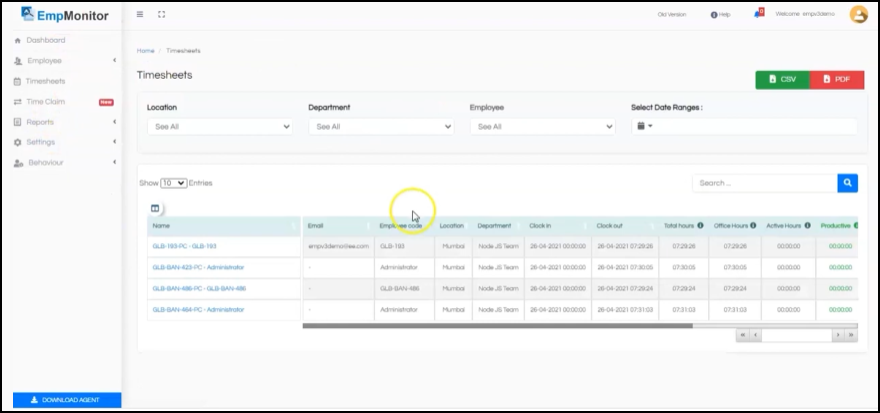 EmpMonitor lets you track the presence of employees and track every detail of what employees are doing during their work hours. You can manage and view Timesheets, Timeclaim, Projects, Behavior, Reports, and settings where you can optimize the changes in a single dashboard.
Get real-time insights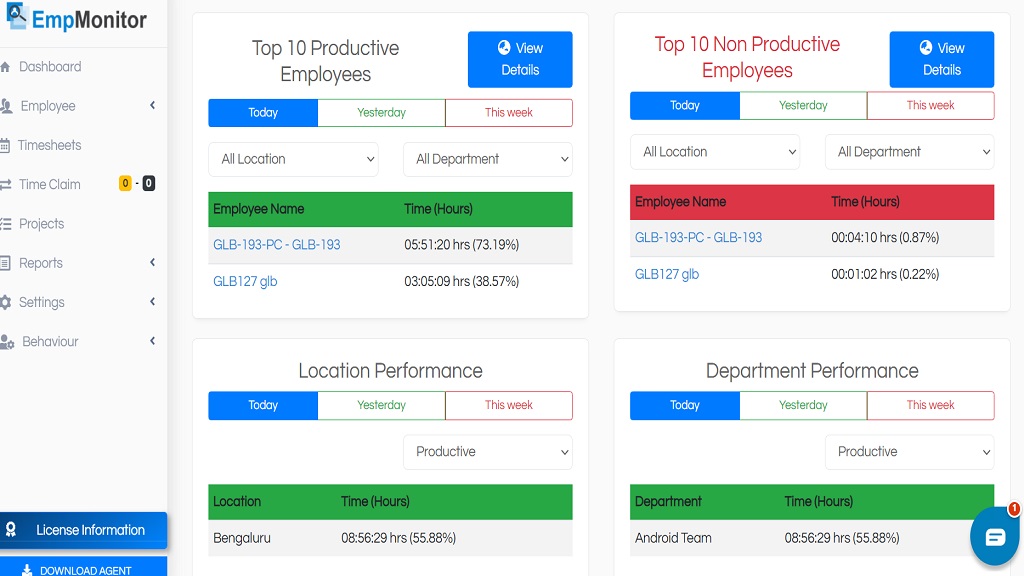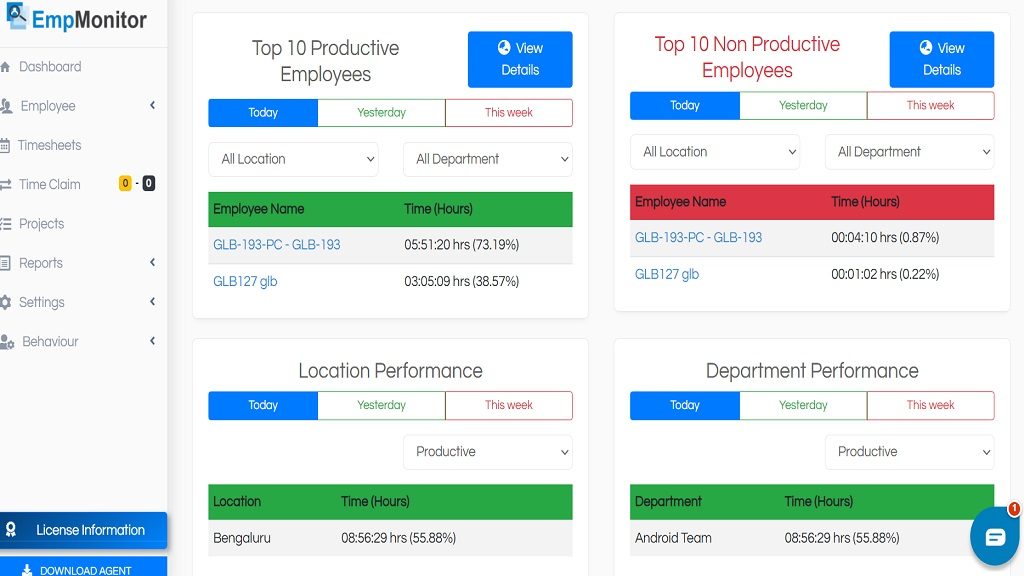 You can check what your employees are doing in real-time and give department-level management by using the live refresh mode. You can leverage screenshots, top apps visited, and many more in the activity log of employees. You can also motivate them to do better by determining where they are lagging behind. 
Manage attendance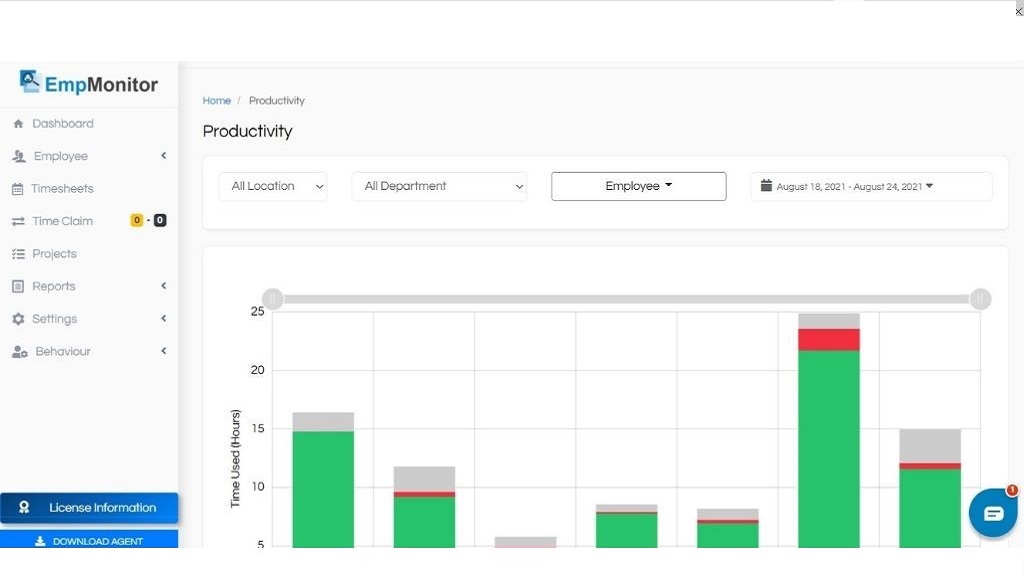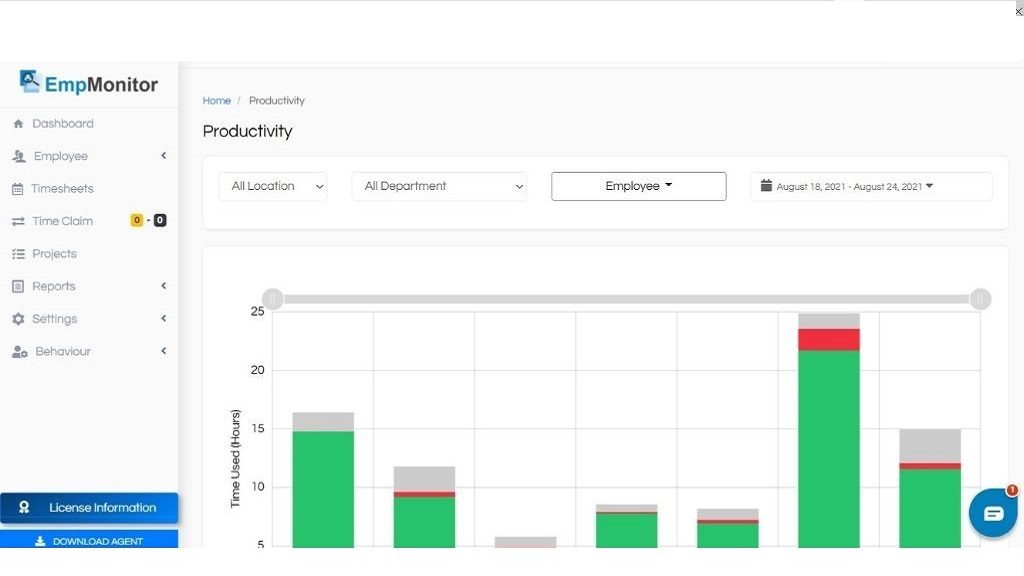 EmpMonitor has a flexible user-based setting that presents accurate work hours and attendance. You can also extract ready-made reports for up to 30 days, as well as take automatic screenshots. You can also view the productive hours, active hours with graphs for a better understanding of how dedicated your employees are:
Sign up for free now.
Creep it up With This Halloween
Halloween is no longer only about treats, it's also about team building!
Halloween has the power to bring people together in celebration, and sometimes all you need is a little swag to share gratitude. There are various ways for your employees to celebrate the Halloween season, no matter where they work.
These fun & engaging Halloween team building activities for work can help you foster positive relationships with your coworkers while having a good time. You may improve the spark of creativity, team spirit, and productivity while minimizing employee fatigue with the help of unique virtual ideas.
Make this Halloween memorable and authentic by sparking spookiness, witchiness & bringing out the fun element in you. It is one of the most significant engagement opportunities you will see until Thanksgiving. Enjoy the Fall weather till then, and don't overdo the pumpkin spice!
Happy Halloween!