Are you searching for a solution to improve your employee's productivity? Are you aware of how many hours they spend on the computer daily? If so, then an employee productivity tracker is your perfect solution. It can help you track productivity and the overall performance of your team.
Productivity tracking is necessary for employees to turn their ideas into reality.
If a company wishes to improve its productivity, it needs to incorporate efficient ways in the organization.
If you are looking for a straightforward and best way to manage your productivity, then this article can help you.
The best thing about using an employee productivity tracker is that it has many options to ensure that your company can see its progress clearly and accurately.
It is an easy-to-use tool that will help you track your employees' productivity. There are different types of productivity tracking tools considering the business size.
If you are looking for an employee productivity tracker for large businesses, you would need monitoring features, or you may also want to get custom options as per requirement.
It allows you to identify the cause of underperformance and take action quickly.
On the other hand, the usual time tracker setup is perfect for small and medium-sized businesses that want to manage their teams efficiently.
Feature mentions are part of this article, so pay attention!
Listen to the Podcast To Learn About –

"Employee Productivity Tracker For Faster Productivity Tracking"

What is an Employee Productivity Tracker?


Employee productivity tracker tools are best for employers wanting to measure, track and analyze their employee's daily activities. One such tool that helps you be productive at work is Empmonitor!
It is difficult to track employee productivity as the lack of information about employees' time can be misleading.
So to track employee productivity, it is necessary to monitor time attributes of employees spent attending meetings, conference calls, idle hours, productive hours, unproductive time, neutral hours, and active hours.
Why Use an Employee Productivity Tracker?
In today's world of ever-growing pressure, tight deadlines, and lack of time for productivity tracking, we have an excellent idea to help you improve your employee productivity.

An employee productivity tracker system is proof of employee performance at a workspace that the user can access from cloud data. And EmpMonitor can help you with an employee productivity tracker plan to spot the potential of your employees. That will help in dominating the market by being more productive.
What Features Should You Look for in an Employee Productivity Tracker?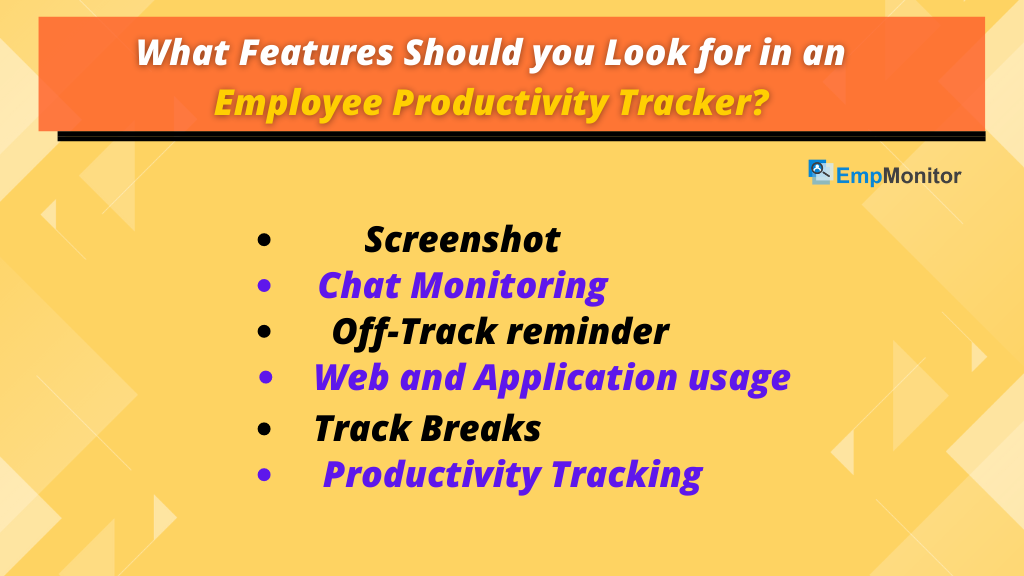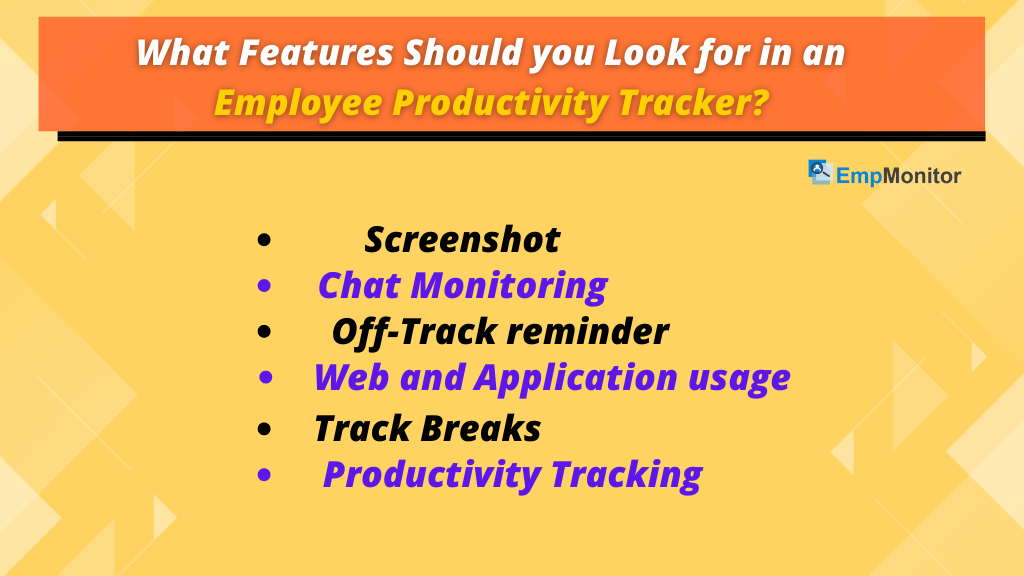 Before investing in an employee productivity tracker, it is vital to know the basics. And this question is subjective as features might vary based on the size of your organization. There are many tools to choose from based on your custom needs. 
For example, small organizations might need software that tracks – breaks, web usage, chat monitoring, and productivity. At the same time, a prominent organization might need all the features stated and add more to the list based on their need. Here we have listed features offered by EmpMonitor, an employee productivity tracker–

1. Screenshot: It allows the user to take a screenshot of the application or web page he is currently working on and then save it to his clipboard. You can also set a delay before taking the screenshot so that if you want to pause your work for some time, you can do so without losing any data.
2. Chat Monitoring: It allows you to monitor conversations between multiple employees at once to see who has been active in the chat room over a given period. The tool also has an in-built web browsing tracker, which helps the admin access web pages from employees' end even when they are working remotely.
3. Off-Track reminder: It reminds users about tasks that have been off track for a certain period. Such as – tasks that were pending for a long time, reaching deadlines soon.
4. Web and Application usage: This feature helps users monitor their Internet activity and other applications on their computers from anywhere in the world.
5. Track Breaks: There are two types of breaks: break for lunch and break for coffee breaks, which get automatically tracked by the app through GPS location tracking technology to ensure accuracy in tracking.
6. Productivity Tracking: You can track whether your employee is using their time or not. By classing the employee time into sub-parts, namely-
Productive hours
Unproductive hours
Neutral hours
Idle hours and
Offline hours.
For Whom?
Read this blog to learn – how to optimize employee productivity in a year! This software is the best solution for business services, educational institutions, finance, and parenting. 
Platforms
Windows, macOS, or Linux devices.
Price
Free monthly plan: $0 (Up to 5 users).
Monthly plan Bronze: $4.59 /user/per month paid yearly (Up to 10 users).
Monthly plan Silver: $3.75 /user/per month paid yearly (Up to 50 users).
Monthly plan Gold: $2.92 /user/per month paid yearly (Up to 200 users).
Visit the website to learn more about this product.
What are the benefits of using an Employee Productivity Tracker?


You can use a productivity time tracker to improve employee efficiency and output, increase team collaboration and make your business more productive. There are many benefits of using an Employee Productivity Tracker –

1) It helps you to keep track of your time and productivity. Monitor the performance of your employees against targets in real-time.

2) It helps you to be aware of how much time you spend on different tasks.

3) It can help you to determine which tasks take longer than others and why.

4) You will be able to identify areas that need improvement for you, to be more efficient with your time.

5) Track time spent on various projects and activities. Also, create custom reports based on past data.

6) Show who is most productive by analyzing their weekly activity reports.

7) Manage your team and assign tasks accordingly.

8) You will be able to identify areas where there is room for improvement to increase productivity levels.
How does an Employee Productivity Tracker Work?


Employee productivity trackers give managers the right to monitor employees to understand the time spent working. And how well they're performing tasks.
This information can help managers determine whether or not their employees need more training or development. Or they're just having trouble getting work done quickly enough.
Productivity trackers allow the managers to determine which tasks took more time to complete and didn't finish promptly. It can help managers identify areas where they need to improve their current processes. And this may lead to better engagement, resulting in the best for all involved parties.
Closing
Let's conclude that an Employee Productivity Tracker is necessary for better and faster productivity tracking. And that's why many businesses are using it, wanting to run productive organizations.
Empmonitor – employee productivity software will help you track employees' productivity and manage their work time.
It is a good tool for supervisors, managers, and HR professionals who want to keep track of their employee's productivity.
This Employee Productivity Tracker is for people who understand the challenges faced by employers when it comes to employee productivity tracking.
The tracker can be accessed from any computer through an internet connection and requires no installation on the computer or phone. Read this blog to learn how to measure productivity metrics. 
The tracker makes it easy for users to enter their data into the database and view their results without logging in/out of an account on any other platform.
It makes it ideal for anyone who needs to keep track of their employees' productivity but does not have access to or time in their schedule for multiple platforms or applications.
The Employee Productivity Tracker also has many other features built into it that make it ideal for supervisors, managers, and HR professionals who want to keep track of their employee's productivity.