Remote work culture has already been growing rapidly in businesses and institutions from the past few years. But currently, due to the global outbreak of COVID-19, businesses are forced to accelerate the remote integration plans, even before they feel ready about it.
There are many advantages of self-employment, and the best one is, it gives the ability to employees to work remotely at flexible timings. But the fact cannot also be ignored that it also brings a lot of challenges for the employers. 
HIT THE 
PLAY 

BUTTON TO LISTEN TO THIS PODCAST –
Working on the go makes data more vulnerable to get attacked as compared to logging from home or office.  This is the reason cyber-security specialists consider remote employees as a threat. 
It also doubles the work of IT specialists because they need to make sure to provide effective remote employee monitoring along with safe and secure access to the organizational systems. After all, it is also necessary to keep an eye on the productivity of employees as they can get distracted with domestic chores. 
So, here is the list of some useful tips that will help you monitor and secure the remote activities of your employees. Though some are purely operational, while others need remote employee monitoring software like EmpMonitor.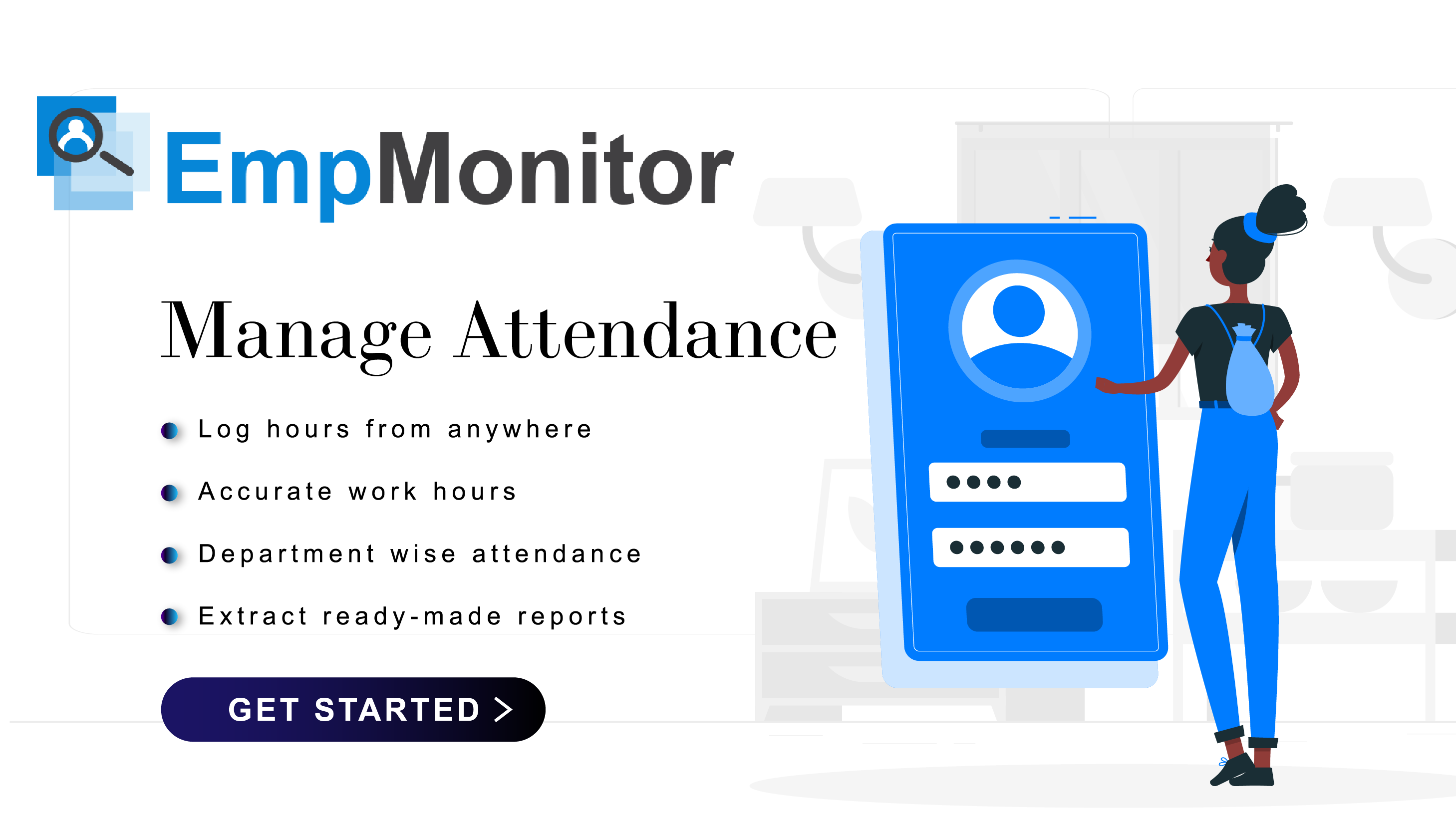 1. Develop a policy
The first and the foremost thing you need to do is to create a written policy for remote access. Discuss everything with your team, especially, IT members to know exactly, what all things you can put in that policy. But you must include some basic points like,
Instructions on how to connect to the office network remotely

List of all the software and access management control

Safety measures to protect important credentials

Conditions for rendering remote access to the workers

Guide on the use of online office resources
Likewise, you can include a lot of the other things in the policy as per your business operations. But make sure that every employee can read this any time and moreover can ask any questions from you related to it. 
2. Educate your employees
Social engineering attacks are usually successful because of paying less attention by the employees, swiftness, or maybe because hackers have smart tricks. And the best way to minimize these attacks is to educate your employees regarding the recent attempts (about your company or maybe others)  and inform them about the danger. 
Ensure that they should be very well aware of the potential threats to the organization, for example, BEC (Business Email Threat), spear phishing, etc. The security training and warning should be given in an understandable form so that your employees should identify if a shared folder is coming from a trusted source, or spot the invalid login pages requesting corporate credentials.  
You should also reinforce the baseline education whenever any special awareness is required according to the situation, such as the global pandemic which we all are currently experiencing. 
3. Create a secure connection
No matter if your employees are working remotely or not, maintaining a stable network is very important. So, try using a VPN (Virtual Private Network) for your remote workers. This technology provides a secure point-to-point network between the employees' device and the corporate network, using encryption algorithms and authentication.
So, by using this tool, you don't have to worry about your remote employees using untrusted networks or accessing company data on their private computers. 
You may also enforce multi-factor authentication on your desktop that allows you to prevent company files from being copied or transferred to the computer of your virtual employees.
4. Use secondary authentication
Shared profiles often make the life of the employees easy, especially for the remote administrator, but also makes it extremely difficult to link security breaches to the specific users. That is the reason IT experts consider to ban such accounts. In case you are unable to do that, then it is better to enforce secondary authentication to recognize the user behind a faceless profile. 
5. Monitor user activity 
Monitoring the digital activities of your employees (Obviously during working hours) provides you the complete insights about how they are working, how they are handling the confidential data, and their overall performance. 
Make use of the right monitoring tools such as EmpMonitor which records, 
On-screen activities

–

It captures the screenshots of your employees' screen automatically within a specific interval of time as per your needs.

Browser history

–

It monitors your employees' web browsing history and records every single visited website address, page title, and the number of times each web page has been visited.

Top apps used –

It keeps the record of applications your employees are using in real-time and also gives you the insights of the top 10 most used applications.

Keystrokes –

It monitors every keystroke of your employees' system and monitors what they are typing and in which window they are typing.

User logs – 

It gives detailed insights about the login and logout details of your employees through which you can calculate their productive and non-productive hours.
Using these features of EmpMonitor, you can continuously monitor your employees and record their activities even without an Internet connection. And when you conduct a meeting, you will be able to set the background of every action and prove your point easily during the investigation.
Also Read:
Tips To Manage Your (New) Remote Employees
How To Lead A Remote Team Effectively?
WFH in 2020: 03 Tips To Avoid Telecommuting Burnout 

6. Track employee productivity
Simple time tracking is not enough to estimate the efficiency of employees. With the data gathered from remote employee monitoring, you can evaluate the dedication and effectiveness of your employees during working hours. 
By analyzing the screenshots, used apps, browsing history, opened files, folders, and websites, you can easily detect whether your employees are just browsing the internet instead of working on the tasks assigned. 
Moreover, you can also conduct periodic meetings or ask your remote employees to give daily updates, so that you can cross verify their work and evaluate their productivity. 
7. Get warnings about unusual happenings 
The best way to stop suspicious activities is to get a timely alert on the possible security violation. Remember, stopping a threat is always better than tackling with its implications. EmpMonitor can be of great help to you in achieving this. 
It notifies the user on violation of rules

Whitelist the IP (to eliminate the risk of a data breach)
So, make use of such remote employee monitoring software and save your company from further loss. 
Conclusion
There is no doubt that remote employees are as good as in-office employees and they help companies in so many ways which an in-office employee cannot do. 
But cybersecurity threats and other challenges cannot also be ignored. It directly hampers the company's productivity. However, considering the safety measures to deal with these kinds of problems can surely make the remote work of your employees more secure and effective. 
For companies that usually hire on-site employees, this might be a very stressful time for them as it brings a lot of uncertainties. But, it's also a great time when you can see how prepared your company is for emergencies like COVID-19, and your remote workers' needs.